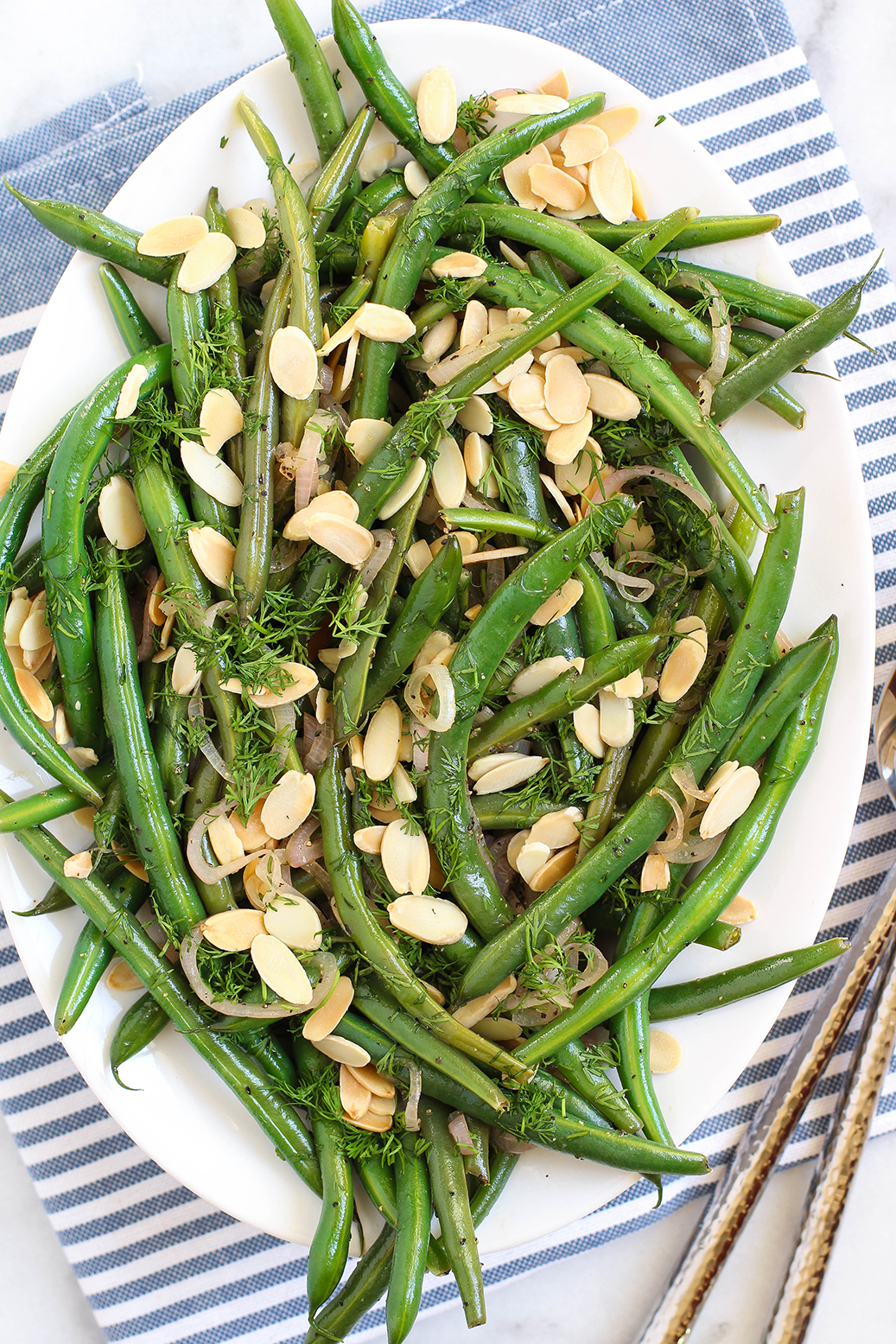 Who's ready for Thanksgiving? I'm not. I'm sooooo not. Like, how did we even get here? Where did the entire month of November go? Where did this year go?! Despite what I'm terming my emotional unpreparedness, it's full steam ahead, because the holidays wait for no man. At least I'm covered on the food front. My mom hosts, and knocks out the traditional turkey and corresponding accoutrement, while I'll be whipping up my Lentil Loaf with Classic Brown Onion Gravy as an alternative main. My mother-in-law and I are the only true vegetarians/vegans at our family gatherings but it's inevitable that everybody else wants to get in on the veggie action too. Along with my lentil loaf, these Apple Cider Green Beans will be making an appearance.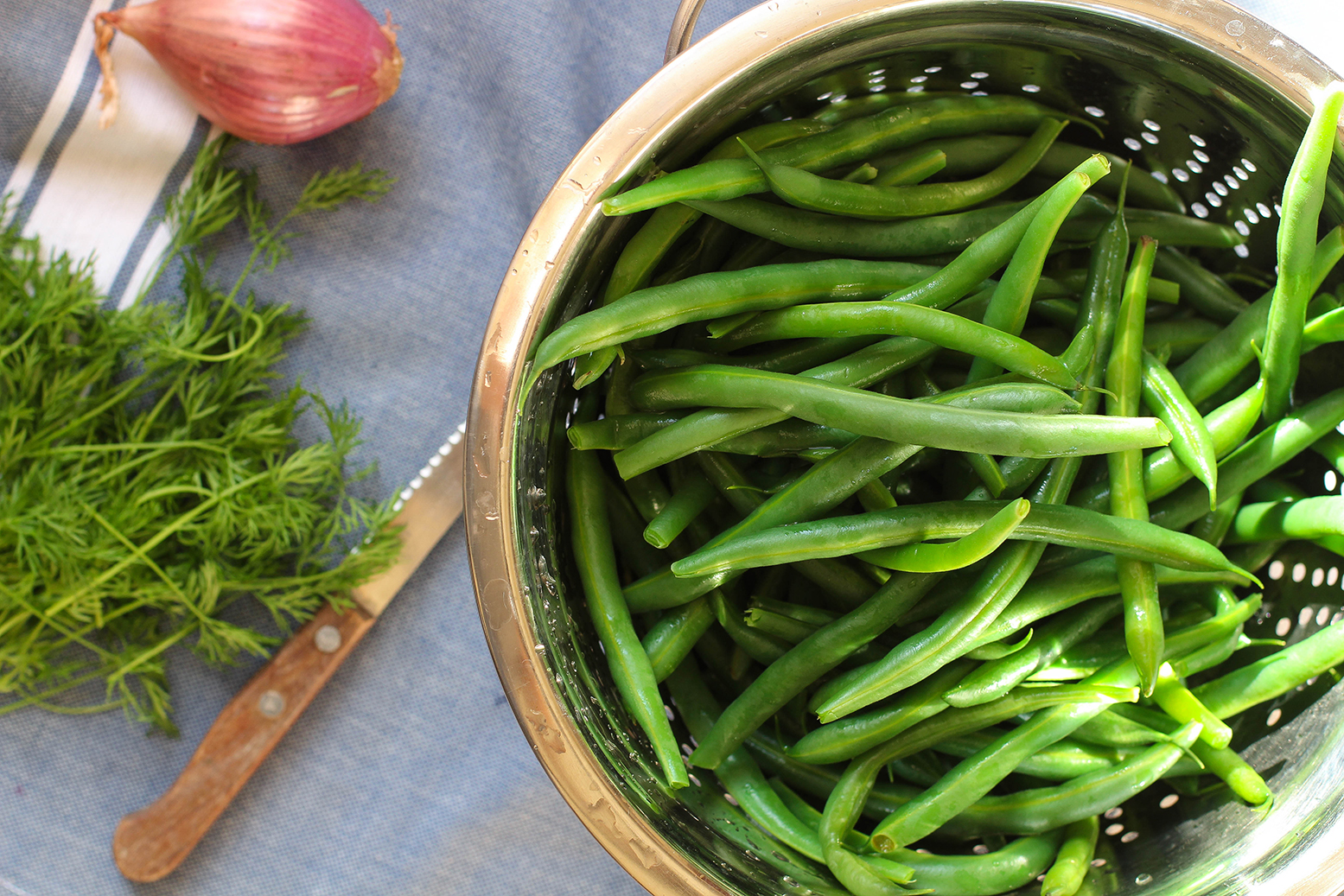 Perfectly crisp tender and lightly tossed on the stovetop in a vinaigrette of shallots, extra virgin olive oil, and apple cider vinegar, then liberally sprinkled with fresh dill and a handful of toasted slivered almonds (walnuts or pecans would be lovely too) – they're a welcome respite from butter and cream laden sides. They're also gorgeously green and addictively tangy and dilly (it's a thing). The almonds add just the right amount of richness to make these feel indulgent and appropriately gussied up for your Thanksgiving table. Although this dish – often with the addition of steamed new potatoes – is a summer cookout staple around here as well.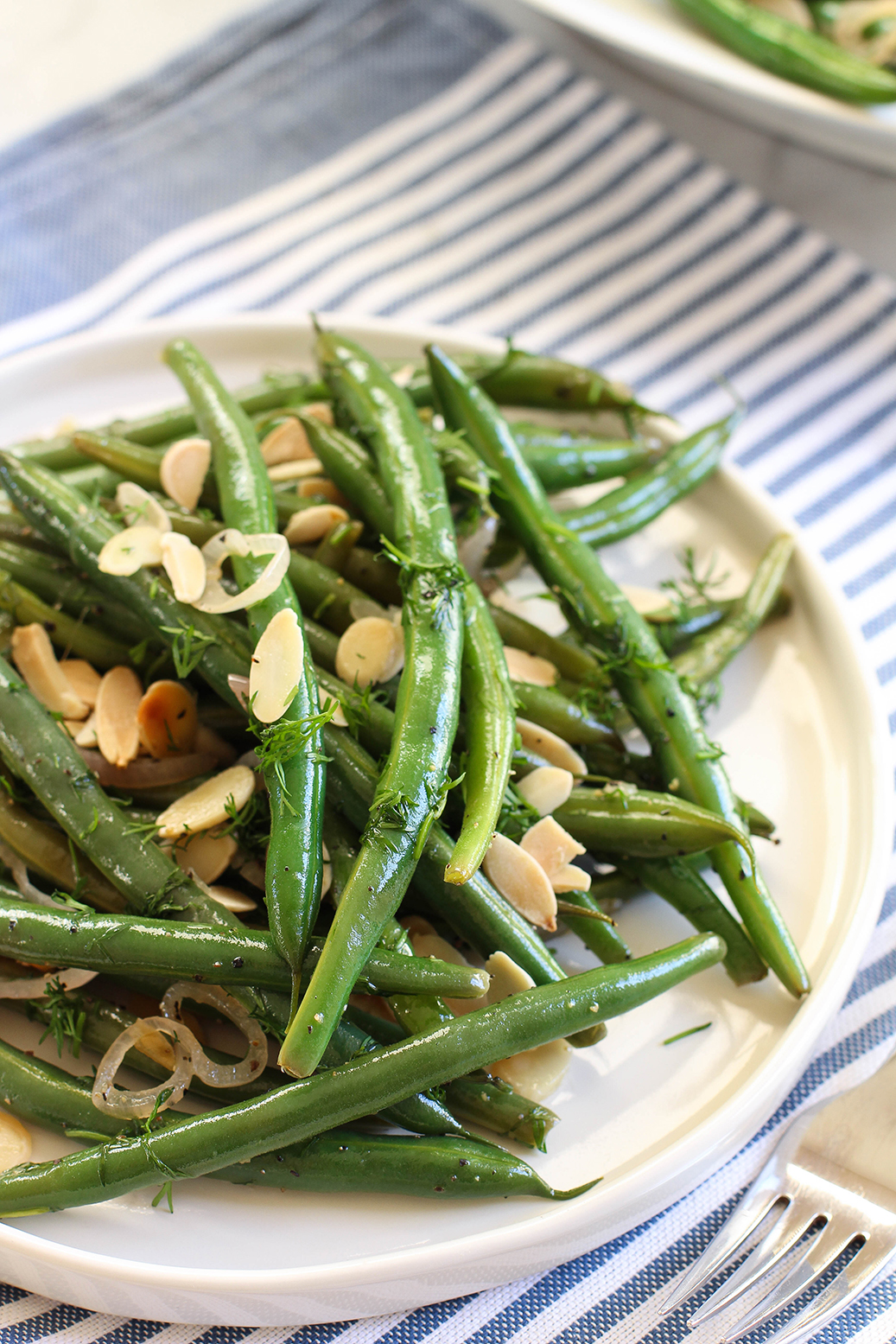 If you're relatively new to cooking and tasked with contributing a side to your family's holiday table, then look no further. A short ingredient list, straightforward preparation, and a mouthwatering final product make these green beans a slam dunk. Be prepared to field requests for the recipe. Peace and love and Happy Thanksgiving!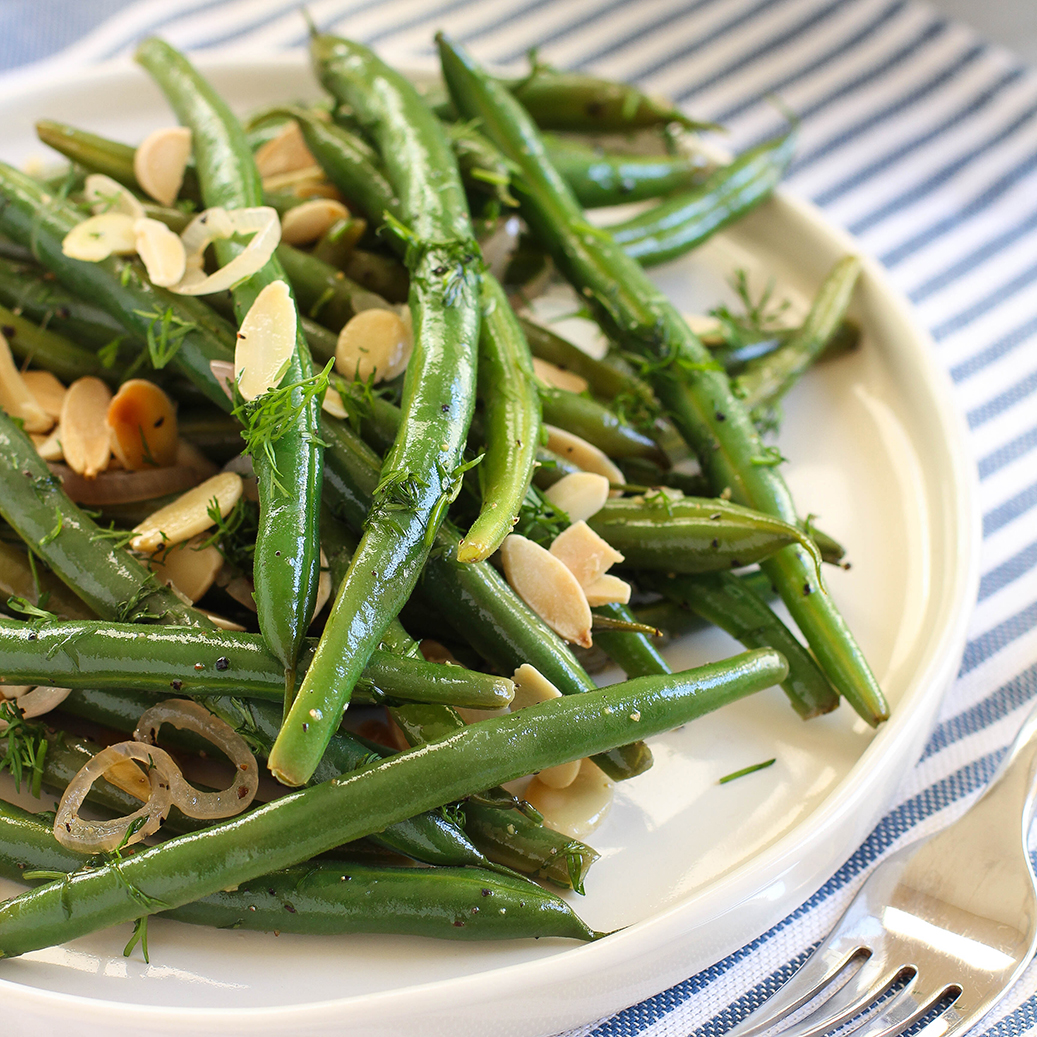 Apple Cider Green Beans
2016-11-21 12:37:21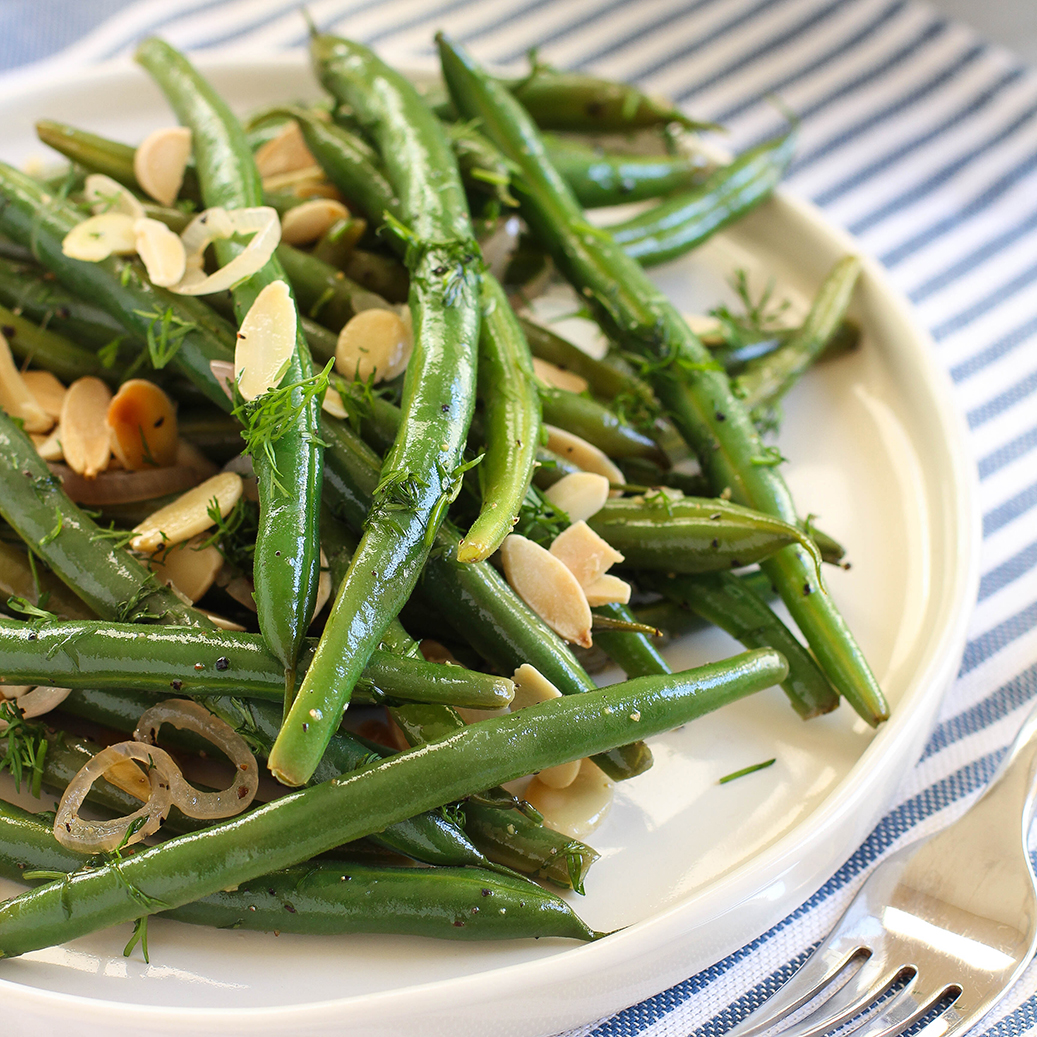 Serves 6.
Ingredients
2 pounds green beans, ends trimmed
1 large shallot, thinly sliced (or 1/3 cup diced yellow onion)
2 tablespoons extra virgin olive oil
2 tablespoons apple cider vinegar
handful of fresh dill, roughly chopped
1/2 cup slivered almonds
sea salt & black pepper
Instructions
Preheat oven to 400 F. Lay out almonds on a cookie sheet and toast until golden and fragrant, about 5 minutes. Remove from oven and allow to cool.
Bring a large pot of salted water to a boil. Add green beans and cook until bright green in color and tender crisp, roughly 2 minutes. Drain and shock in a bowl of ice water to stop from cooking.
Heat olive oil over medium heat in a large saute pan. Add shallots to pan and cook until soft and translucent, about 2 minutes. Add apple cider vinegar to pan. Add the beans and continue to saute until coated in the olive oil and vinegar and heated through, about 5 minutes. Season with 1/4 teaspoon each of sea salt and black pepper to start, then taste and add any additional seasoning.
Plate beans and top with dill and almonds. Serve warm or at room temperature.
The Mostly Vegan http://www.themostlyvegan.com/