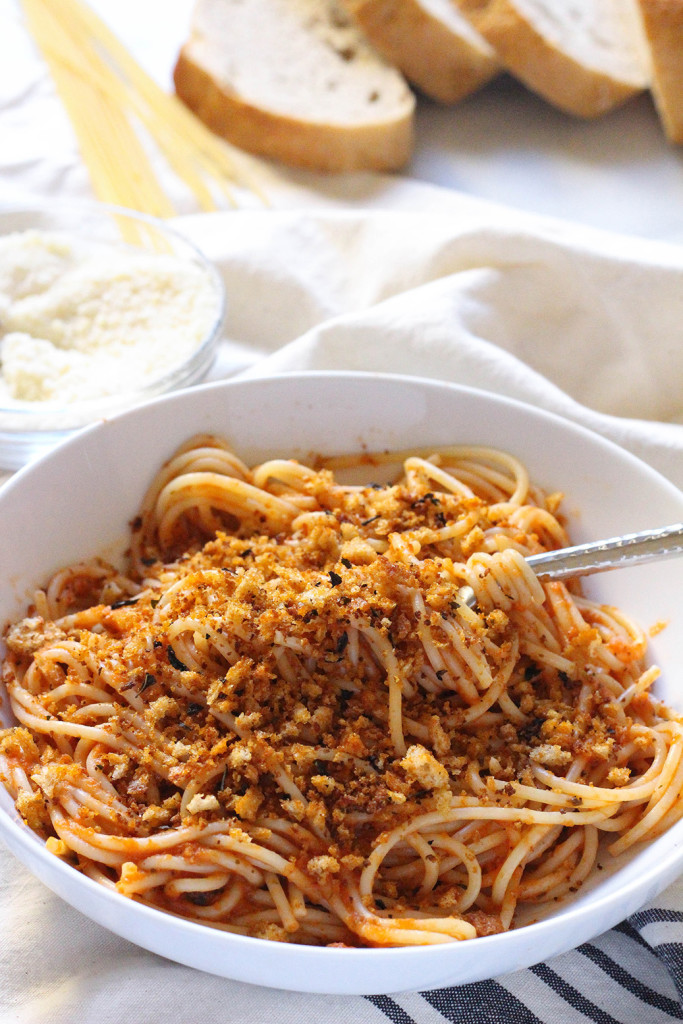 Every home chef needs a go to marinara/red sauce in their cooking arsenal. Once you start making your own, the pre-jarred stuff just tastes wrong, especially when whipping up a batch from scratch is so ridiculously easy. We're talking 30 minute meal here, guys. Sure, we're not slow roasting heirloom tomatoes or making garlic confit -this is a Weeknight Marinara after all – but the fabulous Italian flavors – onion, garlic, basil, and oregano – are still there. In record time. Slow roasting can wait until a lazy Sunday, or the next Snowmageddon.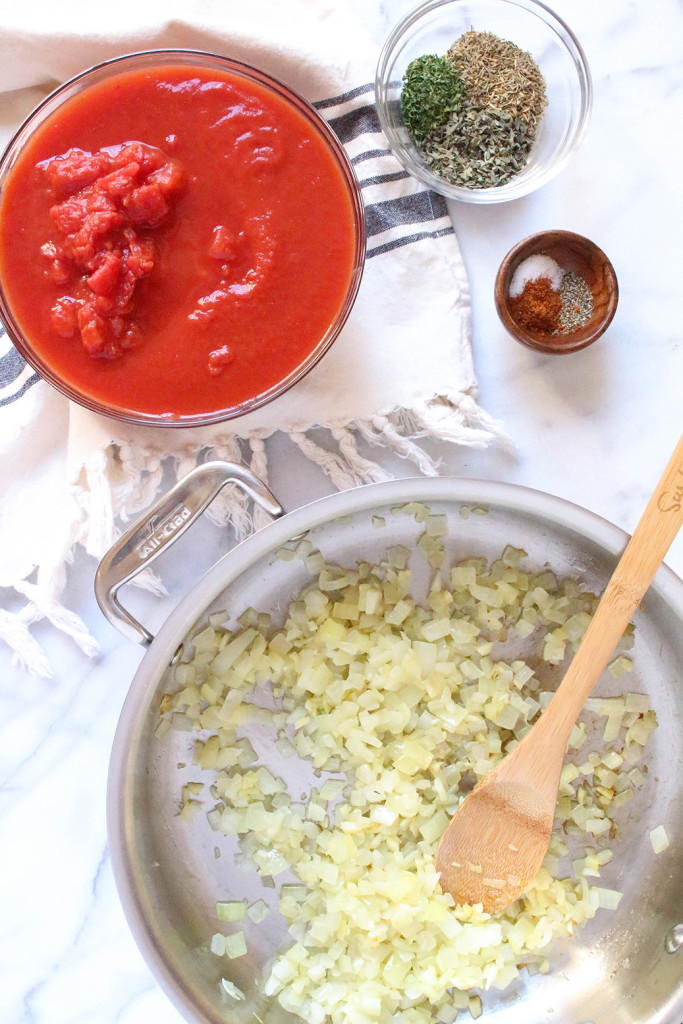 The best thing about making your own marinara is that it's easy to tweak to suit your family's tastebuds. Garlic lovers? Throw in a couple extra cloves. Prefer a sweeter sauce? Sprinkle in a bit more sugar. This has been our family's go to recipe for a couple of years now and it's perfectly tailored to our tastes, which means it leans towards the spicy side. Not a fan of heat? Leave out the cayenne completely.
What you put this sauce on is completely up to you as well. Spaghetti is always a good idea but it's also great on gnocchi. Come Friday pizza nights, leftover sauce makes a yummy dip for fresh breadsticks. It's kinda the little black dress of marinara.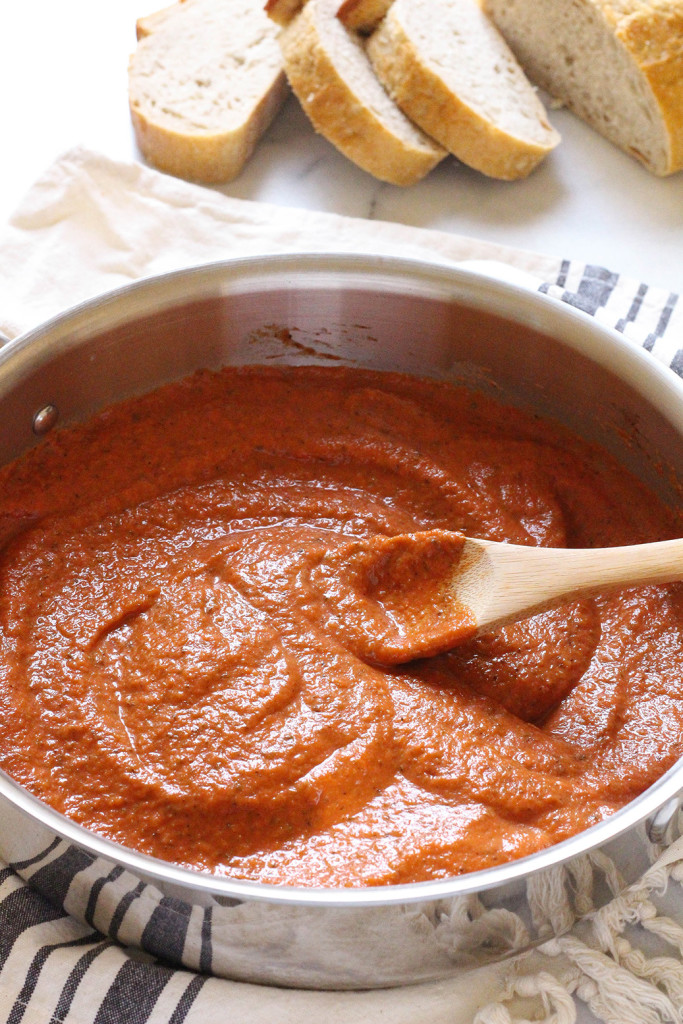 If you're serving with pasta, I highly recommend topping with Garlic Oil Breadcrumbs. Even easier to whip up than the sauce, these breadcrumbs offer a satisfying salty, garlicky crunch. They're a perfect replacement for parmesan cheese and inevitably find their way onto more than just pasta. So embrace your inner Italian granny and get to cooking.

Weeknight Marinara with Garlic Oil Breadcrumbs
Makes 4 cups marinara, about 5-6 servings.
Ingredients
16 ounces pasta of your choice
2 tablespoons extra virgin olive oil
1 onion, diced
4 large cloves garlic, minced
1, 15 ounce can no salt added diced tomatoes
1, 15 ounce can no salt added tomato sauce
1 heaping teaspoon each dried oregano, thyme, and parsley
2 heaping teaspoons dried basil
¼ teaspoon ground sage
¼ teaspoon ground red pepper (cayenne)
1 teaspoon organic sugar
1 teaspoon sea salt
½ teaspoon black pepper
Garlic Oil Breadcrumbs
2 cups day old bread torn into chunks
1 tablespoon garlic oil*
1 teaspoon dried basil
½ teaspoon paprika
salt and pepper
Instructions
Heat olive oil in a large saucepan over medium-high heat. Add onion and garlic and saute until onions are soft and translucent, about 5 minutes. Add dried herbs, sugar and salt and pepper. Saute 2 minutes more. Add tomato sauce and diced tomatoes to pan. Allow to simmer for 10-15 minutes.
Pour sauce into a high speed blender and mix until completely smooth, about 20 seconds. Return sauce to pan and heat over medium. Season with salt and pepper to taste.
Bring a large pot of salted water to a boil. Cook pasta according to package directions.
Garlic Oil Breadcrumbs
Place chunks of bread in a food processor and blend until coarse crumbs form.
Transfer crumbs to a large bowl and toss with garlic oil, basil and paprika. Season with freshly cracked sea salt and black pepper.
Coat a skillet with vegetable oil spray and heat over medium-high. Add breadcrumbs to skillet and toast until golden brown, stirring often, about 5 minutes.
Allow leftover breadcrumbs to cool completely before storing in an airtight container in the fridge.
Divide pasta between bowls, top with sauce, toss, and sprinkle with breadcrumbs.
Notes
* To make garlic oil, bring a ¼ cup extra virgin olive oil to a simmer in a small saucepan. Add three smashed garlic cloves and simmer until cloves turn golden brown. Remove cloves and allow to cool. Oil can be stored in the fridge for up to a week.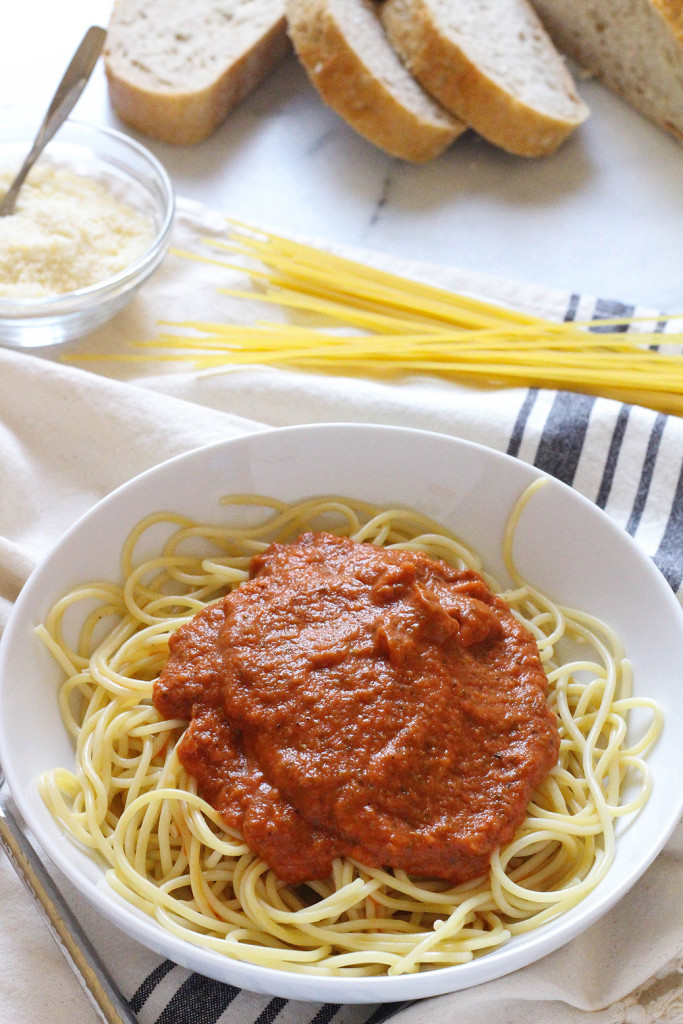 For more Italian inspired yummies, check out my
Gremolata Garlic Bread
.