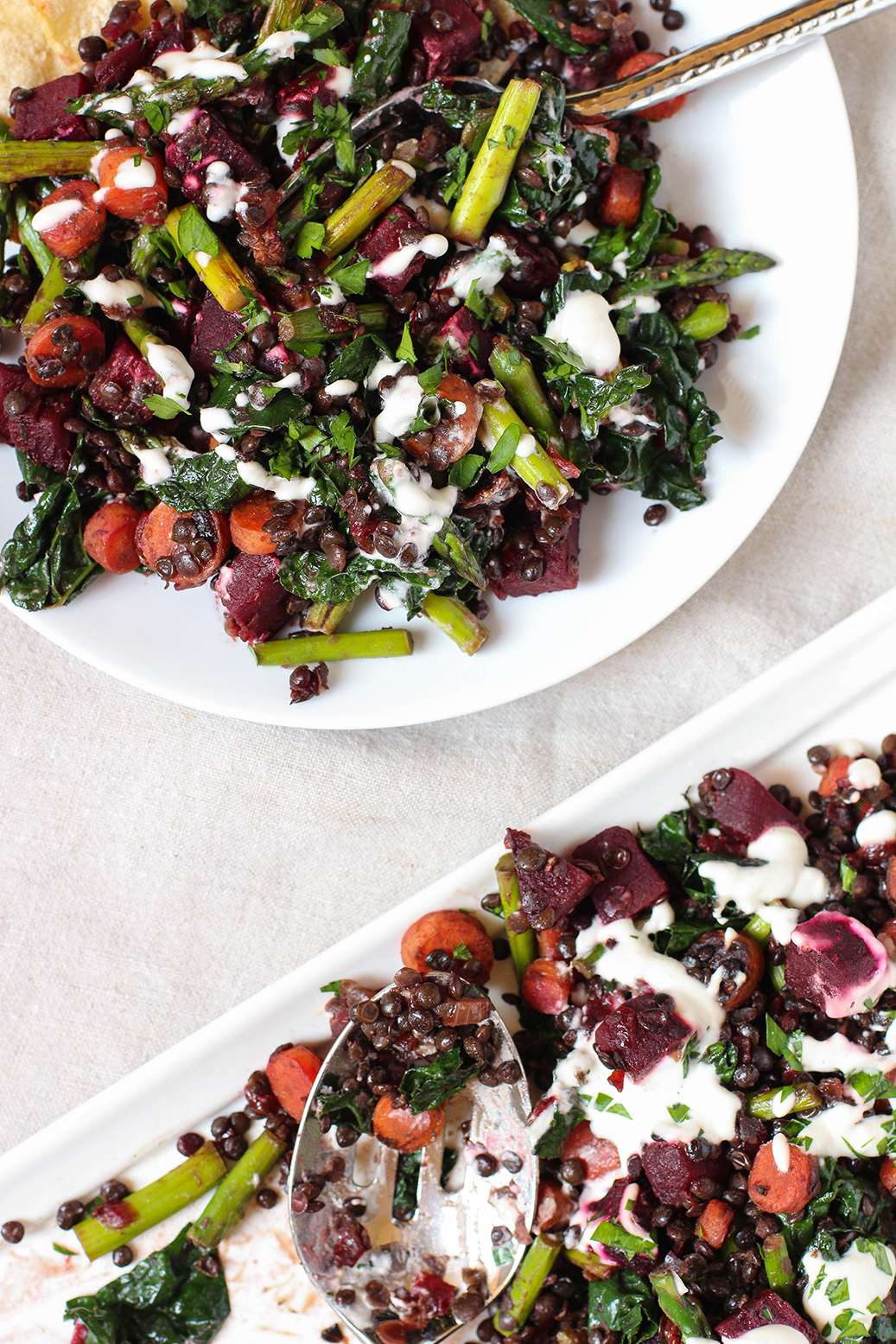 In case you hadn't noticed, I've been on a lentil bender lately. Lentil loaves, lentil bolognese, I seriously can't get enough, which is totally cool since these tasty little pulses are wildly nutritious. They're fiber and protein packed, keeping you full for hours, and loaded with folate, iron, and magnesium – essential vitamins and minerals that are often lacking in vegan diets (and let's face it, most omnivore diets too). They're the perfect building blocks for healthy meals, especially during the holiday season when it seems like over indulging happens on a daily basis.
This Warm Lentil Detox Salad was born out of one of those "I'm starving, so what in the heck am I going to make for dinner?!" moments. I've written before about how I don't do detoxes, but I fully acknowledge the fact that sometimes your body craves a reset to counteract a day – or weekend – of less than stellar eating choices. I almost always have some pre-cooked lentils hanging out in the fridge, which makes throwing together a detox worthy meal on the fly a whole lot easier. On this particular occasion, a quick survey of my fridge revealed the aforementioned lentils, a lone beet, a handful of barely holding on to life asparagus stalks, half a bunch of lacinato kale, and loads of carrots. Because it's winter and I'm craving warmer meals, I figured throwing everything into a sauté pan with some onion would do the trick. And, because I ALWAYS have a jar of my cashew sour cream at the ready, I drizzled that on top, and boom, lentil salad nirvana.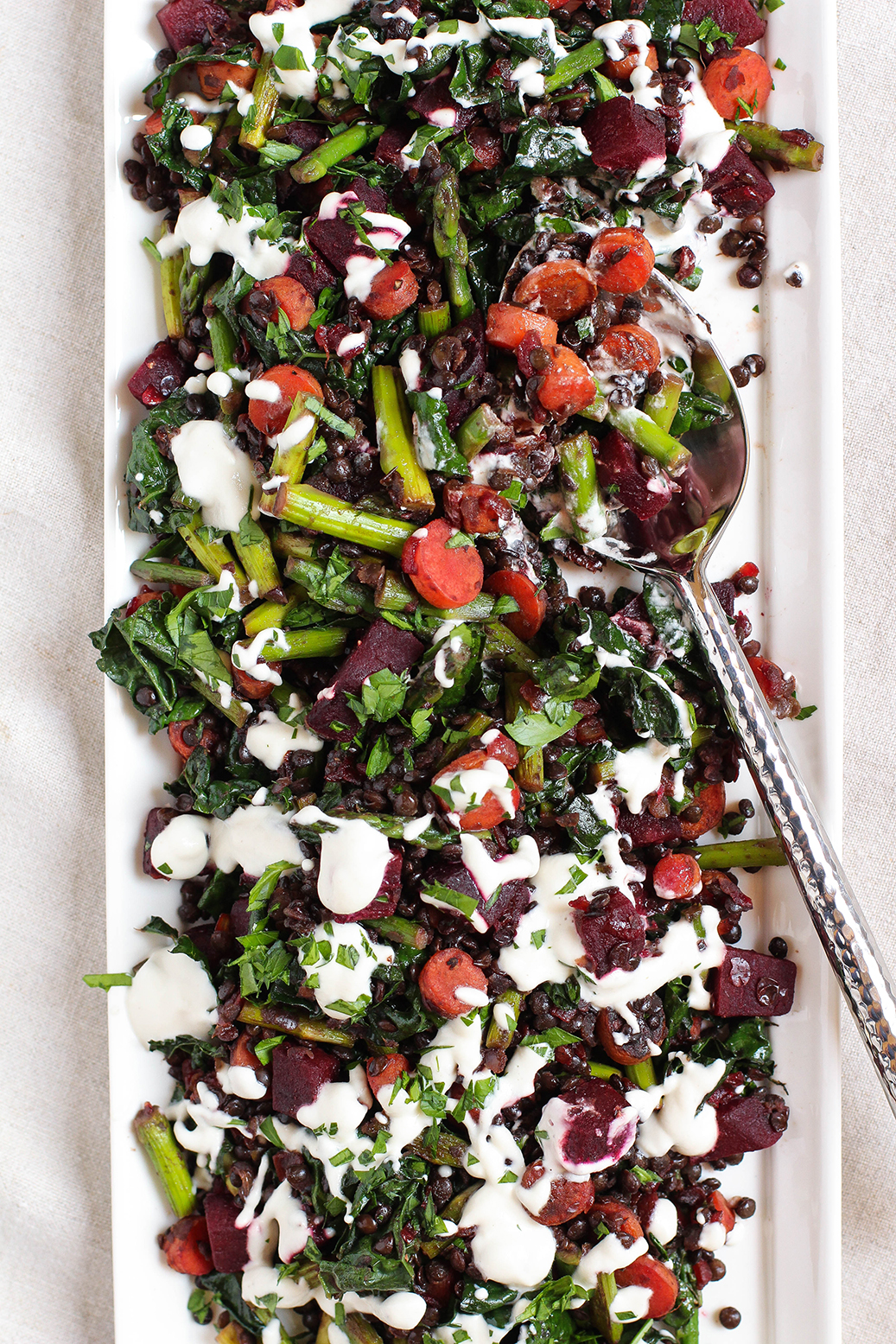 I almost feel bad calling this a recipe, it's really more of a non-recipe. So stinkin' easy to make but so darn tasty, I couldn't resist sharing. The beets lend a nice earthiness, which is complemented by the sweetness of the carrots and grassiness of the asparagus. The kale, well that's just added greens for good measure. I'm partial to the cashew sour cream as a dressing of sorts and the fact that it lends a creamy tang to the finished dish, but you could definitely get away with eating this salad plain or topped with freshly chopped green onion and tomato. Done and done. It's the perfect detox meal or just regular healthy meal to add to your plant-based cooking repertoire.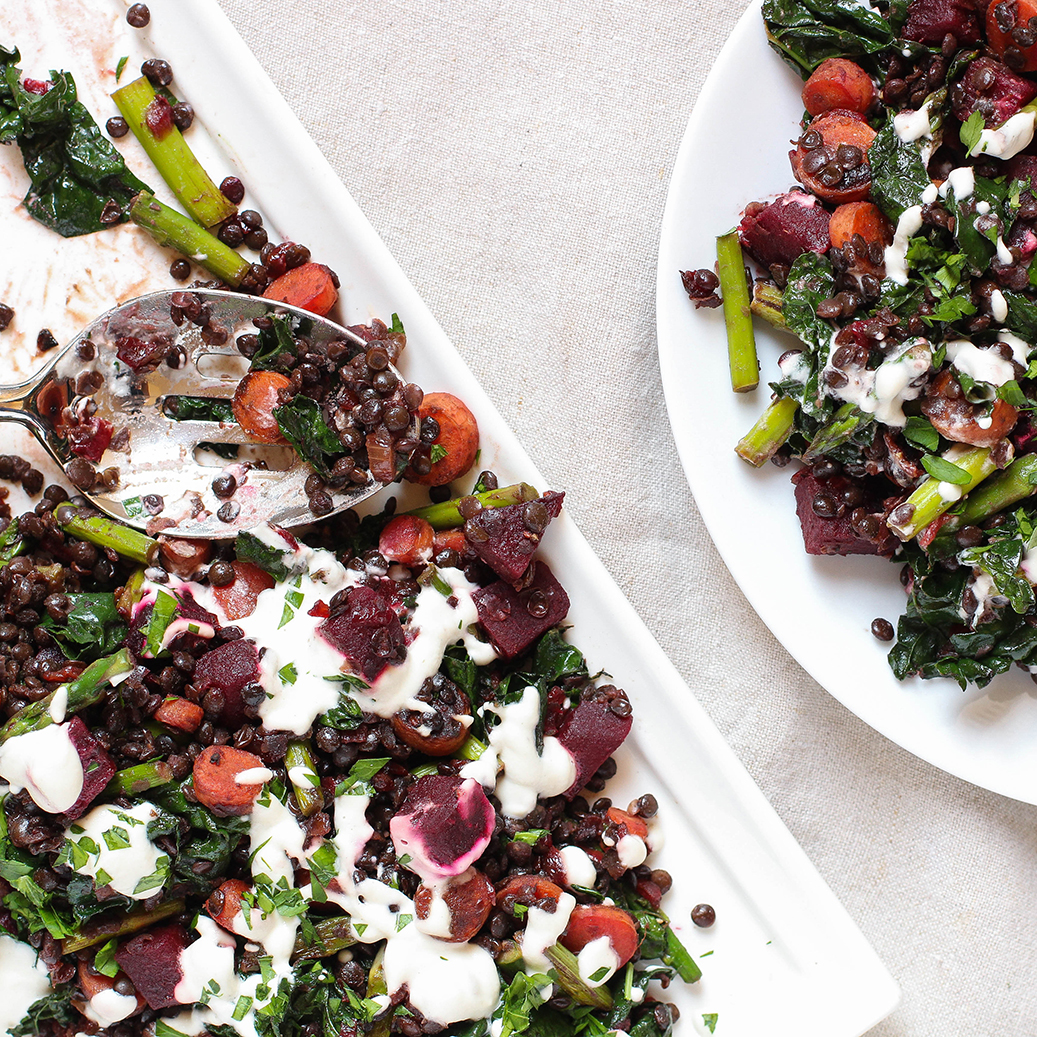 Warm Lentil Detox Salad
2016-12-14 11:52:40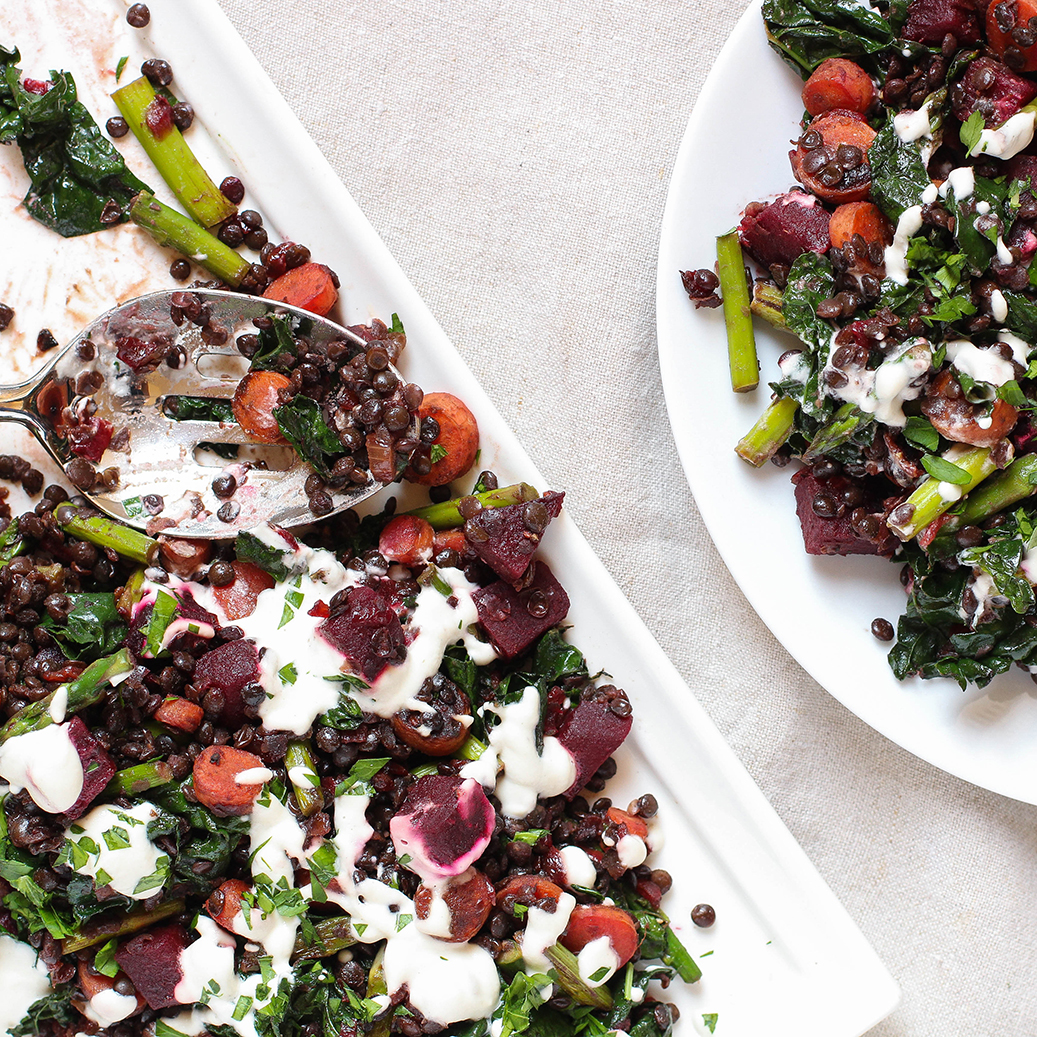 Serves 2 - 4.
Ingredients
1 cup prepared black lentils*
2 tablespoons extra virgin olive oil
1/2 yellow onion, diced
1 large beet, peeled & chopped
1/2 bunch asparagus, chopped
2 to 4 medium carrots, peeled & chopped
1/2 bunch lacinato kale, ribs removed & chopped
handful of chopped parsley
sea salt & black pepper
Instructions
Heat olive oil in a large saute pan over medium-high heat. Add onion, beets, and carrots to pan and cook until beets begin to brown, about 10 minutes. Add asparagus and cook 5 minutes more.
Add lentils and kale and cook until kale is wilted and lentils are heated through, about 2 minutes. Season with freshly cracked sea salt and black pepper.
Serve warm, drizzled with cashew sour cream and sprinkled with fresh parsley.
Notes
* 1/3 cup dry lentils brought to a boil with 2/3 cup water, then simmered, covered for about 35 minutes. Feel free to substitute with green or brown lentils.
The Mostly Vegan http://www.themostlyvegan.com/