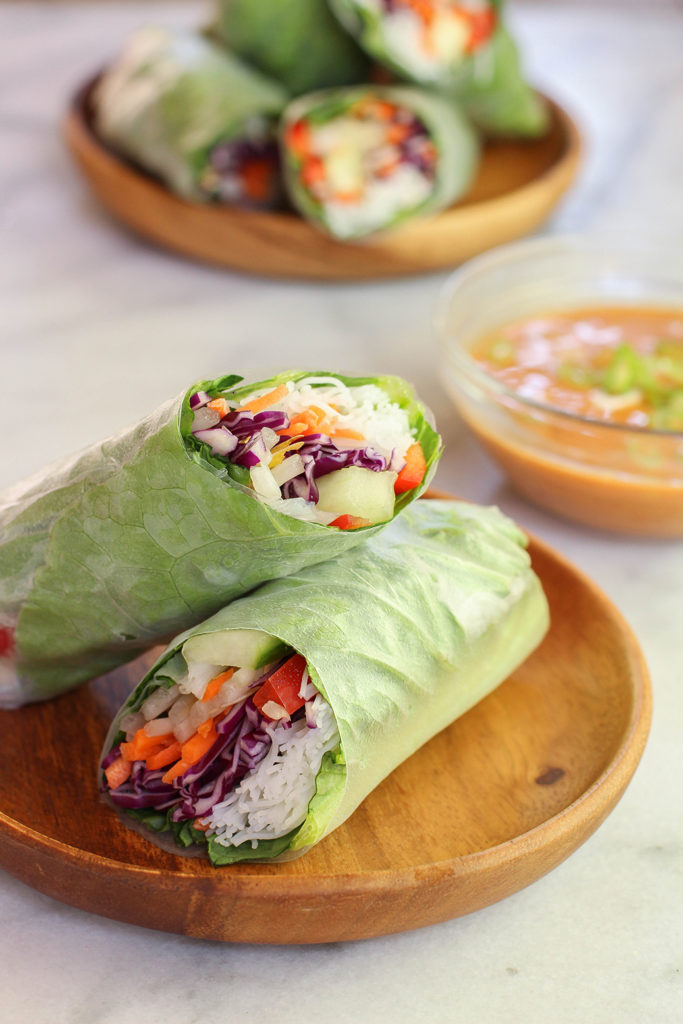 Spring rolls, summer rolls, Vietnamese spring rolls. Whatever you call them, these veggie packed bundles make the perfect vehicle delivery system for packing an insane amount of veggies into your diet. Weirdly – and stupidly – I only started making veggie spring rolls at home about a month ago. I think I was always a bit intimidated by the whole process, but that's all in the past.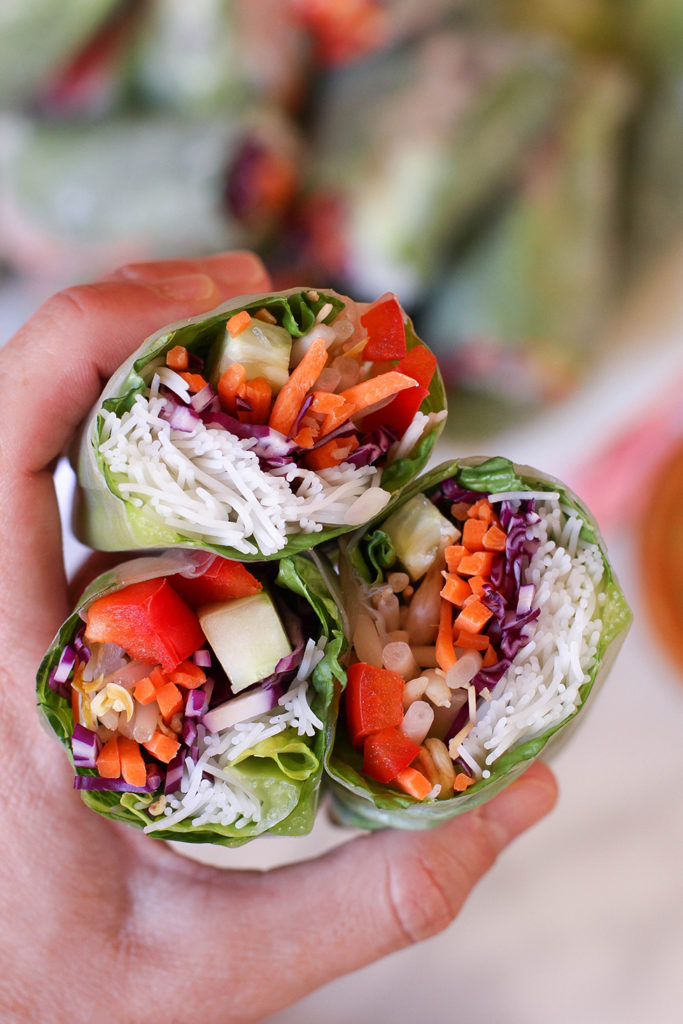 Once you get the hang of rolling up the rice paper, homemade spring rolls are ridiculously easy to master. Ok, I'm using the term master very loosely, but rice paper is totally forgiving. I tend to overstuff mine, which means a lot of nipping and tucking the ends of my rolls to seal them up in a cute little package. They might not look awe inspiring fully formed, but once you cut them in half, no one will care. All those glorious colorful veggies peeking out will shut down any haters. My preferred stuffing lineup? Cold maifun rice noodles (sometimes I use brown rice noodles for even more fiber), purple cabbage, red bell pepper, cucumber, bean sprouts, and carrots. All layered on top of a leaf of romaine lettuce.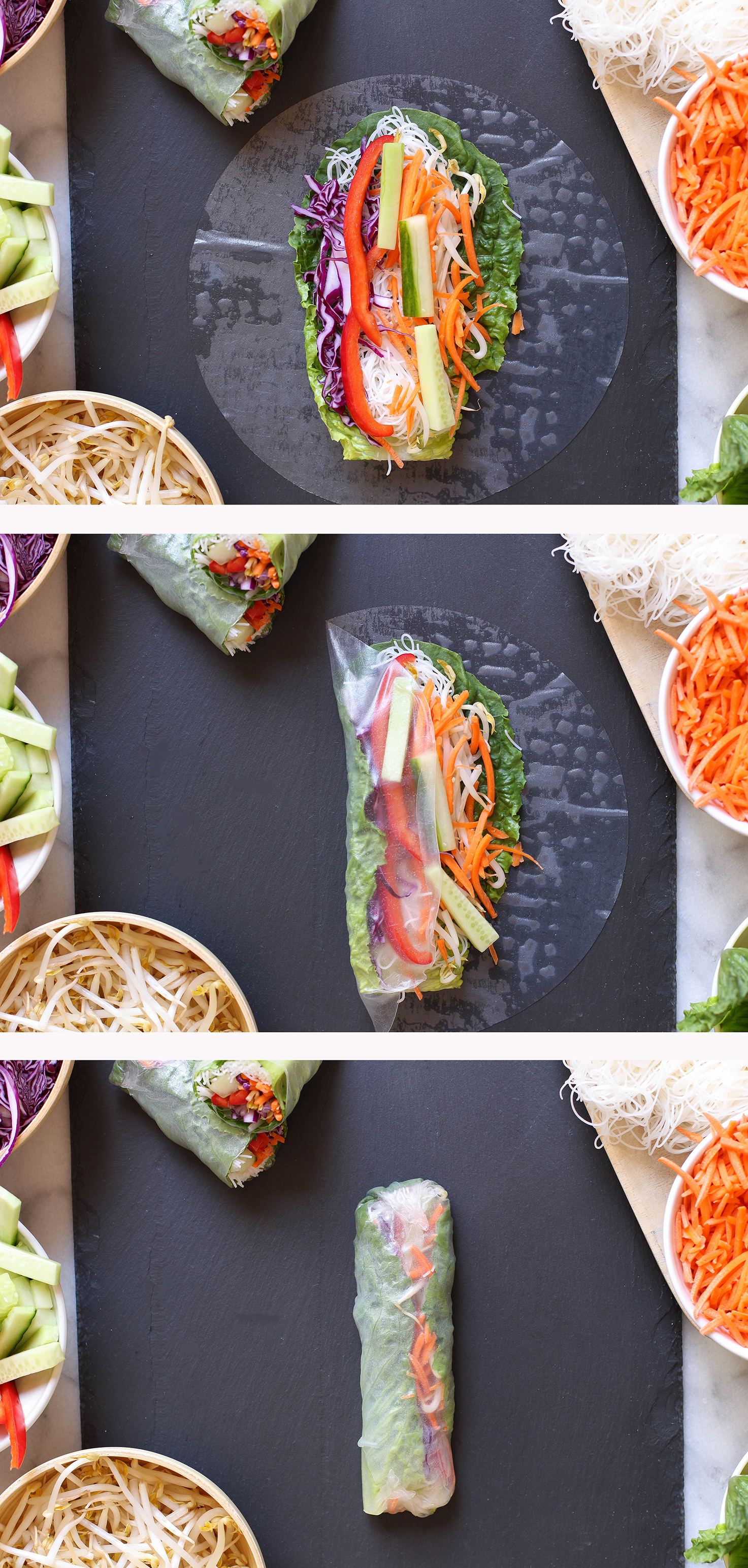 Now that I'm a homemade spring roll making convert, I've been making these non-stop. I even had my mom over for a spring roll making party (oh ya, we party hard) on a Monday night. About one hour and one bottle of wine later, she'd made enough spring rolls to pack for lunches for the rest of the week and I'd made a bunch for my husband and I to enjoy on a flight to Nashville the next day. Did I mention that these last for days in the fridge and make the perfect travel food? Word of warning though, if you're going to pack in a carry-on, be sure to put the dipping sauce in a container clearly marked with TSA approved ounces. Shout out to the security agent at LAX who let my spicy peanut sauce go through with a warning!
Which brings me to the spicy peanut dipping sauce! Natural peanut butter is the base, which provides protein and some healthy fat (because man cannot live on veggies alone), while rice vinegar adds tang, maple syrup a hit of natural sweetness, chili garlic sauce a bit of heat, and coconut aminos lend an umami-esque savory finish. I love me some coconut aminos, which I sub out for the more traditional soy sauce, because soy tends to upset my stomach and frankly, I just don't like the taste. The coconut aminos also keep this dish completely gluten free.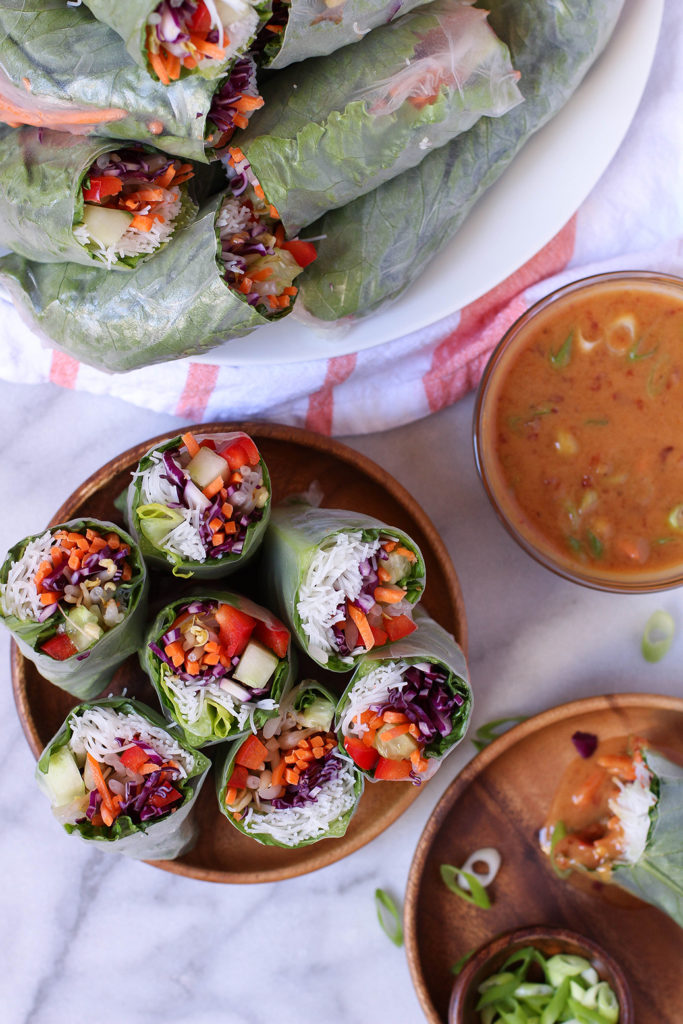 Now, are you ready to get your spring roll on? Keep in mind, the recipe as written below makes 15 – 20 spring rolls and about a cup and a half of sauce. It's a lot, but they'll last in the fridge for up to 5 days. The recipe can easily be halved to make less. I tend to eat about 3 – 4 rolls (uncut) with a 1/3 cup dipping sauce before I start to feel like I'm turning into a vegetable, but you do you.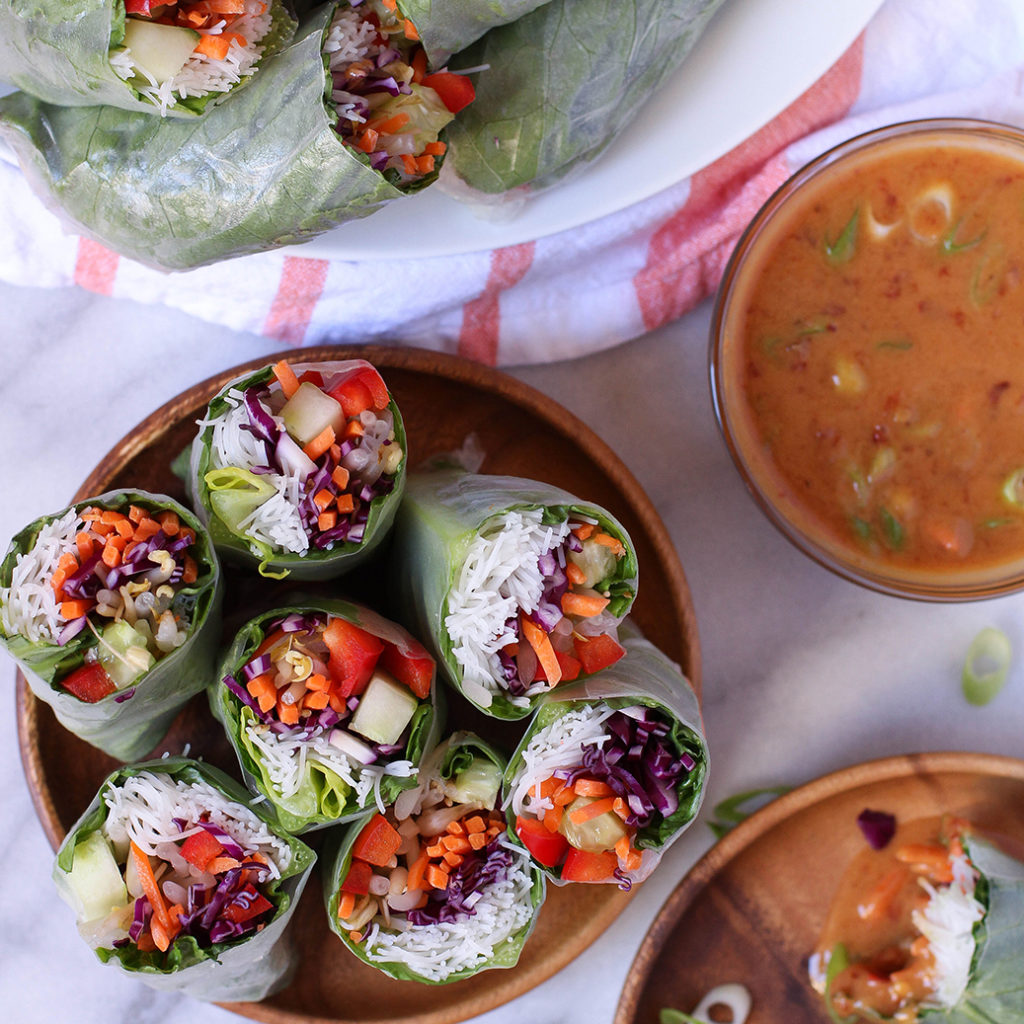 Veggie Spring Rolls with Spicy Peanut Dipping Sauce
2016-07-13 23:23:41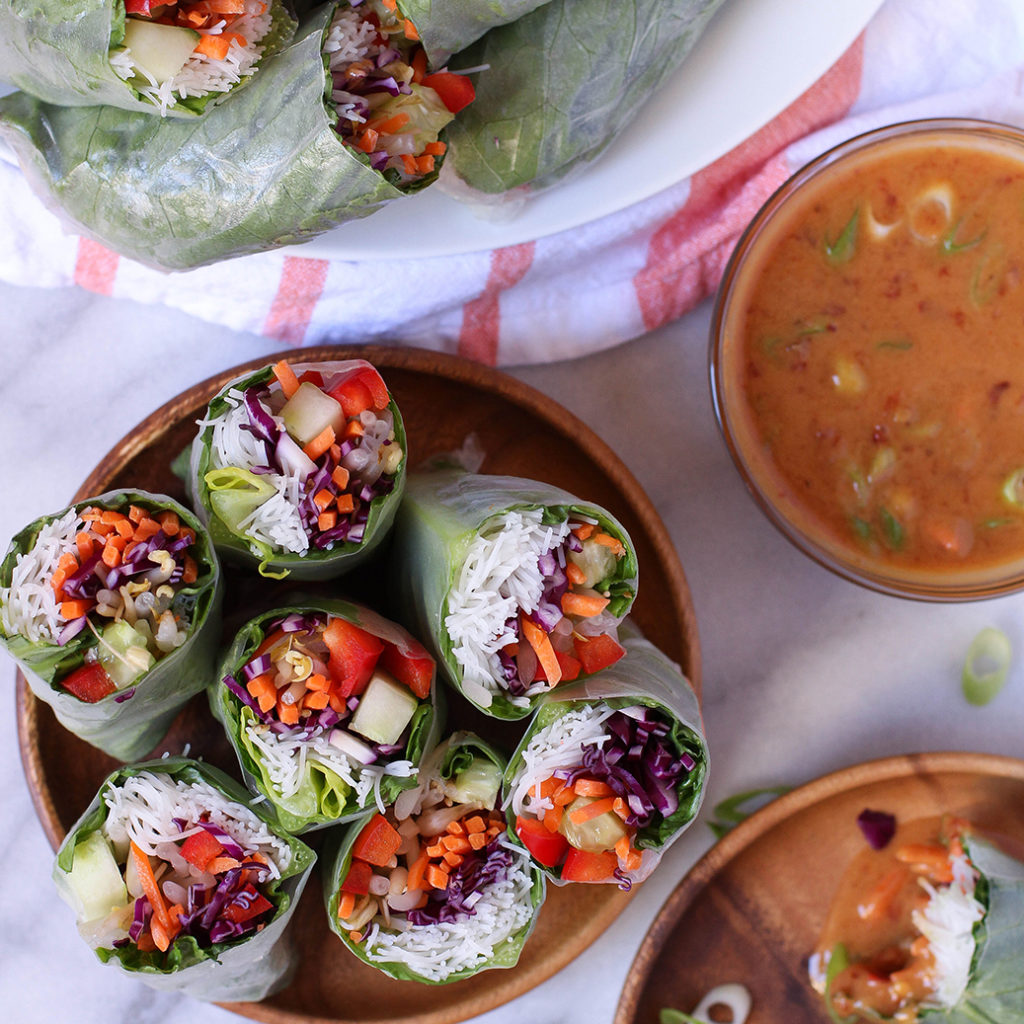 Makes 15 - 20 spring rolls & about 1 1/2 cups dipping sauce.
Ingredients
20, 9 inch rice paper wrappers
8 ounces maifun or vermicelli rice noodles
2 heads romaine lettuce
1 red bell pepper, thinly sliced
1/2 hothouse cucumber, thinly sliced
2 heaping cups carrots, shredded
2 heaping cups purple cabbage, shredded
2 heaping cups mung bean sprouts
Spicy Peanut Dipping Sauce
1/2 cup natural peanut butter*
1/2 cup unseasoned rice vinegar
1/4 cup maple syrup
1/4 cup coconut aminos (or soy sauce)
1/4 cup chili garlic sauce
2 green onions, thinly sliced
Instructions
Bring a large pot of water to a boil. Add rice noodles and cook for 2 minutes. Remove from heat, drain and rinse under cold water to stop cooking.
Trim romaine leaves to fit on the rice paper. Working with one rice paper at a time, submerge in a shallow bowl of water (a round cake pan works well) for 5 seconds. Remove rice paper from water and place on your work surface. Lay a romaine leaf on the paper, then layer on a small amount of rice noodles and each of the veggies.
Fold over one side of the rice paper then fold over top and bottom. Using a rolling motion, continue to seal rice paper on opposite side.
Store spring rolls in the fridge, uncut, for up to 5 days.
Spicy Peanut Dipping Sauce
Combine all ingredients in a small bowl and whisk to combine. Garnish with green onions.
Leftover sauce can be stored in the fridge for up to a week.
Notes
* I use salted peanut butter. If using unsalted peanut butter, add a pinch of sea salt to the dipping sauce.
For those with peanut allergies, sub toasted sesame oil.
The Mostly Vegan http://www.themostlyvegan.com/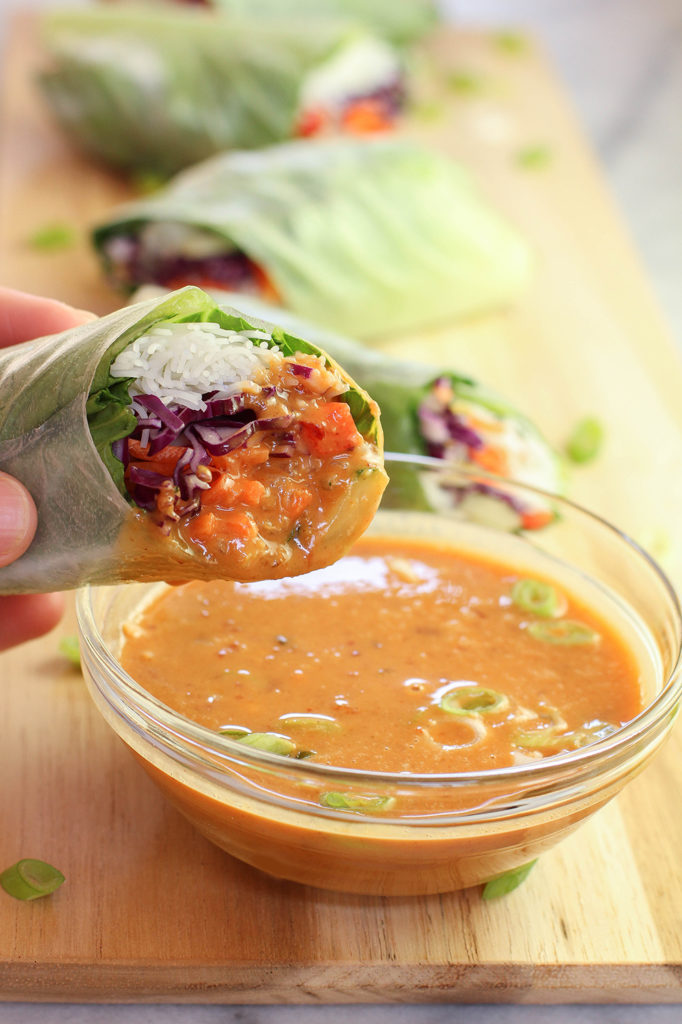 And, if you're literally throwing a spring roll party and want a few other nibbles to round out the menu, check out the recipe for my fresh and easy Green Pea and Edamame Hummus over on Project Juice's Ritual Wellness blog this week.