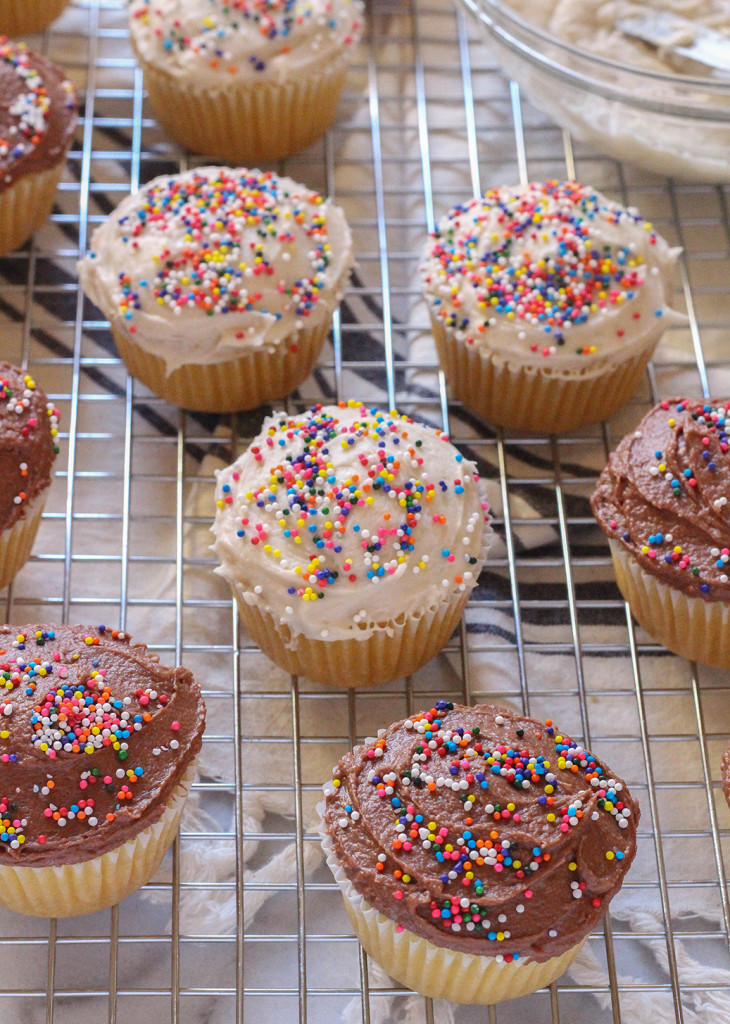 Not to sound braggy, but these vegan vanilla cupcakes are kind of perfect. Light and airy with a delicate crumb and dainty domed tops, they're everything a cupcake should be. And don't even get me started on the vanilla and chocolate buttercreams, thick and creamy and just the right amount of sweet. I could eat both flavors by the spoonful.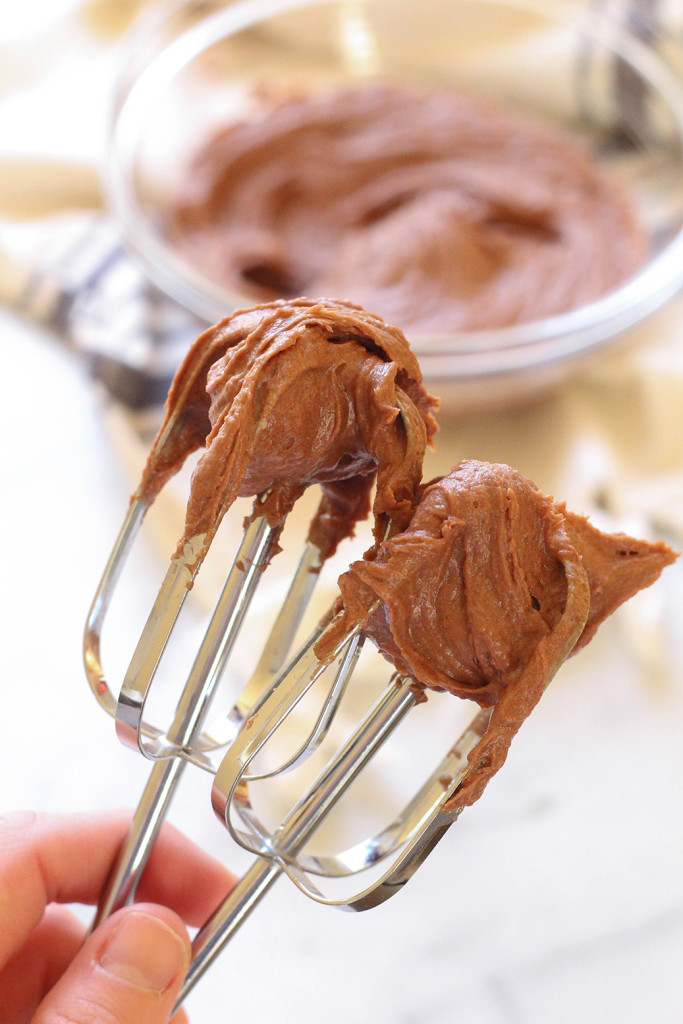 Getting to this point however, well, let's just say I was in it for the long haul. Countless batches of cupcakes and bowls of frosting were made and thousands of calories were consumed. At some point, maybe the fourth batch in, I wondered what I was doing with my life.  I ate more cupcakes than a woman of my size should in good conscience . All of them good, but only one was great.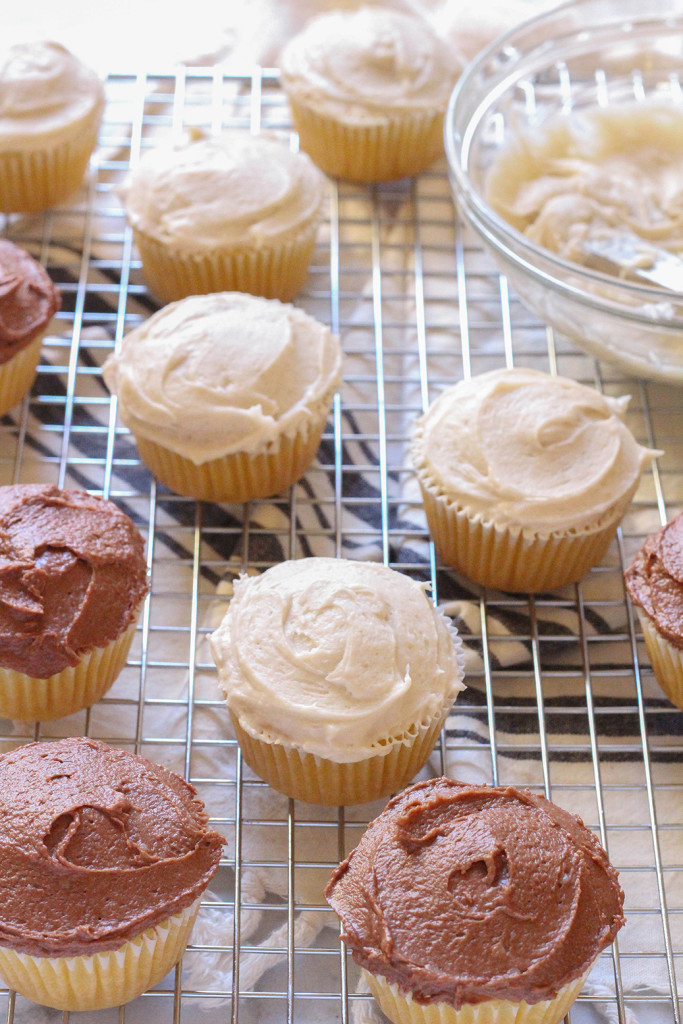 A few things I learned about cupcake making along the way:
First thing, vegan butter is not for me. Besides the occasional schmear of Earth Balance on a scone or piece of cornbread, I'm very anti-vegan butter in baking. Maybe it's the smell? Maybe it's the fact that it's full of soy. I just prefer to steer clear, which left me with my preferred baking oil, unrefined coconut. Not shockingly, the strong coconut aroma and taste doesn't work with cakes or frostings. Enter, refined coconut oil. Think of it as the unrefined stuff's odorless and tasteless cousin. It behaves the same way as refined – solid at room temperature, liquid when heated – making it perfect for both the cakes and buttercream.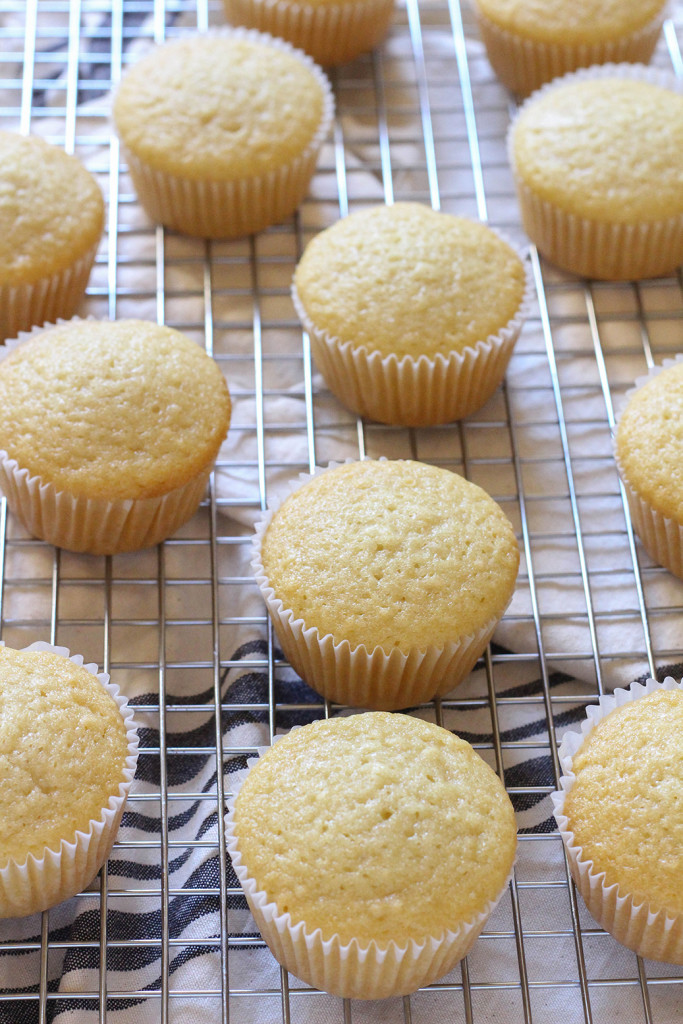 Second thing, I hate muffin-like cupcakes. Hate 'em! A cupcake should be light and soft, not dense and chewy, which poses a challenge when subbing oil for real butter. Oil automatically lends itself to a more muffin like cake, meaning I really had to play around with flour ratios to achieve a cakier cake. (That's totally a thing.) Reducing the overall amount of flour helped a lot. I highly recommend investing in a kitchen scale to accurately measure your flour. There's a reason professional bakers list weights in their recipes as opposed to cups. Creating a DIY cake flour with the addition of corn starch also helped. Thoroughly sifting the flour, cornstarch, and requisite baking powder and baking soda was the real game changer though. Everything is sifted together 5 times. I know, I know, 5 times! It's a lot, it's like, five extra steps. But it truly makes a difference. (Take it from Joy the Baker)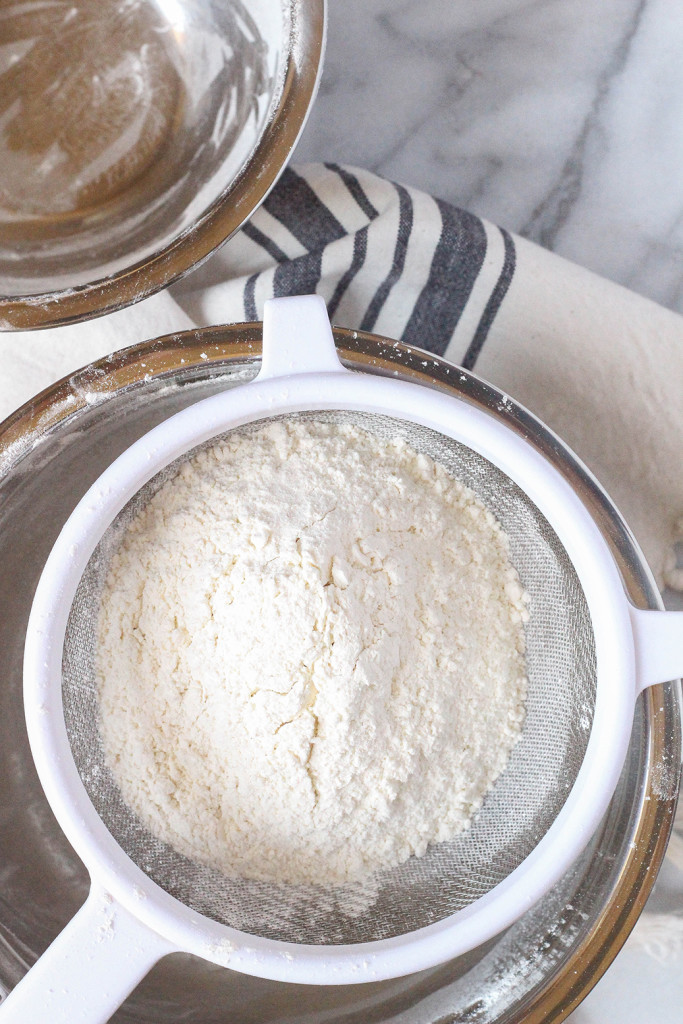 Third and final thing, it is totally possible to make a classic American buttercream from refined coconut oil and powdered sugar, assuming you use a hand mixer. It's essential for breaking up the coconut oil (even my fancy schmancy stand mixer doesn't come close). The end result is just as good, if not better than the buttery stuff. Leftover frosting can even be stored in the fridge. It will harden when chilled, but will soften again when brought to room temperature. Pretty cool, right?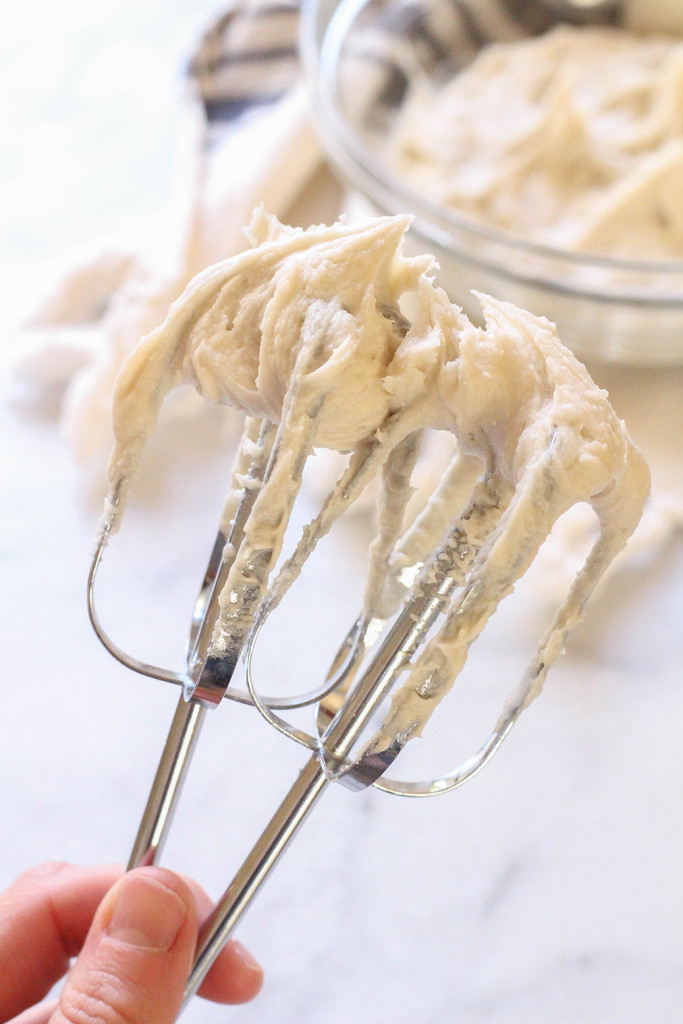 So there you have it, lessons learned in the quest for vegan cupcake mastery. Make a batch with chocolate frosting. Make one with vanilla. Make 'em both! Just make 'em and say hello to your fave cupcake recipe.

Vanilla Cupcakes with Chocolate & Vanilla Buttercream
Makes 12 cupcakes. Buttercream recipes are for 12 cupcakes each.
Ingredients
Cupcakes
200 grams unbleached all purpose flour*
1 cup organic granulated sugar
2 tablespoons cornstarch
1 teaspoon baking powder
½ teaspoon baking soda
½ teaspoon sea salt
1 cup plain, unsweetened almond milk (warmed to room temperature)
½ cup organic refined coconut oil, melted**
1 teaspoon lemon juice or apple cider vinegar
1 teaspoon vanilla extract
Chocolate Buttercream
⅓ cup organic refined coconut oil, solid
1½ cups organic powdered sugar
2 tablespoons unsweetened, natural or Dutch processed cocoa powder
2 tablespoons plain, unsweetened almond milk
1 teaspoon vanilla extract
Vanilla Buttercream
⅓ cup organic refined coconut oil, solid
1½ cups organic powdered sugar
1 tablespoon plain, unsweetened almond milk
1 teaspoon vanilla extract
sprinkles for topping (optional)
Instructions
Cupcakes
Preheat oven to 350 F. Add lemon juice or apple cider vinegar to almond milk and set aside. Sift flour, cornstarch, baking powder, baking soda, and sea salt into a large bowl. Sift flour mixture 4 more times. (Do not skip this step, thoroughly sifting the flour is essential to achieving a light, cakey texture.)
In a large bowl combine sugar, vanilla extract, almond milk and melted coconut oil. (Before adding almond milk make sure it is at room temperature or else it will cause the coconut oil to harden. Warm in the microwave in 10 second increments if it is cold to the touch.) Thoroughly whisk together all ingredients.
In three additions, add flour mixture to wet ingredients, whisking thoroughly after each addition to break up any clumps. Line a standard muffin tin with cupcake liners. Using a ¼ measuring cup, divide batter evenly among muffin cups. Bake for 20-25 minutes until a toothpick inserted in center comes out clean. Cupcakes will only be very lightly golden on the top.
Remove cupcakes from tin and allow to cool completely on a cooling rack before frosting.
Chocolate Buttercream
Combine coconut oil, cocoa powder, almond milk, and vanilla extract in a large mixing bowl. Add ½ cup of powdered sugar and beat on medium-high with a double whisk hand mixer. Add remaining cup of powdered sugar in 2 increments. Continue to beat on medium-high until buttercream is light and fluffy.
Vanilla Buttercream
Repeat process described for Chocolate Buttercream.***
Frost cupcakes using an offset spatula or knife. Top with sprinkles. Cupcakes can be stored in an airtight container at room temperature for up to 3 days. If it's particularly warm in your kitchen, keep cupcakes in the fridge and remove about 20 minutes before you plan to eat them to allow the buttercream to soften back up.
Notes
* Use a kitchen scale to weigh the exact amount of flour. If you do not have a kitchen scale, measure out approximately 1¼ cups, plus an additional 2 tablespoons flour by scooping with a measuring cup and leveling off the top.
** Refined coconut oil is solid at room temperature. Unlike unrefined coconut oil, it does not have a strong coconut smell or flavor.
*** If your powdered sugar and cocoa powder are at all lumpy, sift them through a fine mesh sieve (whatever you used for the flour & cornstarch) before adding to the coconut oil.
**** If coconut oil is too soft/melty, place in the fridge for five minutes and then continue to beat with the hand mixer. Even once thoroughly mixed, you may notice a few tiny clumps of coconut oil in your frosting (only visible in the chocolate buttercream). It's ok, cover them up with sprinkles!