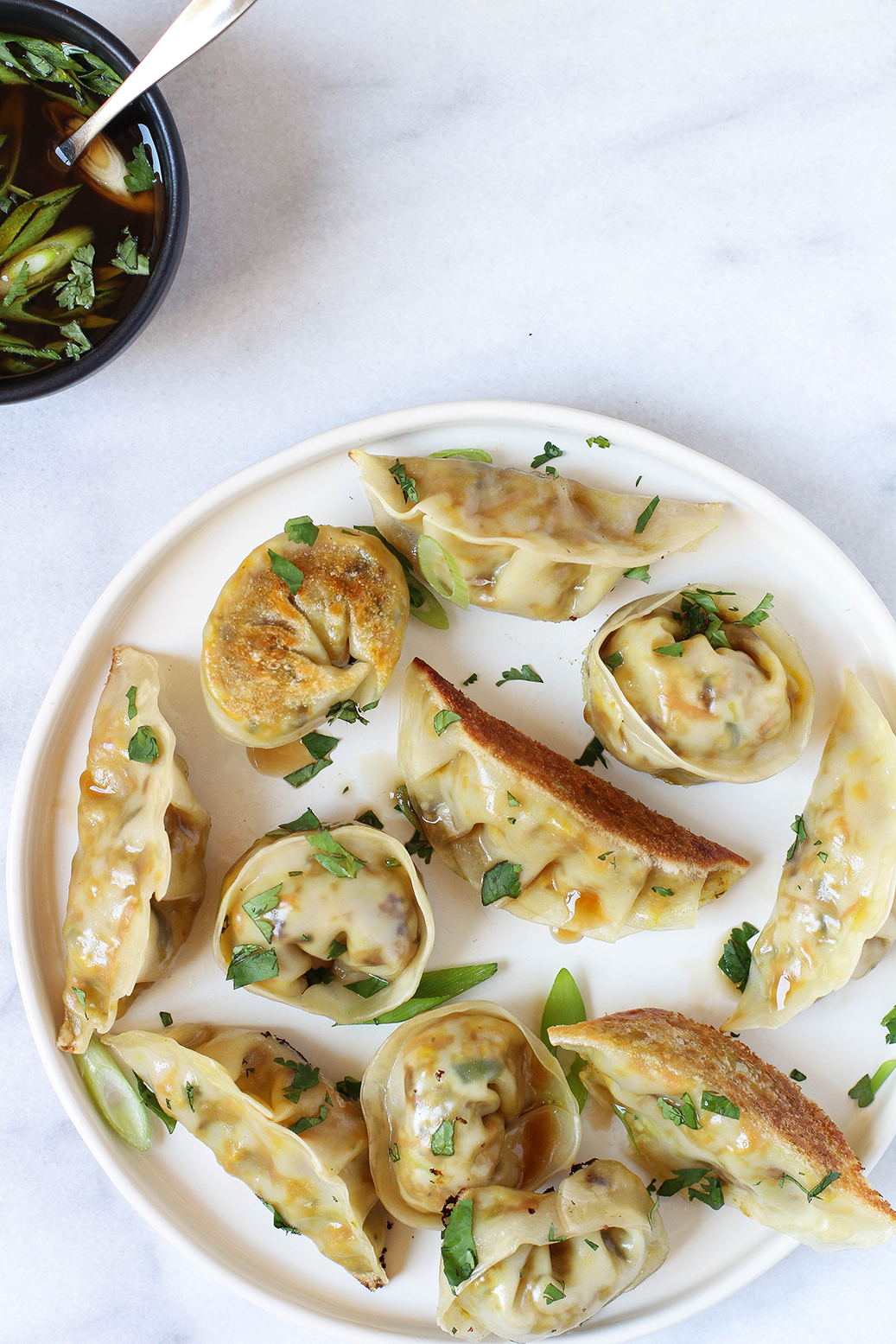 You guys, aren't these potstickers just too cute?! I'm obsessed. Besides being adorable, they're my hands down favorite big batch food to prep for those days when you're too tired and starving to motivate yourself to cook a healthy and delicious meal from start to finish. Potstickers are perfect for freezing – they can be fully cooked from frozen in about 10 minutes flat – and can be eaten solo with a tasty sauce – like my Toasted Sesame Dipping Sauce – or jazzed up with whatever you've got hanging out in the fridge. My favorite way to eat them? Served over a bed of steamed kale and broccoli with a hefty scoop of whatever leftover grain – red quinoa, brown rice, etc. – I have on hand. I top that off with a generous sprinkling of green onions and chopped cilantro and a drizzle of coconut aminos (think of it as a less salty, slightly sweet version of soy sauce). It's one of those meals that makes me giddy with happiness because it's so obnoxiously healthy and ridiculously tasty.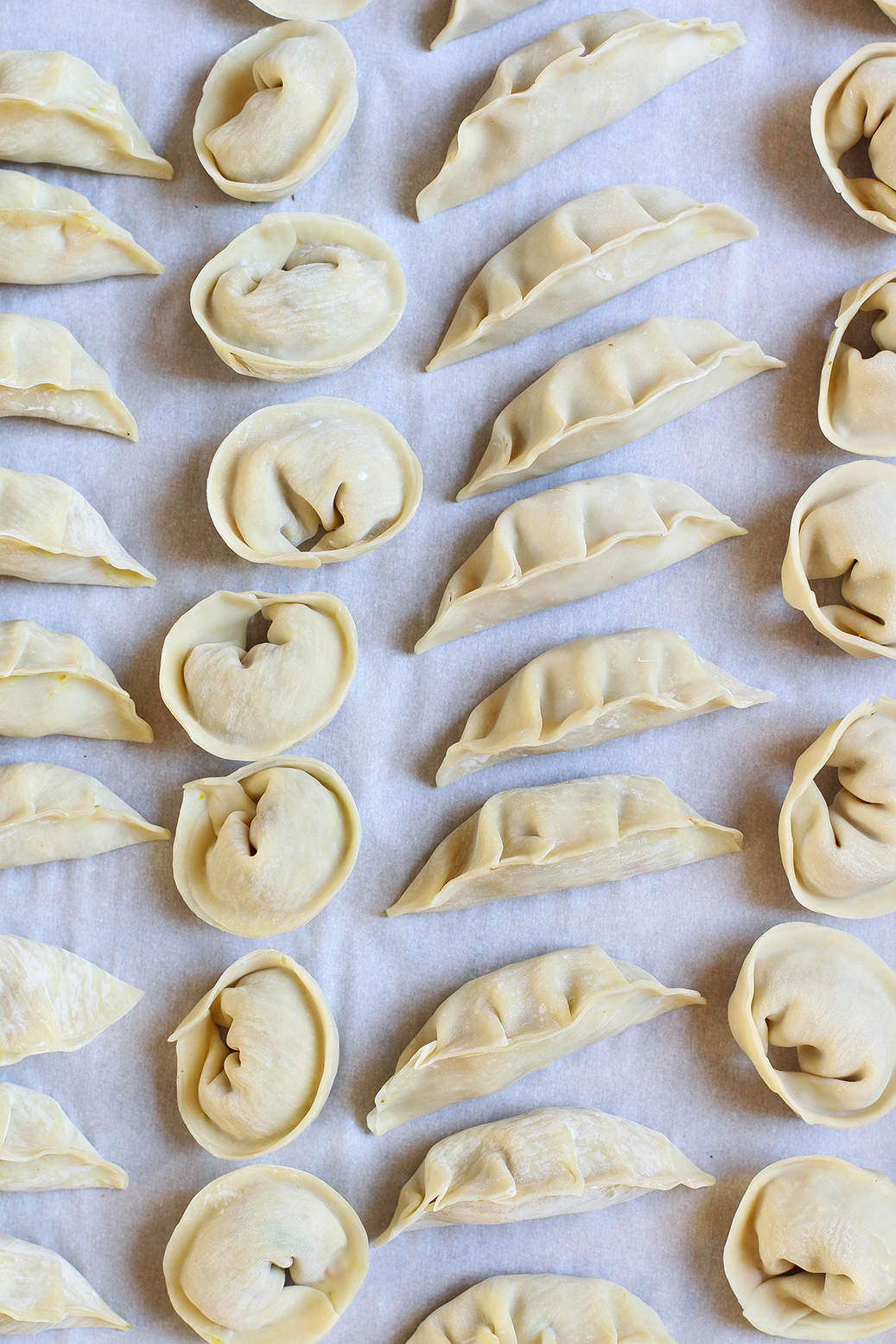 The recipe below yields about 70 potstickers. That's a lot of potstickers, I get it, so feel free to halve the recipe right down the middle if you're doubting your commitment. Just for reference, it takes me a little under an hour to fill 70 potstickers all by my lonesome. If my husband's around to help, we can breeze through them in a half hour. Besides, they're actually kind of fun to make once you get the hang of it. I'm partial to the pleated half moon or hat (they look like ravioli, how can you not love them?!) shapes shown here. If you're like I was, and kind of shaky at how exactly to seal and shape the gyoza wrappers into discernible forms, this video is a great introduction.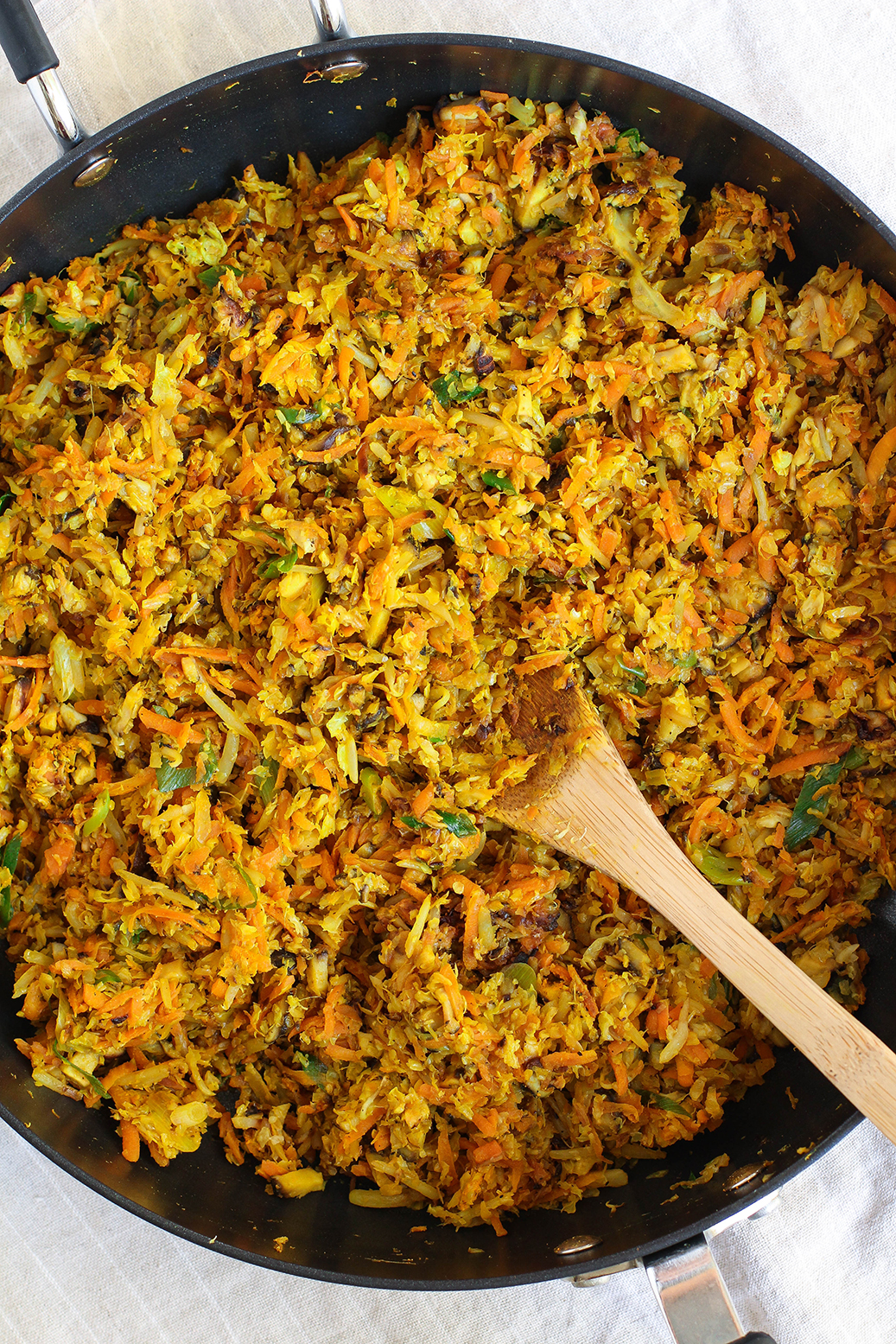 Oh, and the filling! I can't believe I've left it to the end. These are filled with a yummy mix of sautéed garlic, shitake mushrooms, beans sprouts, cabbage, and carrots. I basically mince all of the veggies, which makes for a much easier time when filling your gyoza wrappers. Ground turmeric and ginger provide an insane amount of flavor and deliver all of that gorgeous golden color. Plus turmeric is kind of a super spice, with a laundry list of health benefits, most notably its antioxidant and anti-inflammatory properties. It's also the hottest spice going right now so why not sneak it in wherever possible? Alright, that's enough from me. Go forth and get your potsticker on.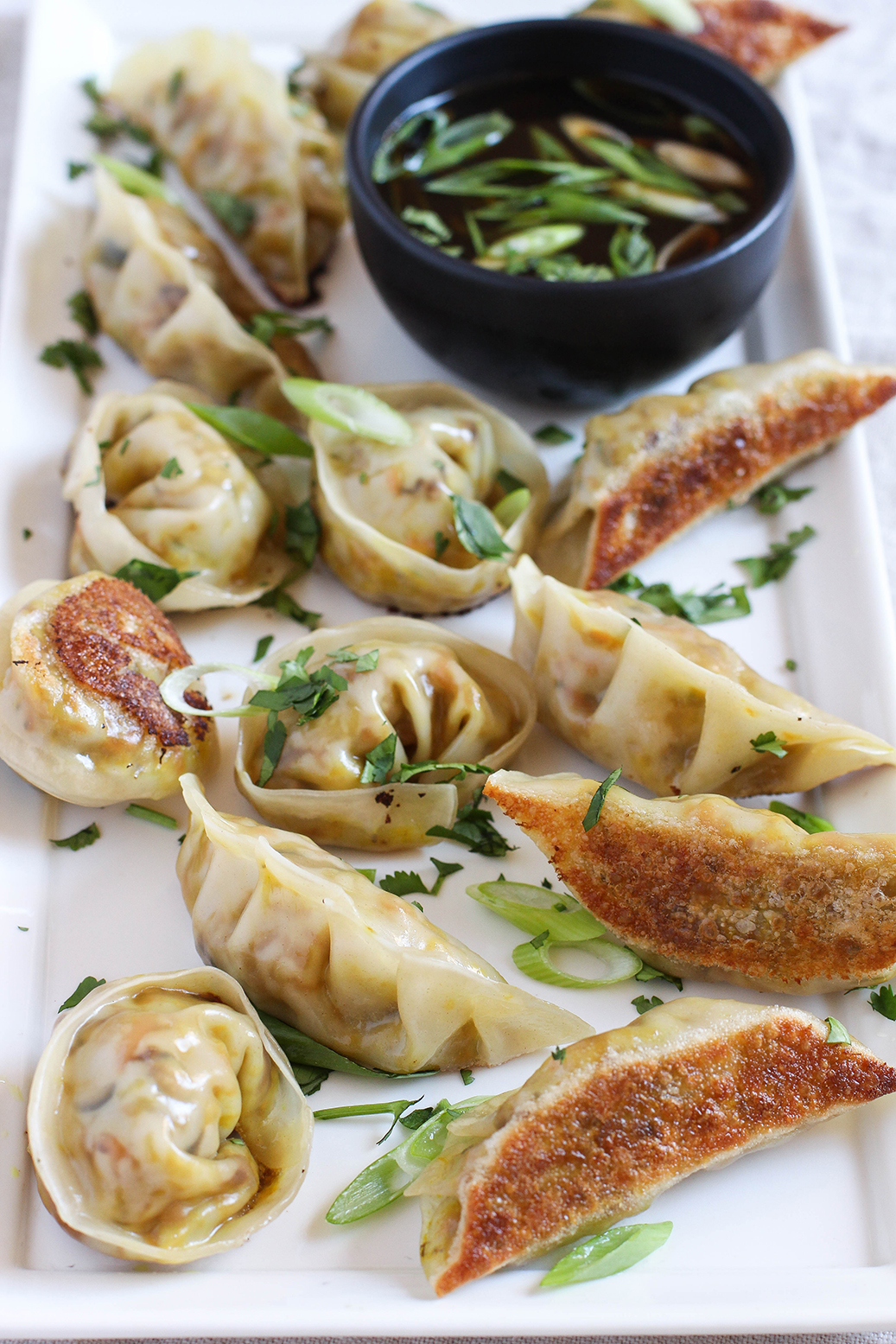 Turmeric Spiced Veggie Potstickers
Makes about 70 potstickers, perfect for freezing. Recipe can be halved.
Ingredients
2 packages round gyoza wrappers
8 ounces shitake mushrooms, finely diced
8 ounces bean sprouts, finely diced
1 small head green or savoy cabbage, shredded
8 carrots, shredded*
2 large green onions, thinly sliced (about ½ cup)
2 cloves garlic, minced
3 tablespoons extra virgin olive oil, divided
1 tablespoon ground turmeric
1 tablespoon ground ginger
1 teaspoon sea salt
1 teaspoon black pepper
For serving: handful fresh cilantro, roughly chopped; sliced green onion, coconut aminos or Toasted Sesame Dipping Sauce
Toasted Sesame Dipping Sauce
1 tablespoon toasted sesame oil
2 tablespoons rice vinegar
1 tablespoon maple syrup
1 tablespoon coconut aminos or soy sauce
2 teaspoons chili garlic sauce
Instructions
Heat 2 tablespoons olive oil in a large pan over medium-high heat. Add garlic to pan and cook 1 minute. Add mushrooms, bean sprouts, cabbage, and carrots and saute until veggies are softened and starting to brown, about 10 minutes. Add green onions to pan with turmeric, ginger, salt, and pepper. Cook a few minutes more. Turn off heat and allow veggie mixture to cool while organizing your prep space for assembling the potstickers.
Assembling Potstickers
If your gyoza wrappers are frozen, it's best to leave them to defrost in the refrigerator overnight. Remove thawed wrappers from the refrigerator while you prepare your veggies. Wrap gyoza in a damp paper towel to keep moist while assembling potstickers. Leftover wrappers can be wrapped in plastic wrap and refrozen.
Line two cookie sheets with parchment paper for arranging assembled potstickers to freeze. Working with one wonton wrapper at a time, use a pastry brush or your fingertips to lightly dampen the edges of one side of the wrapper with water (this will help them stay closed). Add one to two teaspoons of the filling to the middle of the wrapper and crimp edges together to form the half moon shape or press together and fold corners to form the hat shape.
This video is a great tutorial for how to seal potstickers and create the hat and half moon shapes I use here.
Place assembled potstickers on your cookie sheet and repeat process until all of your filling is gone.
Place cookie sheets in the freezer for 2 hours then store frozen potstickers in a sealed plastic bag in the freezer for up to a month.
Pan Frying
To pan fry fresh potstickers, heat remaining tablespoon of olive oil in a large flat-bottomed pan (it should ideally have a glass lid for keeping an eye on the potstickers as they steam) over medium to medium-high heat. Place potstickers in pan, making sure not to crowd them. Allow to cook until bottoms begin to brown, about 3 minutes.
Add ⅓ cup of water to pan, pouring over the potstickers to moisten the tops. Place lid on the pan and allow to steam until water is absorbed, 5-7 minutes. Potstickers should be translucent and bottoms should be well browned. If wrappers are still a bit opaque after 7 minutes, add additional water to pan (about 3 tablespoons at a time) and replace lid to steam until they become translucent.
Frozen potstickers can be cooked exactly as above.
Toasted Sesame Dipping Sauce
Combine all ingredients in a bowl and whisk until combined.
Serving
Serve potstickers warm, drizzled simply with coconut aminos or Toasted Sesame Dipping Sauce. Garnish with green onions and fresh cilantro.
Notes
* Use a box grater or the shredder attachment on a food processor to shred your cabbage and carrots.