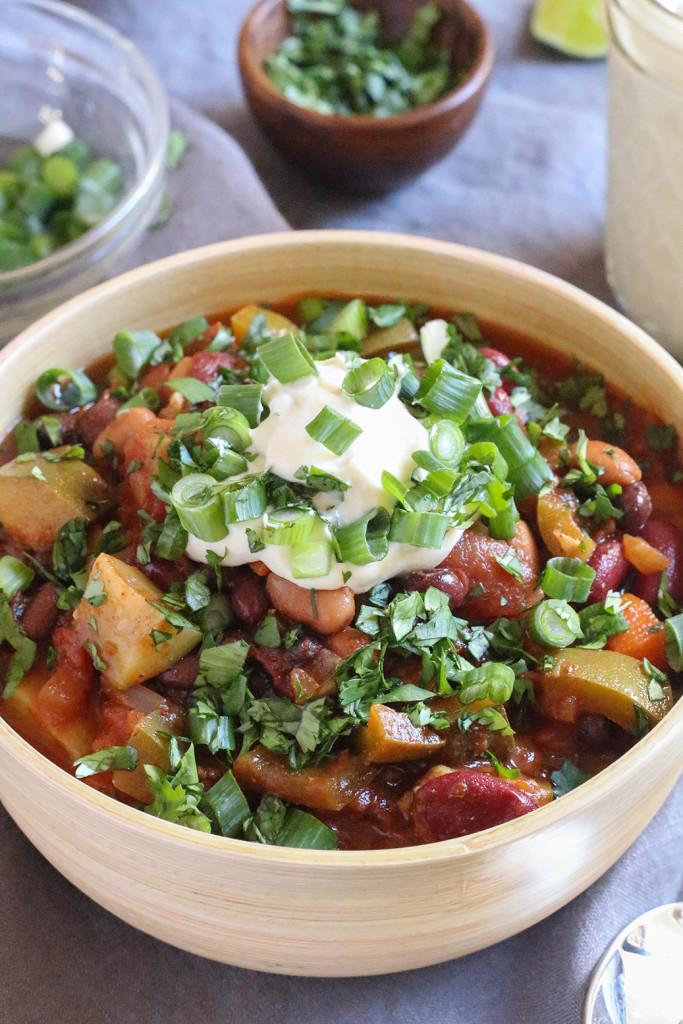 Oh, chili. You crowd pleasing, hearty, spicy pot of awesomeness. I love you so, in all your many (veggie) forms, but mostly this form – the Three Bean Vegan Chili form. In my humble opinion, any vegetarian or vegan worth their salt needs a go to chili recipe in their back pocket. This is mine. It's quickly become a family fave, leaving a former sweet potato heavy version in the dust. It's jam packed with veggies, pinto, kidney, and black beans, and satisfies with the perfect balance of smoky savoriness.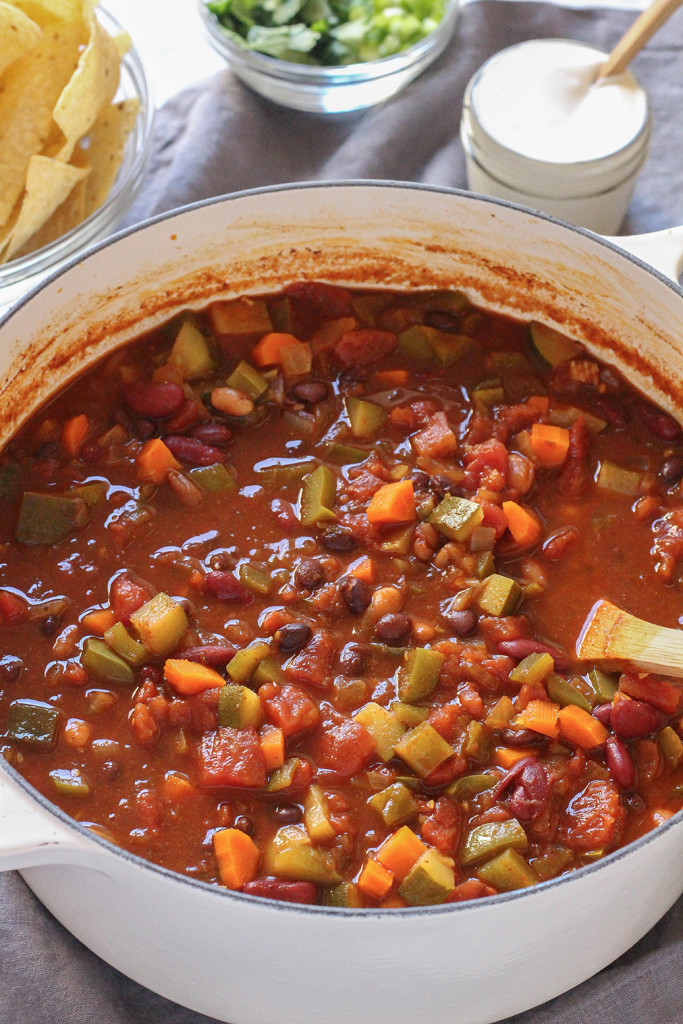 It's a chili you can boldly serve to your non-vegan friends, knowing with total confidence that they won't miss the meat. Even my sister, who is neither vegetarian nor vegan but considers herself to be quite the vegetarian chili aficionado (if it's on a menu anywhere, she's ordering it dammit!), claims it's the best she's ever had. Served alongside my Easy Vegan Cornbread or a heaping bowl of tortilla chips, it's the ultimate comfort food meal.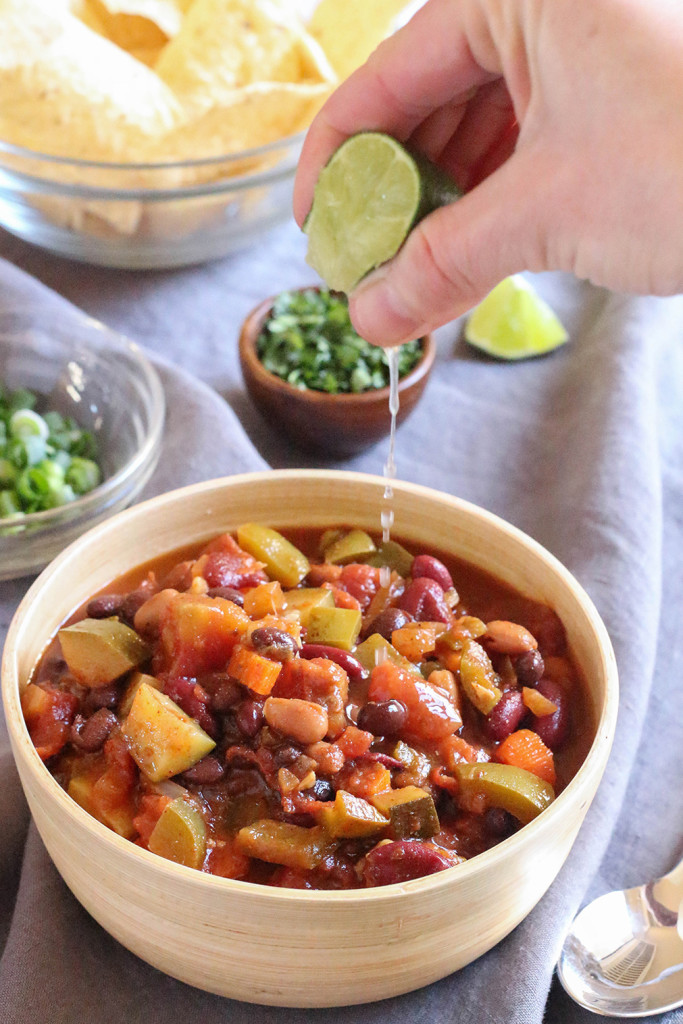 All in, it should take a little over an hour to prepare this chili from the first dice of an onion to that final sprinkle of salt. This is not speed chili, because, it's also my humble opinion that any decent chili needs adequate simmer time. You gotta give those intense flavors – chipotle, cumin, cayenne – a chance to mellow out together and morph into something truly slurpable. Great chili is worth the wait.
Feed six of your favorite peeps with this recipe, or do like we do and eat it over a couple of days. Like any good chili, it just gets better with time.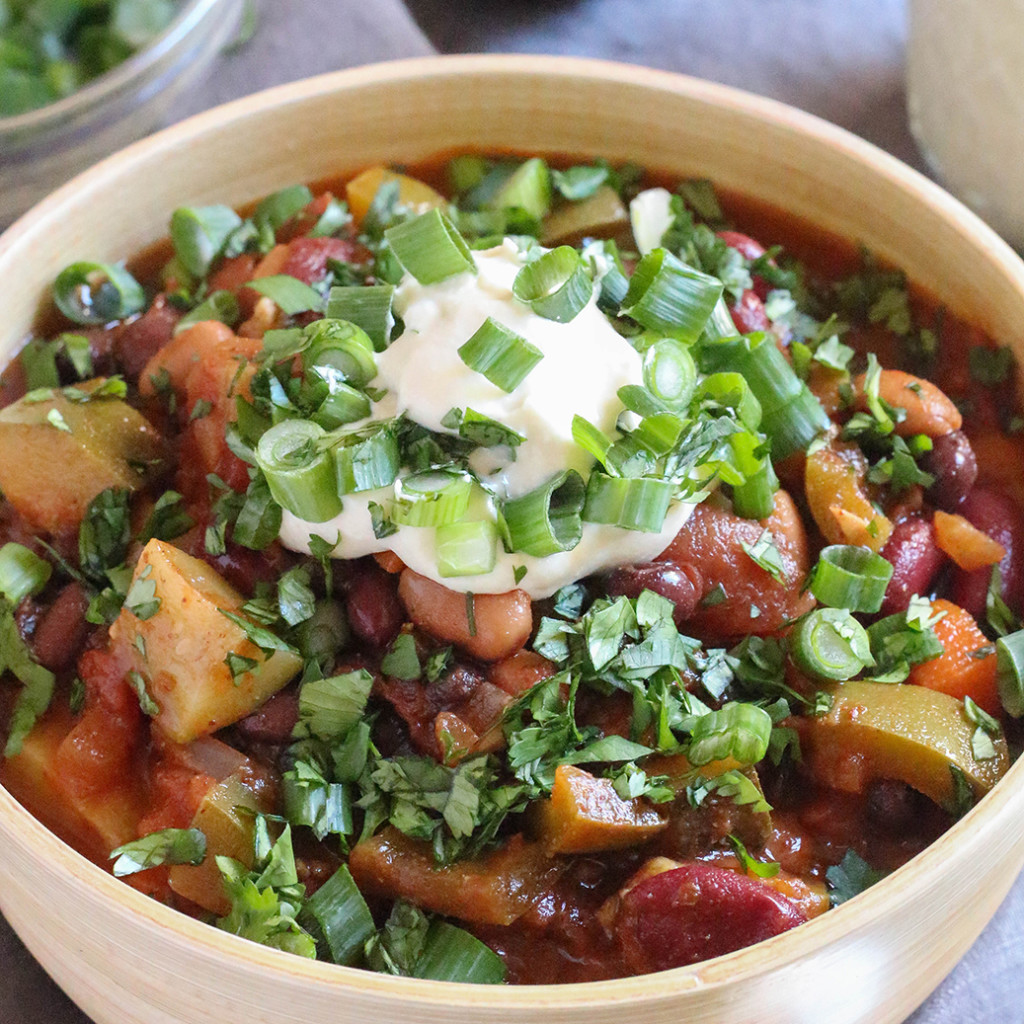 Three Bean Chili
2016-04-05 10:42:06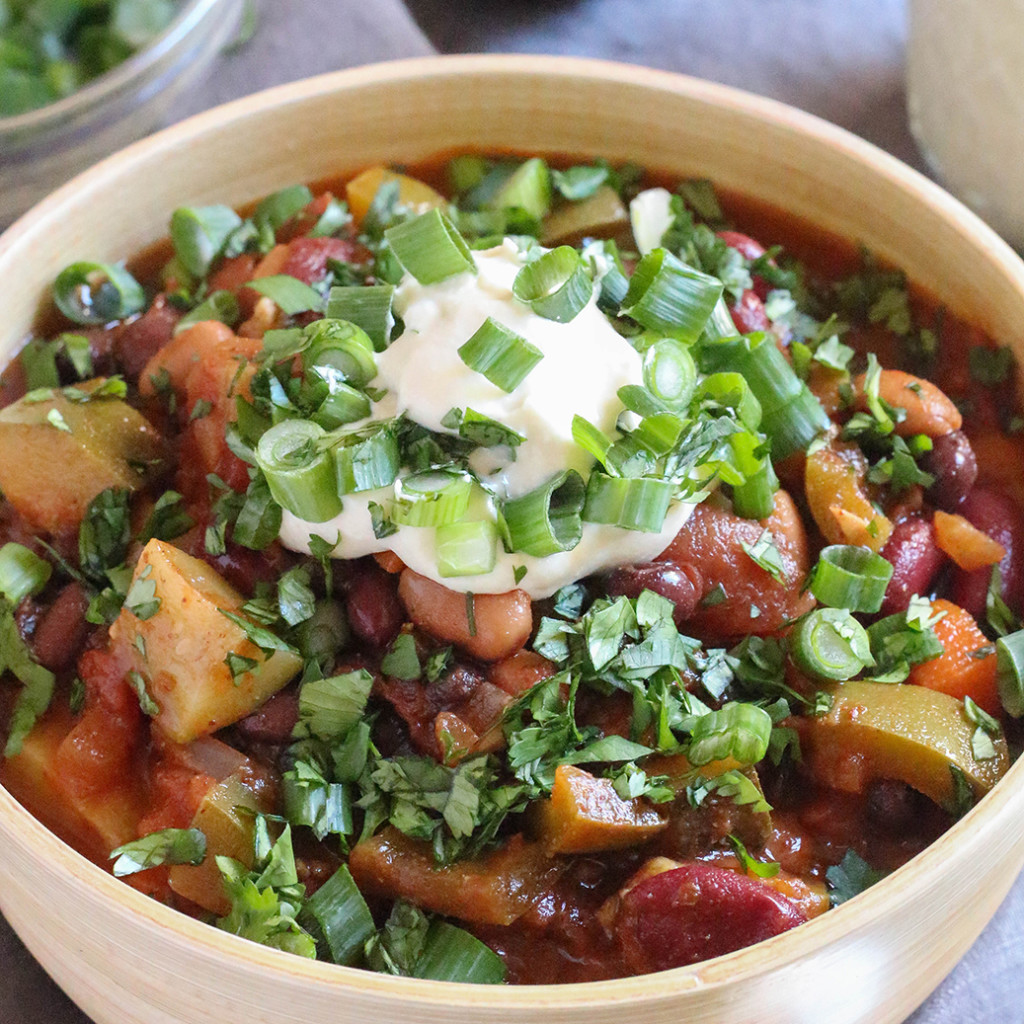 Makes about 12 cups.
Ingredients
1 yellow onion, diced (2 cups)
2 bell peppers, diced (2 cups)
2 large carrots, diced (1 cup)
1 large zucchini, diced (1 cup)
4 cloves garlic, minced (1 tablespoon)
2 tablespoons extra virgin olive oil
2 tablespoons tomato paste
3 tablespoons chili powder
1 tablespoon, plus 1 teaspoon cumin
1 tablespoon chipotle chili powder
1 tablespoon brown sugar
1 teaspoon oregano
1/2 teaspoon cayenne
2 1/4 teaspoons sea salt
2, 14 ounce cans no salt added diced tomatoes
1, 4 ounce can fire roasted green chiles
1, 15 ounce can each of no salt added pinto, kidney, and black beans (drained but not rinsed)
1 cup dark beer, such as Guinness
2 cups low sodium vegetable broth
Instructions
Heat olive oil over medium heat in a large pot. Add onions and garlic and cook until onions are soft and just beginning to brown, about 5 minutes. Add tomato paste, brown sugar, salt, and spices and cook 2 minutes more.
Increase heat to medium-high and add remaining ingredients - vegetables, canned tomatoes, green chiles, vegetable stock, beer, and beans. Bring to a boil, then lower to a simmer and cook covered for 30 minutes. After 30 minutes, stir and partially cover pot, allowing steam to escape. Simmer an additional 20 minutes.
Season with salt and pepper to taste. Serve hot, garnished with desired toppings.
The Mostly Vegan http://www.themostlyvegan.com/