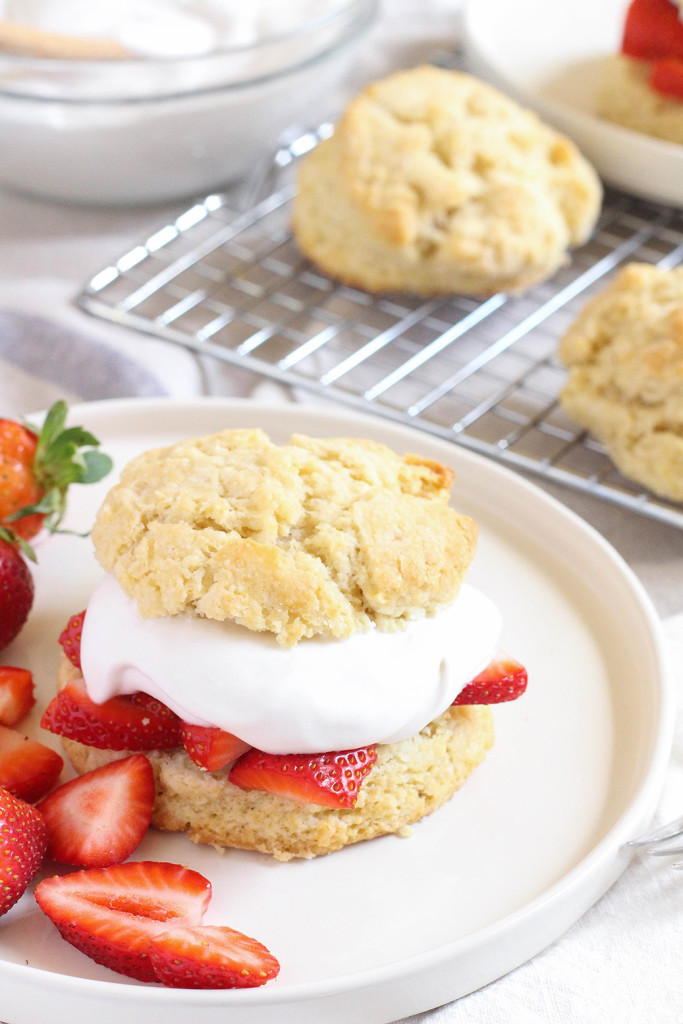 If you're looking for a dessert recipe to serve at your next backyard barbecue (seriously, how is it almost Memorial Day?!) look no further than these Strawberry Shortcakes with Coconut Whipped Cream. Based off my go-to scone recipe, these shortcakes are moist and buttery, with lightly crisped edges and soft, cake-like centers. Sliced in half and piled high with freshly sliced strawberries and a generous dollop of coconut whipped cream, they're the perfect warm weather treat.

Light and refreshing but also kind of decadent with all that glorious whipped cream, they're also a welcome addition to your next indulgent breakfast or brunch. Actually, they're kind of great anytime. To achieve a pure shortcake flavor, I opted for using refined coconut oil – as opposed to unrefined – because I wasn't adding any additional spices or seasonings, like the cinnamon and nutmeg in my Pumpkin Maple Spelt Scones or orange zest in my Cranberry Orange Scones, which mask any lingering coconuttiness from the oil. That being said, these are piled high with coconut whipped cream, which although very mild in its coconut flavor once you add powdered sugar and vanilla extract, still tastes of coconut. So, you know, feel free to use refined coconut oil in the shortcakes if that's all you have.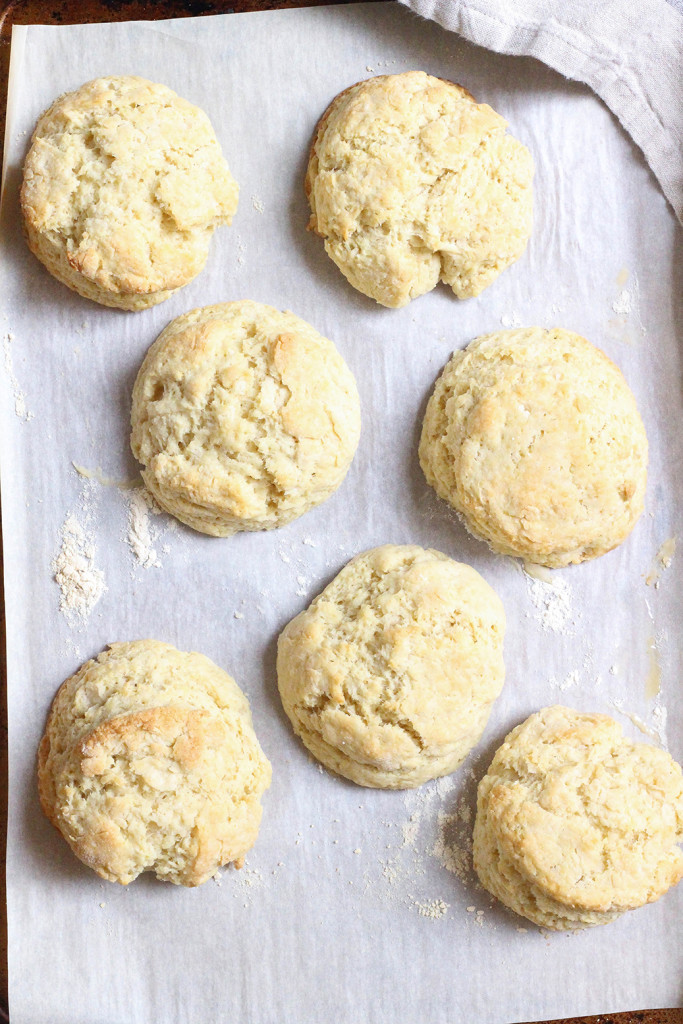 Now, let's discuss coconut whipped cream. I'd never actually made the stuff (so behind the times) until I started developing this recipe. It's been quite the adventure, because well, coconut whipped cream is kind of a finicky diva. No two cans of coconut cream or full-fat coconut milk – which I've yet to have success with – are the same. You need to refrigerate your cans for 24 hours and pray to the food gods that the cream separates from the liquid in the can. The goal is to be able to scoop out the cream and use it – and only it – to make your whipped cream. It's a crap shoot at best and reading the comments section on almost every vegan blog with a coconut whipped cream recipe confirms the likelihood of repeated failure.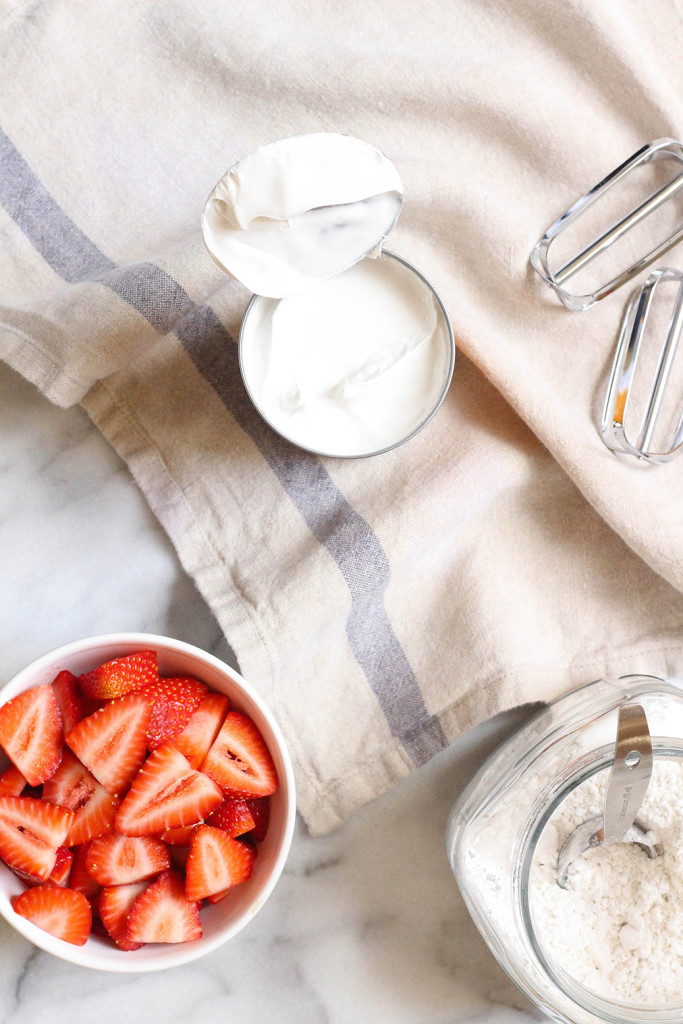 But don't despair! If you're lucky enough to have a Trader Joe's in your hood, I've had nothing but success with TJ's coconut cream. I also discovered a trick for salvaging a can with so-so fat and liquid separation. It's called agar powder and it's the vegan alternative to gelatin. Totally plant based, the stuff is a tasteless powder derived from marine algae. A tablespoon added to too watery coconut cream (that's cream only, it doesn't work on coconut milk) can bring it back to that perfect whipped texture.
I hope you roll these babies out at your next summer gathering, and please share any coconut whipped cream tips and tricks – or horror stories – in the comments section.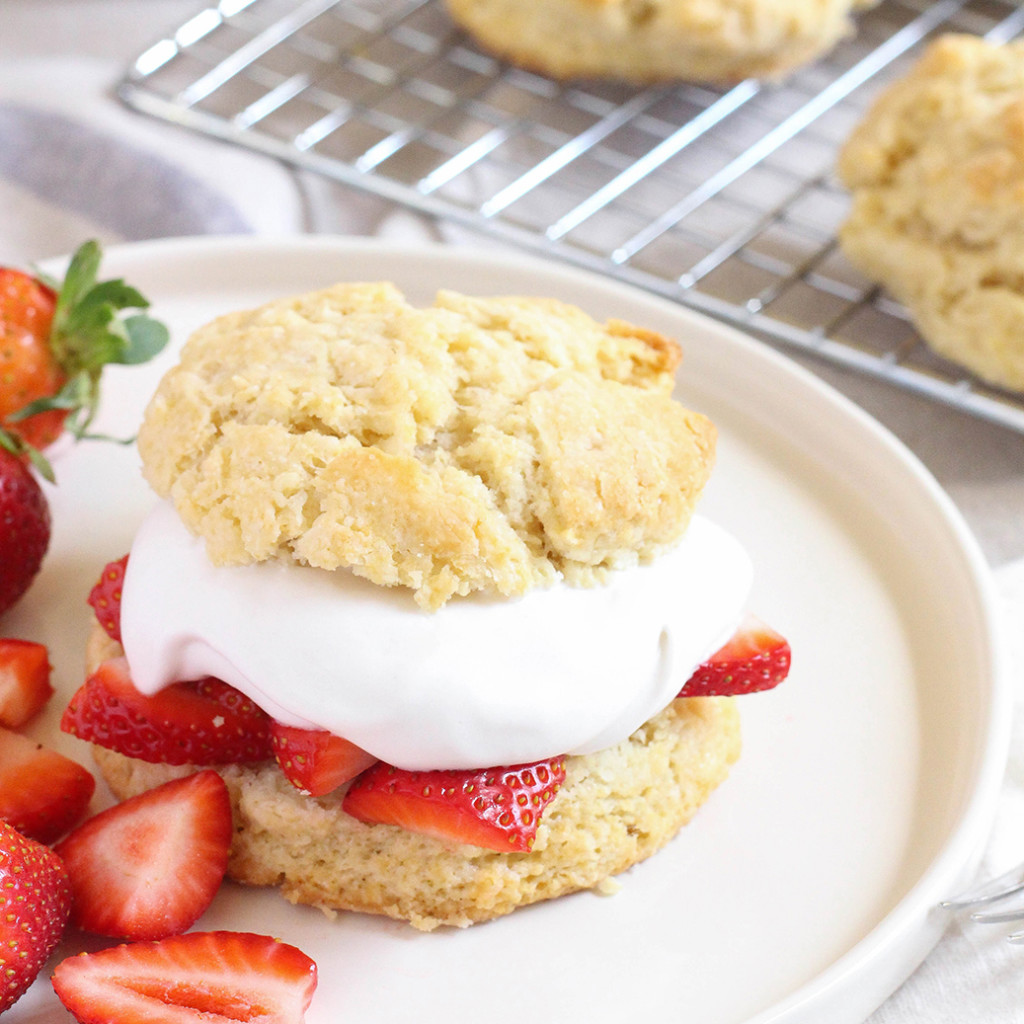 Strawberry Shortcakes with Coconut Whipped Cream
2016-05-17 10:36:41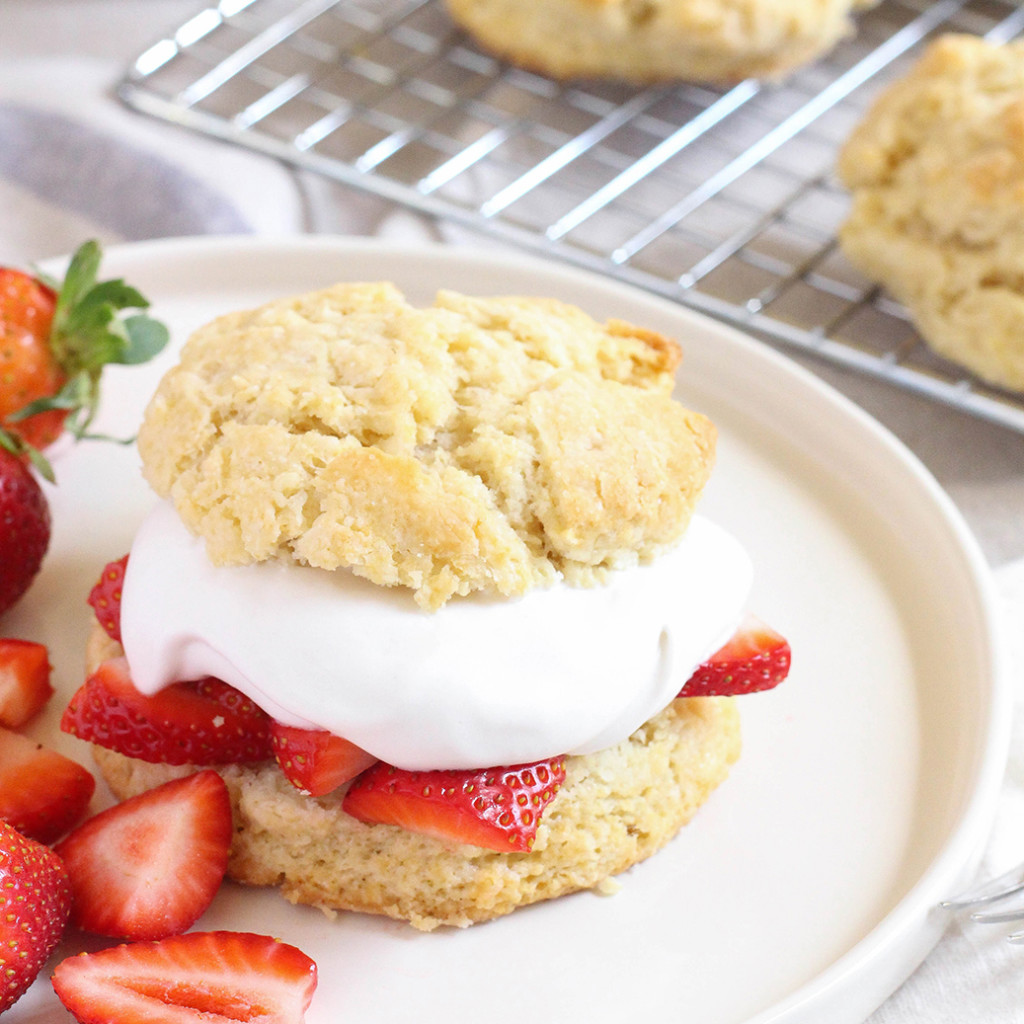 Makes 7 shortcakes.
Ingredients
2 cups sliced strawberries*
2 cup unbleached all purpose flour
1/2 cup organic cane sugar
1/2 cup unrefined coconut oil (solid & chilled)**
3/4 cup unsweetened plain almond milk, cold
1 teaspoon vanilla extract
3 teaspoons baking powder
1/2 teaspoon sea salt
1 tablespoon melted coconut oil
2 teaspoons organic turbinado sugar
COCONUT WHIPPED CREAM
1, 14 ounce can coconut cream, refrigerated for at least 24 hours
4 - 6 tablespoons powdered sugar
1 teaspoon vanilla extract
1 tablespoon agar powder (optional)***
Instructions
Preheat oven to 400 F. Combine flour, sugar, baking powder, and salt in a large bowl and whisk together. Add solid coconut oil to bowl and using a pastry cutter, cut the coconut oil into the dry ingredients until the mixture begins to form fine crumbs (it will look like wet sand).
Add the vanilla extract to the almond milk and then add to the flour mixture. Stir until the mixture forms a soft dough and no longer sticks to the sides of the bowl (add additional almond milk 1 tablespoon at a time if your dough is too dry and crumbly). Turn the dough out onto a parchment lined cooking sheet sprinkled with flour and shape into a circle, about 6 inches wide and 1 inch thick. Use a 2 inch round pastry cutter or glass to cut into 7 circles. Gently separate scones, giving them enough room to spread out as they bake. Brush with melted coconut oil and sprinkle with turbinado sugar.
Bake for 20 -25 minutes until lightly golden on top and edges just begin to brown.
Remove from oven and cool on a wire rack.
To assemble shortcakes, use a serrated knife to cut cakes in half. Divide strawberries between cakes, top with a dollop of whipped cream and place cake top on whipped cream.
Coconut Whipped Cream
Chill a large mixing bowl in the freezer for 5 minutes. Remove the coconut cream from the fridge and remove the lid. The cream in the can should have separated from the watery, coconut liquid. Scoop out the thickened cream and leave the liquid behind.
Place hardened cream in your mixing bowl. Beat for 30 seconds with a mixer then add vanilla and powdered sugar and mix until creamy and smooth - about 1 minute. Add additional powdered sugar for a sweeter whipped cream.
Use immediately or refrigerate - it will continue to harden in the refrigerator but will still be light and whipped. Cream will keep in the fridge for up to 1 week.
Notes
* For a sweeter strawberry mixture, tossed sliced berries with 2 tablespoons sugar and allow to sit for 20 minutes.
** If your coconut oil is liquid at room temperature, line a small bowl with plastic wrap and pour in pre-measured oil. Place in the freezer for 20 minutes or until completely solid. When ready to use, lift out the plastic wrap and drop the hardened coconut oil into your flour bowl.
*** If your coconut cream didn't separate, add a tablespoon of agar powder to the coconut and powdered sugar mixture. Blend as directed above and then refrigerate for at least 30 minutes. The agar acts like gelatin and should thicken the mixture. Whip again for 30 seconds just before serving.
Adding agar has worked for me with unseparated coconut cream but not full fat coconut milk.
The Mostly Vegan http://www.themostlyvegan.com/