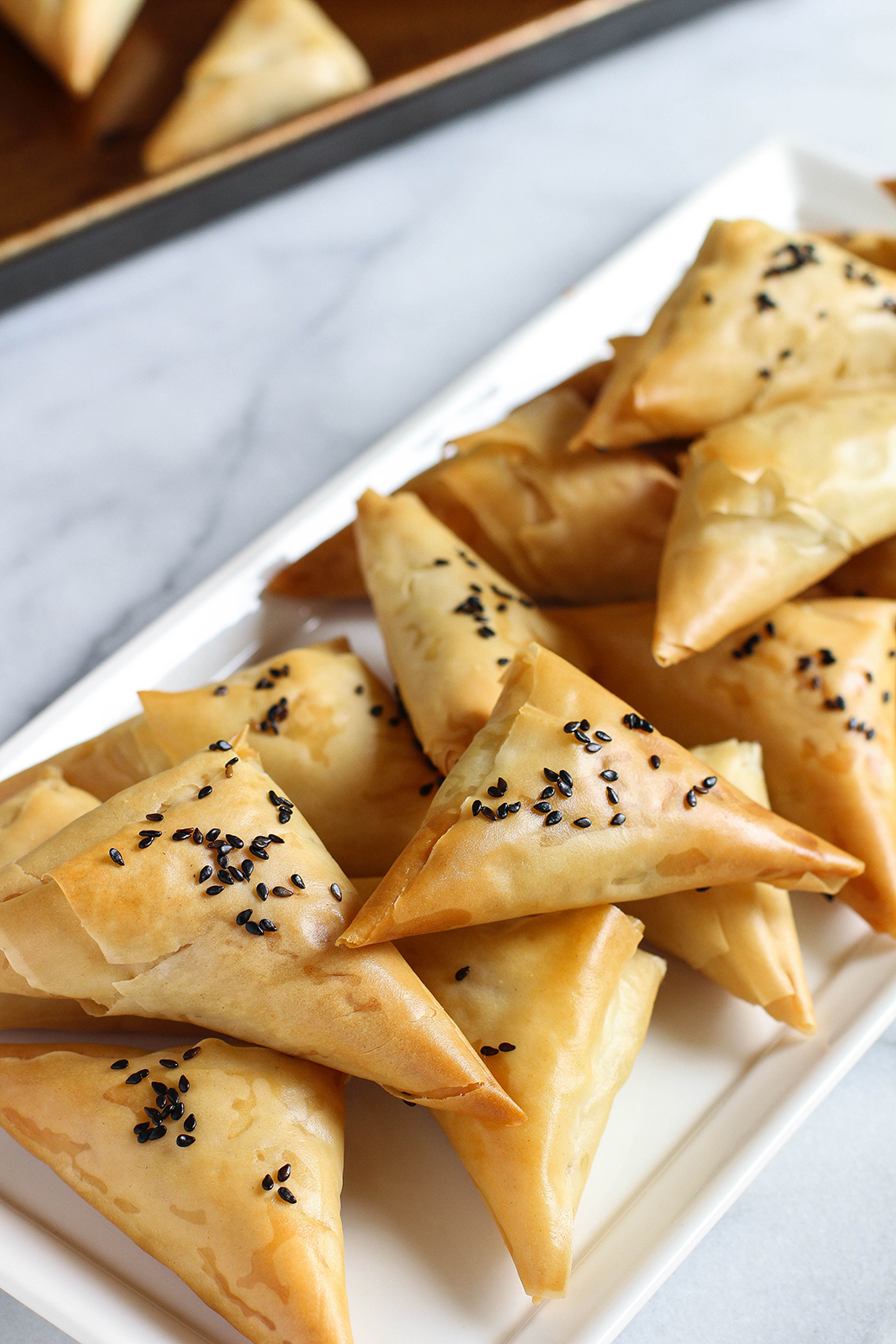 Remember my Spinach Artichoke Dip from a few posts back? The one so jam packed with spinach and artichokes that it was basically a health food. A double dip worthy health food. I promised I was going to bring it to you in spanakopita form and I keep my promises (mostly), so here it is. Golden, crispy phyllo triangles stuffed with that creamy spinach artichoke goodness. So flaky you're going to have phyllo crumbs, like, everywhere.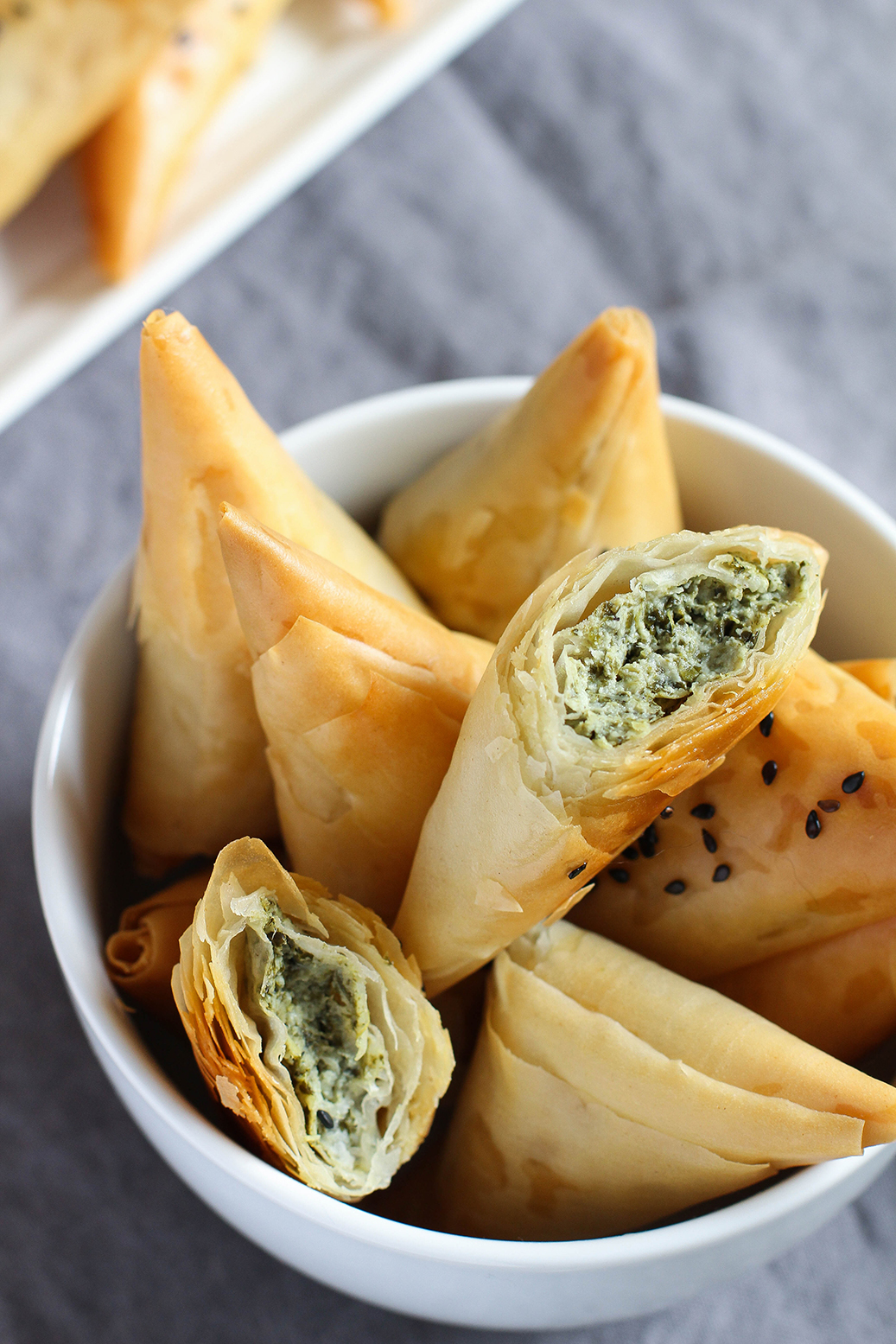 These make the perfect vegan app to whip up for your next get together or to bring along to a potluck (so someone else can clean up all the crumbs). They can be served warm or cold, which is weirdly how I prefer them. If something tastes just as good eaten straight outta the fridge on day two, well then, you know it's good.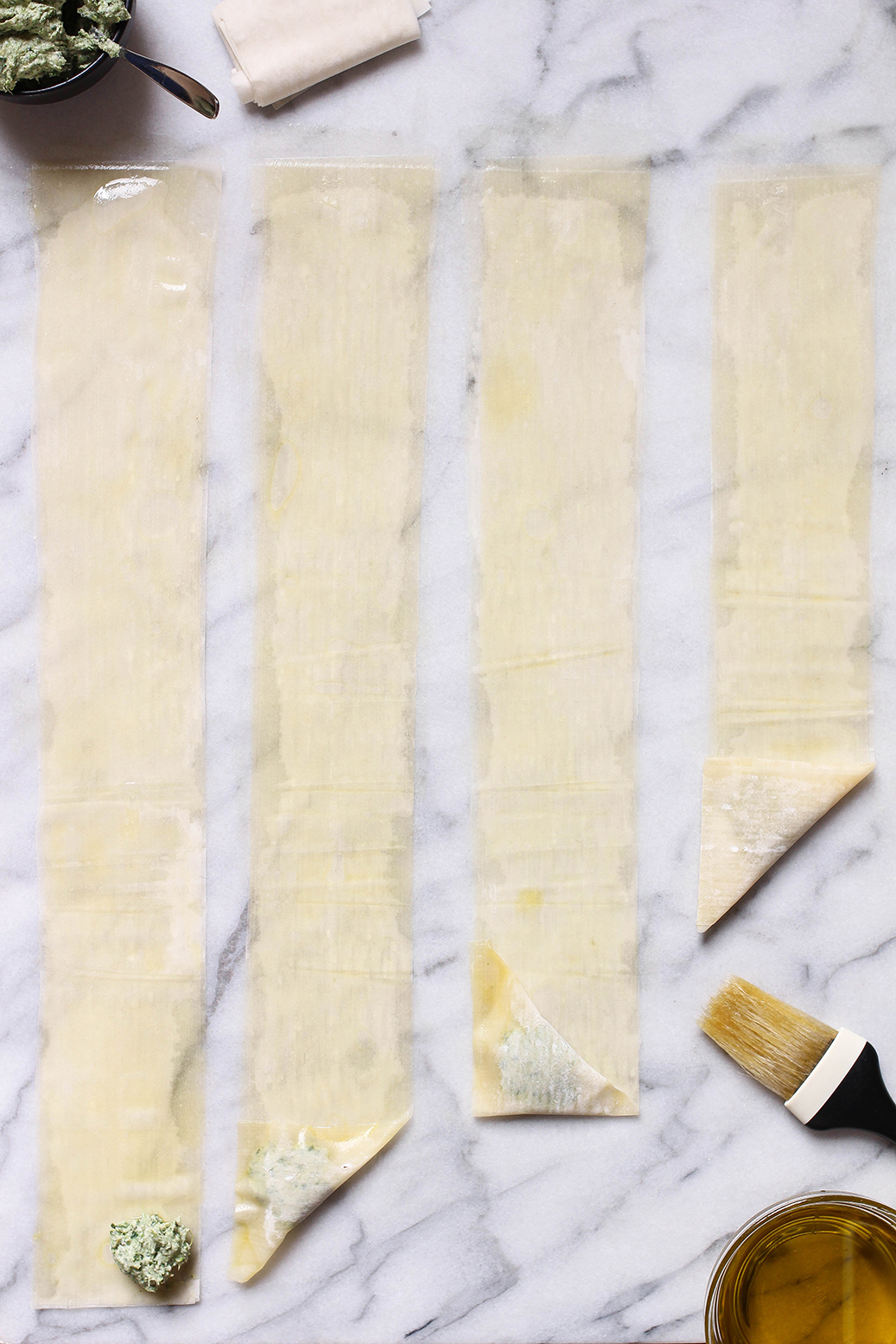 I first made these on Christmas Eve and truth be told, I was a little intimidated. I'd never worked with phyllo dough before and the whole folding of the triangles business left me scratching my head. A few You Tube videos later however, and I was ready to tackle my phyllo fears. It took all of one trial triangle for me to get the hang of it. So easy. Slice your log of phyllo dough into 2 to 3 inch sections (I like mine on the larger size), unfurl your first roll and lay out a single strip of dough. Brush generously with olive oil then layer on a second strip of phyllo dough (that's how we build all those flaky layers), brush with olive oil again (remember this is healthyish) and dot with a teaspoon full of spinach artichoke dip.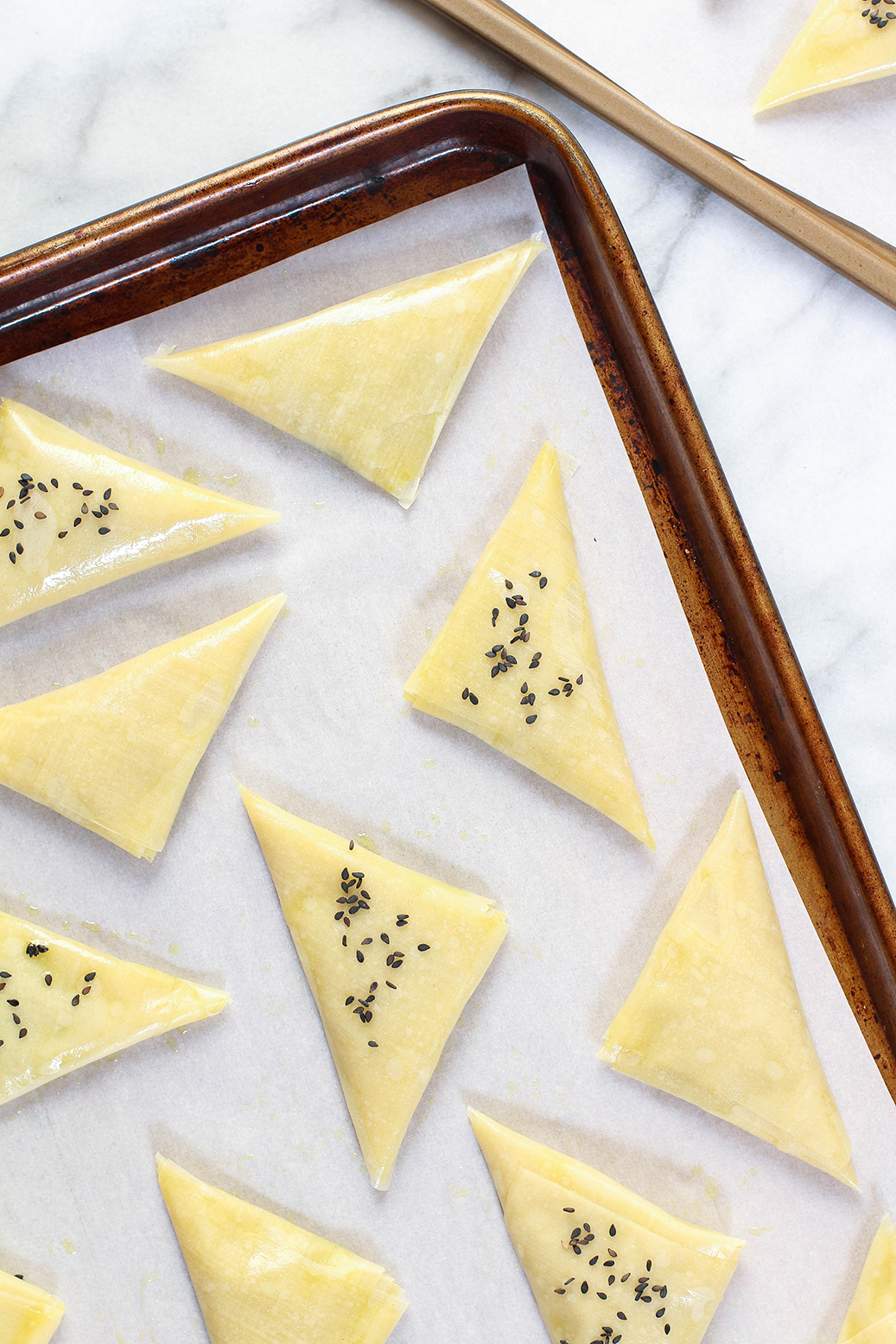 The final step is the folding. A lot of sites describe it as just like folding a flag, which I don't think I've done since grade school. Thinking of each fold as more of a right triangle was way more helpful for me. I also tend to slightly overstuff my spanakopita, which isn't advised but never seemed to cause me any problems. Even if your teaspoons run on the hefty side and your first couple of folds are a bit more wobbly than straight, everything will work itself out as you continue your folds. I've never had any filling leak out. So, what are you waiting for? Grab yourself some phyllo and whip up these delish savory pastries.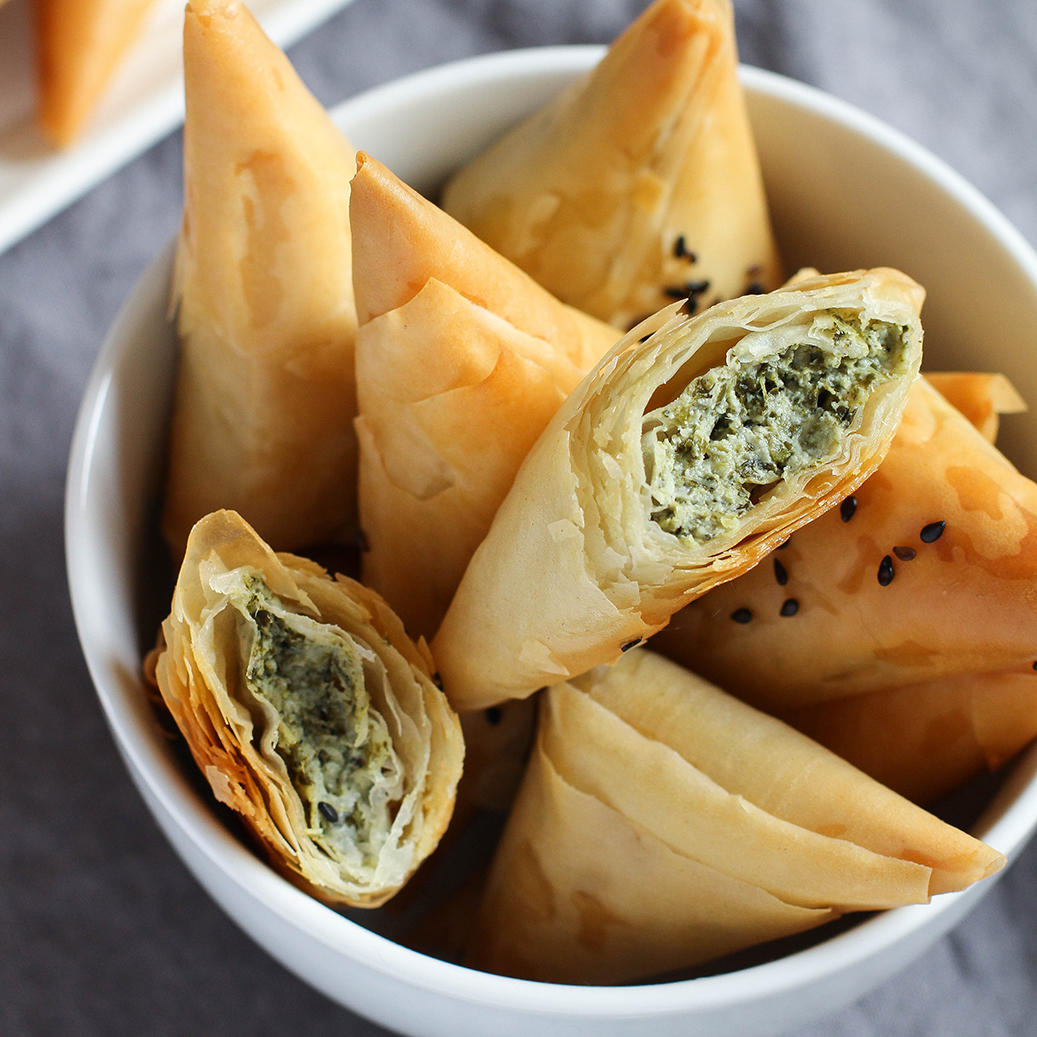 Spinach & Artichoke Stuffed Spanakopita Triangles
2017-01-18 22:22:33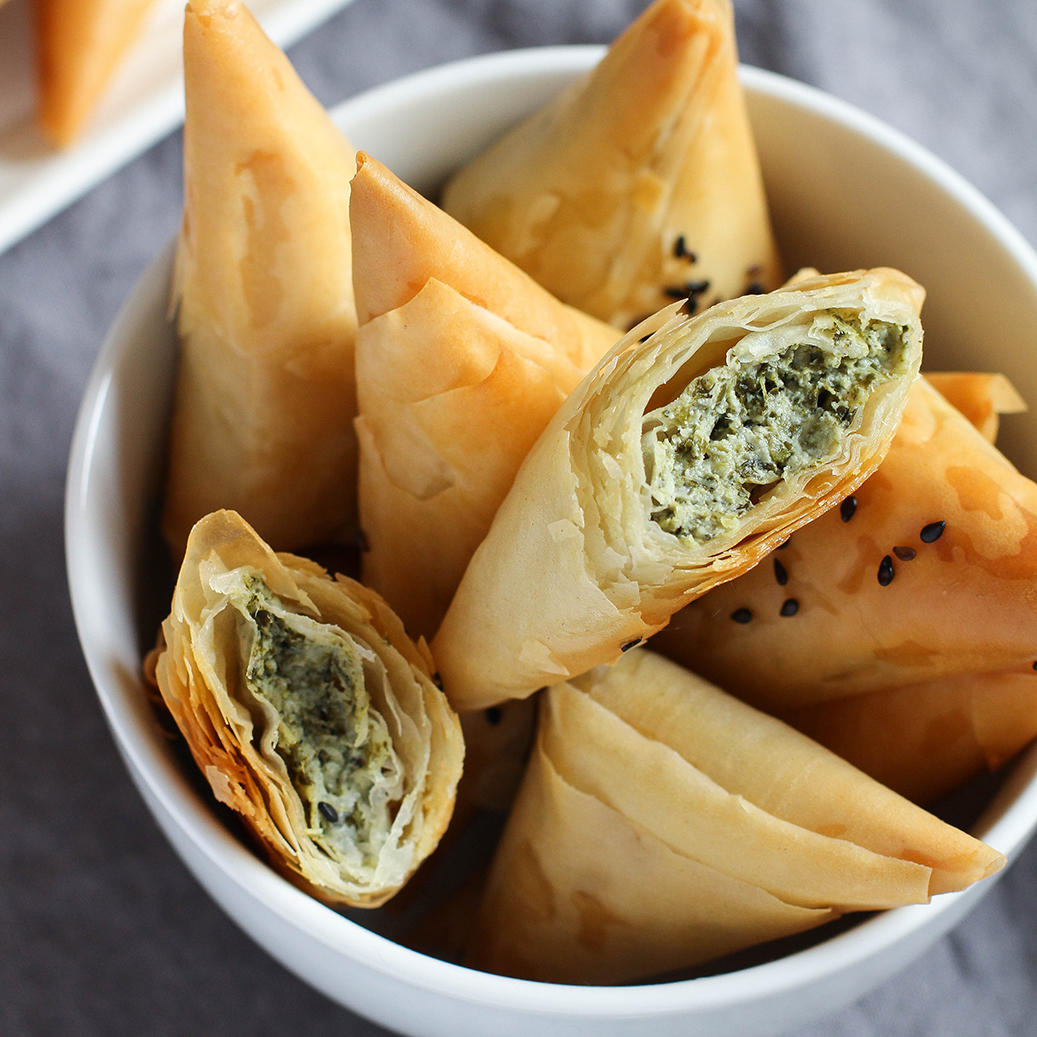 Makes about 30 pastries.
Ingredients
1 cup prepared Spinach Artichoke Dip
1 package phyllo sheets, thawed according to package directions
1/2 - 3/4 cup extra virgin olive oil
sesame seeds for garnish, optional
Instructions
Preheat oven to 375 F.
Remove phyllo roll from packaging and measure the roll lengthwise. Depending on how large you want your spanakopita, slice roll into as many 2" to 3" sections as possible. Unfurl one roll and lay a single strip of phyllo down on your work surface. Place remaining rolls of phyllo under a damp paper towel.
Brush strip with olive oil then layer an additional strip on top and brush with olive oil again. Place a heaping teaspoon of Spinach Artichoke Dip at the bottom center of the strip. Fold corner of phyllo over to form a right triangle. Continue to fold phyllo this way until you reach the top of the strip. Place phyllo triangle seam side down on a parchment lined baking sheet and brush top with olive oil. Sprinkle with sesame seeds if desired.
Repeat process with remaining phyllo.
Bake triangles for 20 to 25 minutes, until puffed up and golden brown. Transfer to a rack lined with paper towels to cool slightly. Spanakopita can be eaten warm or at room temperature.
The Mostly Vegan http://www.themostlyvegan.com/