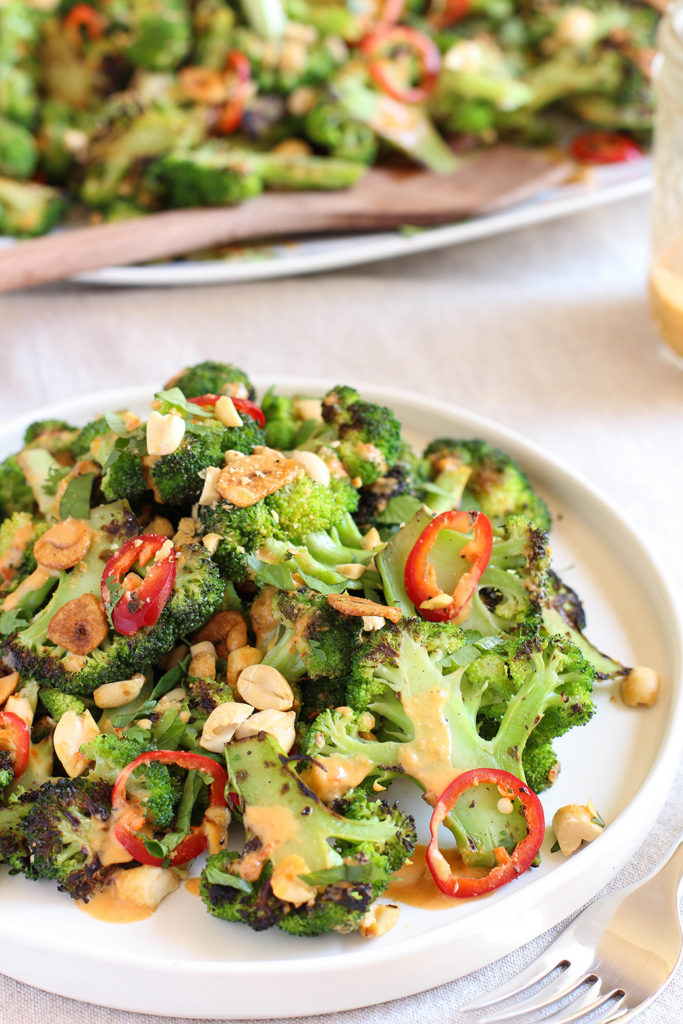 Sometimes my body just craves broccoli. Like for reals, out of nowhere, I can feel a deep, internal nagging for those little green trees. I don't think I'm alone in my body's need for veggies – especially after a weekend of eating all the things – but me thinks I might love broccoli more than the average gal or guy. Case in point, my husband asking me if we can please chill on the broccoli as pizza topping. Never!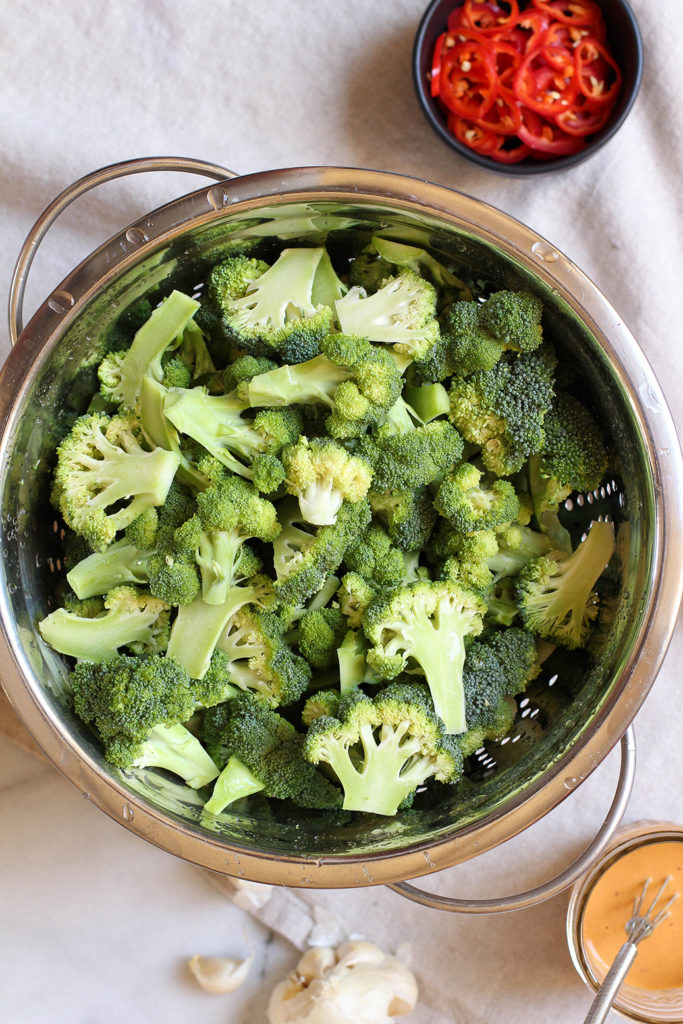 I've posted about my love of broccoli as superfood before, hello favorite Five Ingredient Broccoli Soup, and this Spicy Broccoli Salad with Peanut Sauce is here to continue the trend. Inspired by this recipe from Rachel Ray Every Day, I switched out the dressing for my Spicy Peanut Dipping Sauce and added fried garlic chips. Because broccoli and garlic are like peanut butter and banana. They're just better together.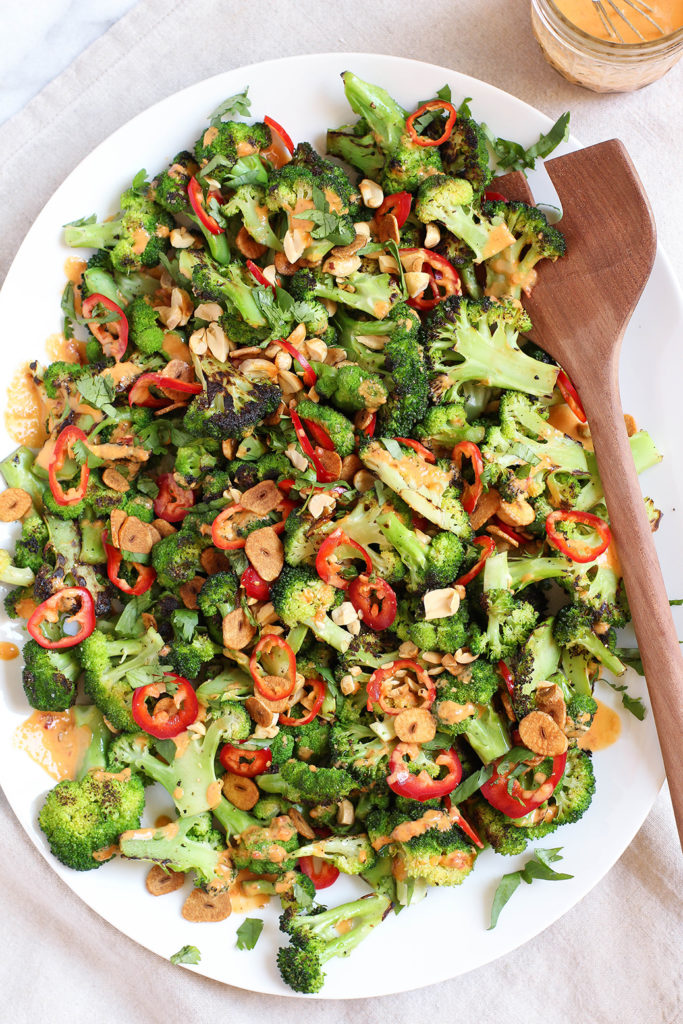 The charred broccoli, the gorgeous red (and slightly spicy Fresno chilis), the crispy garlic chips, the toasty peanuts, the fresh sprinkle of cilantro, and that divine spicy peanut dipping sauce. All the elements of this dish come together to make one out of this world plate of veggie deliciousness. I dare any broccoli hater (how dare you!) to not like it. This makes a great side dish but it's also oh so tasty over brown rice or rice noodles with a little extra sauce drizzled on top for an easy plant based and gluten free meal. I even think the flavor combos would work well with other veggies switched out for the broccoli, like carrots or kale. But, let's get real here, broccoli > kale.
A few notes on the recipe, as written you'll end up with enough broccoli for 6 people as a side dish. Three to four as a main. The called for 10 cups (!) of broccoli florets may seem like a lot, but they do cook down and trust me on this, you're going to want leftovers.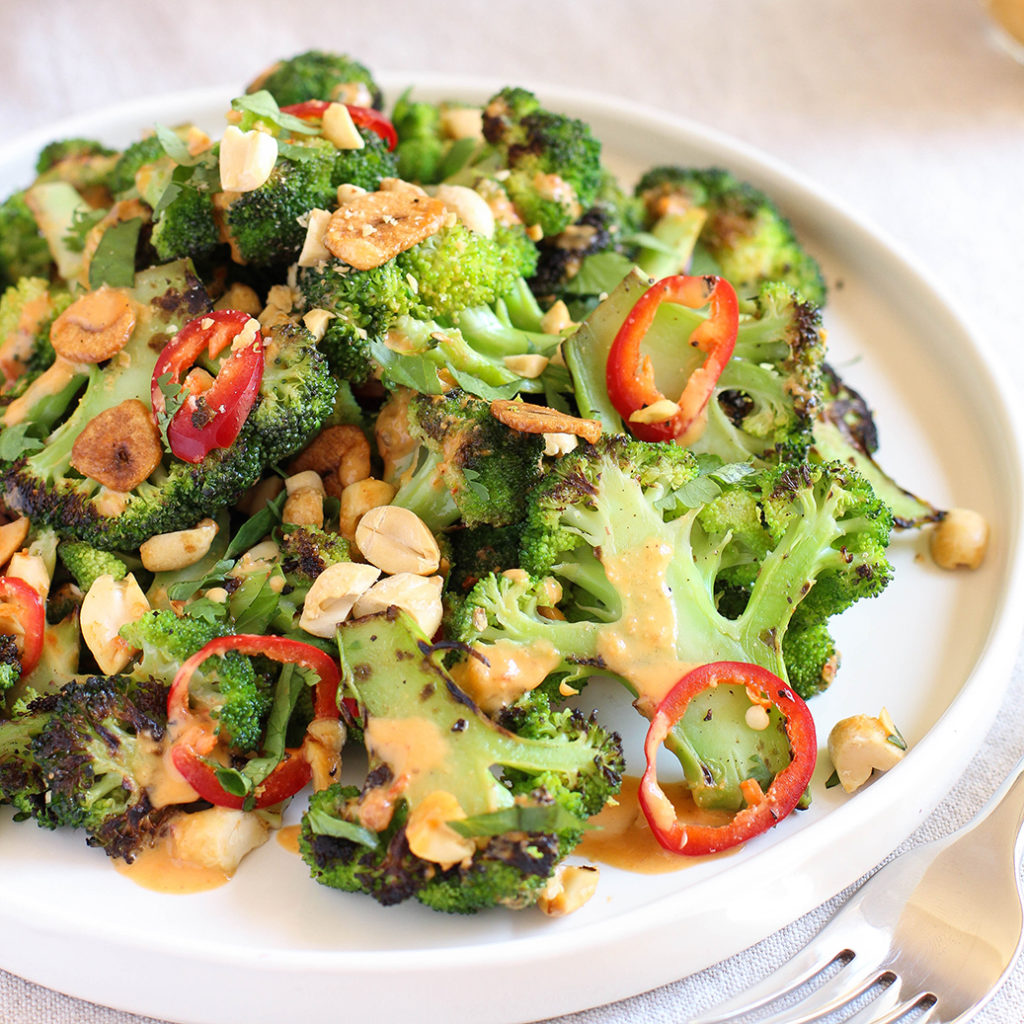 Spicy Broccoli Salad with Peanut Dressing
2016-07-28 23:00:21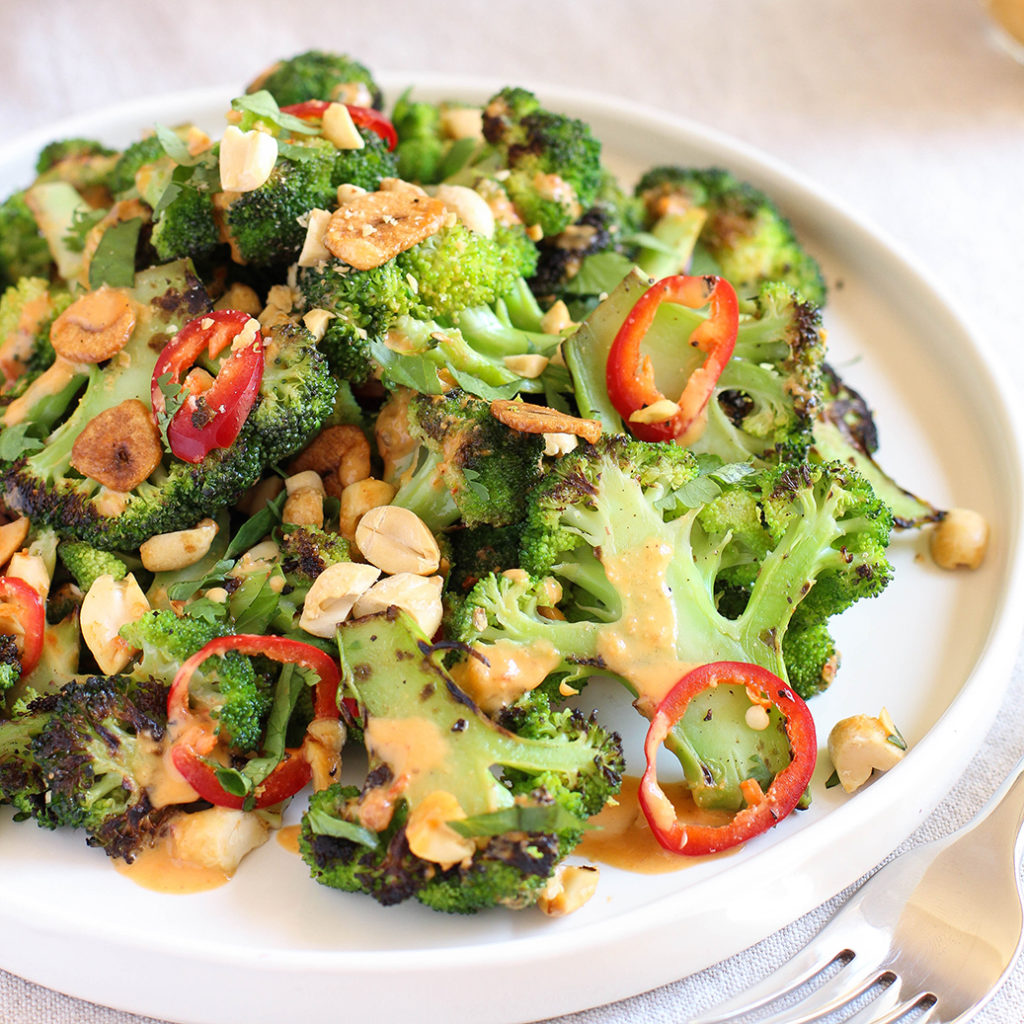 Serves 6 as a side.
Ingredients
10 cups broccoli florets
2 tablespoons extra virgin olive oil
3 Fresno chiles, thinly sliced
1/4 cup roasted peanuts, roughly chopped
handful cilantro, roughly chopped
1/4 recipe Spicy Peanut Dipping Sauce
salt & pepper
Garlic Chips
6 garlic cloves, thinly sliced
1/3 cup extra virgin olive oil
Instructions
Add tablespoon olive oil to a large pan or wok and heat over high heat. Once pan is very hot, add broccoli to pan and cook until broccoli is charred in spots and can be pierced with a fork but is still crisp, about 8 minutes.* Season generously with salt and pepper before removing to a large platter or bowl.
Add 1-2 tablespoons water to Spicy Peanut Dipping Sauce and whisk until thinned to an easily pourable consistency.
Drizzle peanut sauce over broccoli then top with Fresno chiles, garlic chips, cilantro and chopped peanuts.
Garlic Chips
Add sliced garlic to a small saucepan with olive oil. Add more oil if garlic is not completely covered. Heat over medium (oil will be very bubbly) until garlic is browned, about 3 minutes. Using a slotted spoon, remove garlic chips from oil and and cool on a paper towel.
Allow remaining oil to cool and then refrigerate for up to 2 weeks. Use in any recipe calling for olive oil where you might want a garlicky kick.
Notes
*If your pan is not large enough, cook broccoli in 2 batches, adding additional tablespoon olive oil to pan between batches.
Adapted from Rachel Ray Everyday
The Mostly Vegan http://www.themostlyvegan.com/