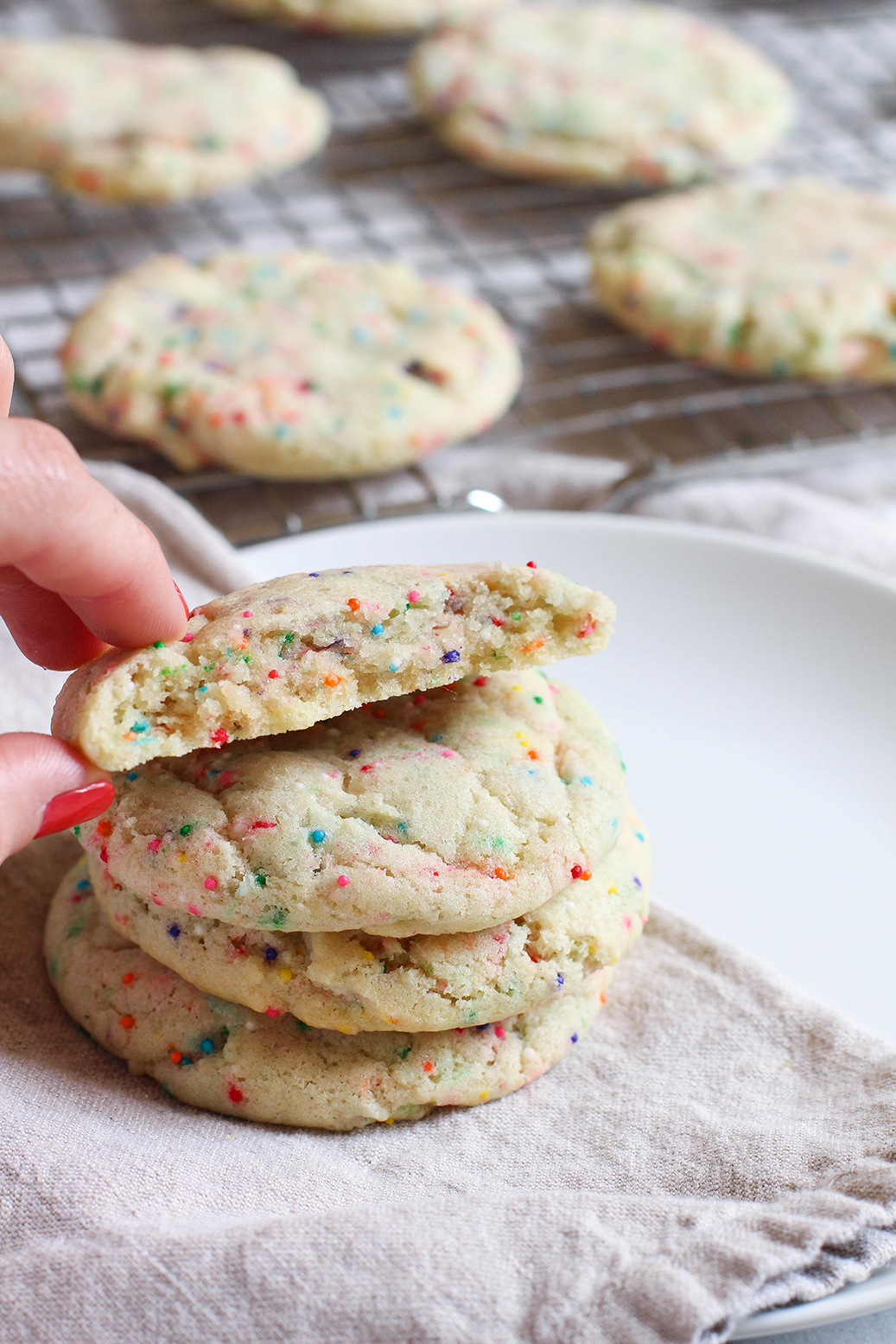 I've been craving a classic, soft-baked sugar cookie for weeks now – months actually – and I finally decided to do something about it. Hoping the heavy lifting would already be done for me, I scoured the internet for vegan sugar cookie recipes. I wasn't looking to do a blog post, I just wanted a damn cookie!  Unfortunately – or fortunately as it turns out – I didn't find much – at least not much in the way of soft-baked cookies. We're talking crispy edged, light and fluffy centers with a nice chew. You know, that perfectly sweet soul satisfying cookie, still warm from the oven with just a bit of crunch from a hearty amount of sprinkles. Nothing I found looked just right and all of them seemed overly complicated in the ingredient department. I mean, we're talking basic sugar cookies here guys. How tough can it be to make them vegan?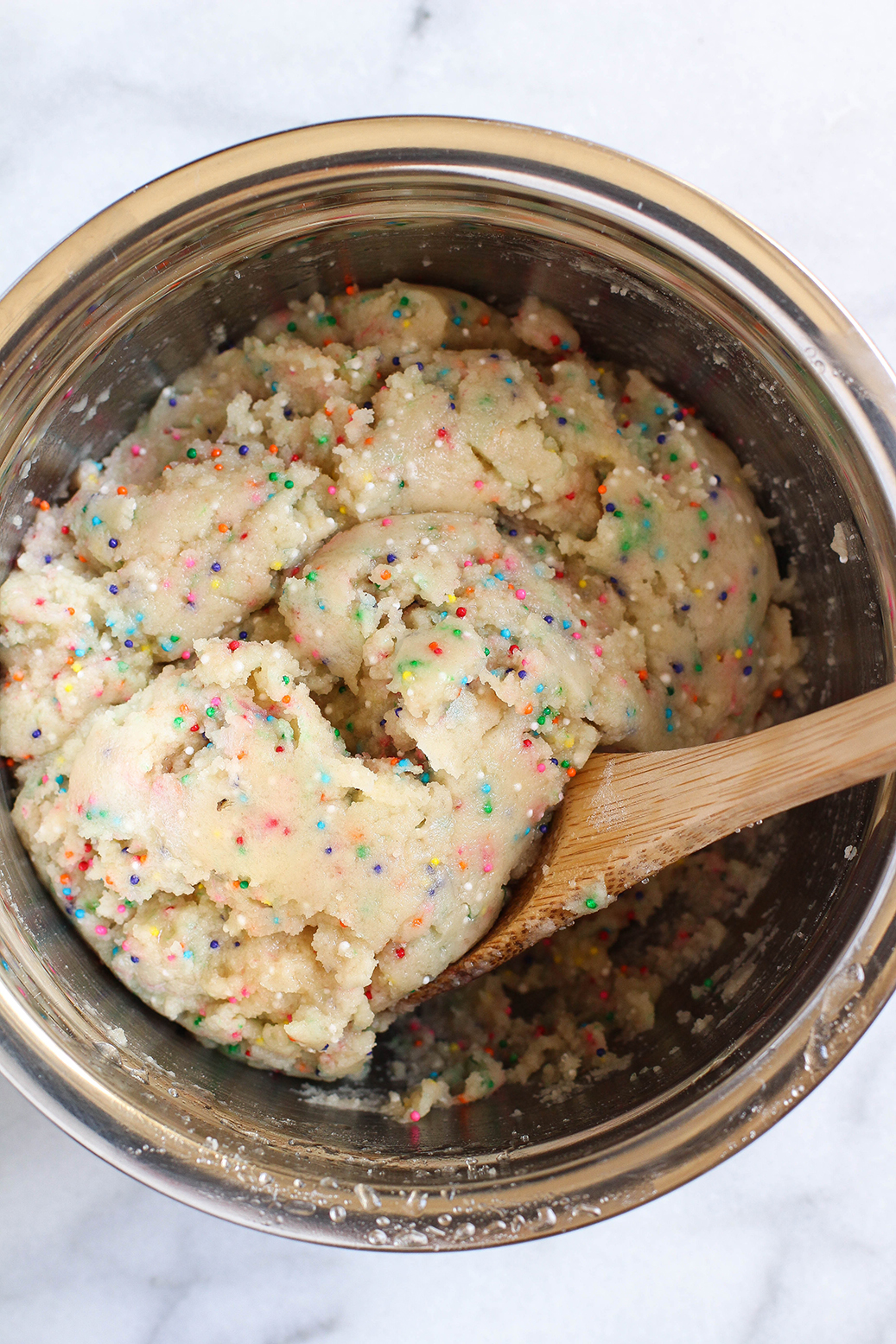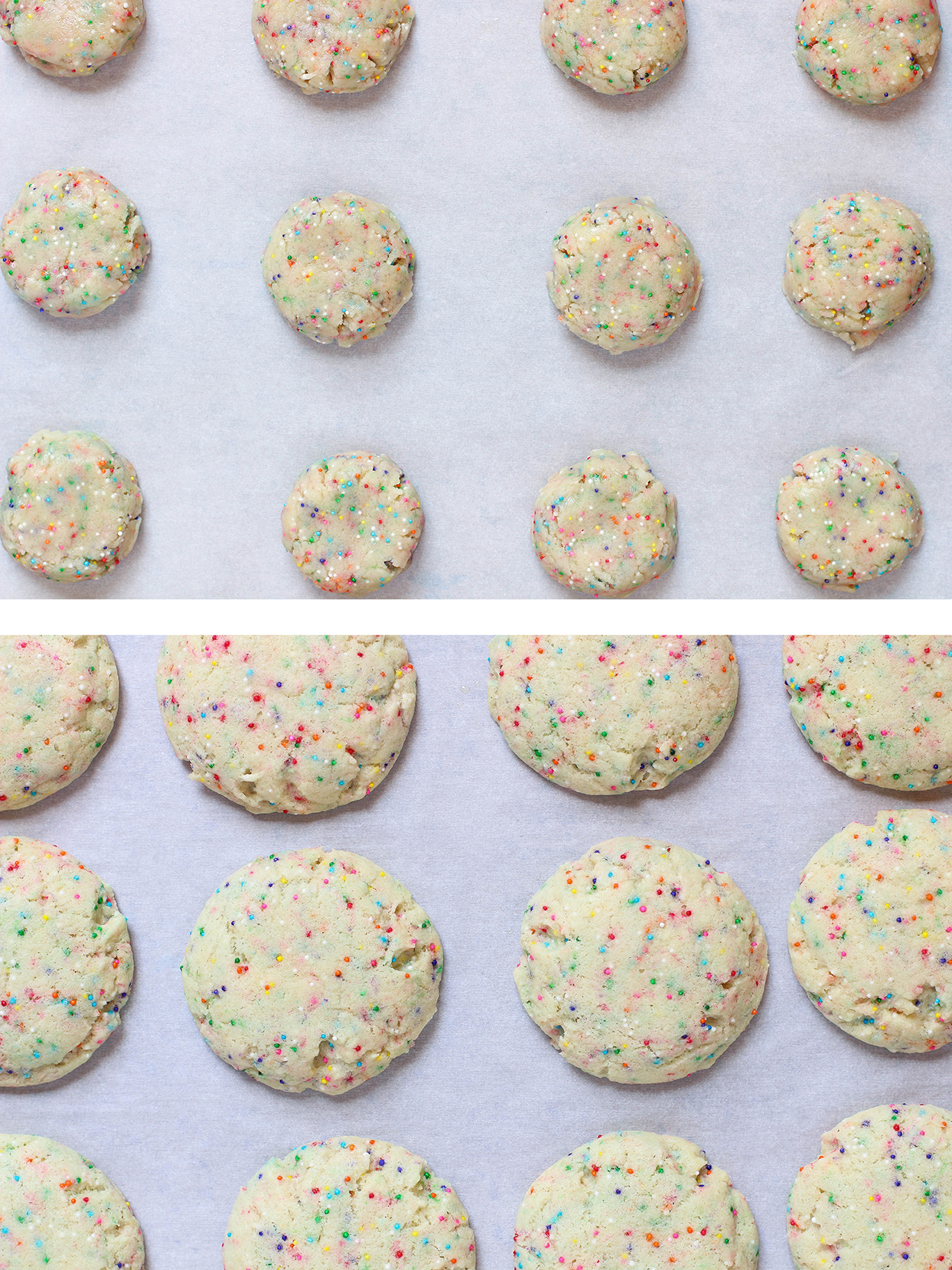 Not all that tough at all it turns out. These Soft-Baked Vegan Sugar Cookies are ridiculously simple to make and don't contain any weird or hard to come by ingredients. It's not often a recipe turns out just right on the first attempt, but these cookies sure did. I used my Ultimate Vegan Chocolate Chip Cookies as inspiration, swapping out the brown sugar for more white, easing up on the vanilla extract, adding a dash of apple cider vinegar (to react with the baking soda and give these cookies a little extra puff), adding sprinkles (duh!), and cutting down the baking time to just about 10 minutes to keep these babies soft and chewy. The result? Vegan sugar cookie perfection. Ahem, you can even cut the "vegan." These are just perfect sugar cookies. Period.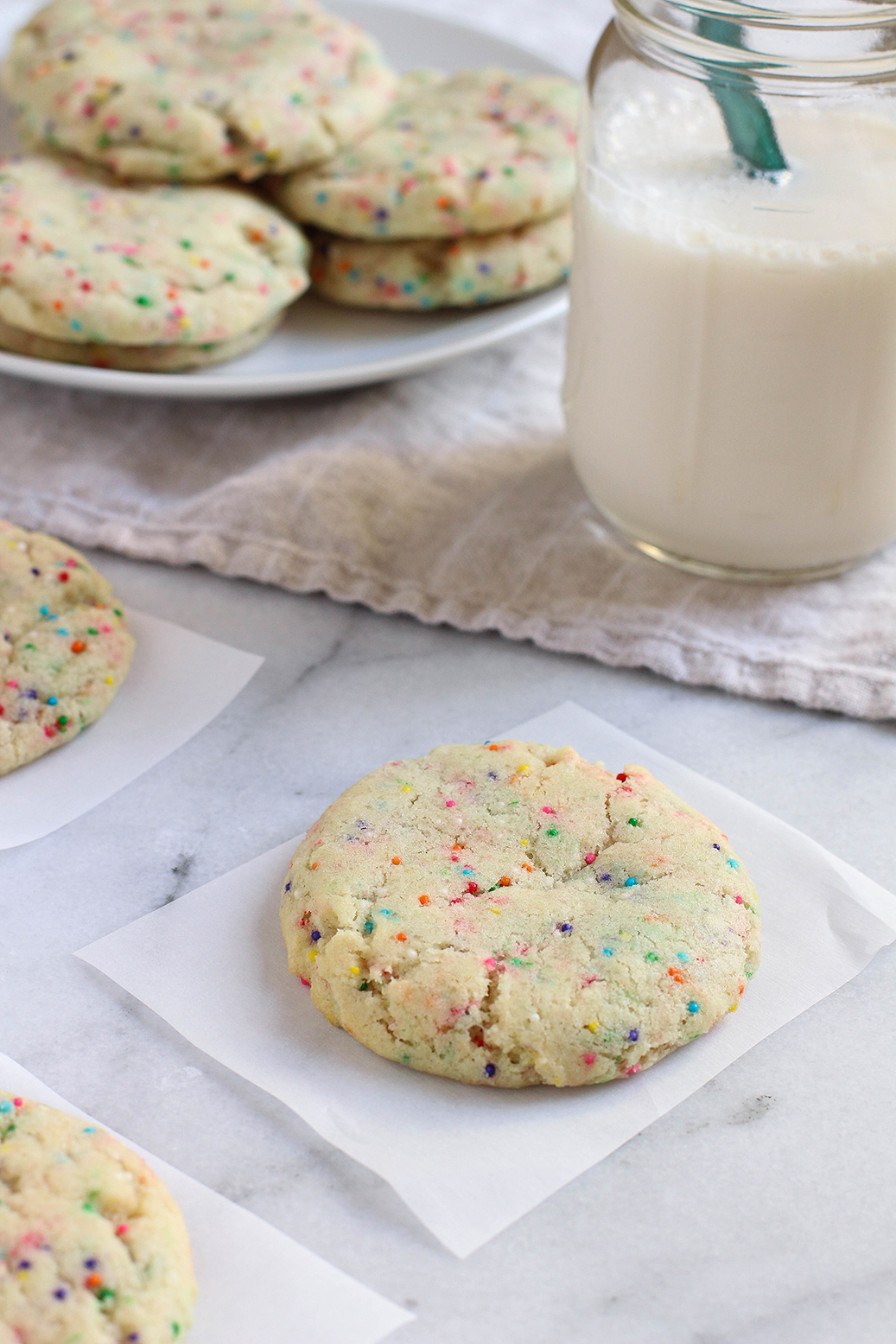 I could quite literally eat half a dozen of these cookies in one sitting. I haven't (or maybe I have), but I could (or I will, again). Let's just say they go down real easy. They're dangerous to have in the house, especially because they stay perfectly soft days after baking. They'd make a great addition to a Mother's Day celebration or you know, just to celebrate a Tuesday, because it's Tuesday and you need a cookie. No justification needed.

Soft-Baked Vegan Sugar Cookies
Makes 14, 3½ inch cookies.
Ingredients
2 cups unbleached, all-purpose flour
1 teaspoon baking powder
¾ teaspoon baking soda
1 teaspoon sea salt*
3 tablespoons sprinkles
1 cup organic cane sugar
½ cup neutral vegetable oil such as Sun Coco
¼ cup water
1 teaspoon apple cider vinegar
½ teaspoon vanilla extract
Instructions
In a large bowl, whisk together flour, baking powder, baking soda, and salt. Add the sprinkles to the flour mixture and toss to coat.
In a separate bowl, whisk together sugar with oil, water, apple cider vinegar, and vanilla extract until smooth and incorporated.
Add wet ingredients to the flour mixture and stir until well combined. Cover bowl with plastic wrap and refrigerate the dough for one hour. (You can skip this step, but it keeps the cookies from spreading too much when baked.)
Preheat the oven to 375 F. Line two rimmed cookie sheets (one half sheet if you have it) with parchment paper. Remove dough from the refrigerator and use an ice cream scoop or 2 tablespoon measuring spoon to portion dough into small mounds. Press down gently on the mounds with your palm to flatten slightly. Fill one sheet with 12 cookies and use remaining dough on second sheet. (Keep the second sheet refrigerated while the first batch bakes.)
Bake for 8 to 10 minutes. The cookies should be puffed up and very lightly browned on the bottom (but not on the edges or tops). Remove from oven and allow to cool on the pan for 2 minutes before removing to a cooling rack. Repeat with remaining sheet.
Cookies will deflate slightly while cooling. Store in an airtight container for up to 5 days.
Notes
* I use a fairly coarse sea salt as the default seasoning in most of my recipes. If you use a finer salt, I'd recommend starting out with a ½ teaspoon and working your way up from there.