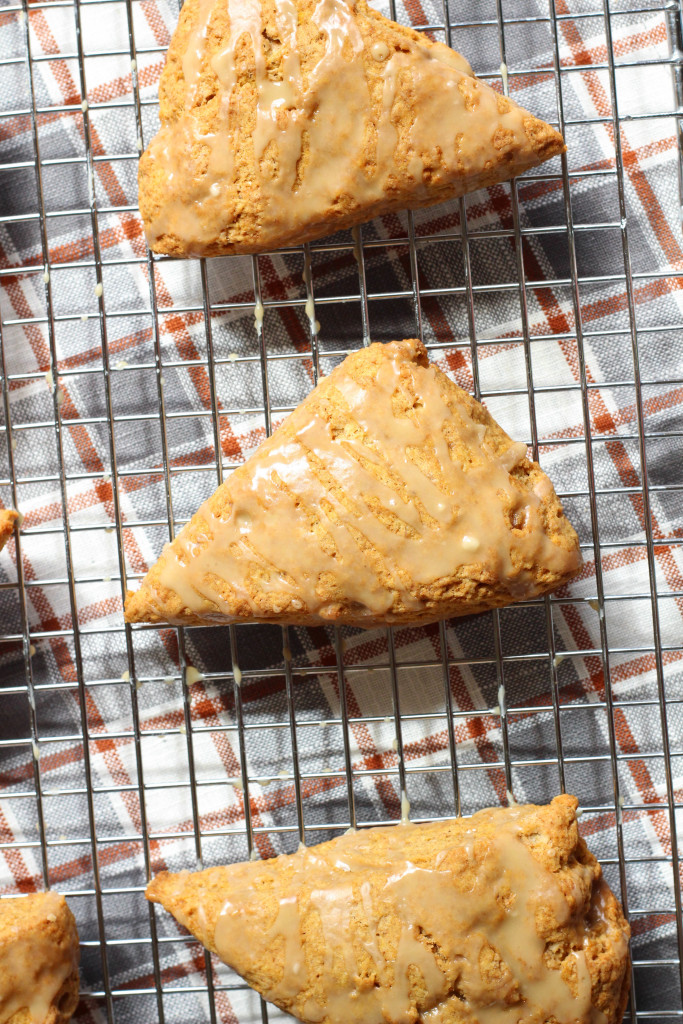 I've waxed nostalgic about my love for Starbucks baked goods in the past, remember the Coffeehouse Zucchini Carrot Spice Muffins and Berry Oat Bars? With fall officially upon us, I figured it was time to go for the Starbucks trifecta and try my hand at their pumpkin scone. Actually, I've morphed their pumpkin scone and maple scone into one delectable baked good, the Pumpkin Maple Spelt Scone.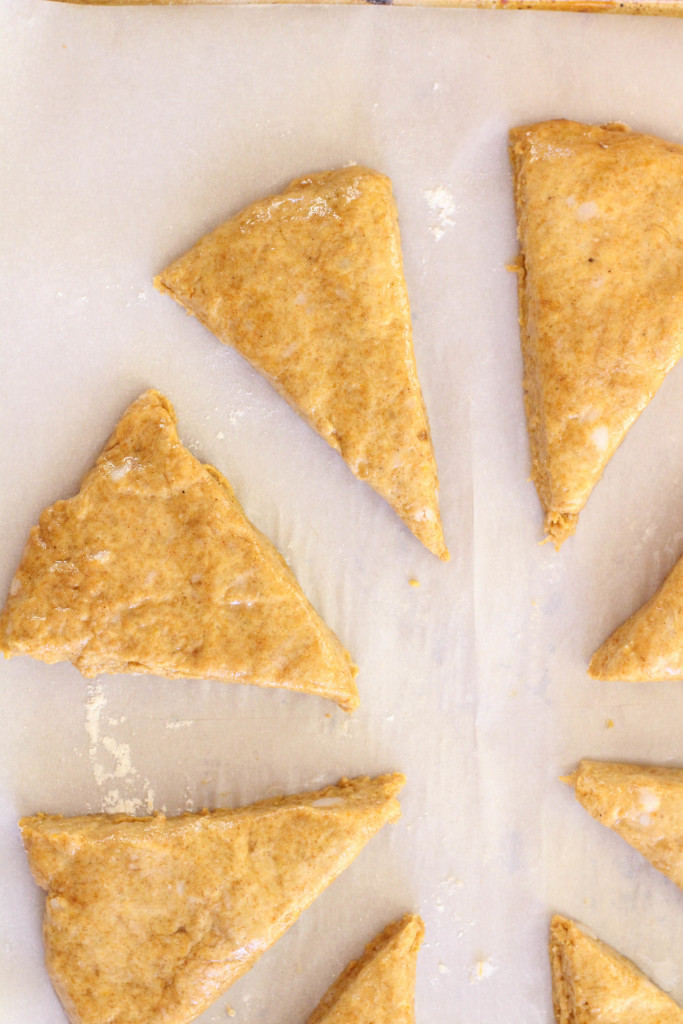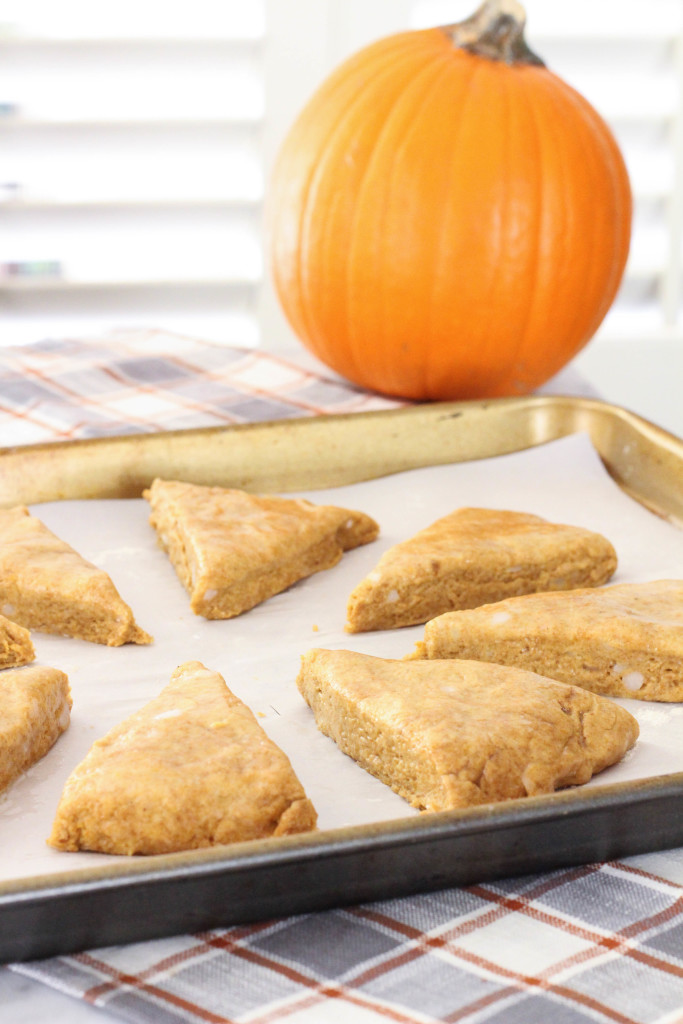 Admittedly, I've always been intimidated at the notion of making scones. It's like, whadda ya mean my butter has to be ice cold and whadda ya mean blend until small pea size balls form?! I don't get it!!! There's also the health factor, as in there's nothing especially healthy about eating a sugar and butter laden flour bomb. Deep breaths though, because scones turn out to be wildly easy to make. They come together faster than muffins and can even be lightened up with a few ingredient swaps. Enter spelt flour and coconut oil. You can read all about the virtues of using spelt flour in baking here. Think of it as a fiber packed alternative to all purpose flour without all the ickiness of regular whole wheat flour. Icky like when your sister remarks, "oh, did you use whole wheat flour in this pizza crust? I'm suddenly not that hungry." Spelt flour won't sell you out, guys.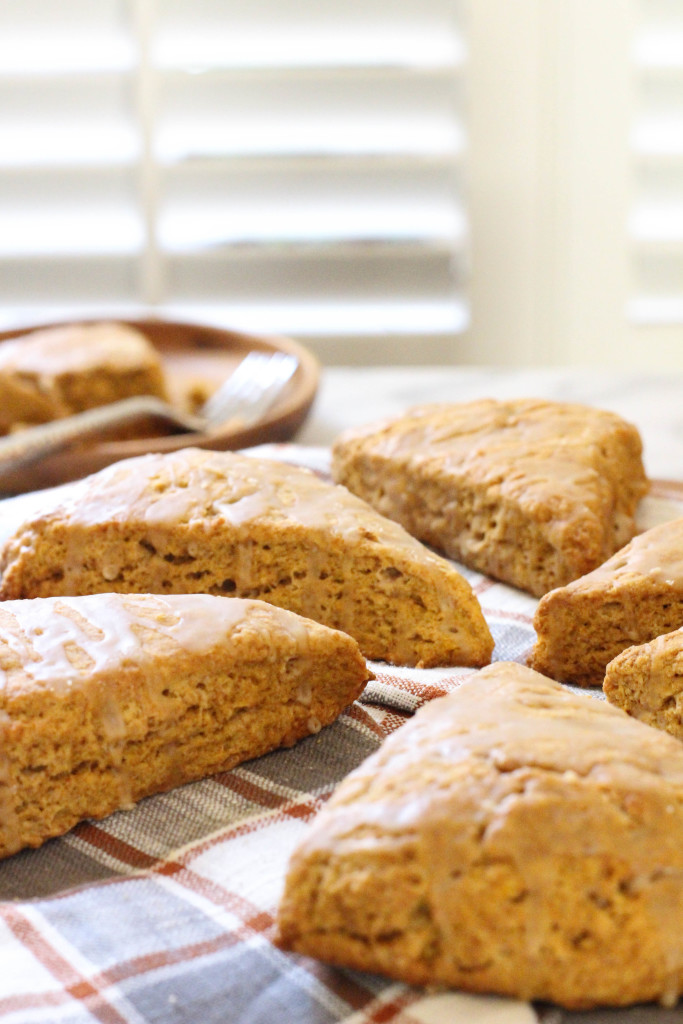 Coconut oil, being the magical oil it is, becomes solid when chilled, so it's perfect for subbing for butter in scones. The result of all these swaps? No one will be able to tell the difference. The pureed pumpkin lends itself perfectly to the heartiness of spelt flour and the generous amount of DIY pumpkin pie spice – cinnamon, nutmeg, ginger, cardamom, and cloves – keeps the flavors popping. A delicate drizzle of real maple syrup icing, adds the perfect finishing touch. It's a hearty, pumpkiny (naturally), spicy sweet treat that you won't feel terrible about eating. It's fall on a plate.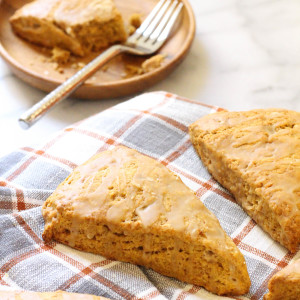 Pumpkin Maple Spelt Scones
2015-10-08 14:51:21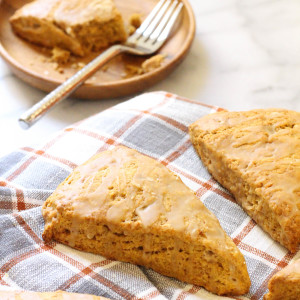 Makes 8 scones.
Ingredients
1 cup unbleached all purpose flour
1 cup spelt flour
1/2 cup organic light brown sugar
1/2 cup unrefined coconut oil (solid & chilled)*
1/2 cup pumpkin puree
1/2 cup unsweetened plain almond milk
3 teaspoons baking powder
2 teaspoons cinnamon
1/2 teaspoon nutmeg
1/2 teaspoon ginger
1/4 teaspoon cardamom
1/4 teaspoon cloves
1/2 teaspoon sea salt
2 tablespoons melted coconut oil
MAPLE GLAZE
1/2 cup organic powdered sugar
2 tablespoons maple syrup
1 tablespoon unsweetened plain almond milk
Instructions
Preheat oven to 400 F. Combine flours, sugar, baking powder, spices and salt in a large bowl and whisk together. Add solid coconut oil to bowl and using a pastry cutter, cut the coconut oil into the dry ingredients until the mixture begins to form fine crumbs (it will look like wet sand).
Whisk together the pumpkin puree and almond milk and add to the flour mixture. Stir until the mixture forms a soft dough and no longer sticks to the sides of the bowl. Turn the dough out onto a parchment lined cooking sheet and shape into a circle, about 8 inches wide and 1/2 an inch thick. Cut into 8 triangles and gently separate scones, giving them enough room to spread out as they bake. Brush with melted coconut oil.
Bake for 20 -25 minutes until golden and edges begin to brown.
Remove from oven and cool on a wire rack. Once completely cooled, whisk together powdered sugar, maple syrup and almond milk and drizzle over scones.
*If your coconut oil is liquid, line a small bowl with plastic wrap and pour in coconut oil. Place in the freezer for 20 minutes or until completely solid. When ready to use, lift out the plastic wrap and drop the hardened coconut oil into your flour bowl.
The Mostly Vegan http://www.themostlyvegan.com/