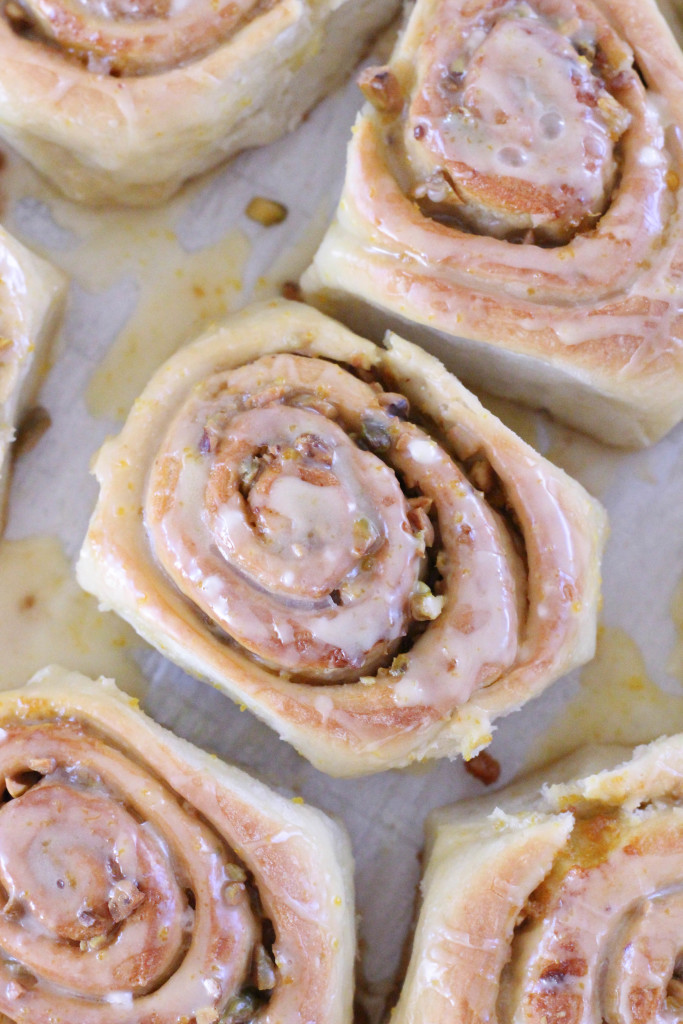 These Pistachio Orange Sticky Buns might be the fanciest thing I've ever baked. Fancier than these and definitely fancier than these. Seriously. Just look at them. This is the kind of pastry that will have your friends marveling at your baking prowess. Invite them over to brunch, serve mimosas and wow them with these sticky buns. Then tell them you made them from scratch, they're vegan, and actually pretty easy to whip up. Or maybe just keep that last bit to yourself.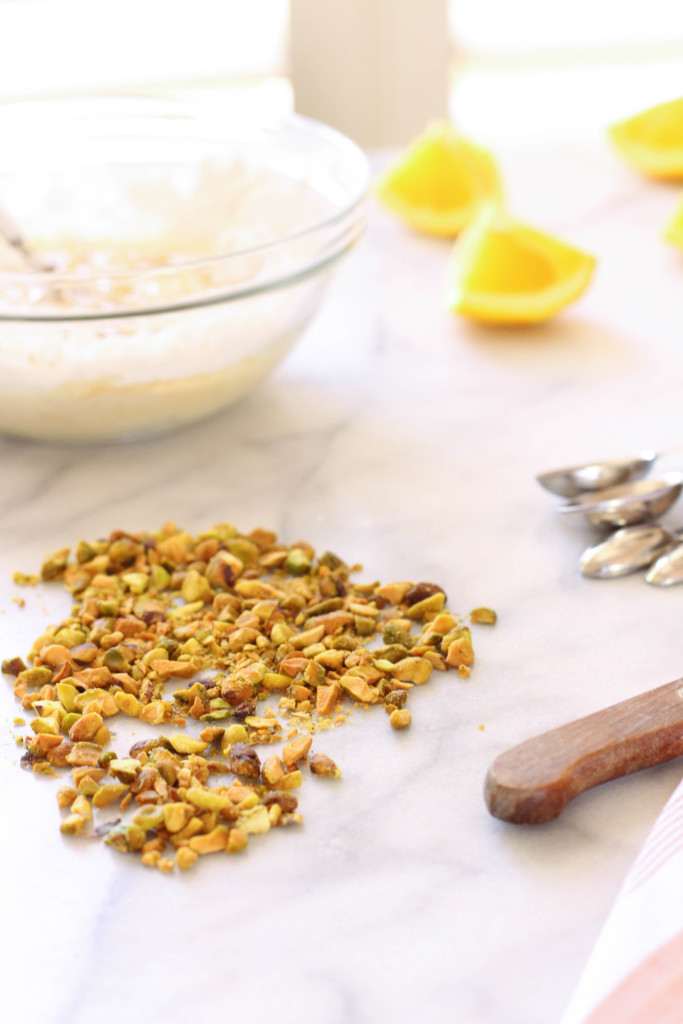 What makes these so easy? It's all about the dough, which is a simple pizza dough, all dressed up. Yup, that's right. Pizza dough. These are the easiest fancy pants pastries you'll ever make. Unlike traditional sticky bun dough, this version only requires a single hour-long rise. Then it's ready to be rolled out and baked. So stinkin' easy! The dough can even be prepped a day ahead and stored in the refrigerator. Just allow to come to room temperature when you're ready to get your sticky bun on. Because it's pizza dough, and it's totally easy going like that. I also suggest doubling the recipe and making enough to have sticky buns for breakfast and pizza for dinner. But that's just me.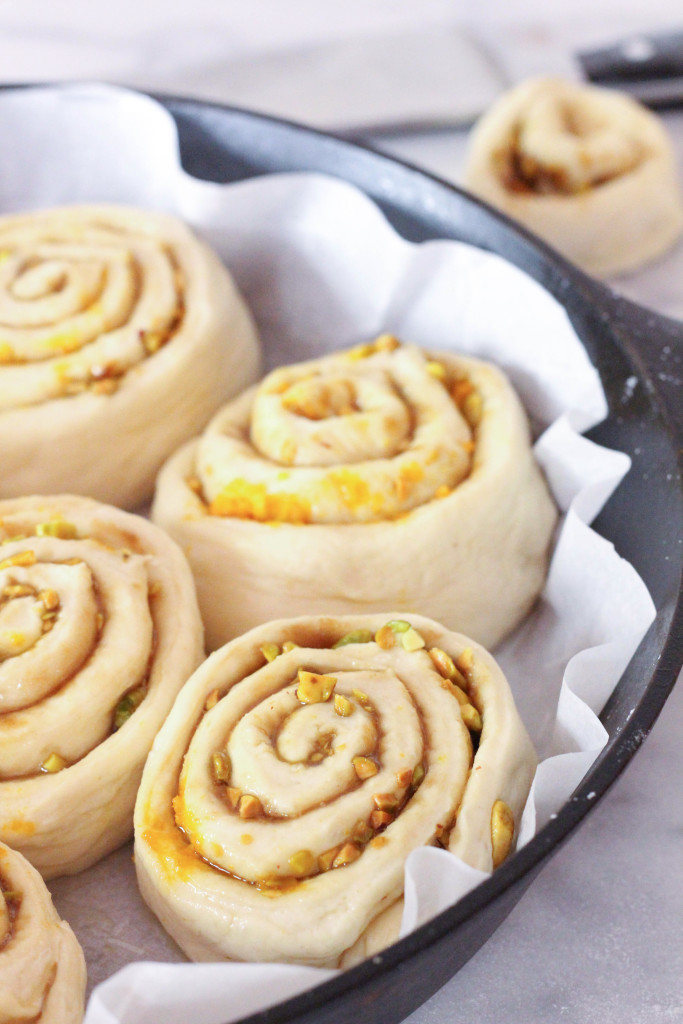 Besides the uber easy dough, there are so many things to love about these buns. The sophisticated flavor combo of orange and pistachio – move over cinnamon – is perfect for warmer summer months and smells all kinds of divine when you're prepping and baking. Plus, the colors! Who doesn't want to see gorgeous jewel toned orange and green flecks staring up at them from their breakfast plate? And, did I mention that we're slathering melted coconut oil all over these babies? No fake butter anywhere to be found.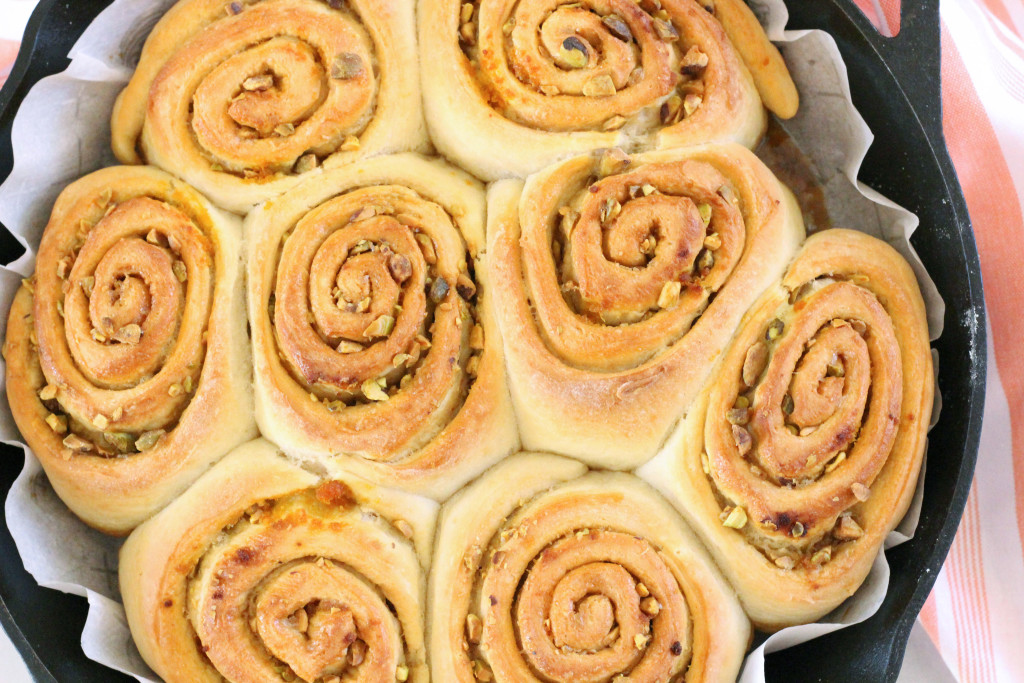 Now, you'll have to excuse me. Carbs are calling.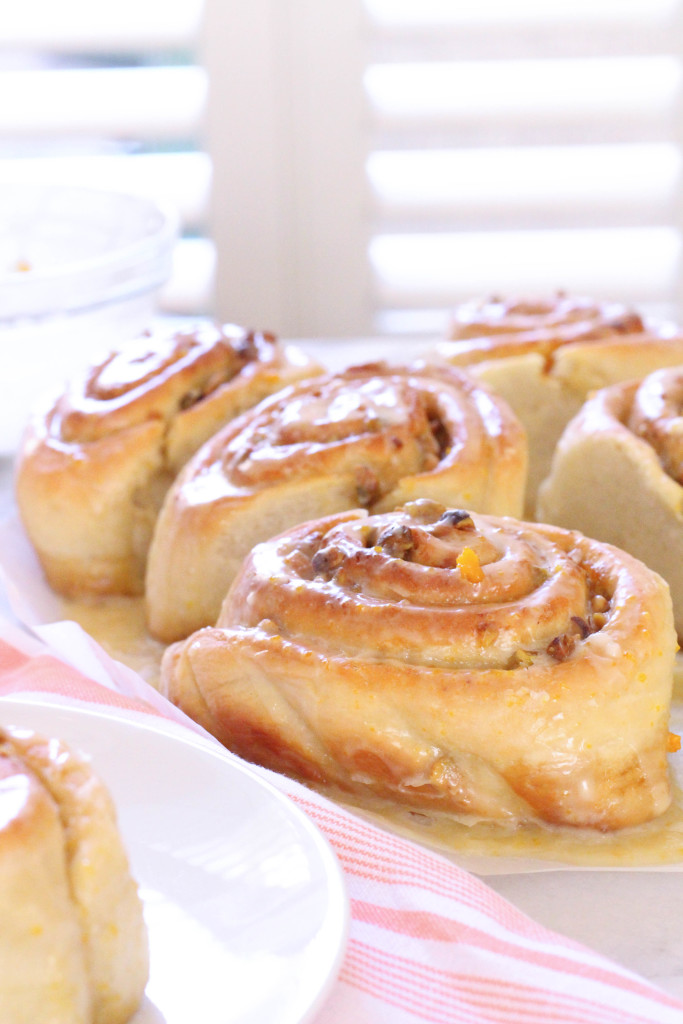 Pistachio Orange Sticky Buns
2015-08-01 12:31:59
Makes 8-10 sticky buns.
Ingredients
DOUGH
3 cups unbleached all-purpose flour
1 1/2 teaspoons active dry yeast
1 1/2 tablespoons sugar
1 1/2 tablespoons olive oil
1 1/2 teaspoons sea salt
1 cup water, warmed (between 100 F and 110 F, use an instant-read thermometer)
STICKY BUNS
1/2 cup organic light brown sugar
1/2 cup toasted pistachios, roughly chopped
1/4 cup melted coconut oil
zest of 3 navel oranges, divided (roughly 2 tablespoons)
2 cups organic powdered sugar
1/4 cup freshly squeezed orange juice
Instructions
DOUGH
In a stand mixer with a hook attachment, place the flour, sugar and salt. Mix for a few seconds until just incorporated. In a separate bowl, combine water and yeast. Wait until yeast begins to foam, about 5 minutes (you don't have to wait for the yeast to foam but it's a good way to ensure you didn't accidentally kill the yeast with the warm water) and then whisk in olive oil. Turn on the mixer to medium/high speed and slowly pour in water mixture. Allow to run until dough is smooth and pulls away from the side of the bowl, adding additional flour or up to a 1/4 more of water if necessary.
Remove dough from bowl and place on a well floured surface and cover with a bowl. Allow to rise for 1 hour.
STICKY BUNS
Preheat oven to 350 F. Uncover dough and roll out into a roughly 20" x 14" rectangle. Brush with half of the coconut oil and then top with light brown sugar, pistachios and 1 tablespoon orange zest, using your hands to gently rub in the toppings.
Starting at one end, carefully roll the dough away from you. Slice into 1 to 1 1/2" sections. Place rolls in a parchment lined 12" round cast iron skillet or cake pan, leaving as much room as possible around each roll. Brush tops and sides with remaining coconut oil.
Bake for 35 - 40 minutes until tops are golden brown.
Whisk powdered sugar, orange juice and remaining tablespoon orange zest until a smooth frosting forms. Remove buns from oven and pour frosting over. Serve immediately.
The Mostly Vegan http://www.themostlyvegan.com/