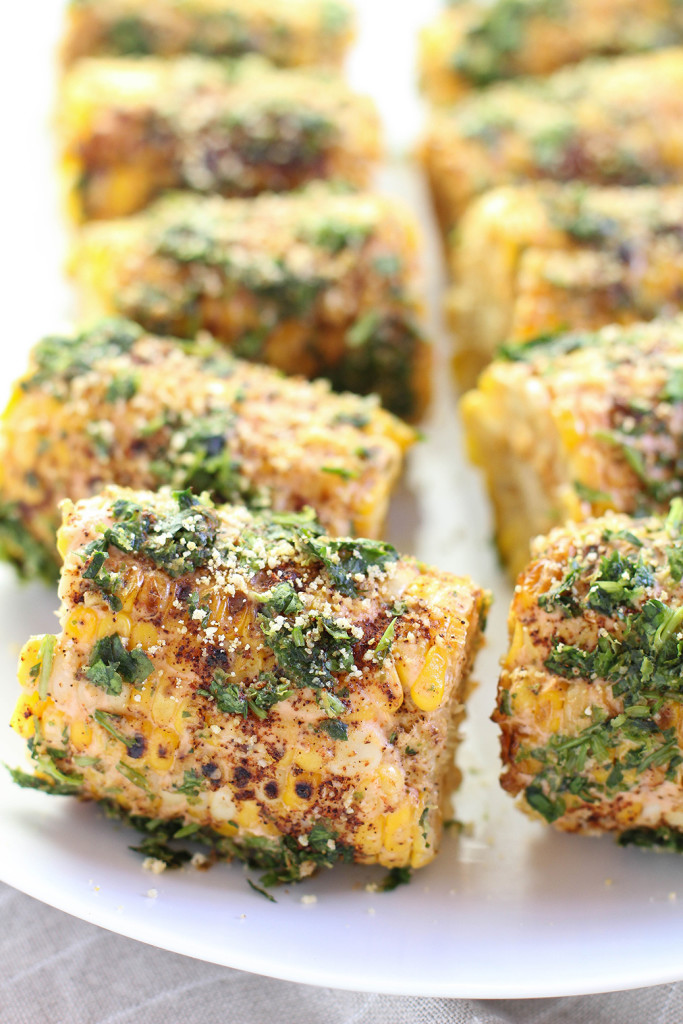 I've never been much of a corn on the cob kind of girl. Don't get me wrong, I do love me some corn – a handful of kernels mixed into a filling for tacos or sprinkled on top of a baked potato, but plain old platters of cobs offered up at backyard barbecues? No thanks. I'll usually take a piece (to be nice), quickly be sooo over the endless gnawing, and spend the rest of the afternoon trying to bum dental floss off of someone, anyone! Enter this vegan take on classic Mexican street corn, with the perfect storm of flavors to finally turn me into a corn on the cob lover.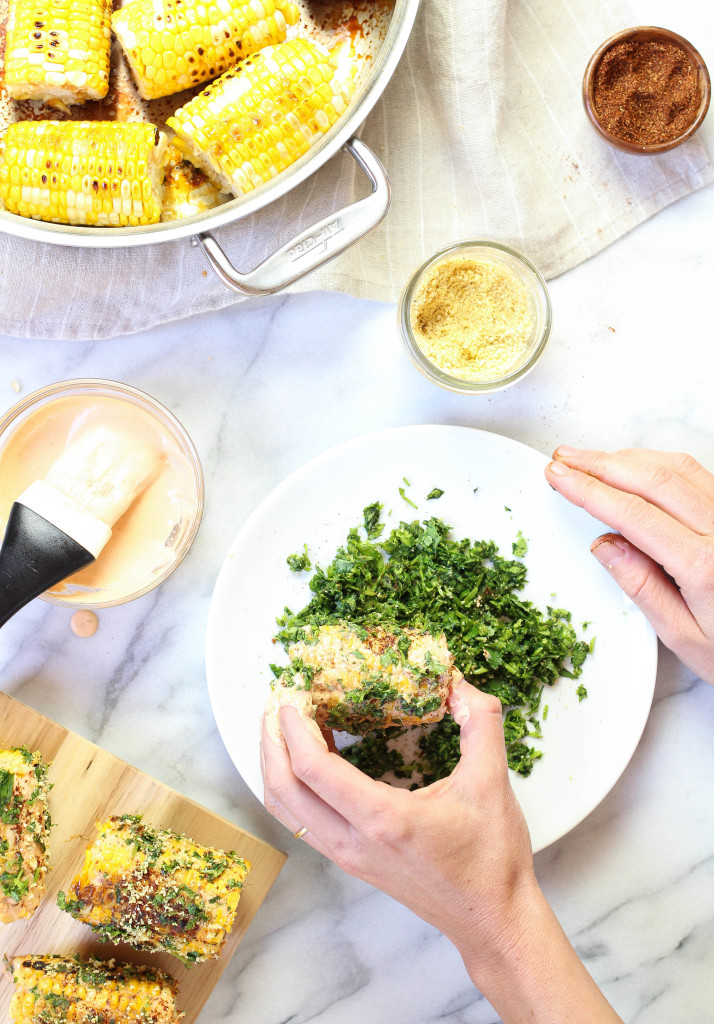 Unlike one note corn on the cob, this stuff is spicy, garlicky, fresh, salty, smoky and just a bit sweet. The corn cobs are brushed with garlic oil then grilled until they're golden and juicy. Next comes a generous slather of sriracha spiked cashew mayo (which, surprise! is actually the same recipe I use for cashew sour cream. Hooray for versatile vegan sauces) and a dusting of chili powder. Cilantro, lime zest, and sea salt are minced into a southwestern take on gremolata, and layered on next. The final touch is a sprinkling of cashew parmesan – I always use Minimalist Baker's version – which adds a hint more garlic, a cheesy tang from nutritional yeast, and more salty goodness.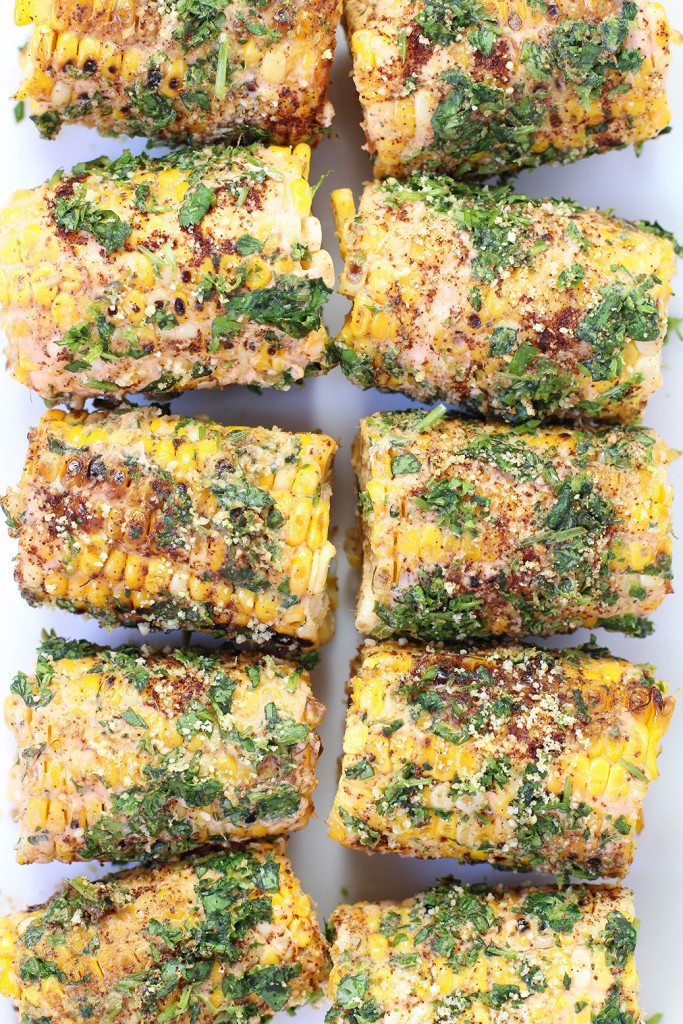 This veganized version of Mexican street corn is sure to bust any traditional corn on the cob induced boredom. In fact, it's addictive. Make a double batch for your next barbecue (you should probably make this Potato and Green Bean Salad with Dill Ranch Dressing too), and prepare for guests to request second and third helpings. Forget about the floss.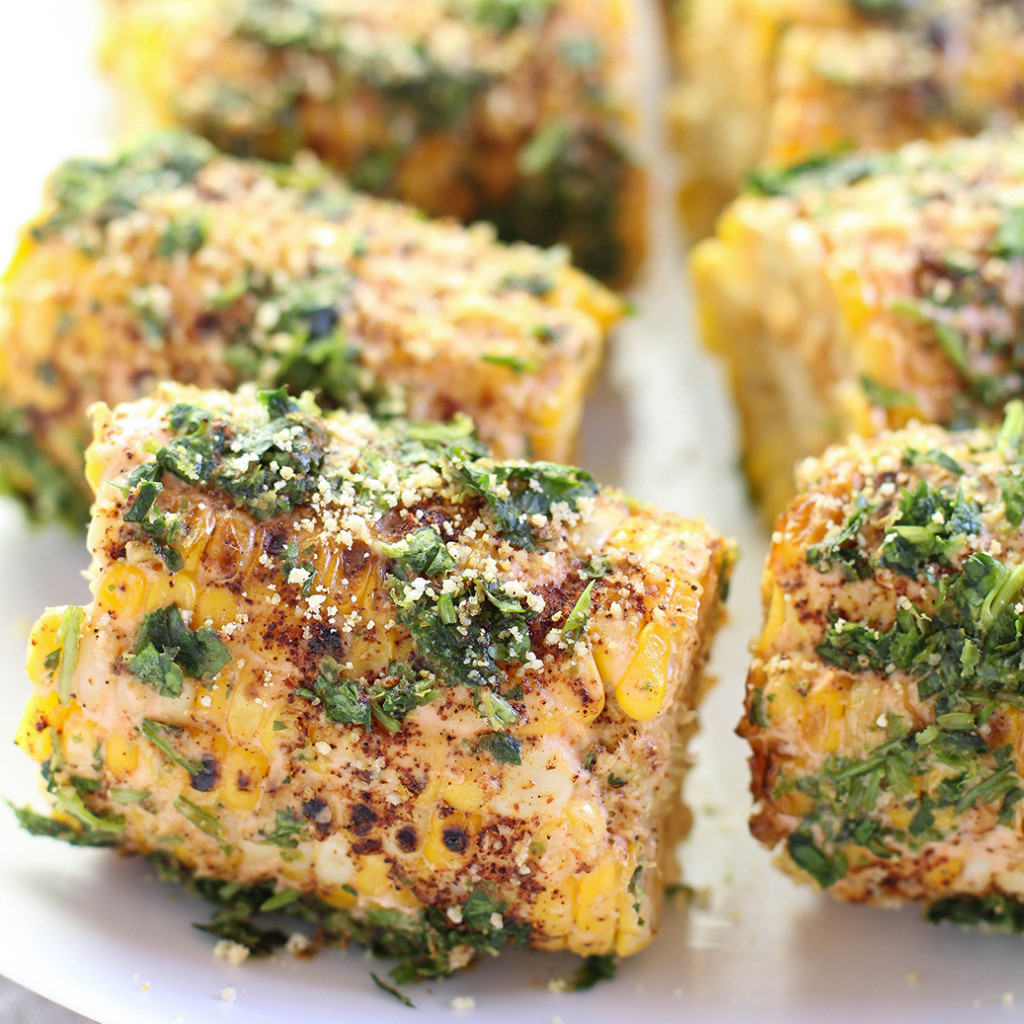 Mexican Street Corn
2016-06-08 11:07:53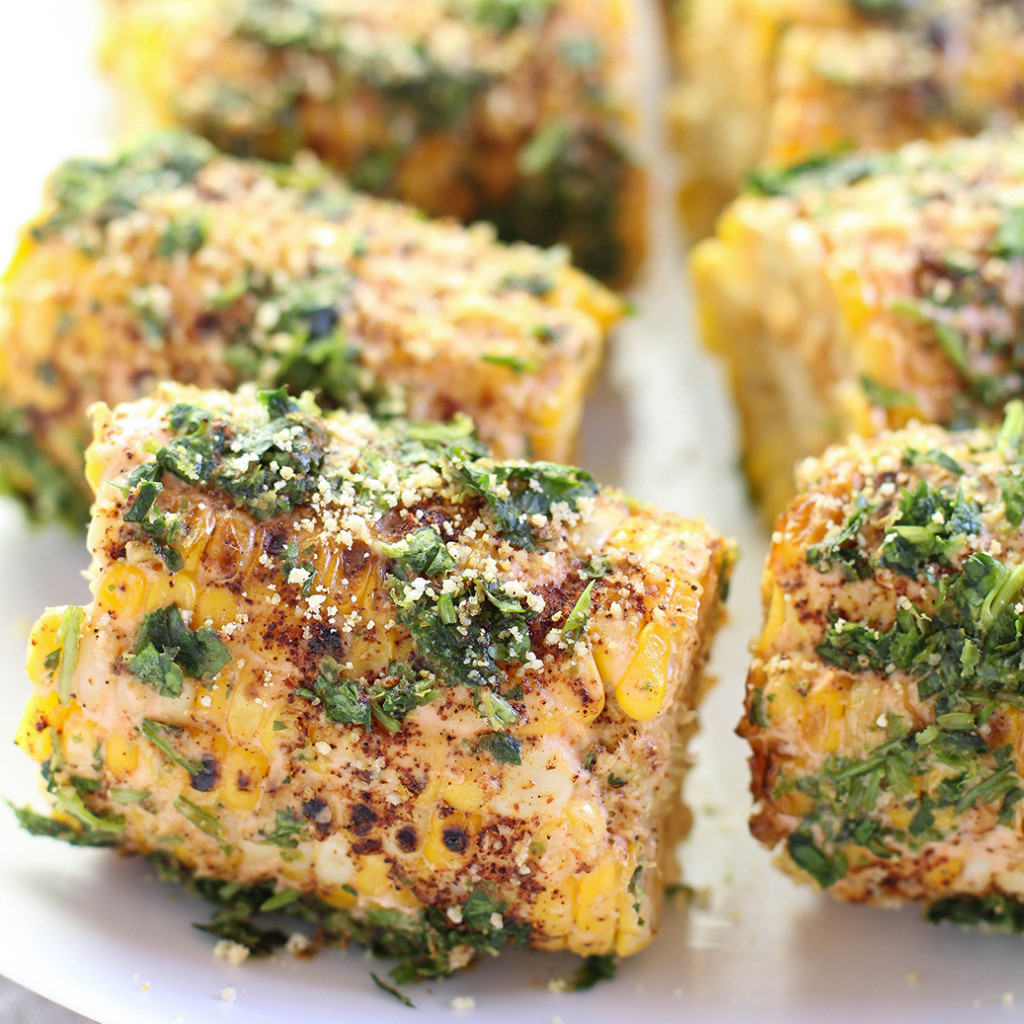 Serves 5-10 depending on serving size.
Ingredients
5 ears of corn, cut in half
2 tablespoons garlic oil*
1 cup packed cilantro
4 limes
chili powder
1/4 cup cashew mayo/sour cream
2 teaspoons sriracha
2 tablespoons cashew parmesan from Minimalist Baker
sea salt
Instructions
Heat a large skillet over medium-high heat. Brush corn generously with garlic oil and cook until golden brown, about 7-10 minutes, turning corn frequently to ensure its browned on all sides. Corn can also be cooked on a grill or under a broiler.
While corn is cooking, use a microplane to grate lime zest over cilantro (roughly 2 heaping tablespoons). Add a generous pinch of sea salt (roughly 1/4 teaspoon) and chop the mixture until the cilantro is very finely minced.
Add sriracha to cashew mayo and whisk to combine.
Once corn is cooked, brush each cob with a generous amount of sriracha mayo mixture. Sprinkle with chili powder, then roll in cilantro lime mixture. Lay on a platter and sprinkle with cashew parmesan.
Corn can be served warm or at room temperature.
Notes
* To make garlic oil, bring a 1/4 cup extra virgin olive oil to a simmer in a small saucepan. Add three smashed garlic cloves and simmer until cloves turn golden brown. Remove cloves and allow to cool. Oil can be stored in the fridge for up to a week.
The Mostly Vegan http://www.themostlyvegan.com/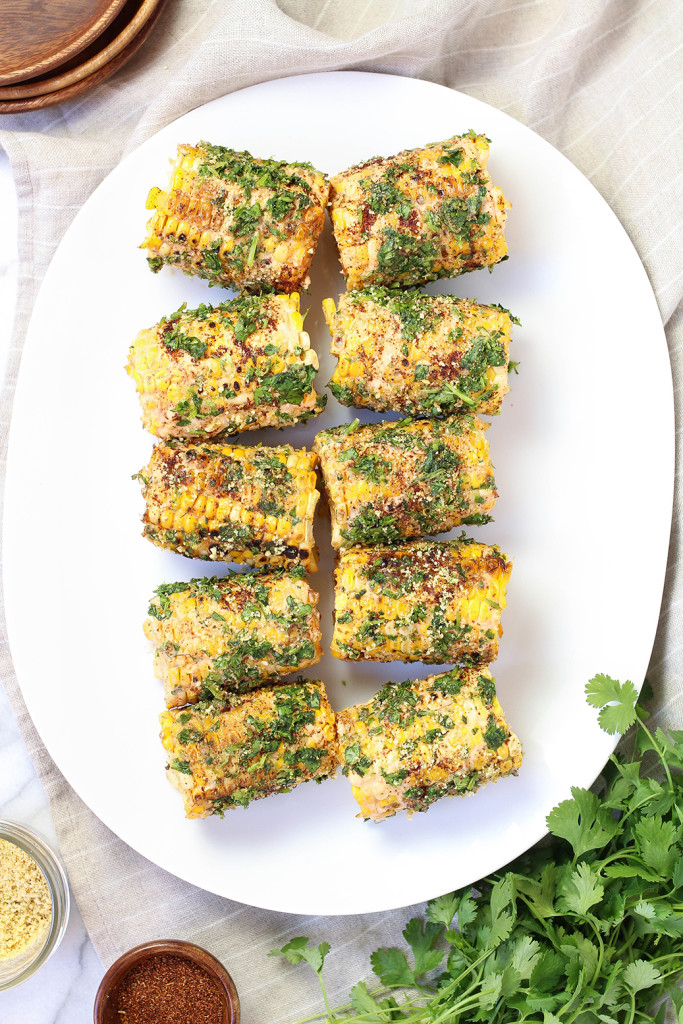 Check out my
Barbecue Ranch Tempeh Burgers
for more summer meal inspiration.