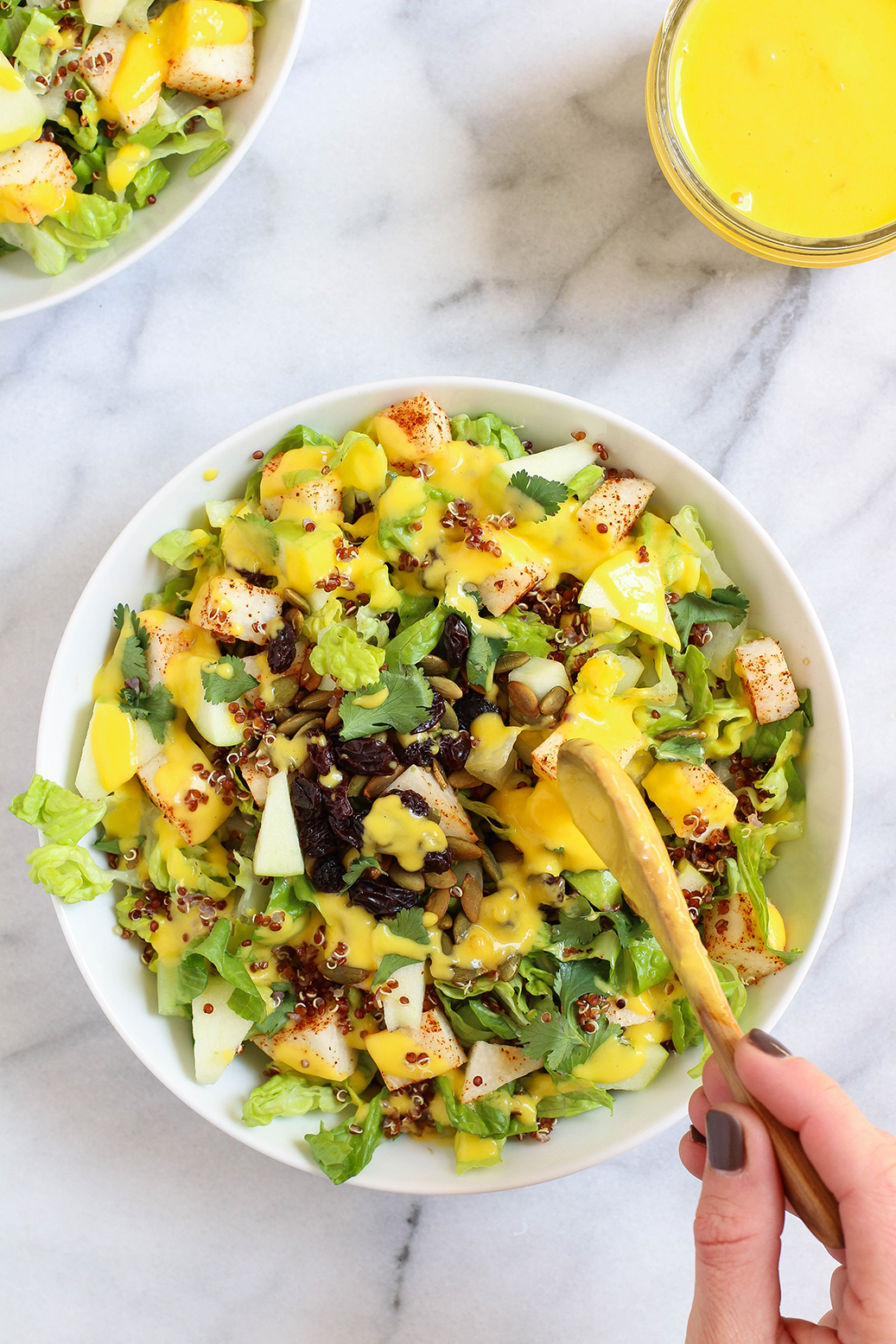 If you're in the mood for something crunchy, light, and totally refreshing, then I've got you covered with this Mango Jicama Crunch Salad. Especially as the weather here in SoCal is steadily warming up, I can see this salad becoming my go to lunch. Inspired by Native Foods' Ensalada Azteca, I swapped out the cucumber and tomatoes in their version for Granny Smith apple chunks, which amps up the crunch factor even more and adds that great tartness that only a Granny Smith can deliver. I also use red quinoa instead of white because the white stuff is always a bit too mushy for my taste.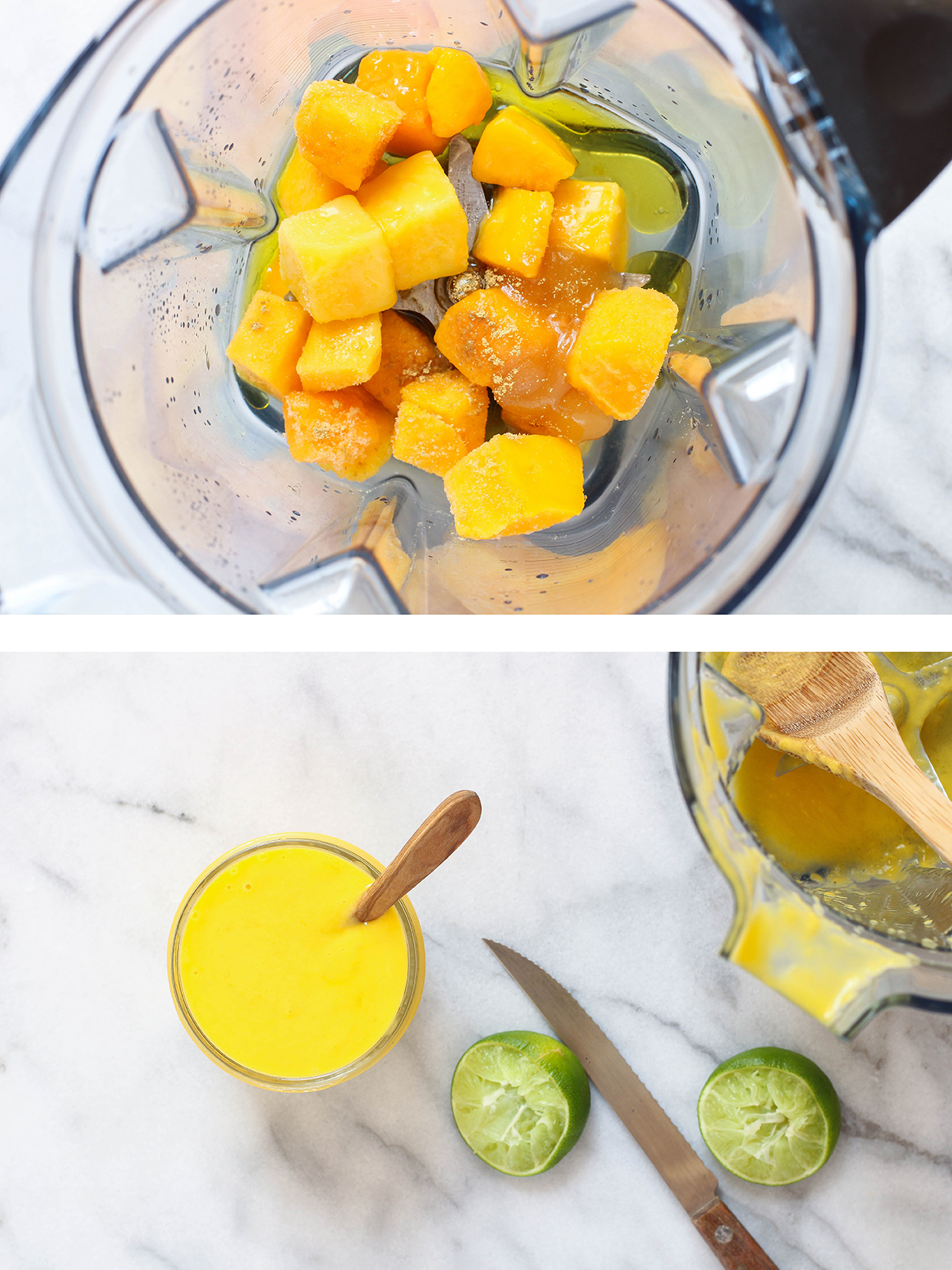 Not only does making this salad at home save money, but it also means I can load up my bowl of romaine with all the toppings I love – and that I just never seem to get enough of when I eat out. I really pile on the jicama – first tossed with chipotle chili powder to lend a hint of smokiness – toasted pepitas and raisins. A generous sprinkle of cilantro keeps the fresh vibe going and pairs perfectly with the smoky jicama.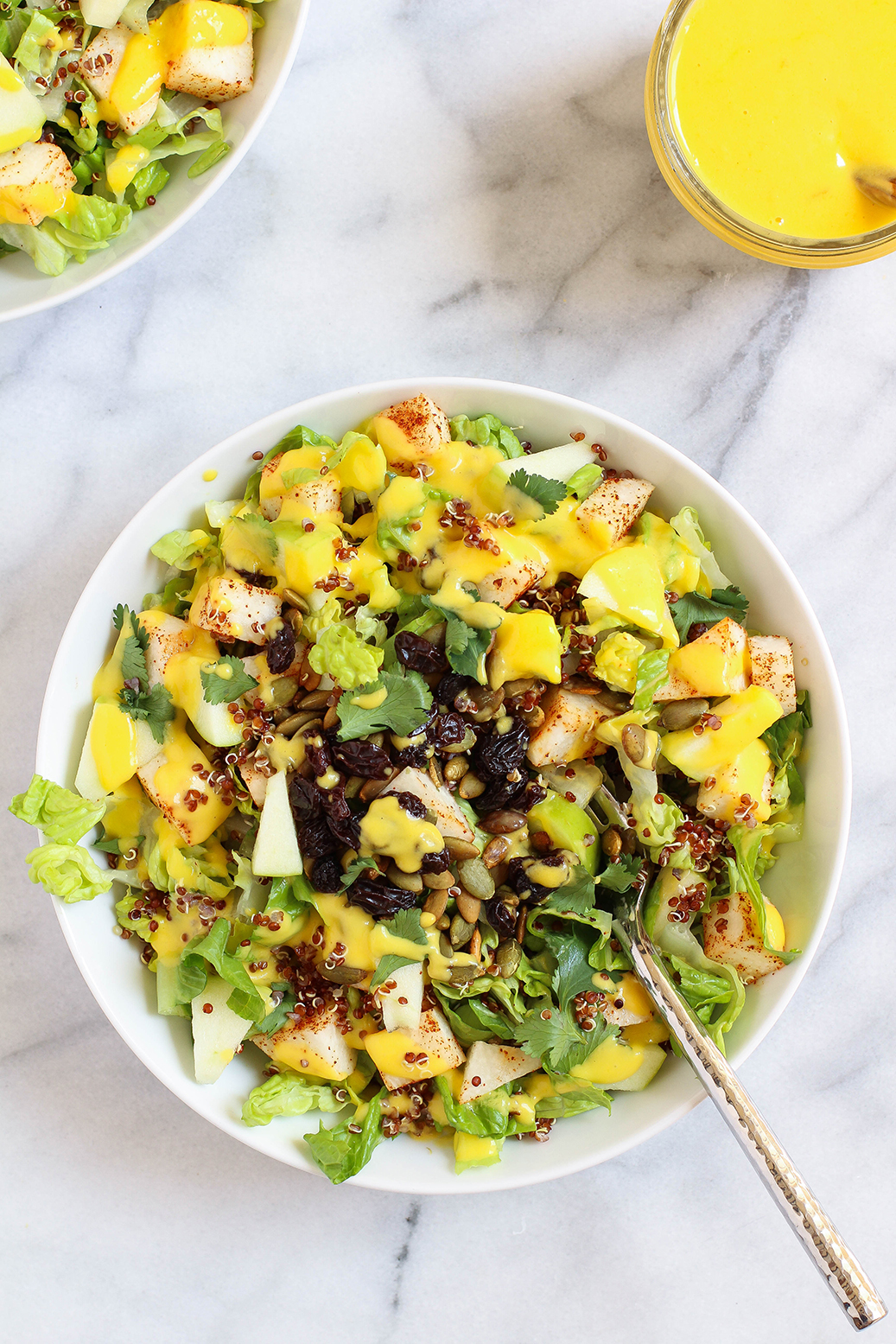 The real star of this salad is the Mango Ginger Vinaigrette, I mean just look at that color! You can find a full version of Native Foods' original recipe online, but mine is a pared down version, allowing the fruity mango flavor to really shine. A squeeze of lime juice and pinch of ground ginger add some depth and a squeeze of raw honey (can sub with agave) balances out any possible lack of sweetness from the mango. I also use frozen mango, which means you can whip up this dressing all year round (and because trying to peel and chop a fresh mango is a recipe for disaster, at least for me).
Whip up this salad the next time you're craving some serious crunch in your life and you won't be disappointed.

Mango Jicama Crunch Salad
Makes 2 salads & 1 cup vinaigrette.
Ingredients
3 cups chopped romaine
1 cup prepared red quinoa
1 cup jicama, peeled & chopped
½ cup Granny Smith apple, chopped
2 tablespoons raisins
¼ cup toasted pepitas
pinch chipotle chili pepper
handful cilantro
Mango Ginger Vinaigrette
1 heaping cup frozen mango
2 tablespoons lime juice
2 tablespoons extra virgin olive oil
1½ teaspoons raw honey (or sub with agave nectar)
generous pinch ground ginger
pinch sea salt
Instructions
Divide romaine between two bowls. Toss jicama with pinch of chipotle chili pepper (optional) and divide between bowls. Divide apple pieces between bowls (toss with a squeeze of lemon juice to keep from browning if prepping salad ahead of time) then top with quinoa, raisins & pepitas.
Drizzle each bowl with about 3 tablespoons of Mango Ginger Vinaigrette & toss. Garnish with cilantro leaves.
Mango Ginger Vinaigrette
Combine all ingredients in a blender with 2 tablespoons water and process until smooth. Add 1 to 2 additional tablespoons water if mixture is not blending. Store leftover dressing in the refrigerator for up to 5 days.