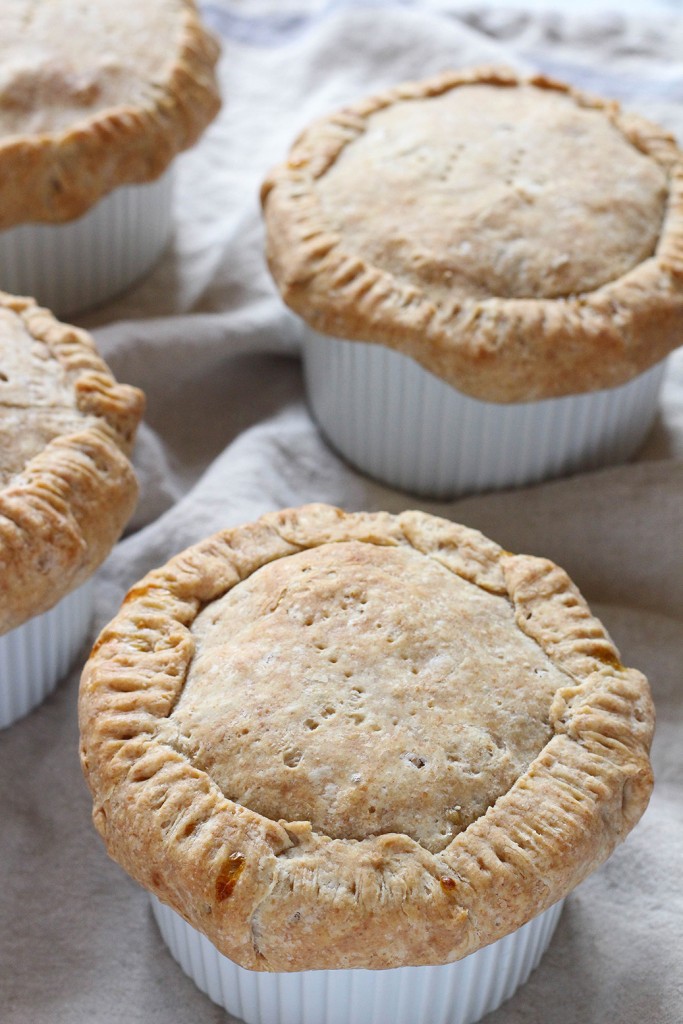 To say I'm in love with these Loaded Vegan Pot Pies at the moment would be a total understatement. I'm totally obsessed. I first made them on Christmas day for my mother-in-law (who's a fellow veggie) and me to eat while everyone else enjoyed steak pie. I wanted something festive and hearty so we didn't feel like we were stuck with a bunch of side dishes. Now, there's nothing wrong with a heaping plate full of yummy veggie sides, but if there's ever a time to step up your main course game, the holidays are definitely it.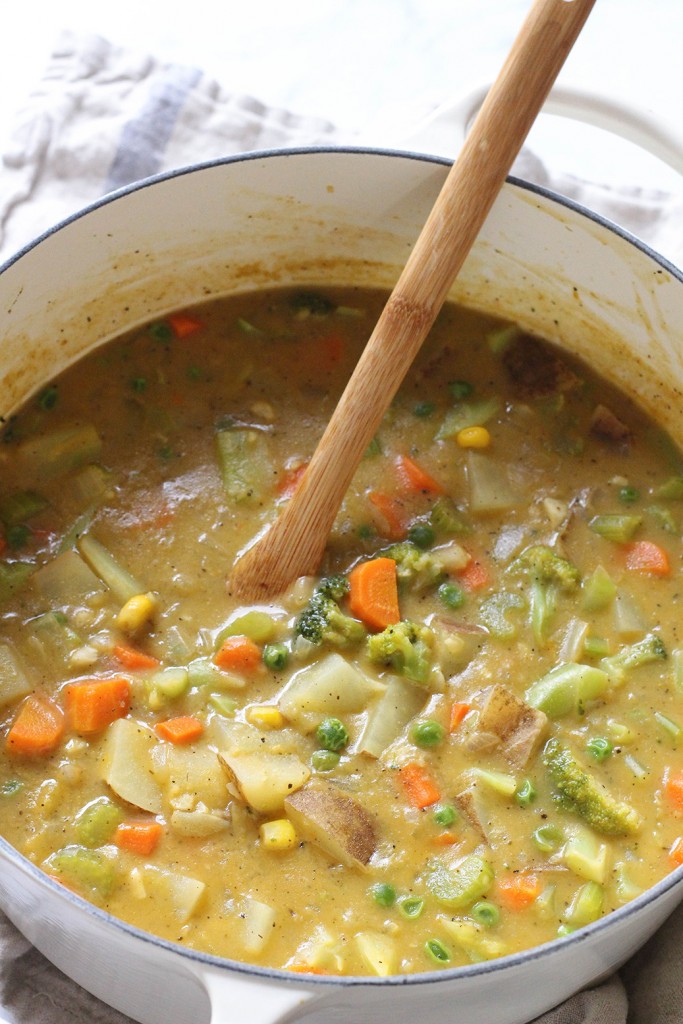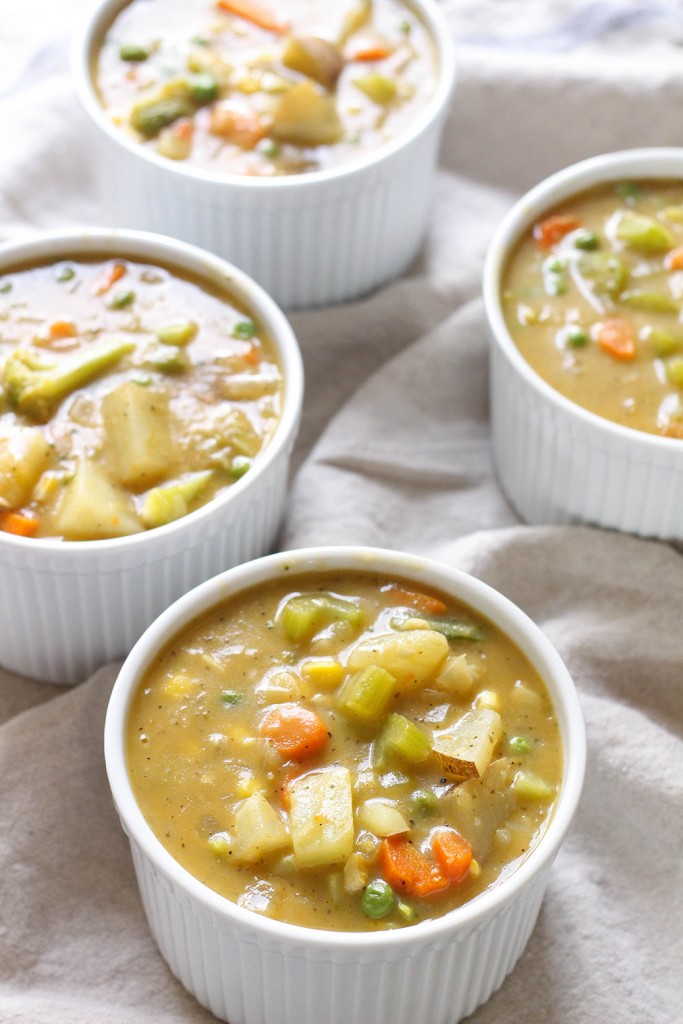 I combed over every vegetarian and non-vegetarian pot pie recipe I could find on the interwebs and cherry picked all of the best sounding bits and pieces, and of course added my own spin on things. Coconut milk roux anyone? The result, everybody flipped over these! Seriously, they turned out so damn tasty, and because I used gigantic ramekins – 18 ouncers to be exact – they were a meal in themselves. Loaded with potatoes, broccoli, carrots, celery, corn and peas and topped off with a rich, buttery crust (minus the actual butter), they're vegan comfort food at it's best. My favorite part is probably the thick stock, helped along by the starch of the potatoes and a roux made from flour and coconut milk, it's as hearty as a gravy and stick to your ribs filling, without all of that actual stick to your ribs gunk.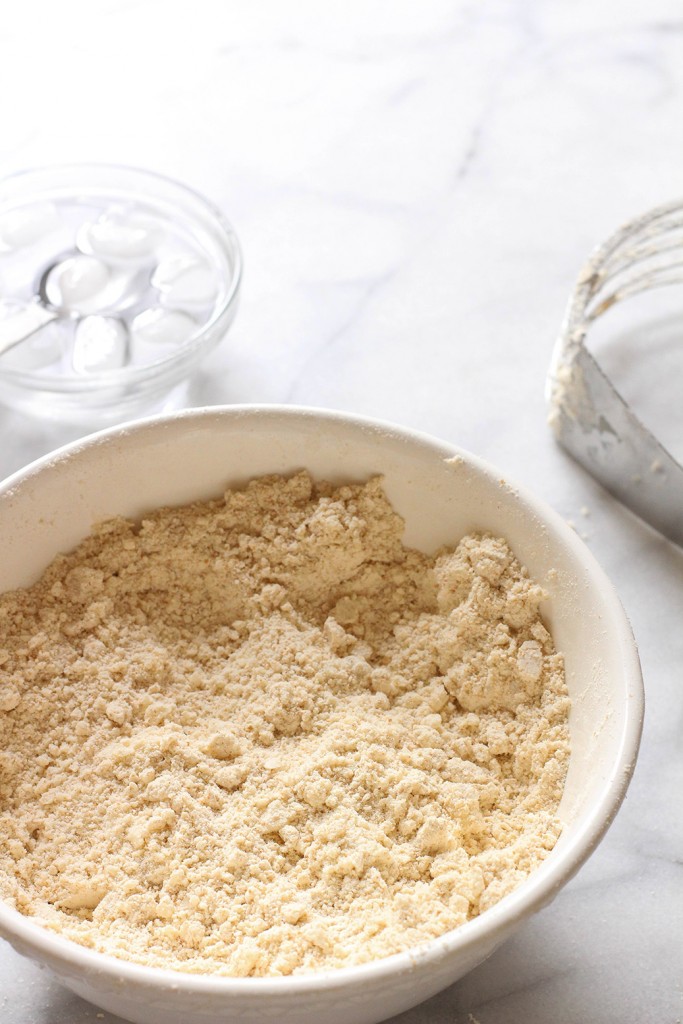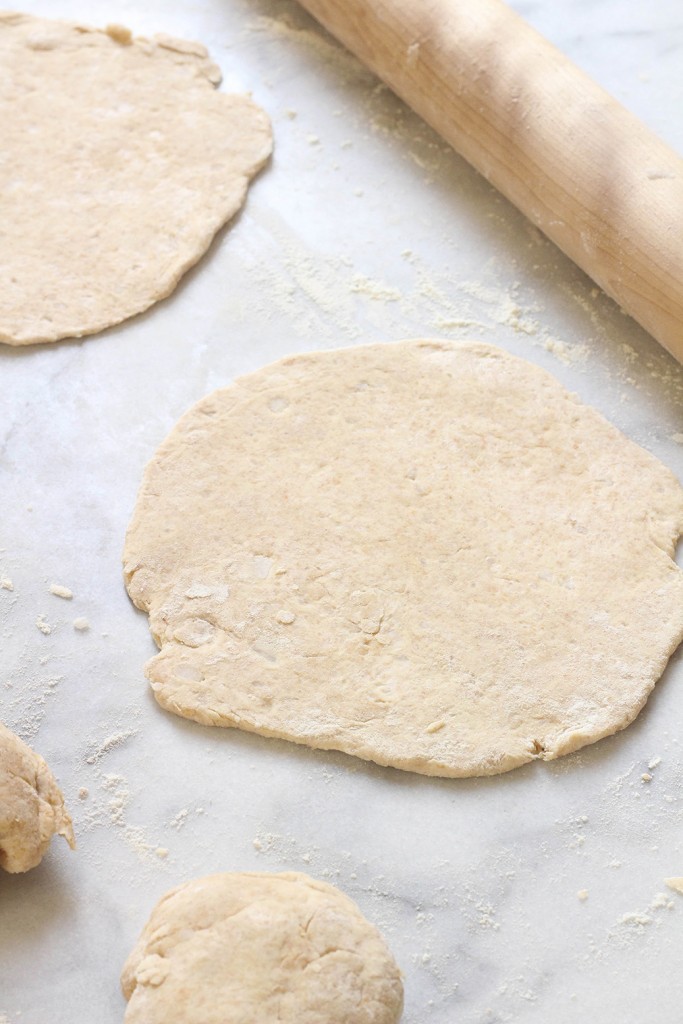 Since my pot pie Christmas miracle, I've switched up the crust – a simple coconut oil and flour concoction – to include some spelt flour. I've sung the virtues of spelt flour before and I dig the way it adds a bit of wholesome flavor here. I also dig the huge amount of crust these babies have going on. Perfect for breaking off large chunks and dipping into that lip-smackingly delicious gravy. If you're crunched for time though, the veggie filling – minus the crust – would make a stellar veggie chowder served all on its own.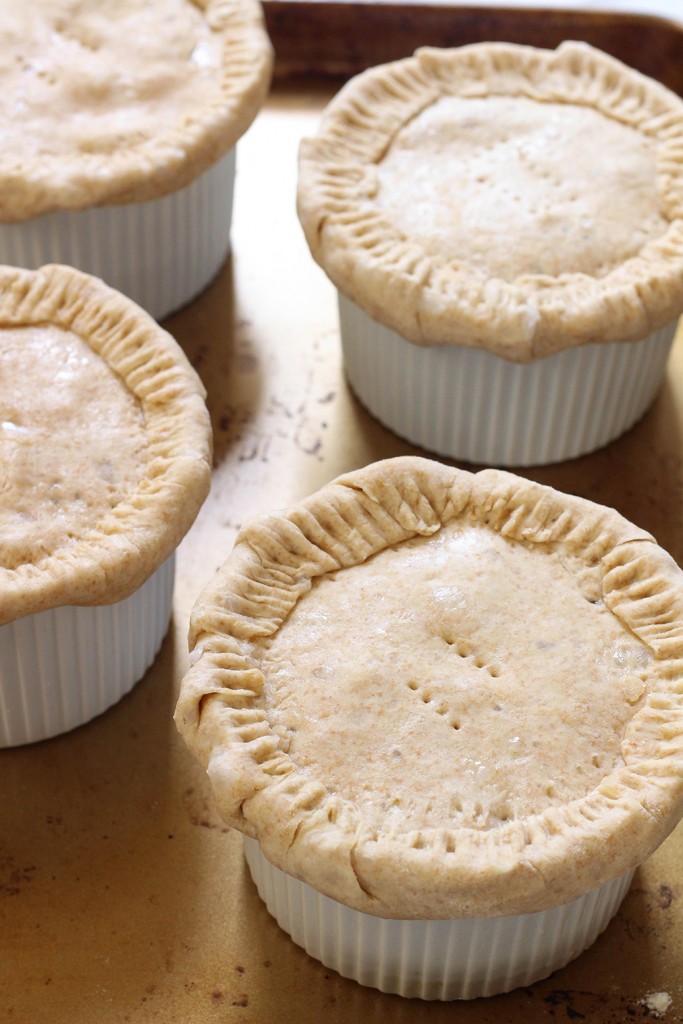 Christmas might be over, but these pot pies will keep you feeling warm and cozy all winter long. It's kind of one of those gift that keeps on giving type deals.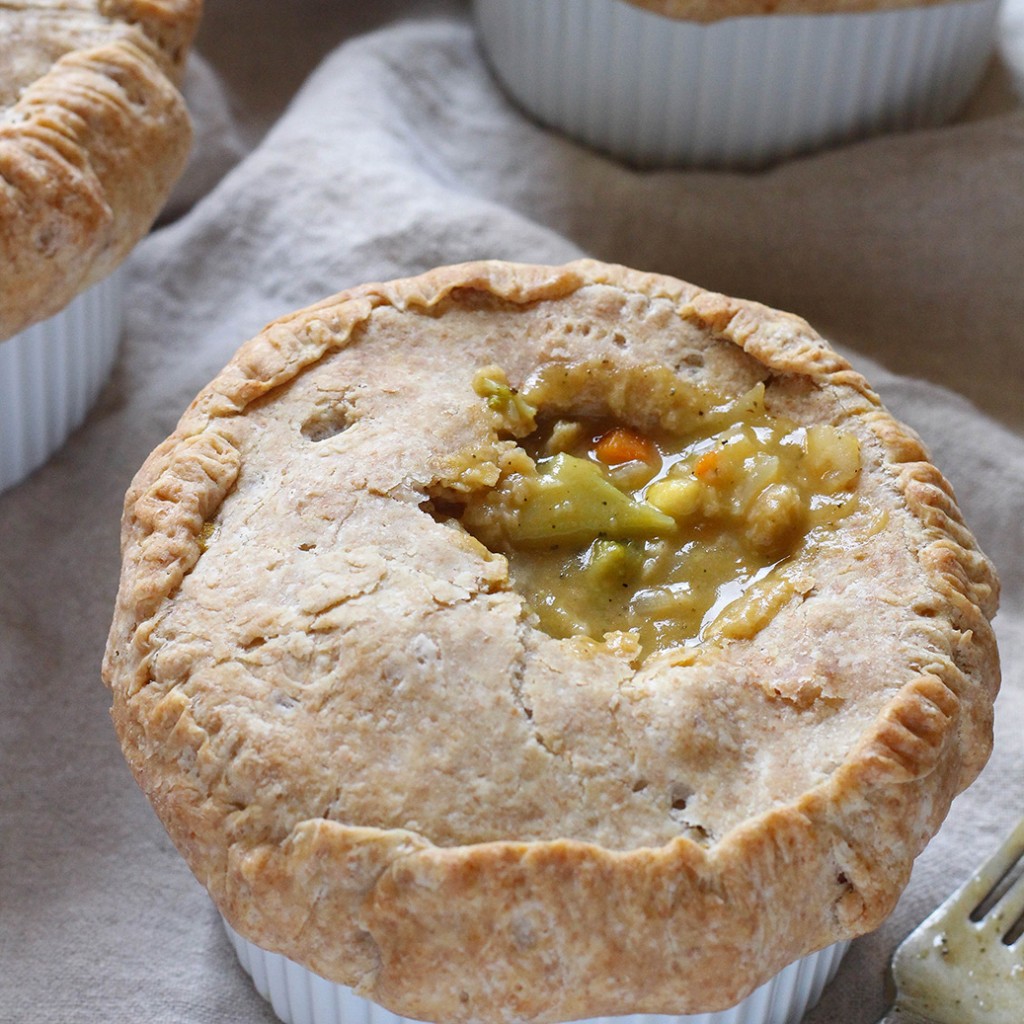 Loaded Vegan Pot Pies
2016-01-19 11:58:44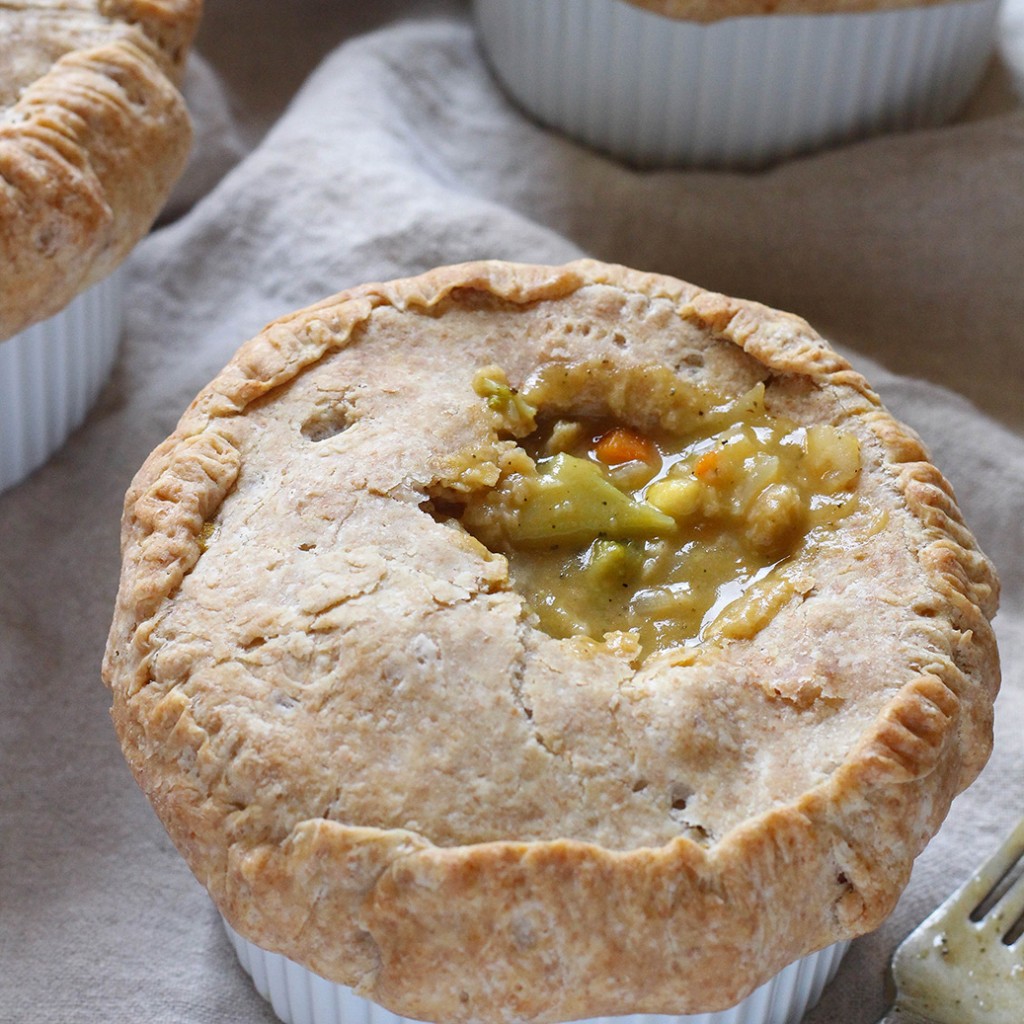 Makes 4, 18 ounce pot pies.
Ingredients
2 tablespoons extra virgin olive oil
1 russet potato, unpeeled & diced
4 carrots, diced
2 celery stalks, diced
3 cups frozen broccoli florets
1/2 cup frozen peas
1/2 cup frozen corn
1 onion, diced
4 cloves garlic, minced
4 cups low sodium veggie broth
1/2 heaping teaspoon ground sage
1/2 heaping teaspoon ground thyme
1 teaspoon sea salt
1/2 teaspoon black pepper
1/2 cup coconut milk (from a can)
1/4 cup unbleached all purpose flour (can sub with cornstarch)
SPELT FLOUR CRUST
1 cup unbleached all purpose flour
1/2 cup spelt flour*
1/2 cup unrefined coconut oil, (solid & chilled)*
2 teaspoons organic cane sugar
1/2 teaspoon sea salt
7-9 tablespoons ice water
Instructions
Heat olive oil in a large pot over medium-high heat. Add onion and garlic and saute until just softened. Add potato, carrots, celery, sage, thyme, salt and pepper to pot. Add veggie broth and bring to a boil and then simmer for 5 minutes. Add frozen broccoli, peas and corn and simmer 5 minutes more.
In a separate bowl, make a roux by whisking 1/4 cup flour into coconut milk until smooth. (It will be quite thick.) Add roux to pot and stir to combine. Simmer 5 minutes more until stock thickens. Season with salt and pepper to taste.
Divide veggie filling between 4, 18 ounce ramekins and allow to cool slightly while preparing the crust.
SPELT FLOUR CRUST
Preheat oven to 400 F. Combine flours, sugar, and salt in a large bowl and whisk together. Add solid coconut oil to bowl and using a pastry cutter, cut the coconut oil into the dry ingredients until the mixture begins to form fine crumbs (it will look like wet sand).
Add ice water to flour mixture 1 tablespoon at a time and use a wooden spoon to gently mix. Continue to add water (no more than 9 tablespoons) and mix until a dough forms.
Use your hands to gather the dough in the bowl and squeeze in any loose bits. Shape into a ball and lay out on a well-floured surface. Gently press the dough into a disc, about 8 inches across.
Using a knife, divide the dough into 4 pieces and shape each piece into a ball.
ASSEMBLING POT PIES
Working with one ball of dough at a time, lightly flour the top of the dough and a rolling pin, and roll into a circle about 1 1/2 - 2 inches wider than your ramekin (mine are 4 1/2 inches wide so I rolled out my crusts to about 6 1/2 inches). Add more flour as you go to prevent sticking and press together any cracked bits of dough.
Center crust over the top of the ramekin, allowing excess edges to hang. Fold back over the excess edges of dough to form a crust. Using a fork, gently press edges down. Poke holes in the center of the crust with a fork or knife to allow steam to escape.
Repeat process with remaining balls of dough.
Place pot pies on a cookie sheet and bake in the oven for 35-40 minutes until crust is golden brown.
Allow to cool slightly before serving.
Notes
*Additional all purpose flour can be substituted for spelt flour or your favorite gluten free flour blend.
***If your coconut oil is liquid, line a small bowl with plastic wrap and pour in pre-measured oil. Place in the freezer for 20 minutes or until completely solid. When ready to use, lift out the plastic wrap and drop the hardened coconut oil into your flour bowl.
The Mostly Vegan http://www.themostlyvegan.com/