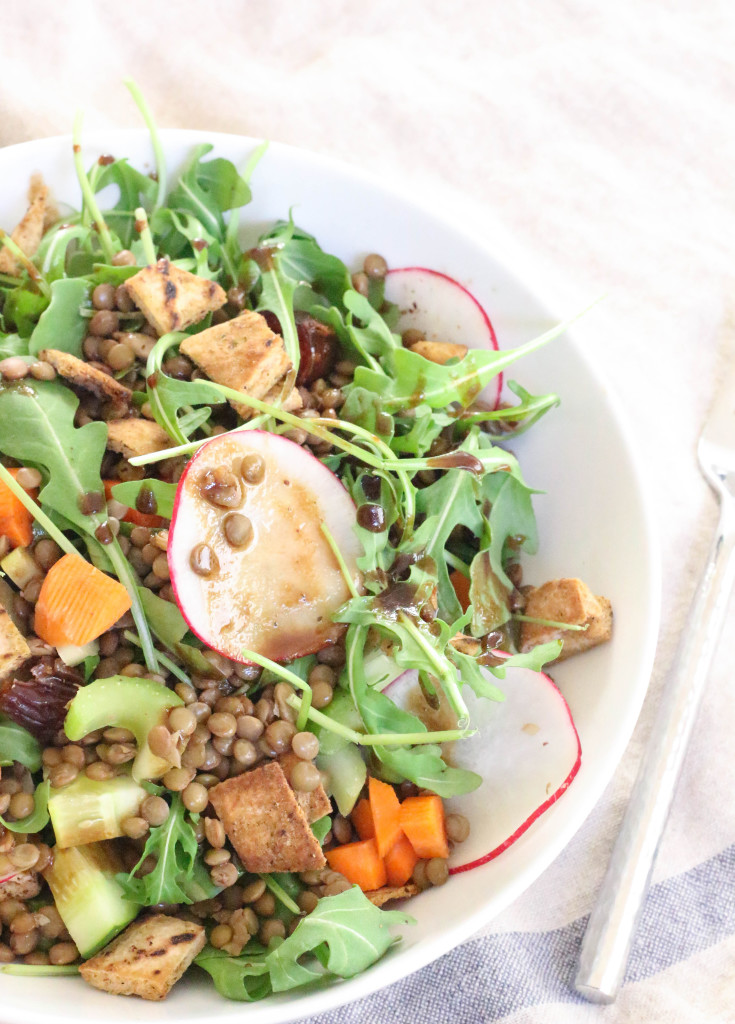 We eat a lot of salads around here. Fruit based salads, grain salads, taco salads. You get the idea. Nothing makes me – or my bod – happier than a fresh, hearty, flavor packed bowl of greens loaded up with all kinds of yummy toppings. Especially around the holidays, it's crucial to have a go-to healthy meal that doesn't leave you feeling deprived or running for the nearest platter of cookies.
Enter this Lentil Fattoush Salad, which we're currently eating on repeat. Packed with a veritable kitchen sink of things to love – spicy arugula, filling green lentils, crunchy celery and radishes, sweet dates, chewy za'tar spiced pita croutons (the fattoush), toasted sunflower seeds, and our house favorite maple Dijon vinaigrette, which basically makes every salad instantly scarfable – it's kind of a big deal.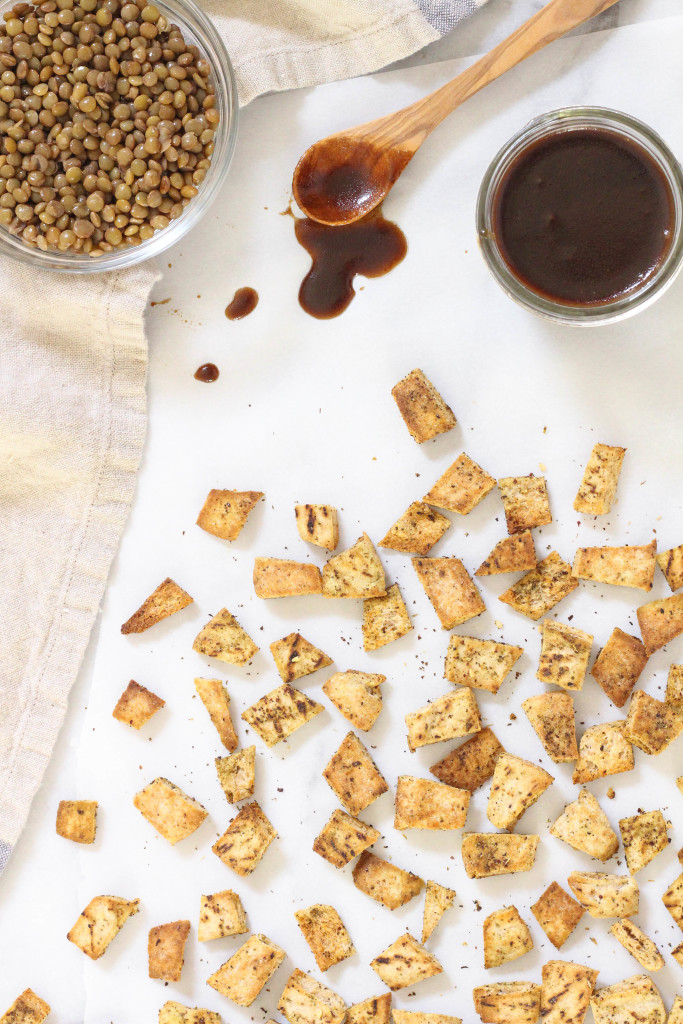 This salad is also highly packable, meaning it's perfect for make ahead work lunches. Carve out a little time on a Sunday to chop the veggies, toast up some pita, prep a large pot of lentils, and you've set yourself up to instantly inspire co-worker envy in the break room all week long. While I'm not foregoing my right as an American to OD on holiday baked goods at least once in the next couple of weeks – probably on these or these – I am keeping this salad on hand to balance out the insanity and leave my tastebuds pretty dang satisfied at the same time.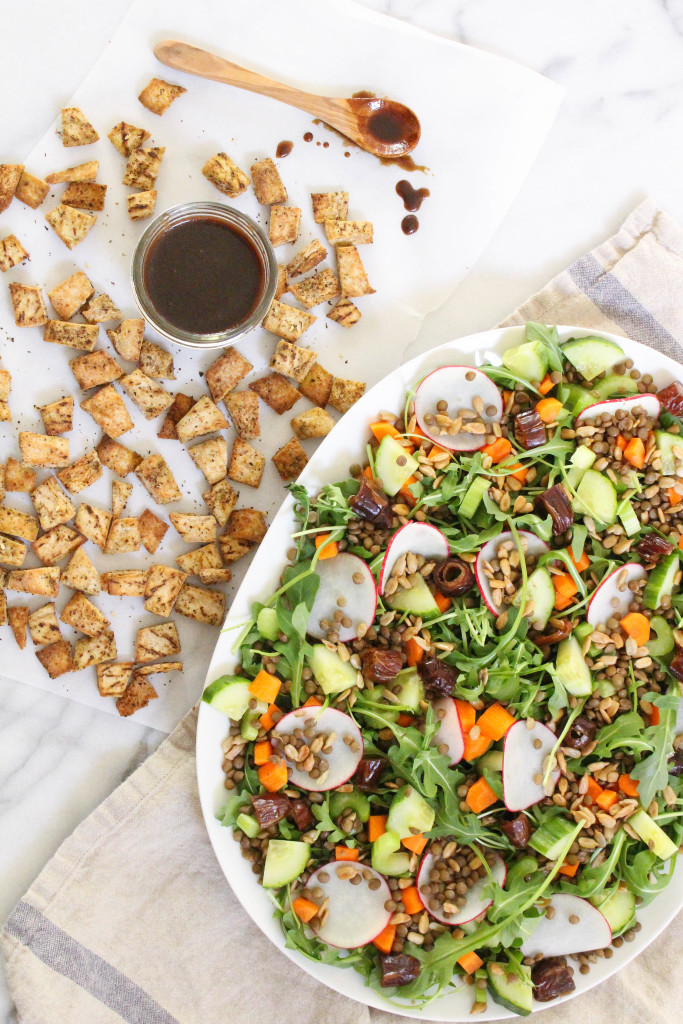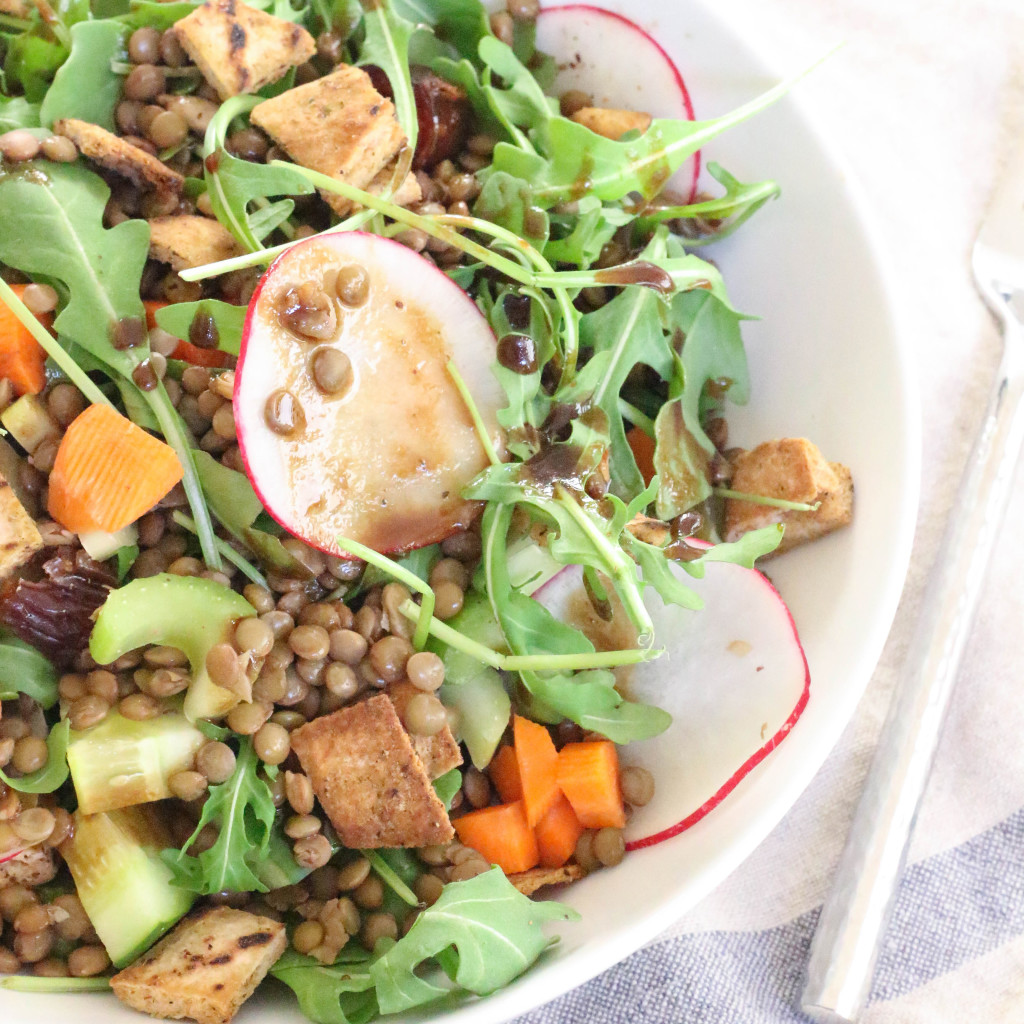 Lentil Fattoush Salad
2015-12-10 11:39:19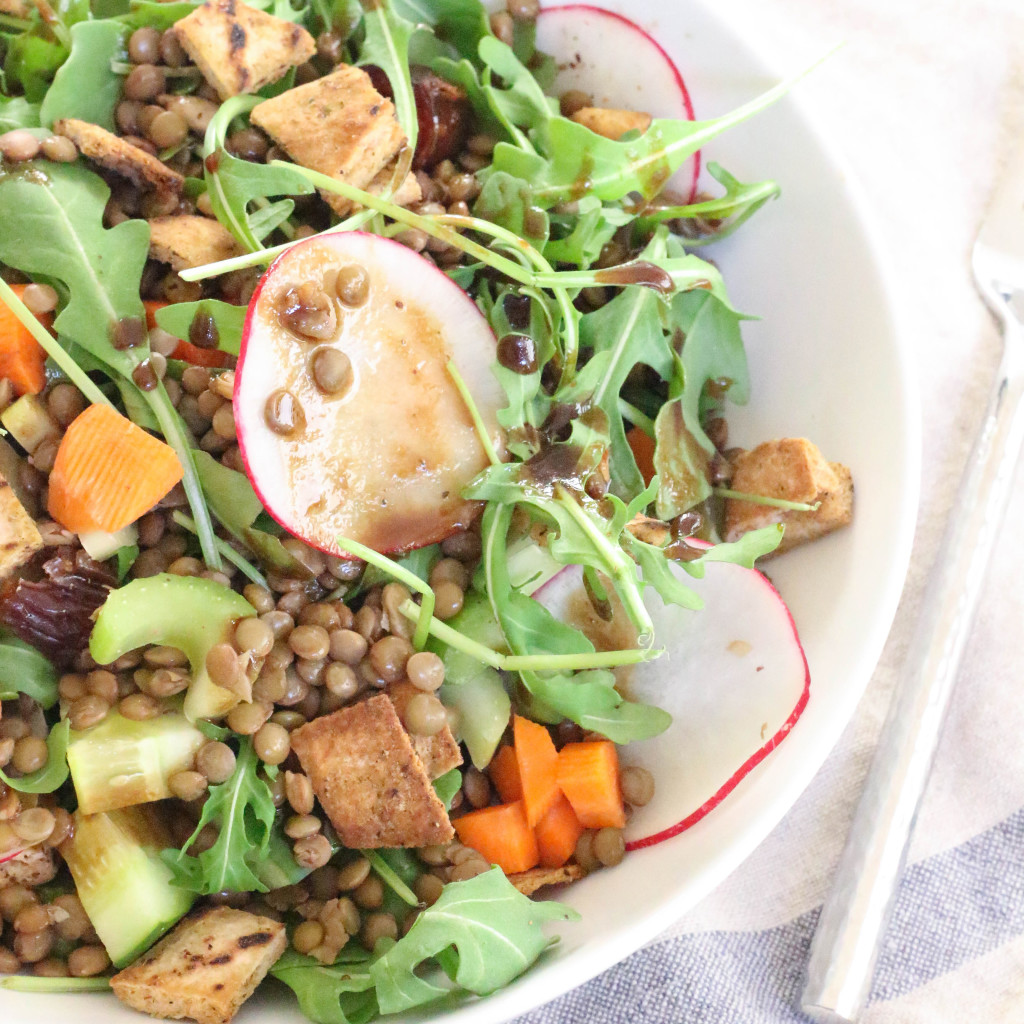 Serves 2 as a main.
Ingredients
1/3 cup dry green lentils
1 whole wheat pita pocket, chopped into bite sized pieces
2 teaspoons olive oil
2 teaspoons za'tar (optional)
4 cups loosely packed arugula
2 stalks celery, chopped
1 carrot stick, chopped
1/4 small hothouse cucumber, chopped
1 small radish, thinly sliced
1/4 cup dates, chopped
2 tablespoons toasted sunflower seeds
MAPLE DIJON VINAIGRETTE
2 tablespoons olive oil
2 tablespoons balsamic vinegar
1 tablespoon Dijon mustard
1 tablespoon maple syrup
Instructions
MAPLE DIJON VINAIGRETTE
Whisk together all ingredients and set aside.
LENTIL FATTOUSH SALAD
Combine lentils with 2/3 cup water in a small pot. Bring to a boil then lower to a simmer and cook, covered for 30-35 minutes until lentils are tender. Drain and allow to cool.
Preheat oven to 425 F. Toss pita pieces with olive oil and za'tar. (If you don't have za'tar, toss with sea salt.) Spread pita on a parchment lined cookie sheet and bake for 5-7 minutes until golden brown. Allow to cool.
Combine arugula, lentils, veggies, dates, sunflower seeds, and pita croutons. Toss with dressing and divide between two bowls.
Salad can be assembled ahead of time and dressed just before serving.
The Mostly Vegan http://www.themostlyvegan.com/