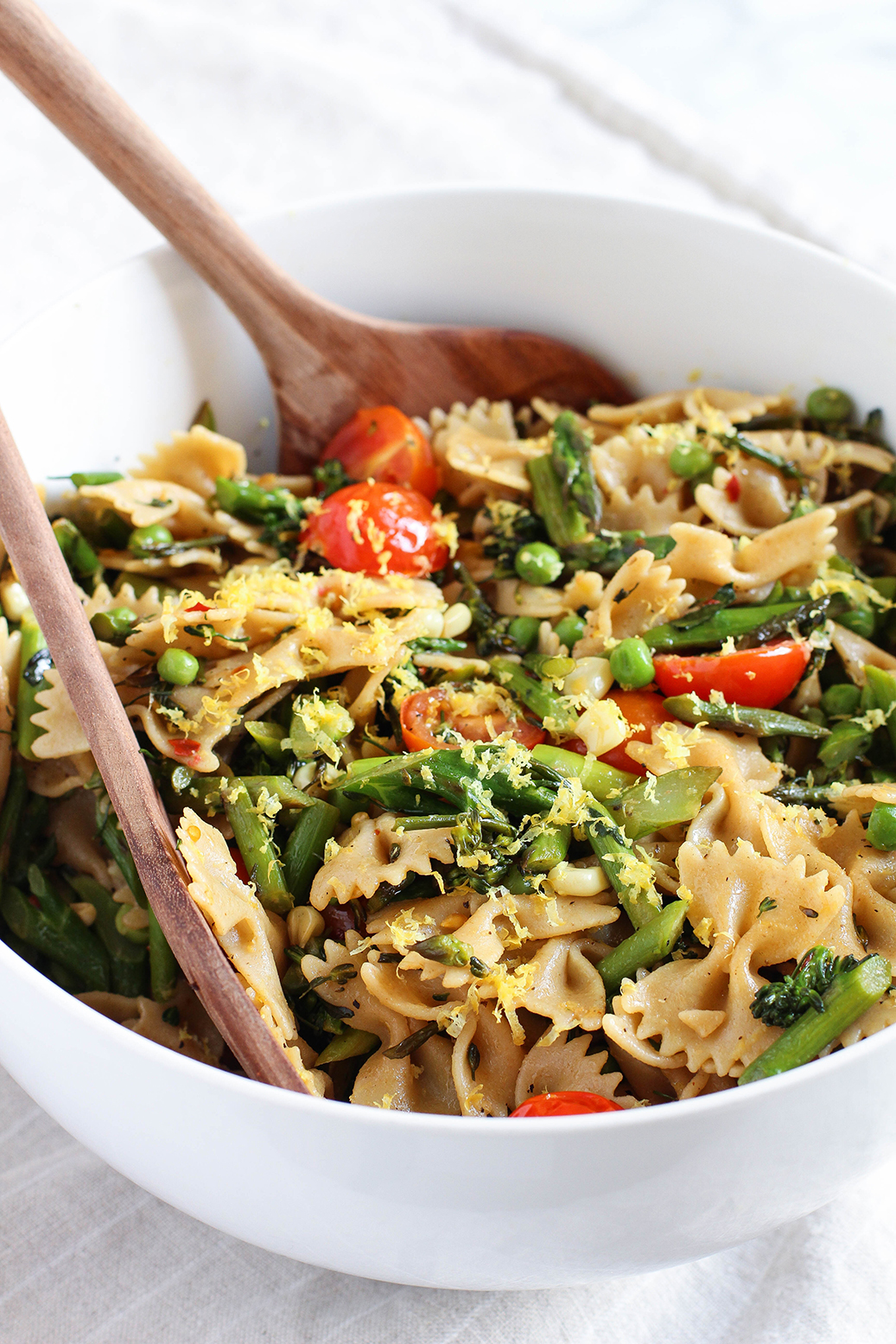 Say hello to spring and your new go to pasta dish. This Lemony Spring Pasta Salad is packed with seasonal veggies – asparagus, broccolini, peas, corn & cherry tomatoes to be exact – al dente farfalle, and a rustic dressing of extra virgin olive oil  garlic, and lemon zest. It's light and refreshing and instantly hits the spot for those times when cravings for pasta and carbs hit hard.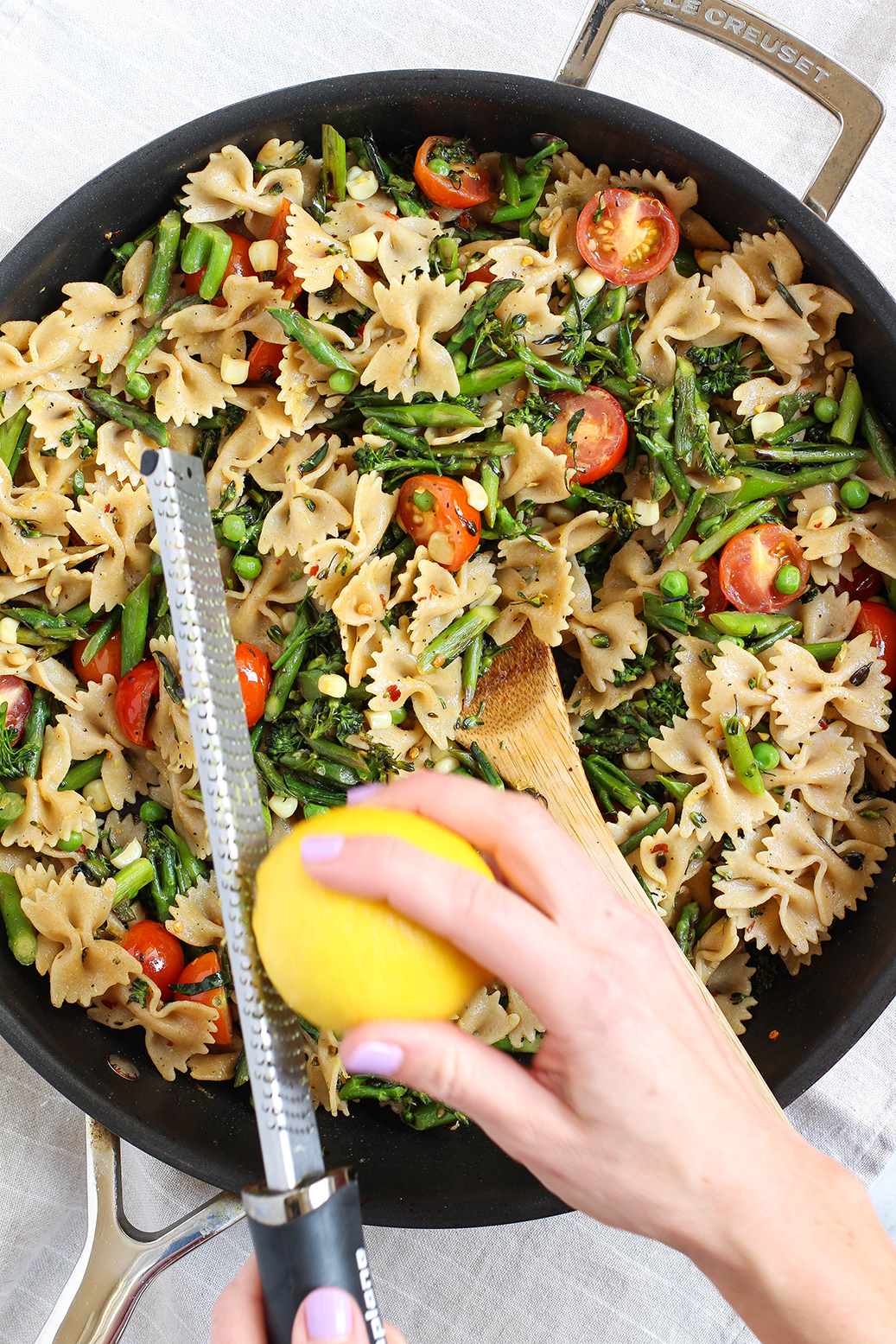 This Lemony Spring Pasta Salad is also an (almost) one pot meal that comes together in about 20 minutes, including time for chopping the veggies and bringing your pasta water to a boil, perfect for harried weeknights.  With the ratio of veggies to pasta just right, it's also perfect for tricking even the smallest veggie eaters into inhaling their broccoli.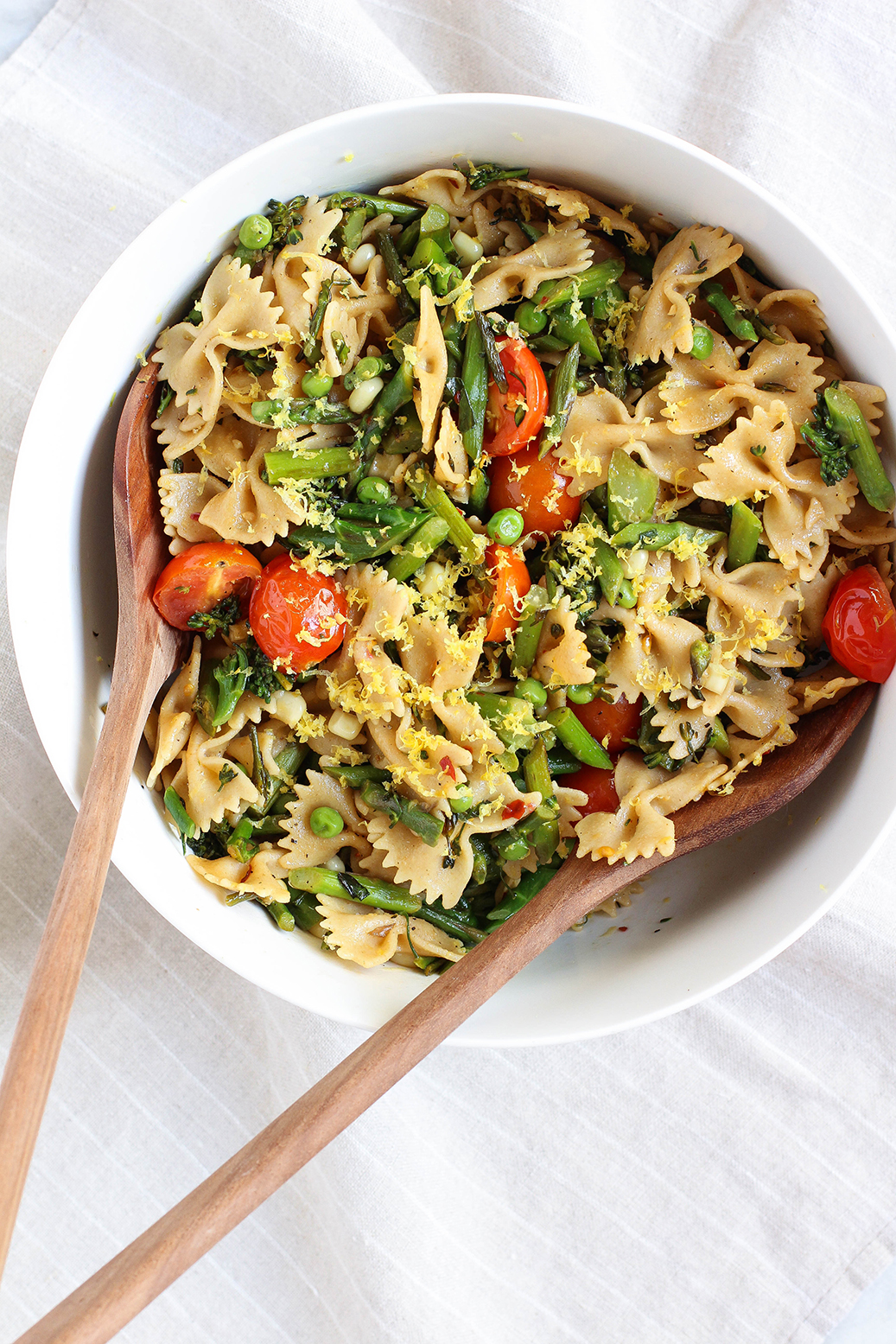 The balance of garlic and lemon flavors favors the lemony side, but if you want an even stronger punch of garlicky goodness, mince the garlic cloves before adding to the pan. I keep them whole and pick them out just before serving because I like just a hint of garlic in this dish. Freshly grated lemon zest is the final touch, lightening everything up and adding a bit of acidity. If you're so inclined, a sprinkle of parmesan or cashew parmesan added just before serving provides a well rounded salty finish.  Serve with a hunk of crusty French bread or my Gremolata Garlic Bread (let's keep this lemon train going) and you've got yourself one healthy and satisfying meal.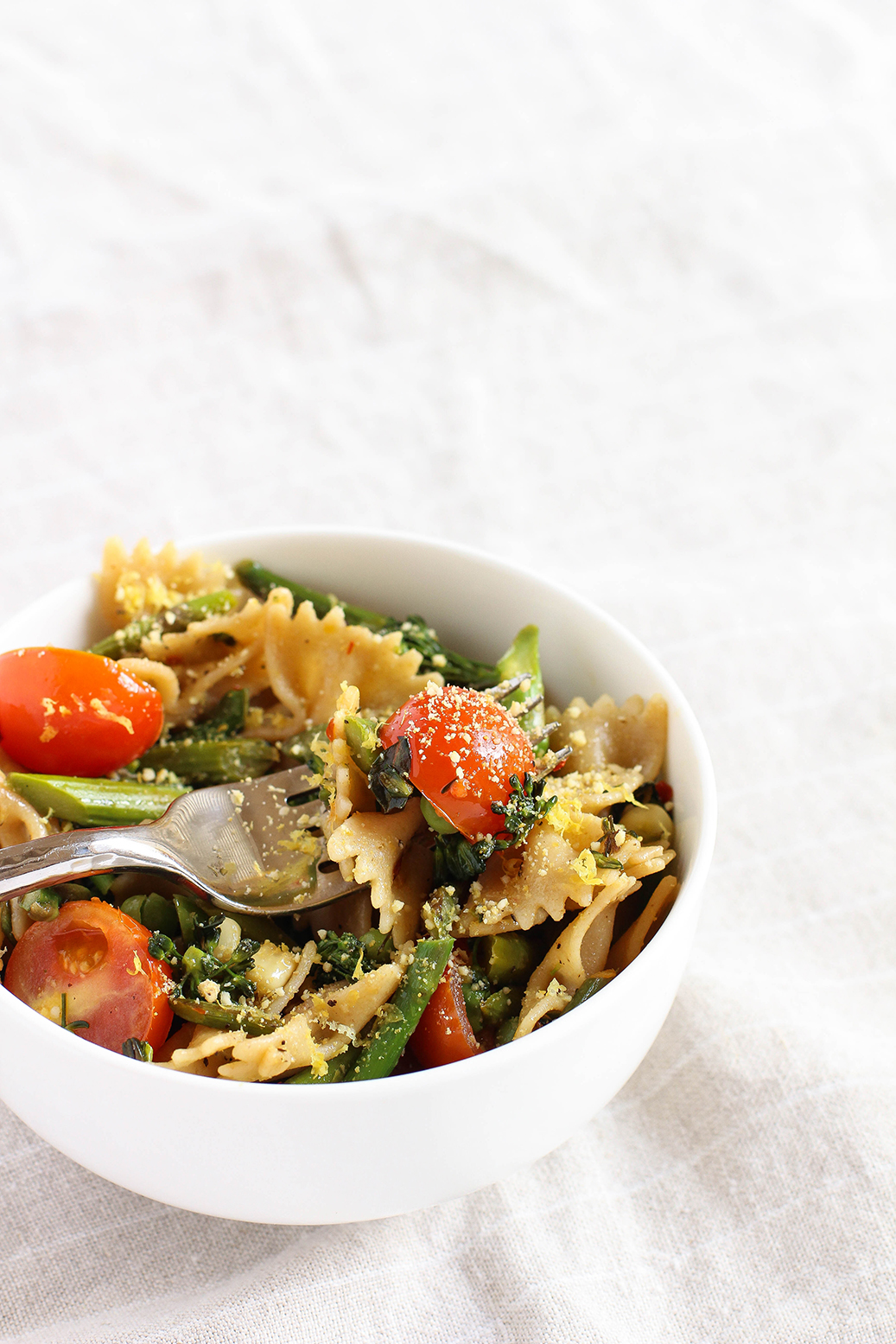 For even more spring inspired flavors, head on over to Project Juice's Ritual Wellness blog where I'm wrapping up #nutritionmonth March with a recipe for Cauliflower Steaks with Pomegranate Chimichurri.

Lemony Spring Pasta Salad
Serves 4.
Ingredients
3 cups dried whole wheat farfalle
1 bunch asparagus, chopped
1 bunch broccolini (about 8 ounces), chopped
1 heaping cup cherry tomatoes, sliced in half
¼ cup frozen peas
¼ cup frozen corn
6 cloves garlic, skins removed but left whole
3 tablespoons extra virgin olive oil (or garlic oil), divided
2 lemons
red pepper flakes
sea salt & black peper
parmesan cheese or cashew parmesan for serving
Instructions
Bring a large pot of salted water to a boil. Add pasta to boiling water and cook according to package directions, about 9 minutes for al dente pasta.
While the pasta cooks, heat 2 tablespoons of the olive oil in a large pan over medium-high heat. Add garlic, broccolini and asparagus to pan. Cook for about 5 minutes until veggies just begin to brown. Add peas, corn, and tomatoes to pan. Season generously with sea salt, black pepper, and a pinch of red pepper flakes. Cook about 2 minutes more.
Drain pasta and add to pan with the veggies. Lower heat to medium and toss with remaining tablespoon of olive oil.
Discard garlic cloves and use a microplaner to zest one lemon directly over pasta. Toss to thoroughly mix in lemon zest. Taste and add additional salt and pepper if needed and zest of remaining lemon if you like a stronger lemon flavor (I always add the zest of 2 whole lemons).
Serve warm, sprinkled with parmesan cheese or cashew parmesan.