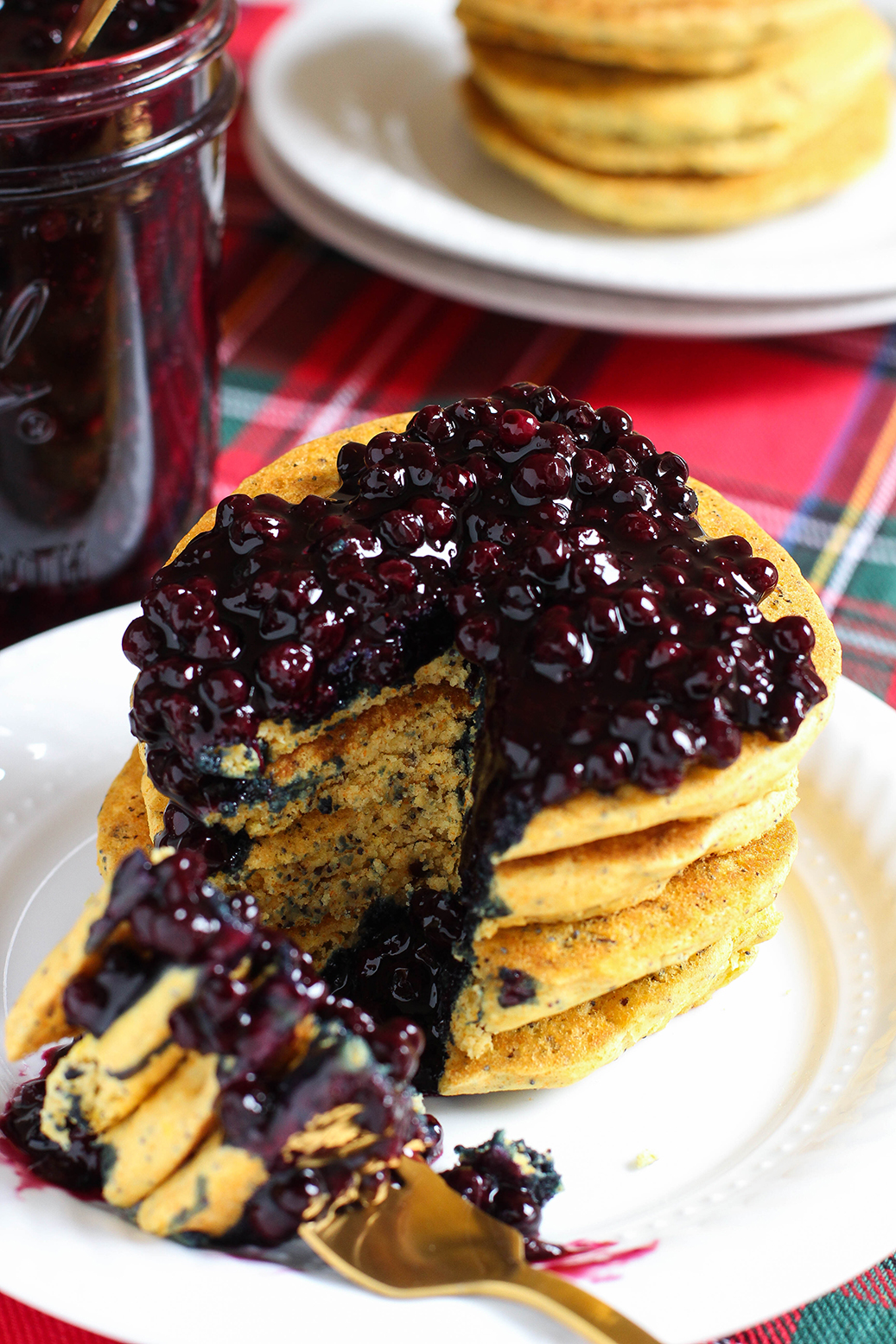 Got a house full of particular (translation: picky/special diet) eaters for the holidays this year? I've got your Christmas morning breakfast covered with these Lemon Poppy Seed Cornmeal Pancakes. Not only are they gluten free and vegan, but if you whip up the accompanying Blueberry Compote – instead of slathering in maple syrup – they're relatively low in sugar as well. They're basically health food, delicious, pancake health food.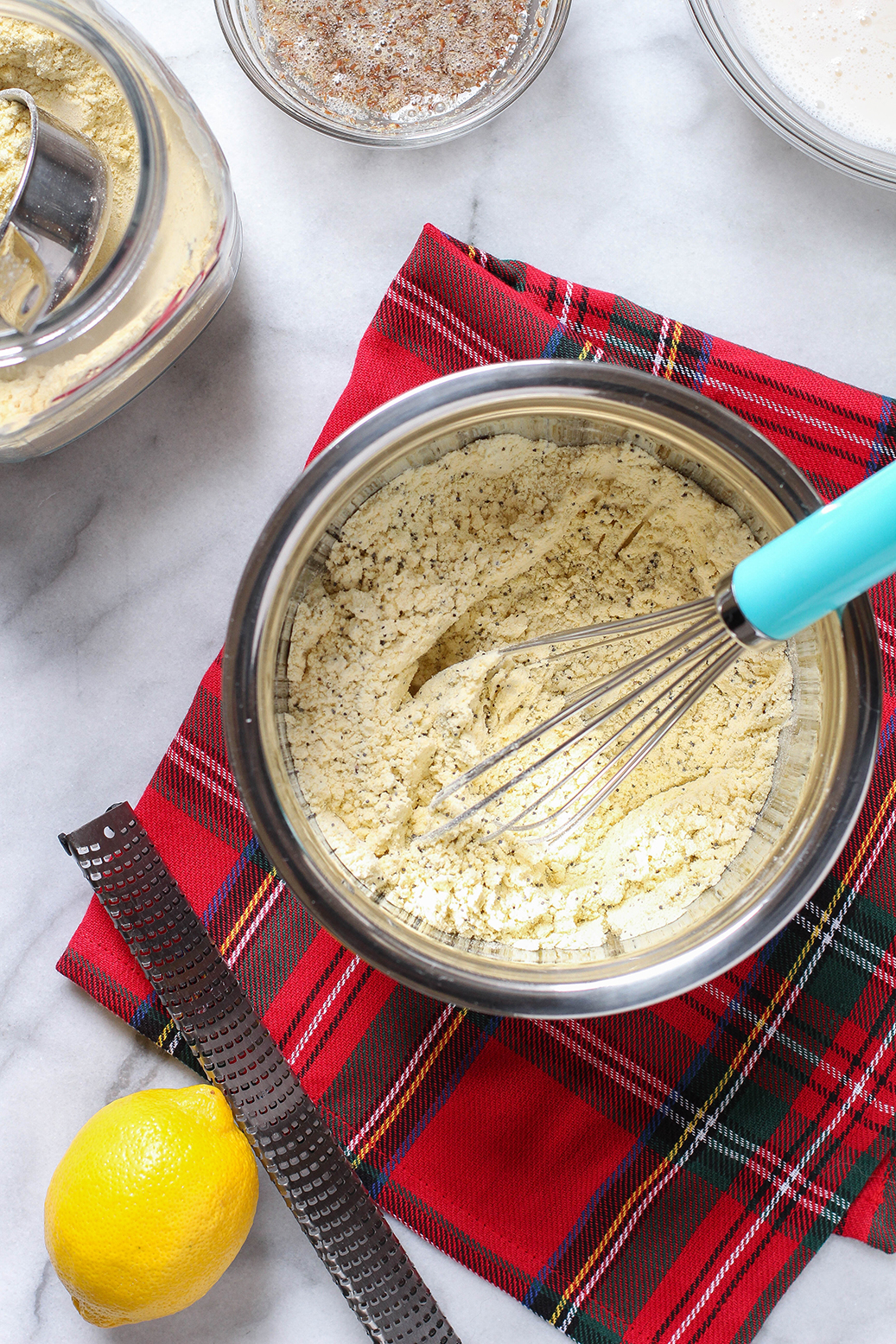 Inspired by my Gluten Free Buckwheat Pancakes, I've been determined to overhaul a fave lemon poppy seed pancake recipe from my pre-vegan days. That recipe used whipped egg whites to achieve a super light and fluffy texture. This vegan version uses the same fine ground corn flour from my Easy Vegan Cornbread – to achieve an equally airy pancake. Bonus points for making these gluten free. Two tablespoons of tapioca starch act as a binder and keep these fluffy pancakes from becoming a crumbly mess. Don't omit the tapioca starch, unlike buckwheat flour – which is very similar to all purpose flour in a pancake batter – corn flour is much more delicate. If you leave out the tapioca starch, your pancakes will be crumbly and super difficult to flip.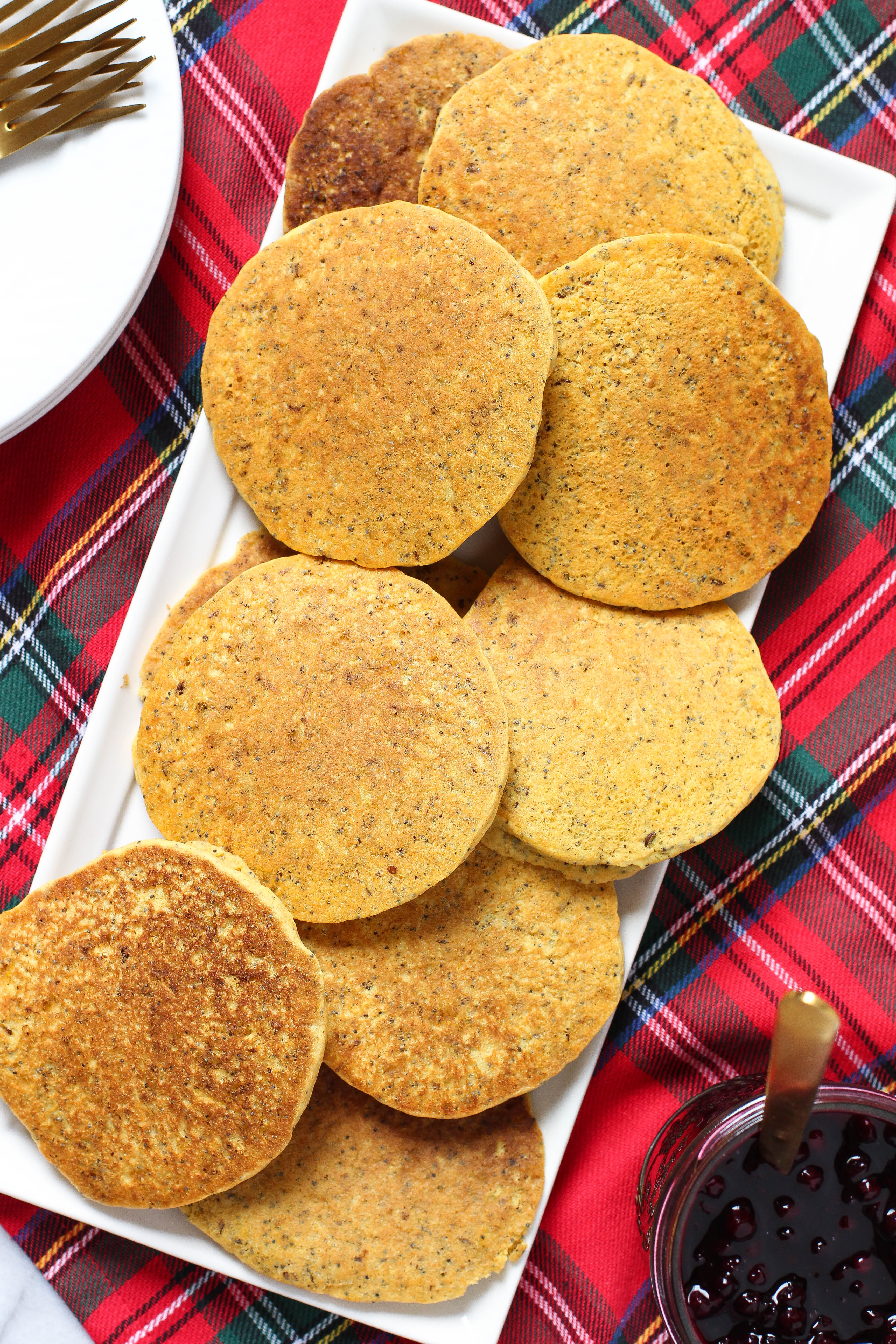 I'm posting these pancakes in December, but with the fresh flavors of lemon and poppy seed, they make a perfect breakfast year round, especially when piled high with summery blueberry compote. The compote, which is actually the filling from my Berry Oat Bars, is a constant in our house. I use frozen wild blueberries (they're tinier than regular 'ol bleubs but any variety will do) and the compote comes together in about 15 minutes. We always have a jar in the fridge. I usually spoon some on my go-to morning toast and peanut butter combo, but it truly shines on these flapjacks. Move over maple syrup (no hard feelings, I still love you).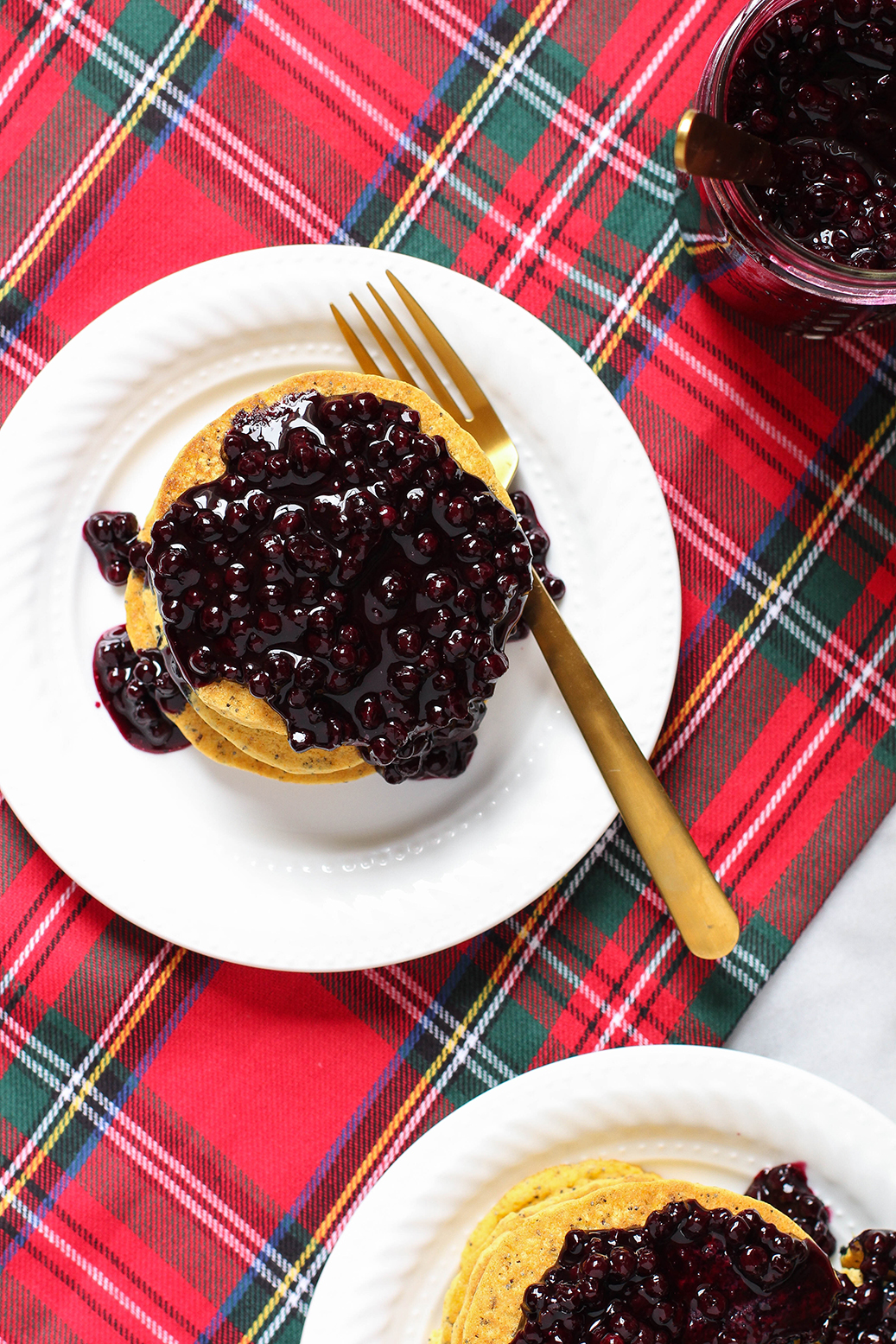 Wishing you all happy holidays and of course, all the yummy food. For even more festive breakfast inspiration, check out my Currant Cardamom Scones and Cranberry Orange Scones .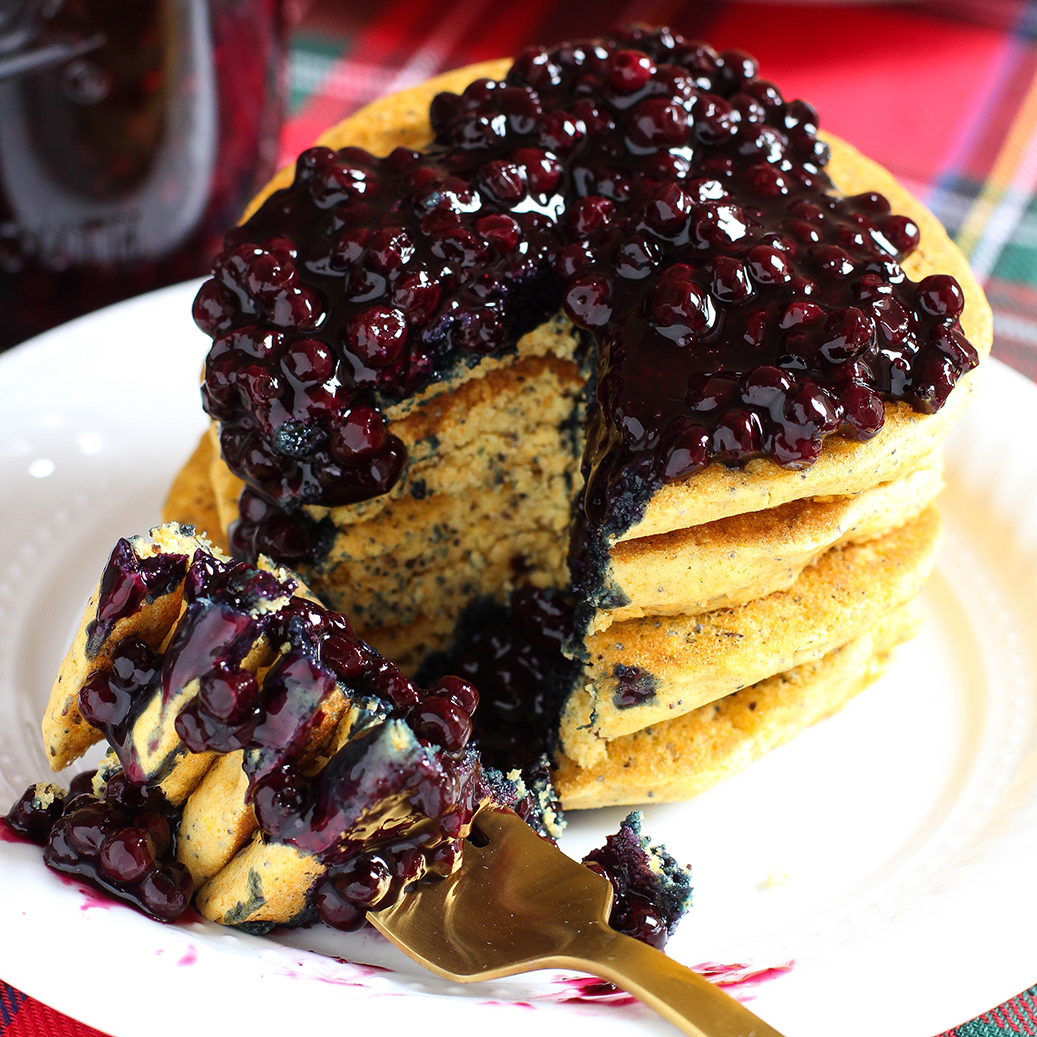 Lemon Poppy Seed Cornmeal Pancakes with Blueberry Compote
2016-12-21 11:32:38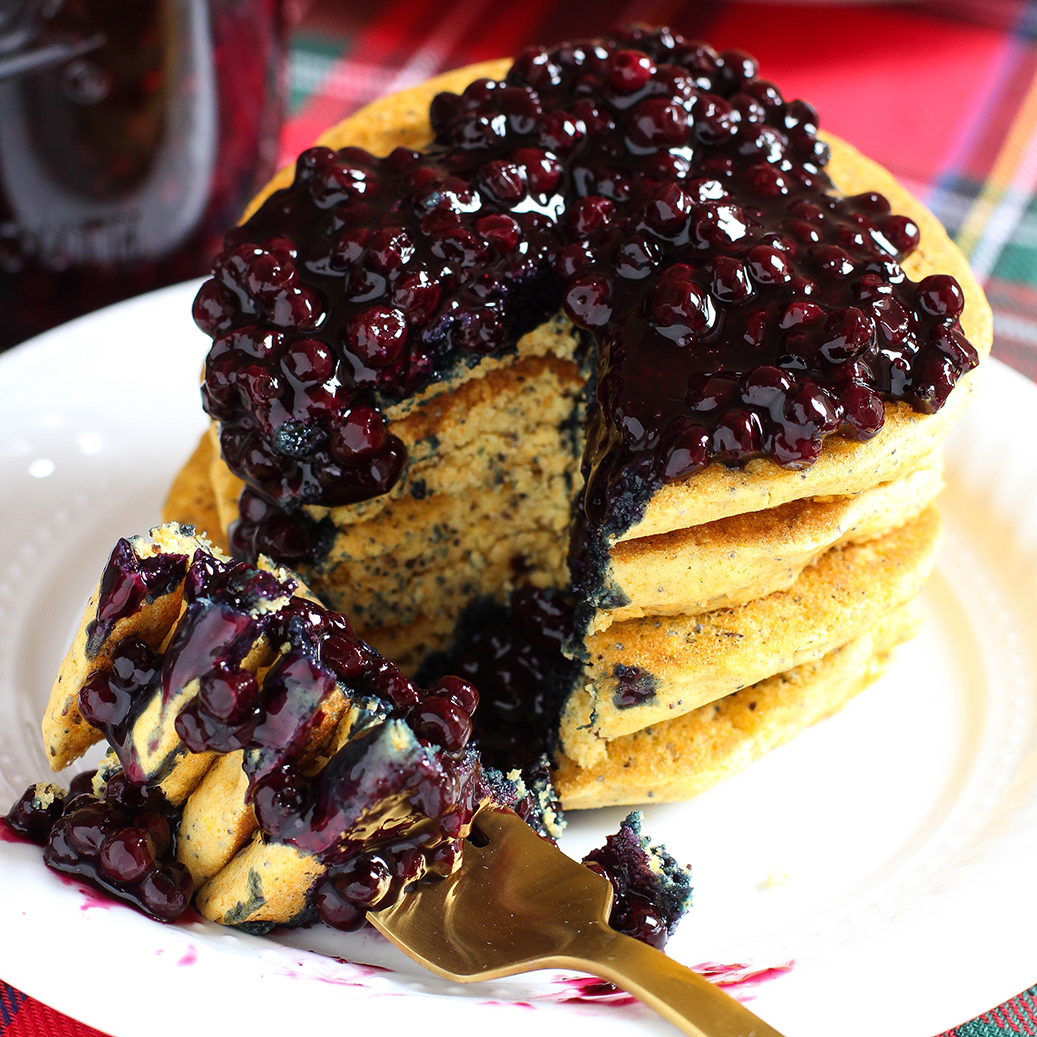 Makes about 7 pancakes, serves 2 to 3.
Ingredients
1 cup fine ground corn flour
2 tablespoons tapioca starch*
1 tablespoon poppy seeds
1 tablespoon organic sugar
1 teaspoon baking soda
1 teaspoon baking powder
pinch of sea salt
zest of one lemon
1 tablespoon ground flaxseed
1 cup unsweetened almond milk
1 teaspoon apple cider vinegar
1 tablespoon melted coconut oil (or vegetable oil of choice for the pan)
Blueberry Compote
4 cups (1, 16 ounce bag) frozen wild blueberries
1/4 cup organic sugar
1 tablespoon cornstarch
Instructions
Whisk flaxseed with 3 tablespoons water and set aside (this is your flax egg). In a large bowl, add apple cider vinegar to almond milk and set aside (this is your buttermilk). Allow both to sit for at least 10 minutes to allow flax egg to thicken and almond milk to curdle.
Whisk together corn flour, tapioca starch, sugar, baking soda, baking powder, sea salt and poppy seeds. Mix together flax egg, almond milk and lemon zest. Add the flour mixture to the wet ingredients and whisk until just combined, being careful not to overmix.
Heat a large skillet over medium heat, brush with coconut oil. Using a ¼ cup measure, scoop the batter onto the skillet. Cook for about 3 to 4 minutes. The surface of the pancakes should look dry and firm and the edges should be golden brown. (Unlike with traditional pancake batter, the surface will not develop tiny bubbles.) Flip pancakes and cook for an addition 2 minutes.
Transfer the cooked pancakes to a baking sheet lined with parchment paper and place in a preheated 200 F oven to keep warm. Repeat the process with the remaining batter, brushing skillet with additional coconut oil as needed.
Serve pancakes warm, topped with blueberry compote.
Blueberry Compote
Place berries and sugar in a saucepan over medium high heat. Bring to a boil then lower to a simmer and cook uncovered for 10 minutes. After 10 minutes, add cornstarch and simmer 5 minutes more. Remove from heat and allow to cool completely before refrigerating.
Makes about 2 cups. Compote will keep in the fridge for up to 2 weeks.
Notes
* Tapioca starch may also be sold as tapioca flour.
The Mostly Vegan http://www.themostlyvegan.com/