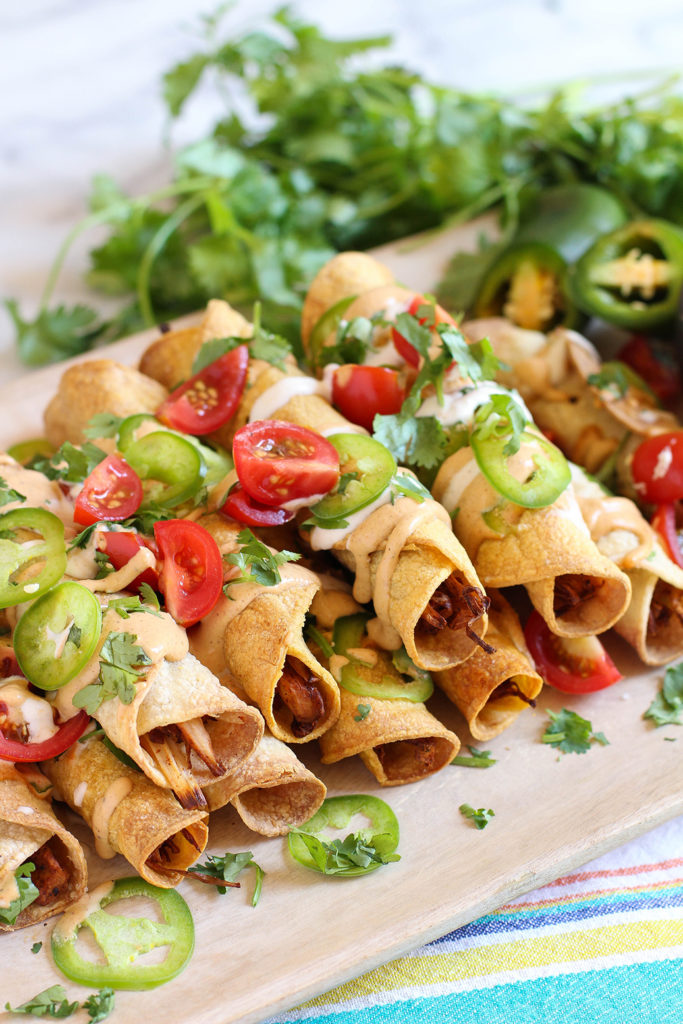 Oh, jackfruit. You crazy, weird, alien…fruit? Yup, fruit. I see you masquerading as a vegan's answer to pulled pork and shredded beef, and I like it. I'm fully on board. If you're new to the whole jackfruit scene, you're not alone. This Southeast Asian import, has been experiencing a surge in popularity among the vegan set for its uncanny ability in shredded form to mimick the texture of certain meat dishes. I say texture and not taste because jackfruit has a very mild, sweet flavor, similar to a number of tropical fruits like pineapple, banana, or lychee. Any meat like taste – smoky, spicy – is infused into the jackfruit by cooking with spices like chili powder, cumin, and paprika. Although fairly cheap, jackfruit can be hard to find at your local grocer. Sold in cans, I stock up whenever I visit my local Vietnamese market. Amazon sells cans as well, but be wary of markups. A 20 ounce can of young jackfruit packed in water (skip the brine and syrup varieties) should ideally be priced in the $1.50 range.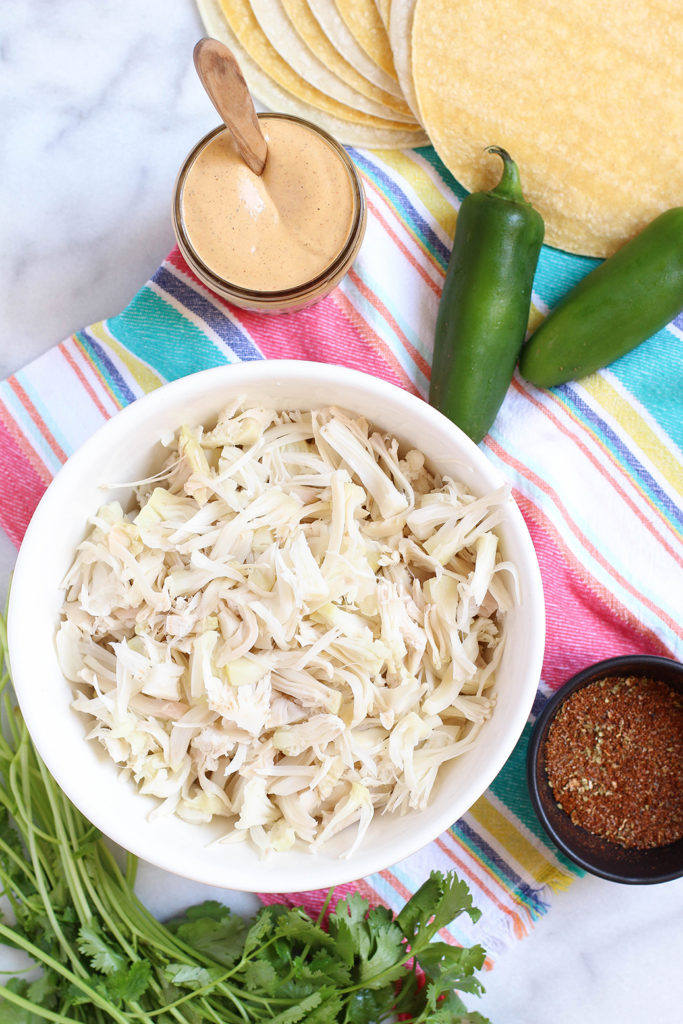 Now, let's talk taquitos! One of the first recipes I ever posted on The Mostly Vegan was my Roasted Sweet Potato and Black Bean Taquitos. I'm not sure why it took me so long to try jackfruit in taquito form. Now that I've done it though, there's no looking back. They're the perfect gateway meal for the jackfruit newbie. The contrast in texture of the crispy corn tortillas with the smoky and savory jackfruit filling is truly reminiscent of a shredded beef taquito. Crazy, but true. (I first cooked up the filling for street tacos over at the Ritual Wellness for Project Juice blog, so be sure to check those out.)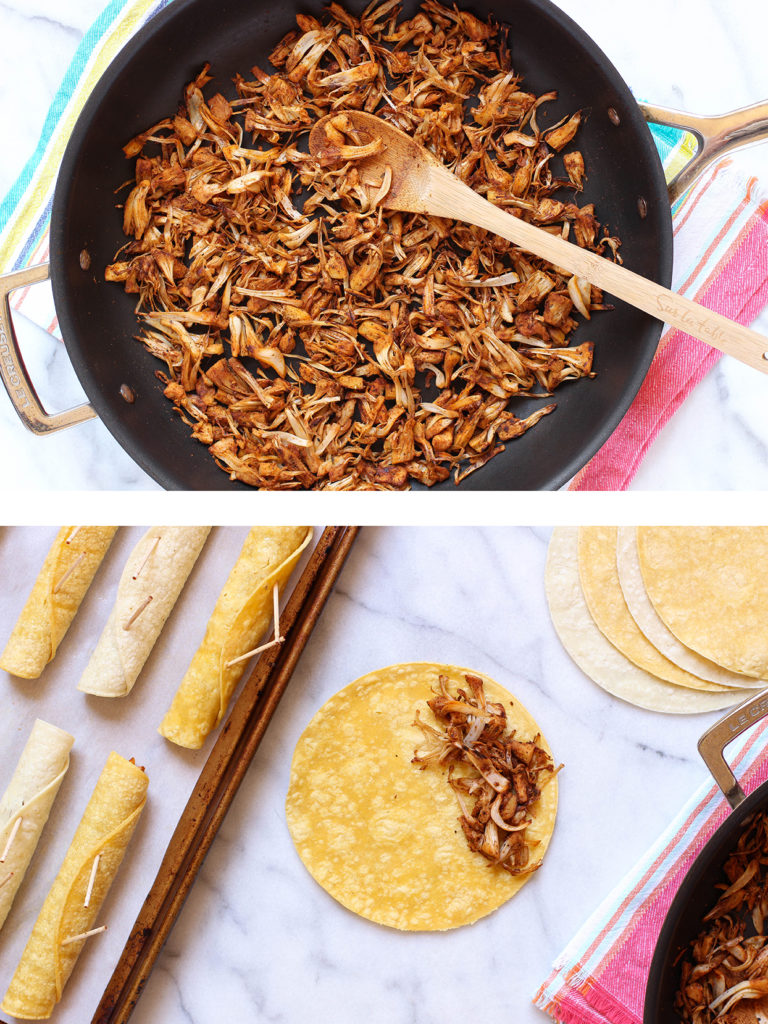 When I was younger and still ate meat, one of my favorite combos was beef taquitos dipped in thousand island dressing. Super sophisticated palate right there, folks. You're gonna have to trust me though, it was delicious. These Jackfruit Taquitos with Southwest Dressing are the grown up version of my former youthful indulgence. Loads healthier but no less satisfying and packed with flavor. And that Southwest Dressing, which I first shared with my Southwest Bean and Rice Tacos, I can't get enough of the stuff. If you choose to pile on all of the additional toppings – cashew sour cream, sliced jalapenos, chopped tomatoes – well, you've got yourself a full on Mexican plant-based meal.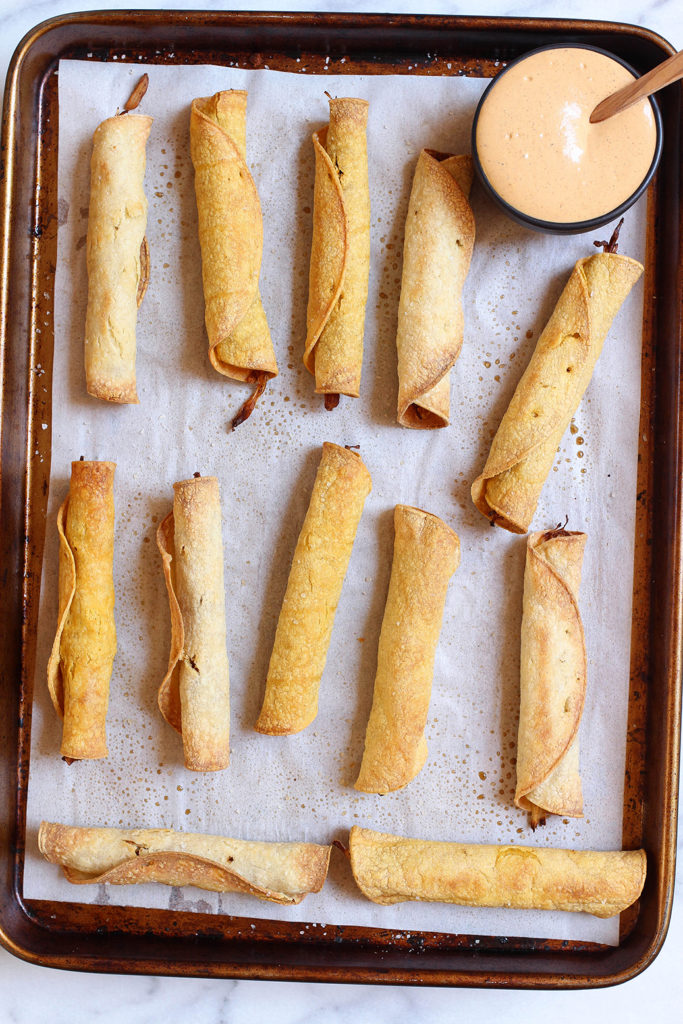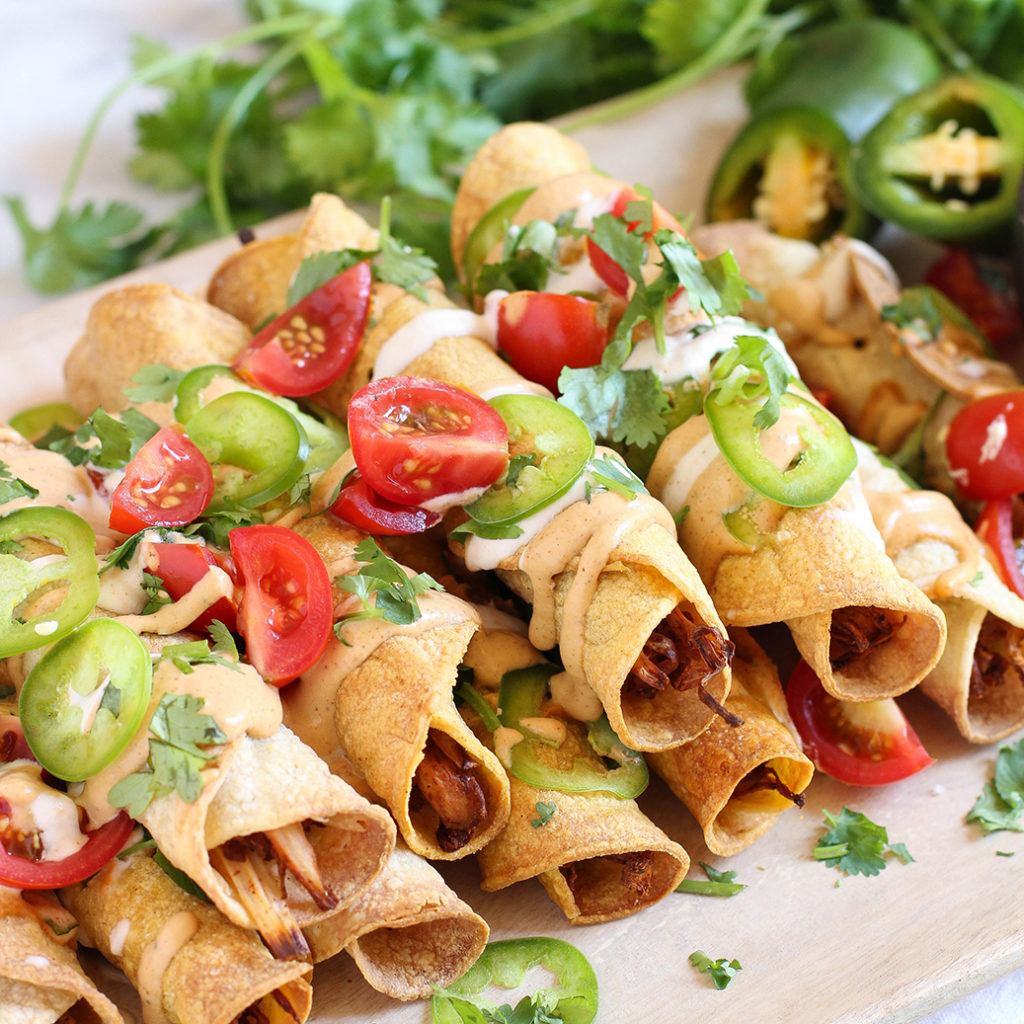 Jackfruit Taquitos
2016-08-08 12:35:48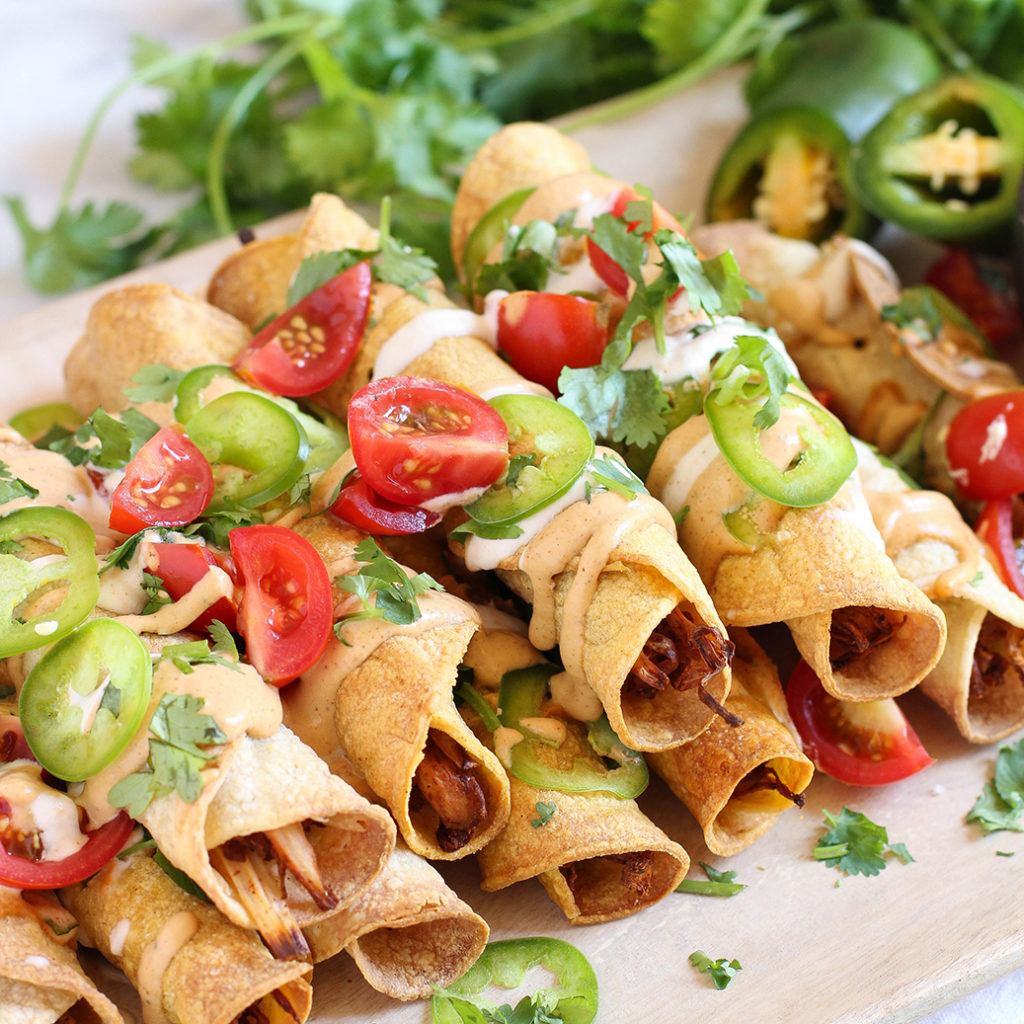 Makes 12 taquitos. Serves 3 as a main, 6 as an appetizer.
Ingredients
12, 6" corn tortillas
vegetable oil spray
sea salt
24 toothpicks, soaked in water
1 recipe Jackfruit Street Taco filling
1 recipe Southwest Dressing
Additional Toppings
cashew sour cream, sliced jalapenos, chopped tomatoes, chopped cilantro
Instructions
Preheat oven to 400 F. Warm tortillas in a microwave for 30 seconds to 1 minute until very pliable. Working with one tortilla at a time, spray both sides with vegetable oil. Spoon 1 heaping tablespoon of Jackfruit Street Taco filling onto one side of the tortilla. Roll tightly to close and secure seam with two toothpicks.
Place seam side up on a parchment lined cookie sheet. Repeat with remaining tortillas or until all of the filling is gone. Sprinkle taquitos with freshly cracked sea salt. Bake until crispy and golden brown, about 30 minutes. After first 10 minutes of baking, remove toothpicks and roll taquitos over so that they're seam side down. Continue to bake for remaining time.
Serve taquitos warm and drizzled with Southwest Dressing, and garnished with cashew sour cream, jalapenos, tomatoes, and cilantro if desired.
Leftover taquitos can be stored in the fridge and reheated in the oven for 10 minutes at 400 F.
The Mostly Vegan http://www.themostlyvegan.com/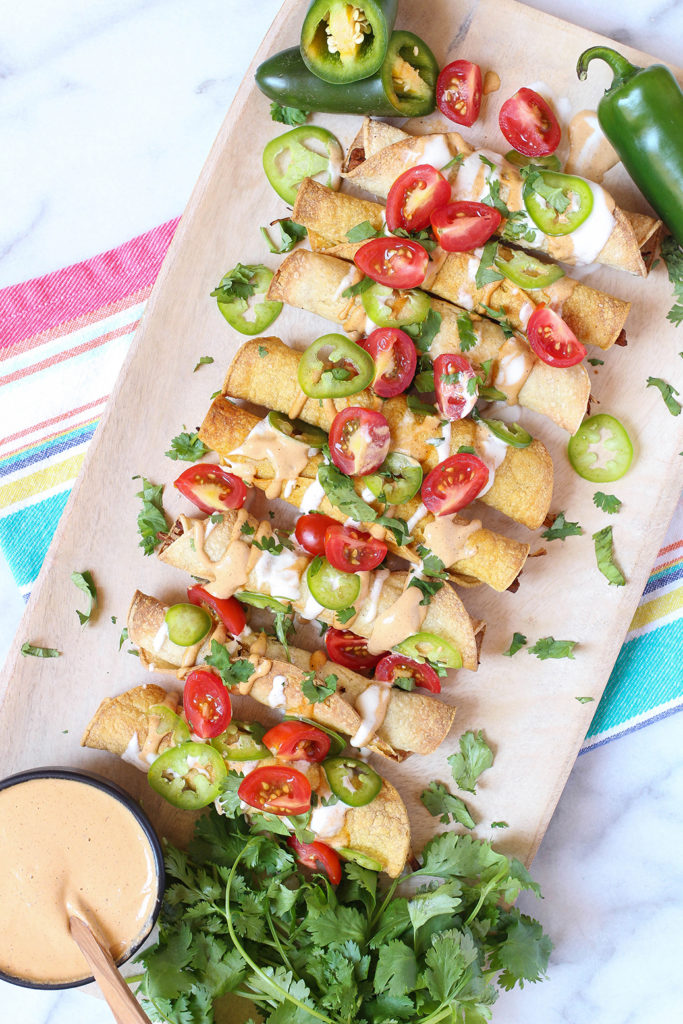 And don't forget to pop on over to Ritual Wellness for Project Juice to get the recipe for my Jackfruit Street Tacos!