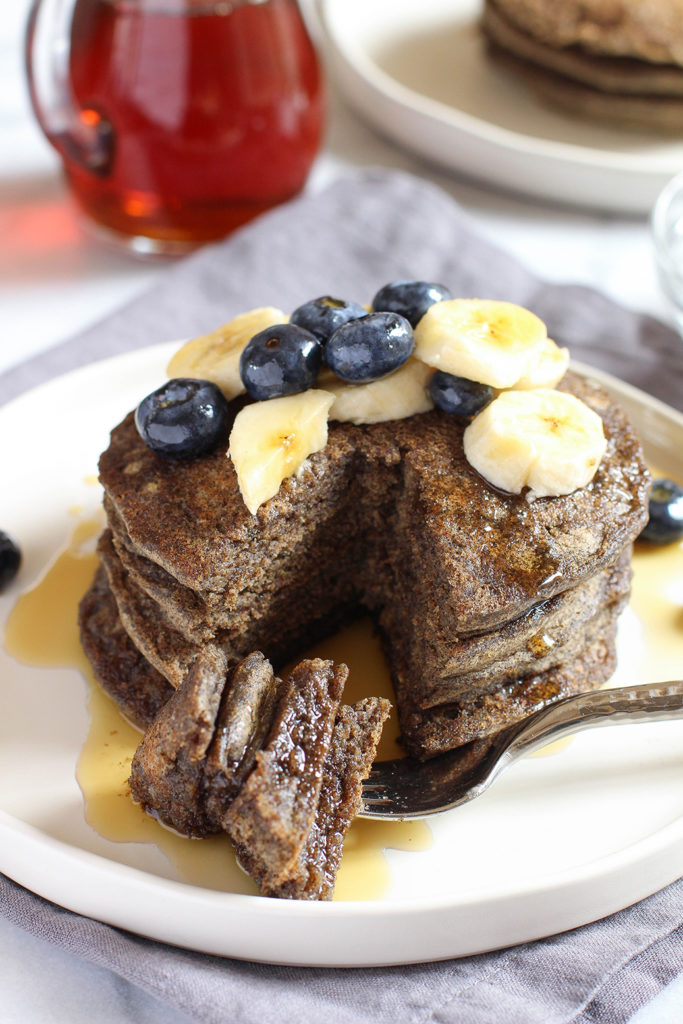 First things first, these Gluten Free Buckwheat Pancakes are deeelish, like I've eaten them every single morning for six days in a row level deeelish. Second thing, but maybe more important for all you gluten intolerant folks out there, these pancakes are completely gluten free (and vegan, but that sort of goes without saying at this point). Now, my approach to cooking is definitely more about experimenting with new grains and flours in order to explore different flavor profiles and textures than it is about swapping in gluten free flours just for the sake of being gluten free.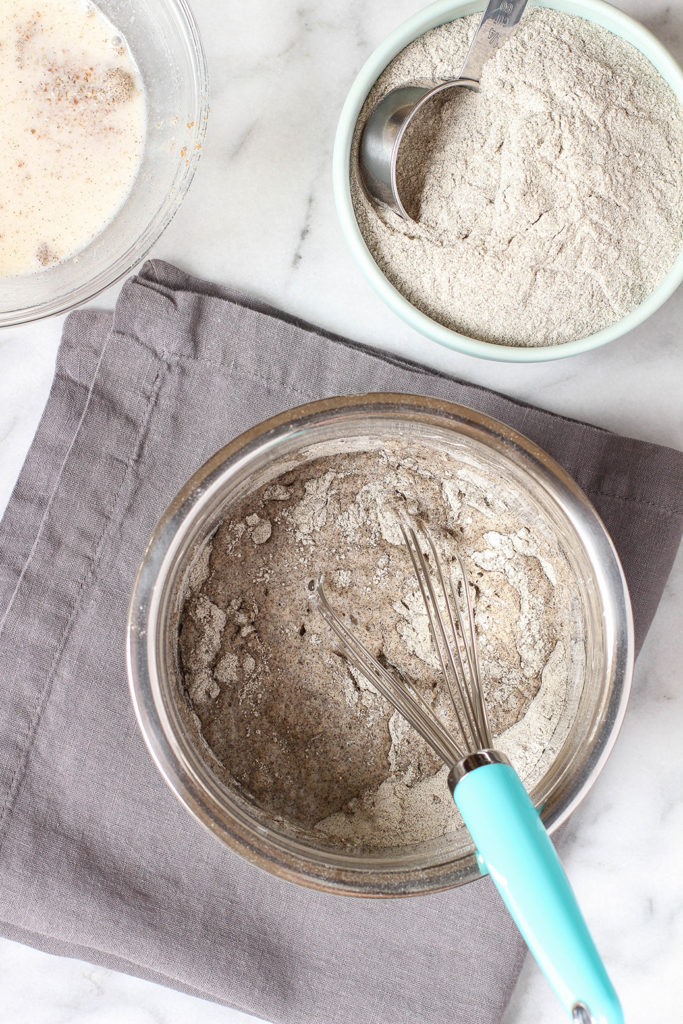 I love the hearty flavor and hit of protein spelt flour (not gluten free) adds to my Pumpkin Maple Spelt Scones, and the wholesome savoriness and extra fiber oat flour (totally gluten free) lends to my Trail Mix Breakfast Cookies. Basically, I'm much more likely to be wooed by a grain's nutritional profile and unique taste – is it full of fiber and protein? essential nutrients? – than whether or not it's gluten free. For those of you who absolutely must eat gluten free, however, buckwheat flour is kind of a rockstar. It's crazy tasty, higher in hunger satiating fiber than any white flour, and won't do awful things to your tummy.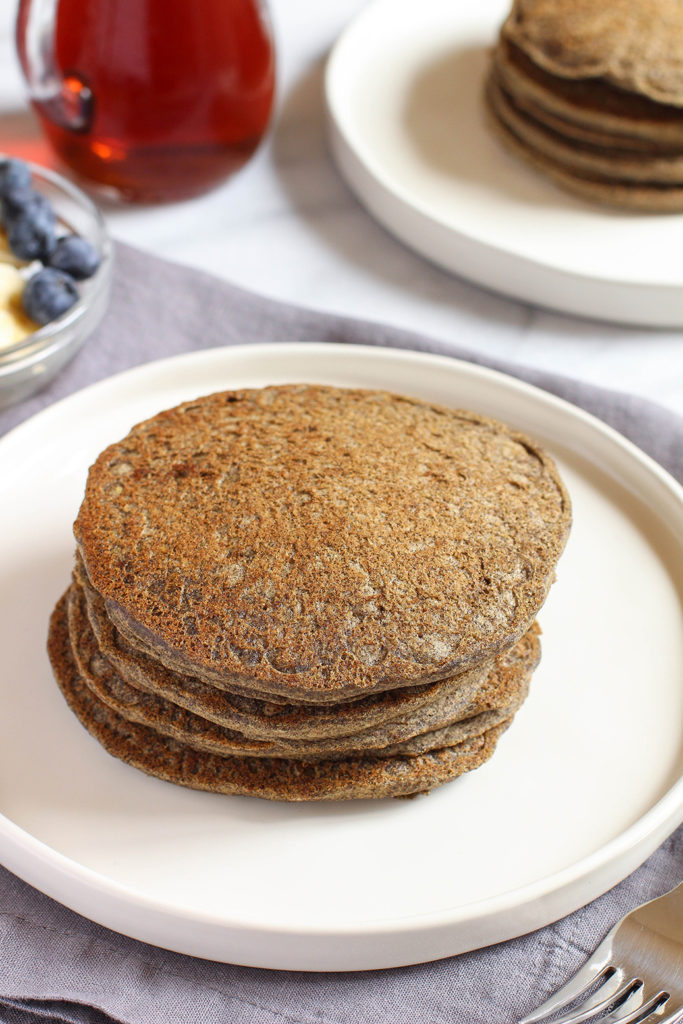 To whip these up, I basically took my go to vegan pancake recipe and swapped out white flour for buckwheat. There's a flax egg in there to hold everything together and almond milk doused with a little apple cider vinegar to react with the baking soda and give the pancakes lift. I also recommend cooking these at medium or slightly above, the higher heat works with the baking powder in the batter to provide a second rise. As with all pancake recipes, being careful not to overmix the batter is key (I've had the best luck adding the dry ingredients to the wet and using a large whisk to mix), but don't stress about it too much. The worst that can happen is your pancakes turn out slightly flatter. Trust me, I've done it. Even when slightly deflated however, these were still really light and fluffy inside, which never happens for me with pancakes. Not only are these flapjacks perpetually light and fluffy, they also have a gorgeous, molassessy hue, and a wonderful, nutty flavor. That being said, if you're not a fan of the taste of buckwheat (think soba noodles), you might want to move right along. It's a much stronger flavor than when you simply swap in a whole wheat flour like spelt. I really hope you'll try these though. Topped with fresh fruit and maple syrup, these were made for savoring slowly on a Sunday morning.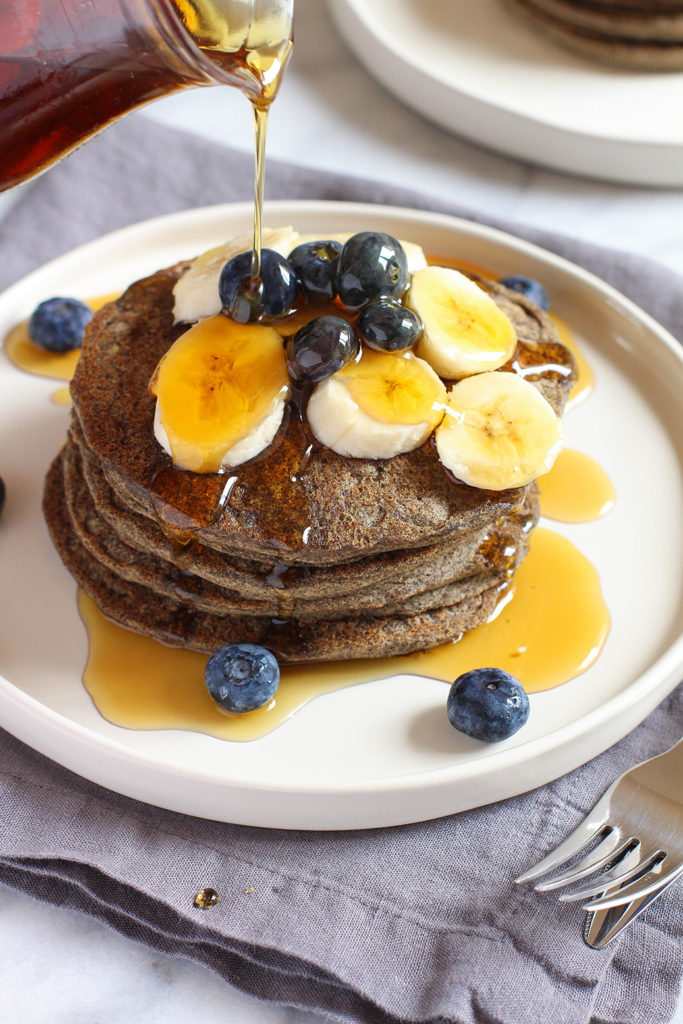 And, while I don't usually count calories, curiosity got the best of me and I decided to do the math on these. If you eat half of the recipe as written below (about 4 pancakes) with 2 tablespoons of maple syrup (you gotta limit the syrup guys), half a banana and a handful of bleubs, you'll be wolfing down right around 500 calories. I don't know about you, but I think that's pretty damn amazing for a stack of delicious pancakes. I'll take it, every day of the week.

Gluten Free Buckwheat Pancakes
Makes about 8 pancakes, serves 2 to 3.
Ingredients
1 cup buckwheat flour
1 tablespoon organic sugar
1 teaspoon baking soda
1 teaspoon baking powder
pinch of sea salt
1 tablespoon ground flaxseed
1¼ cups unsweetened almond milk
1 teaspoon apple cider vinegar
½ teaspoon vanilla extract
1 tablespoon melted coconut oil (or vegetable oil of choice for the pan)
maple syrup for serving
Instructions
Whisk flaxseed with 3 tablespoons water and set aside (this is your flax egg). In a large bowl, add apple cider vinegar to almond milk and set aside (this is your buttermilk). Allow both to sit for at least 10 minutes to allow flax egg to thicken and almond milk to curdle.
Mix together buckwheat flour, sugar, baking soda, baking powder and sea salt. Add flax egg to almond milk mixture, add vanilla extract, and stir to combine. Add the flour mixture to the wet ingredients and whisk until just combined, being careful not to overmix.
Heat a large skillet over medium heat, brush with coconut oil. Using a ¼ cup measure, scoop the batter onto the skillet. Cook for 2 to 3 minutes until small bubbles form on the surface of the pancakes and the edges begin to firm up. Flip pancakes and cook for an addition 1 to 2 minutes, or until golden brown.
Transfer the cooked pancakes to a baking sheet lined with parchment paper and place in a preheated 200 F oven to keep warm. Repeat the process with the remaining batter, brushing skillet with additional coconut oil as needed.
Serve pancakes warm, topped with warmed maple syrup.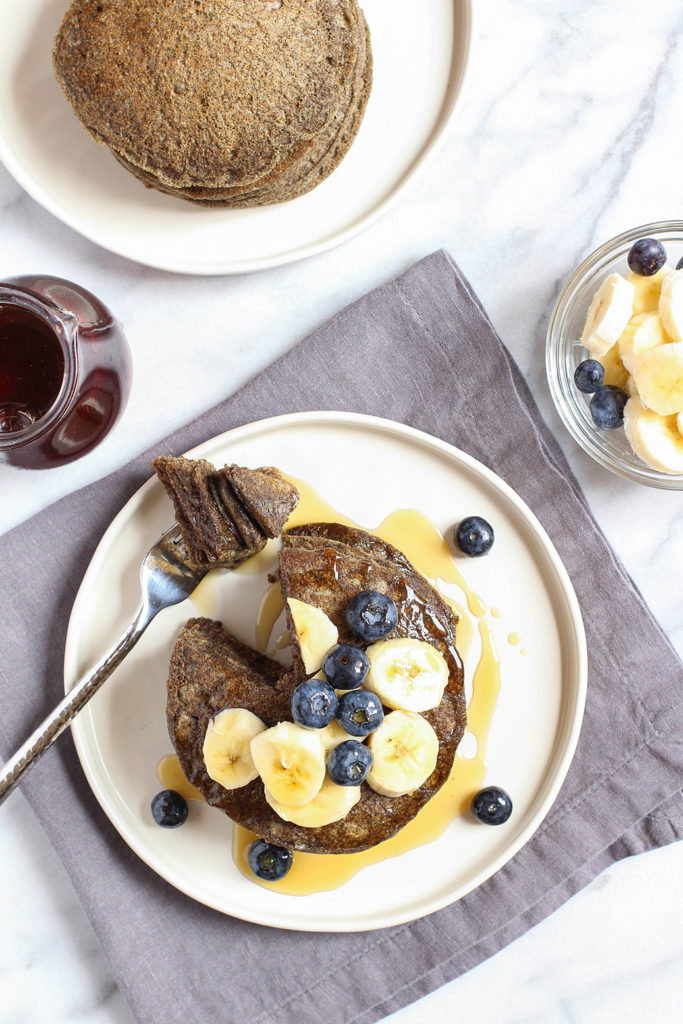 Craving more breakfast inspiration, check out my
Ultimate Vegan French Toast
.