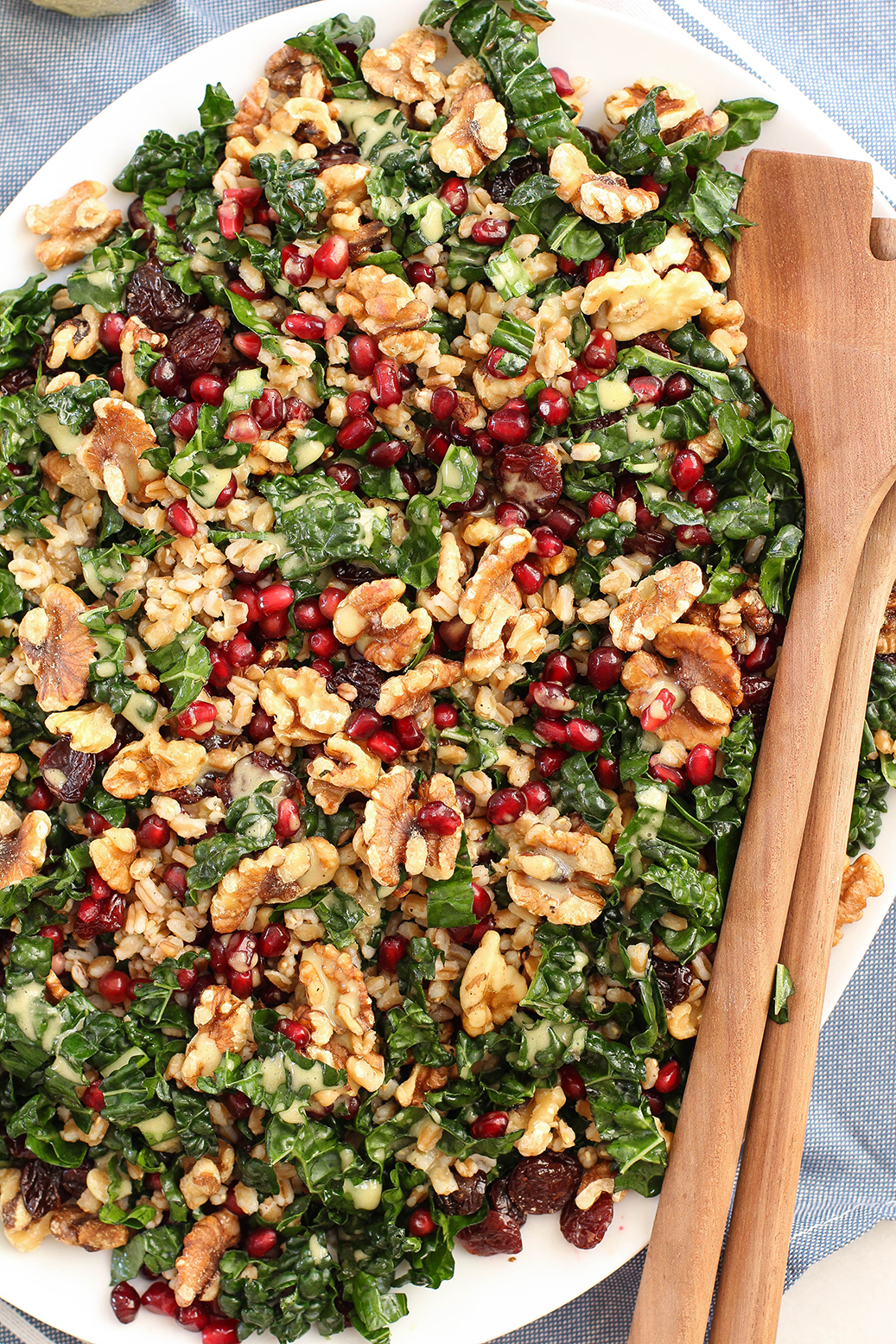 This salad, you guys, it's sooooo fall. Literally, fall in salad form. Hence the name, Fall Kale & Farro Salad, which I feel really drives home the literalness of it all. Moving on. Packed with hearty lacinato kale (the best variety of kale, in my opinion), chewy whole grain farro, toasty walnuts, sweet pomegranate seeds, and tart dried cherries, there's so much autumnal vibed stuff going on here. Toss all those lovely ingredients together with one of my fave vinaigrettes – lemon oregano – and you've got one heck of a satisfying salad.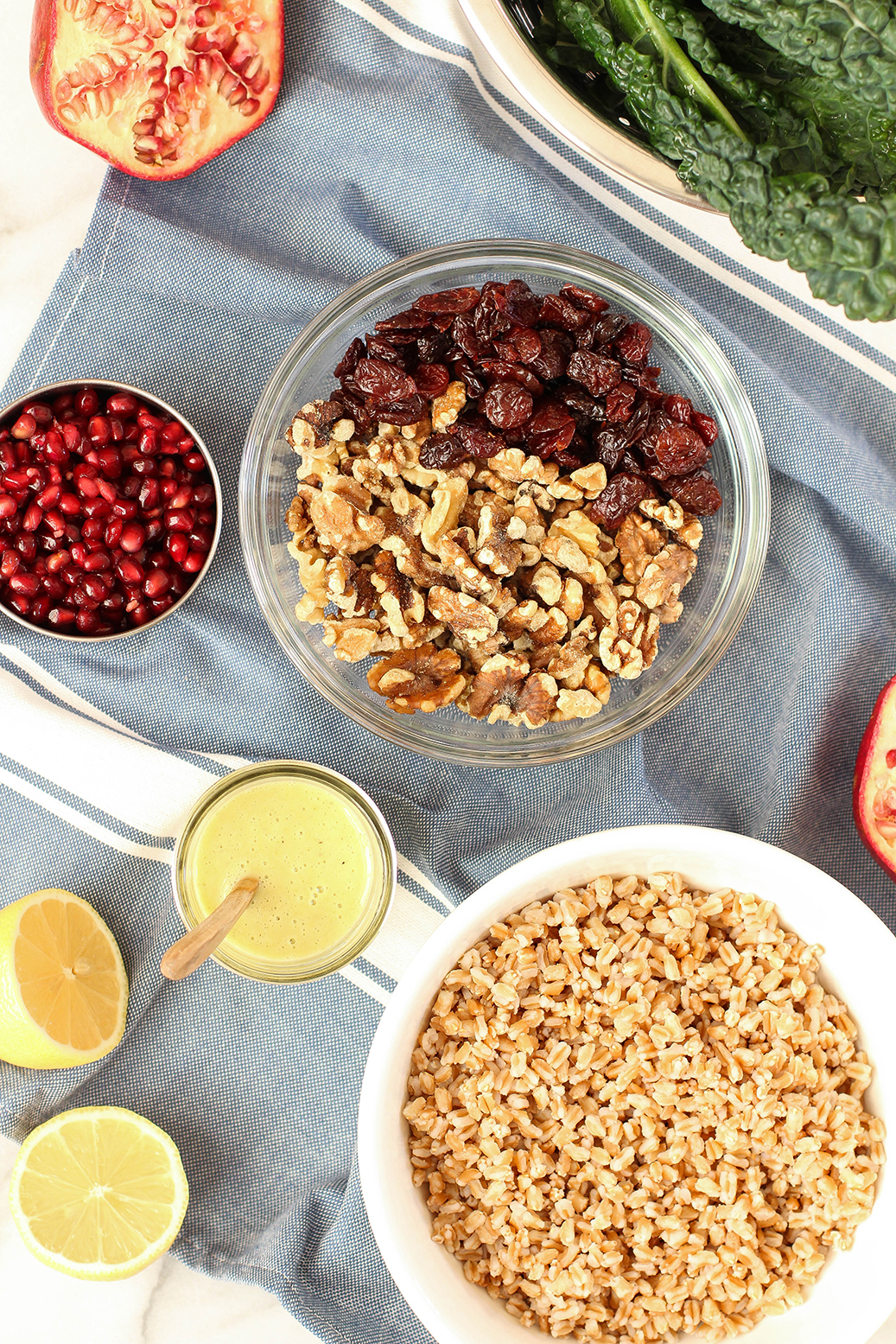 The recipe as written, yields quite a lot of salad, enough to feed 6 of your dearest friends and family. Why so much? Well, in true fall form, this is my go to salad for holiday gatherings. It makes a perfect addition to your Thanksgiving or Christmas dinner table and is a healthier option for all those brunches and potlucks that mark the season. There's something so satisfying about being that person who brings a salad to a party – when let's face it, all everyone wants to eat is fried cheese sticks and cookies – and watches said salad be quickly gobbled up. Like most of my recipes, there's room for improvisation here, a necessity around the holidays. Because sometimes you run out of walnuts, or forgot to buy farro, and there's no way you're going back to the grocery store on Thanksgiving. No way!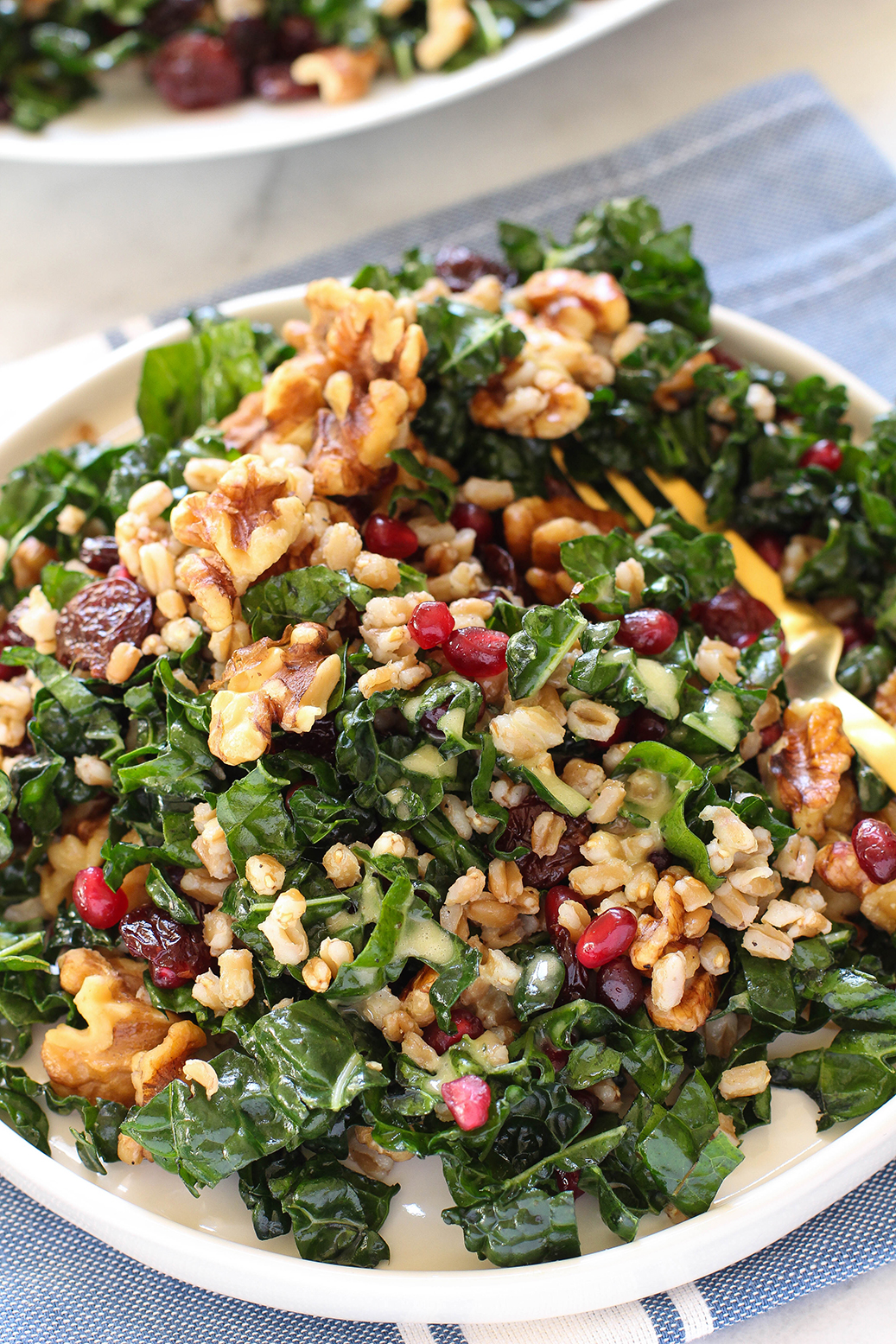 I've swapped out the farro for wheat berries or freekeh, but you could also use sorghum or wild rice for gluten free options. Pecans would be just as yummy as walnuts and dried cranberries can be subbed for the cherries. The pomegranate seeds are kind of a constant (just look at that color!), but don't feel bad about buying the ready to eat seeds. I always do, because god help me, I will not ruin another shirt trying to wrestle seeds out of a whole pomegranate. The vinaigrette is also open to tweaking, I've switched out the oregano for rosemary with happy results but I bet basil would be equally tasty.
Now that we've got salad locked down, let's go forth and enjoy fall.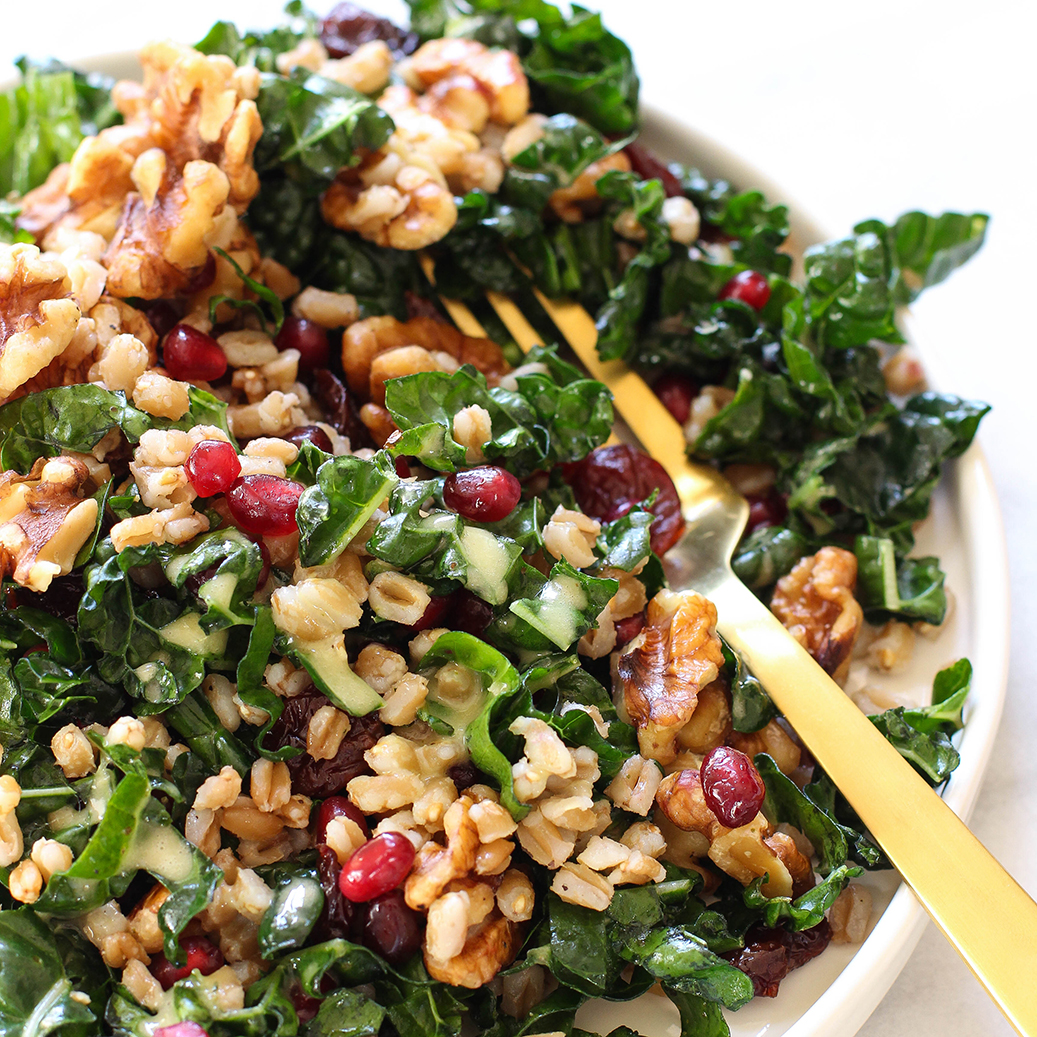 Fall Kale & Farro Salad
2016-10-24 17:43:52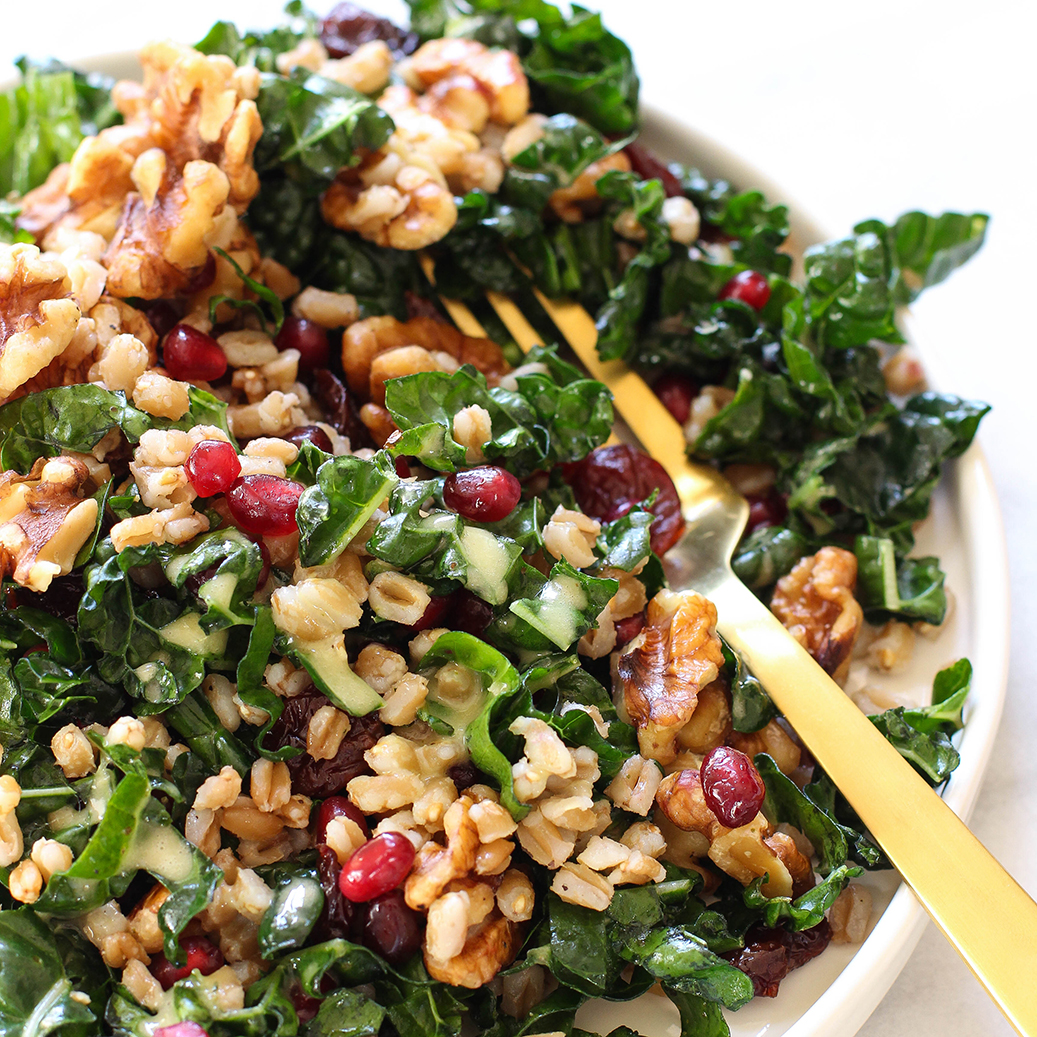 Serves 6.
Ingredients
1 cup uncooked farro
1 bunch lacinato kale, tough ribs removed & sliced into thin strips
1 1/2 cups walnuts
1 cup pomegranate seeds (from 1 pomegranate)
1/2 cup dried cherries
1 recipe lemon oregano vinaigrette
2 teaspoons extra virgin olive oil
salt & pepper
Instructions
Combine farro with 2 cups water in a pot, bring water to a boil then lower to a simmer. Cook covered until farro is tender but still chewy, about 30 minutes. Drain and rinse farro under cold water.
Preheat oven to 400 F. Lay out walnuts on a cookie sheet and toast until golden and fragrant, about 8 minutes. Allow walnuts to cool for a few minutes then roughly chop.
In a large bowl, massage kale with 2 teaspoons olive oil and season with salt and pepper. Add farro to bowl and drizzle with half of lemon oregano dressing. Toss to thoroughly coat salad with vinaigrette then taste and add more as needed.
Plate salad and top with walnuts, pomegranate seeds, and dried cherries.
The Mostly Vegan http://www.themostlyvegan.com/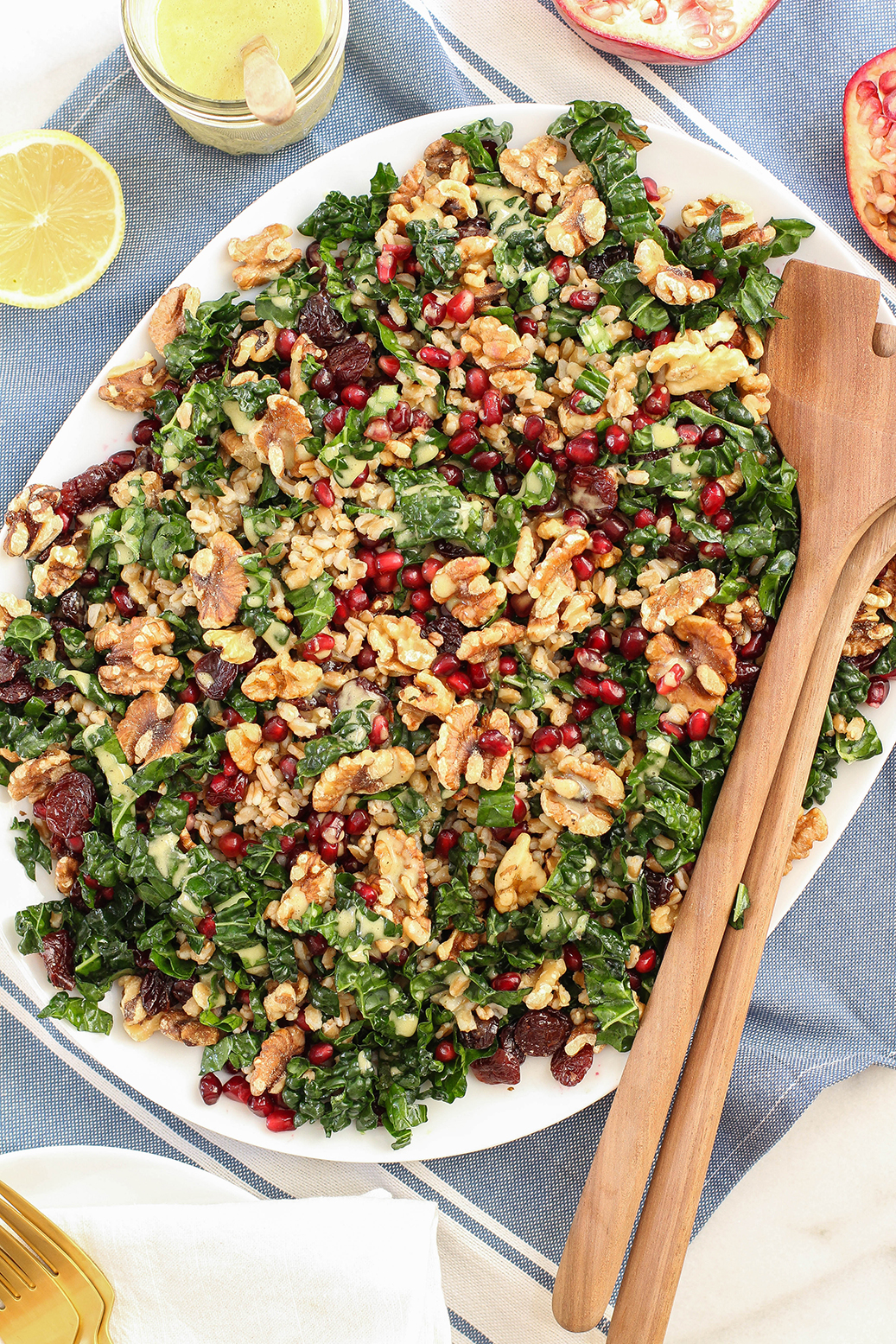 If you're looking for more fall entertaining dishes, check out this
Vegan Chickpea Flour Frittata
I shared over at Project Juice's Ritual Wellness blog. Gluten free chickpea flour is mixed with sauteed asparagus, potatoes, rosemary and kale to deliver one delicious egg-free frittata. I'm guessing it goes really well with salad.