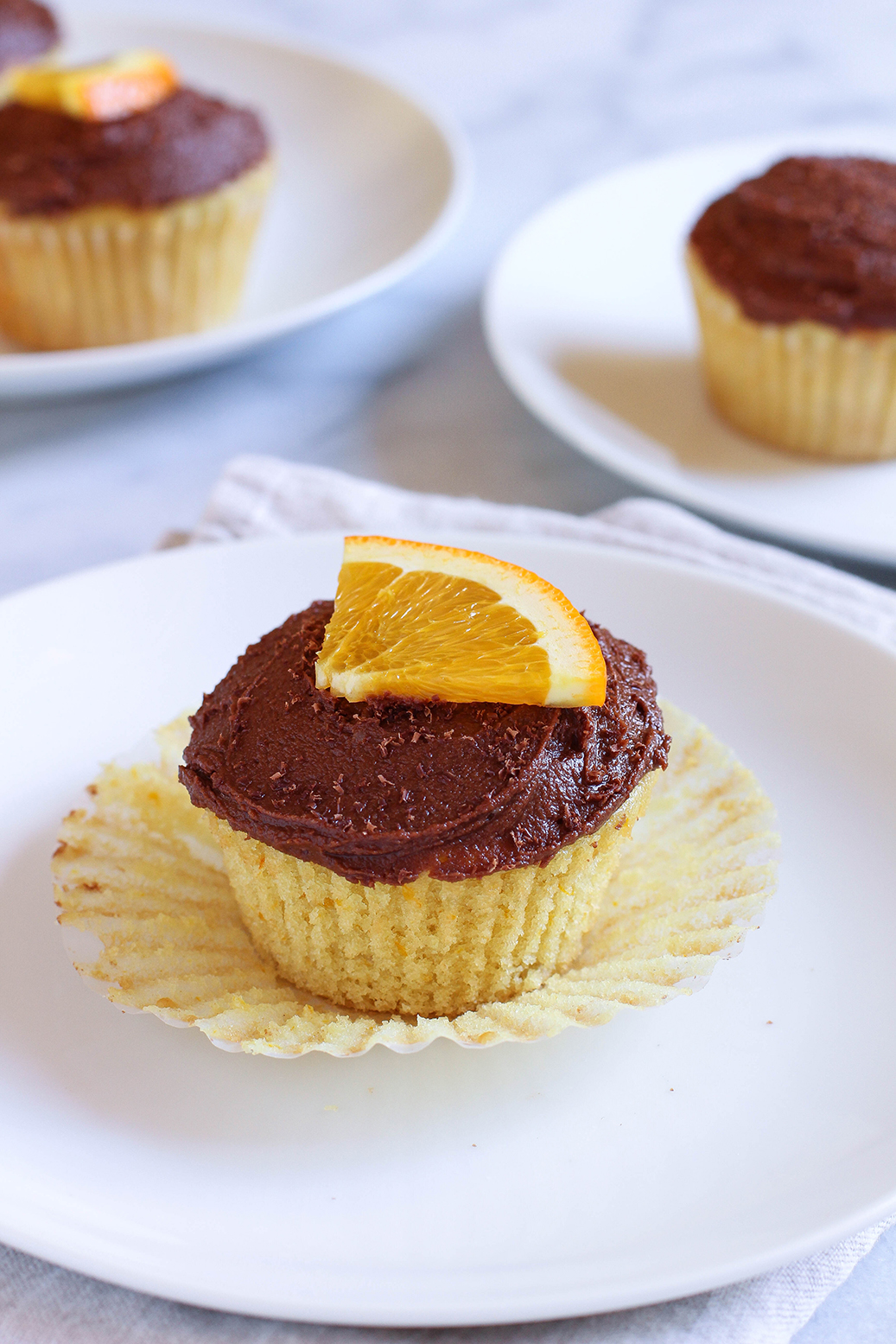 The third trimester of this pregnancy has officially arrived, and I gotta say, I'm more than a little disappointed that I haven't been too keen on over-indulging.  While I knew the whole concept of eating for two was a total myth, nothing prepared me for how little room you're actually left with in your belly once that babe sets up shop.  A  formerly light breakfast of two pieces of whole grain toast with a swipe of peanut butter and a half a banana can leave me feeling over the top full.  One of the many injustices experienced by us pregnant gals, if you ask me. (Don't even get me started on pelvic pain and the horrors of pregnancy onset heartburn.)  All of that being said, I did handily scarf down two of these Dark Chocolate Orange Cupcakes in the span of 20 minutes whilst photographing them for the blog.   Whatever, sometimes you gotta sacrifice physical comfort for the love of cake.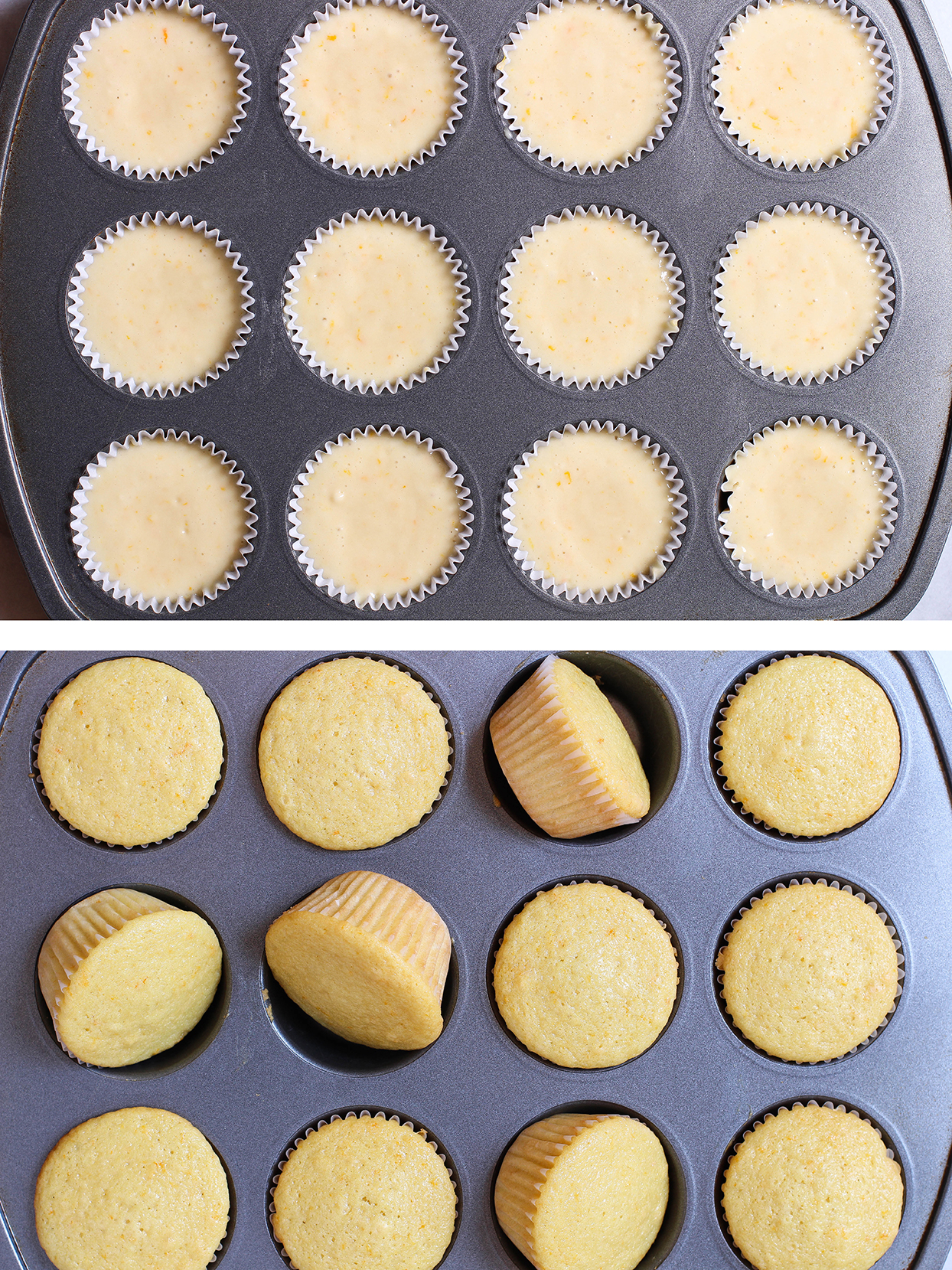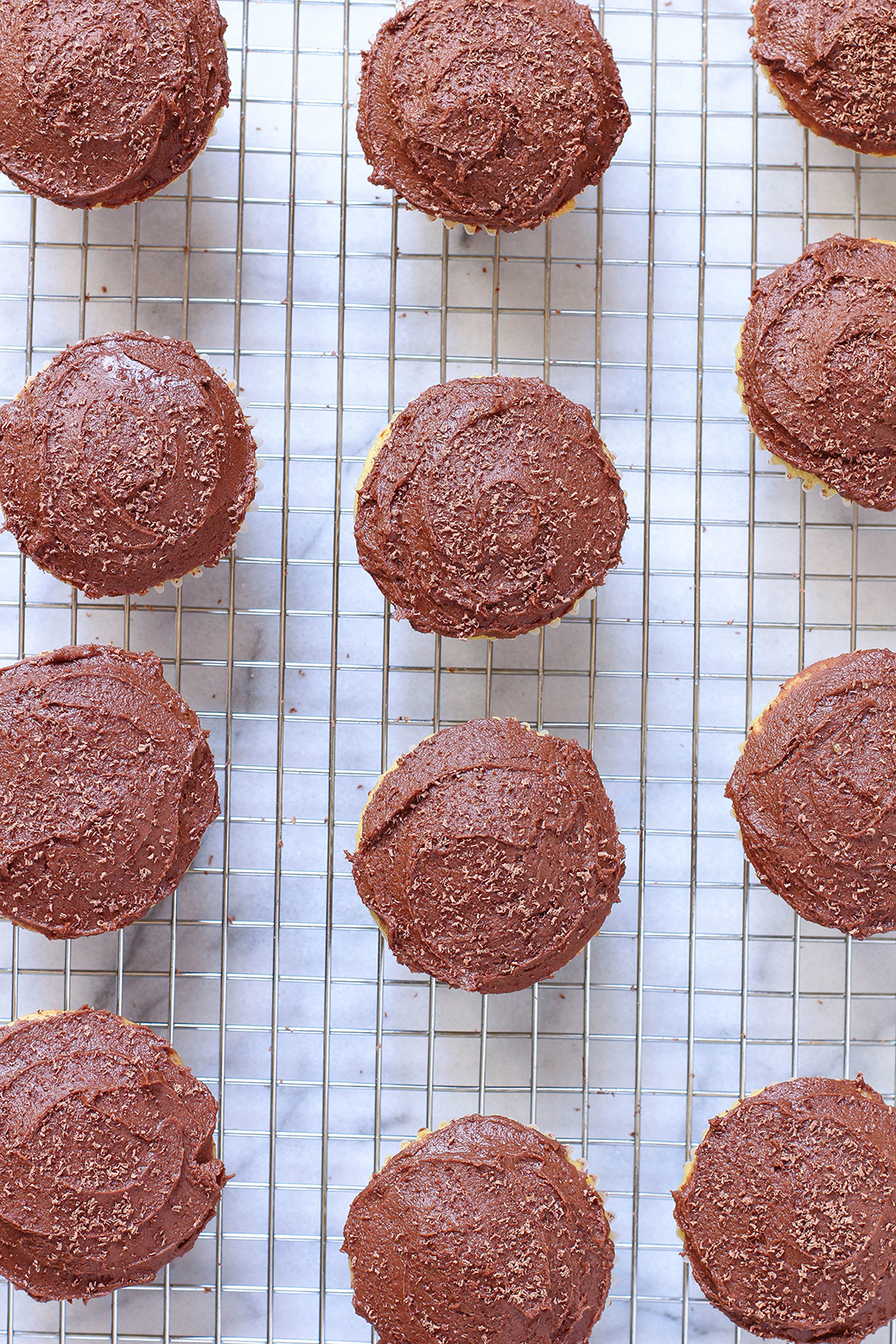 Once you make these, you'll understand.  They're just so frickin' good!  Light and cakey, flecked with real orange zest, and liberally frosted with a divine chocolate, coconut oil based buttercream.  You know those yummy Terry's Chocolate Oranges from Britain? The ones wrapped in golden foil that you smash on your kitchen counter before unwrapping to reveal perfectly sectioned chocolate slivers shaped like orange slices?  Growing up, we always had those in the house around the holidays. They remind me of my childhood and Christmas. These cupcakes are basically a Terry's chocolate orange in vegan cupcake form. I'm loving them in the heat of summer – all that refreshing orange zest – but they'd be great to whip up for fall bake sales and parties.  Just add some orange sprinkles and you've got one cute and sophisticated Halloween cupcake.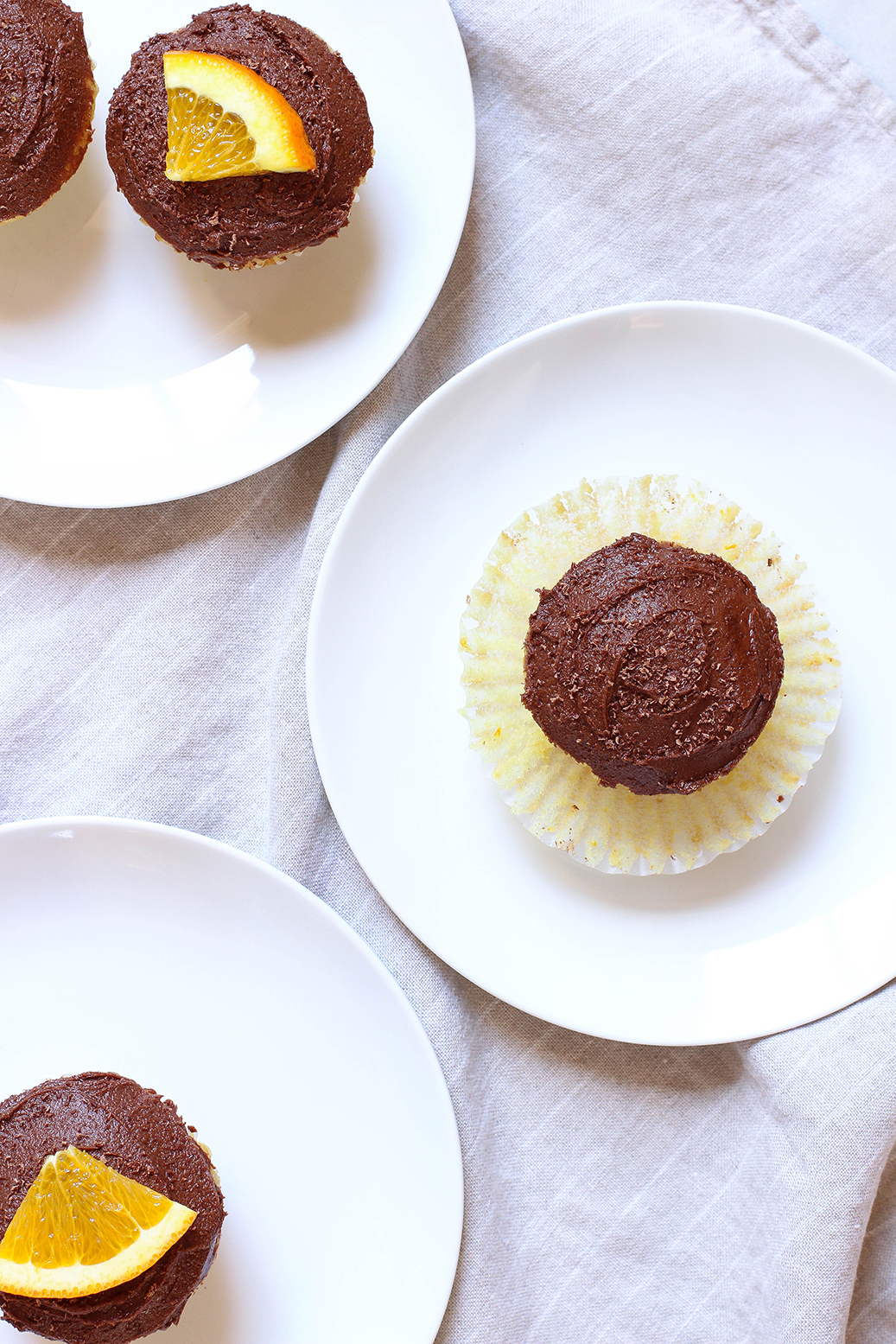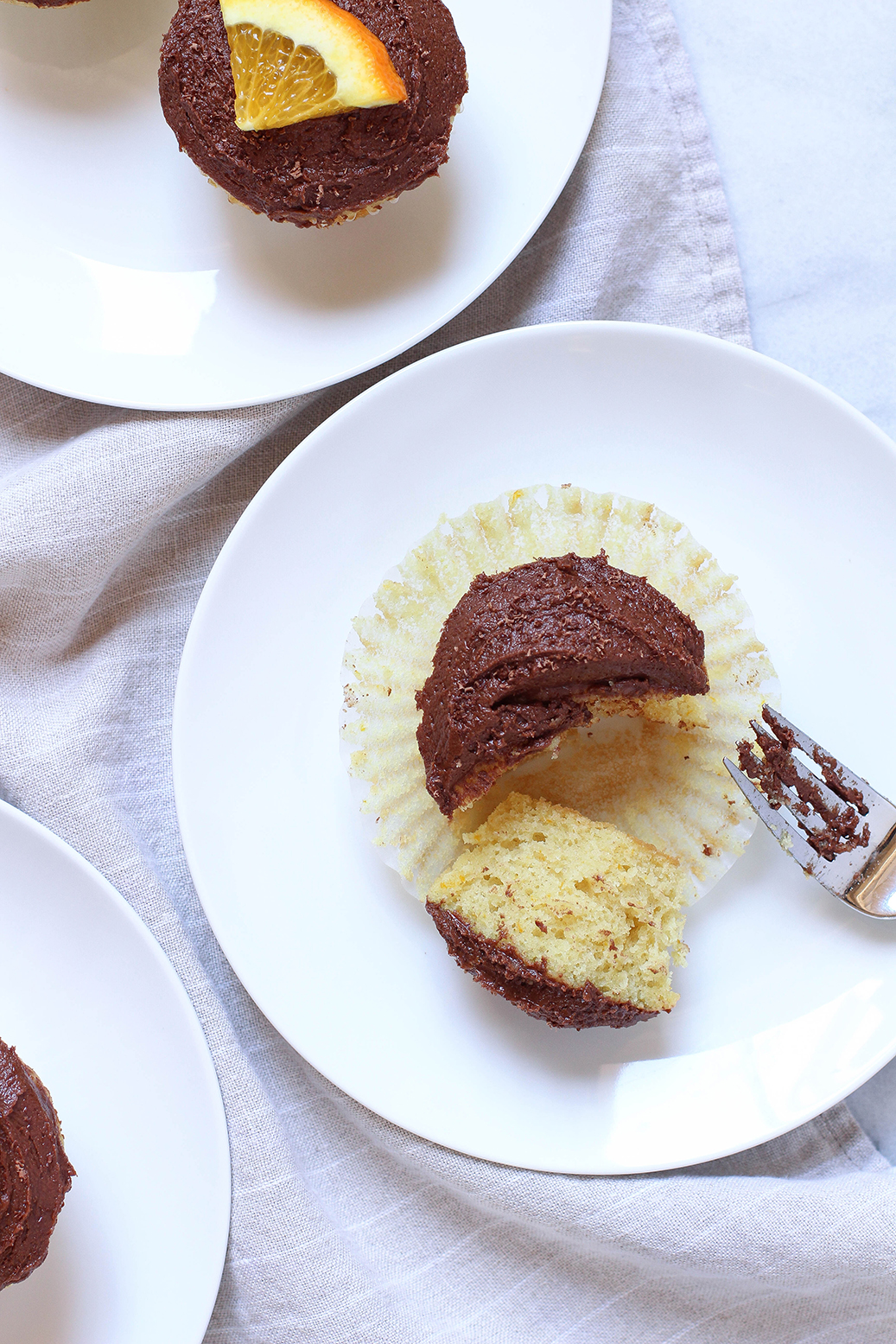 The recipe for these is based off of my Vanilla Cupcakes with Chocolate Buttercream. The addition of orange zest completely transforms the vanilla cake, while upping the cocoa powder and reducing the amount of powdered sugar in the frosting yields the perfect dark chocolate buttercream. It's definitely going to be my new go-to chocolate frosting. That kick of extra cocoa powder and wee bit less sugar strikes the perfect decadent chocolate balance.  If you're one of those folks who loves an equal cake to frosting ratio, the recipe can easily be doubled to really load up these lil' cakes, or to just eat by the spoonful.  Call it quality control. 
For more orange infused baked goods love, check out my Pistachio Orange Sticky Buns.  Even though I have no room in my belly, it brings me joy knowing that others can enjoy them.  Kinda.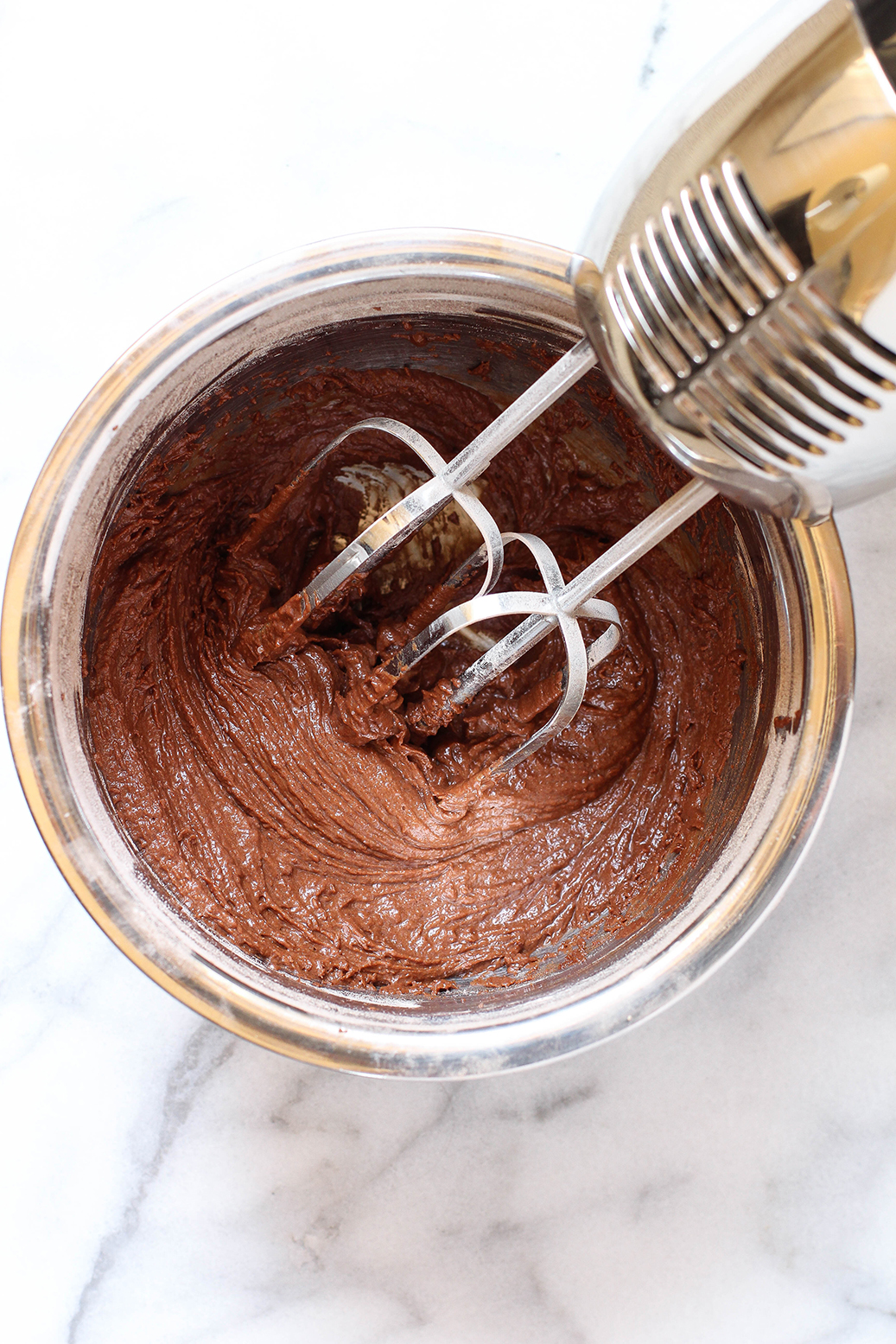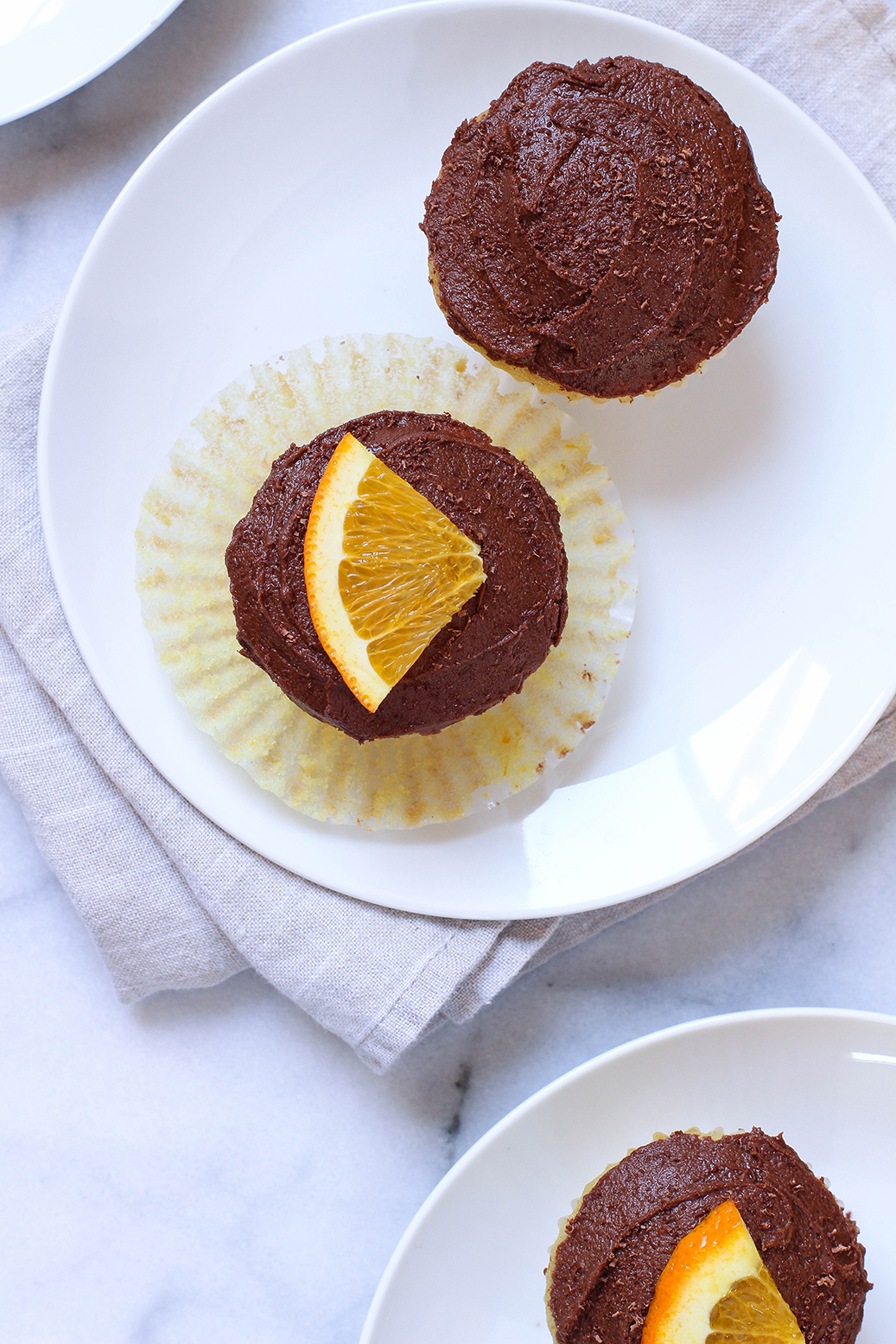 Dark Chocolate Orange Cupcakes
Makes 12 cupcakes.
Ingredients
Orange Cupcakes
1½ cups unbleached all purpose flour
1 cup organic granulated sugar
2 tablespoons cornstarch
1 teaspoon baking powder
½ teaspoon baking soda
½ teaspoon sea salt
1 cup plain, unsweetened almond milk (warmed to room temperature)
⅓ cup organic refined coconut oil, melted
2 tablespoons water
1 teaspoon apple cider vinegar
½ teaspoon vanilla extract
zest of one navel orange
Dark Chocolate Buttercream
⅓ cup organic refined coconut oil, solid
1¼ cups organic powdered sugar
¼ cup unsweetened, natural or Dutch processed cocoa powder
2 tablespoons plain, unsweetened almond milk
1 teaspoon vanilla extract
dark chocolate bar for sprinkling shavings over cupcakes & orange slices for garnish (optional)
Instructions
Orange Cupcakes
Preheat oven to 350 F. Add apple cider vinegar to almond milk and set aside. Sift flour, cornstarch, baking powder, baking soda, and sea salt into a large bowl. Sift flour mixture 4 more times. (Do not skip this step, thoroughly sifting the flour is essential to achieving a light, cakey texture.)
In a large bowl combine sugar, vanilla extract, almond milk, melted coconut oil, and orange zest. (Before adding almond milk make sure it is at room temperature or else it will cause the coconut oil to harden. Warm in the microwave in 10 second increments if it is cold to the touch.) Thoroughly whisk together all ingredients.
In three additions, add flour mixture to wet ingredients, whisking thoroughly after each addition to break up any clumps. Line a standard muffin tin with cupcake liners. Using a ¼ measuring cup, divide batter evenly among muffin cups. Bake for 20-25 minutes, until a toothpick inserted in the center comes out clean.
Remove cupcakes from tin and allow to cool completely on a cooling rack before frosting.
Dark Chocolate Buttercream
Sift together powdered sugar and cocoa powder. Combine coconut oil, almond milk and vanilla extract in a large mixing bowl. Add ⅓ of powdered sugar and cocoa mixture to coconut oil and beat on medium-high with a double whisk hand mixer until well incorporated. Add remaining powdered sugar and cocoa mixture in 2 increments, beating thoroughly after each addition. Continue to beat on medium-high until buttercream is light and fluffy. If buttercream is too melty from the coconut oil, place in fridge for five minutes then continue to beat with the hand mixer.
Frost cupcakes using a knife or offset spatula. Sprinkle with dark chocolate shavings and garnish with an orange slice if desired.
Cupcakes can be stored in an airtight container at room temperature for up to 3 days.*
Notes
* If it's warmer in your kitchen, keep cupcakes in the fridge to prevent the frosting from melting. Because of the coconut oil, the frosting will firm up when cooled, so be sure to remove from the fridge at least 30 minutes before you plan to eat them to allow the frosting to come back to room temperature.