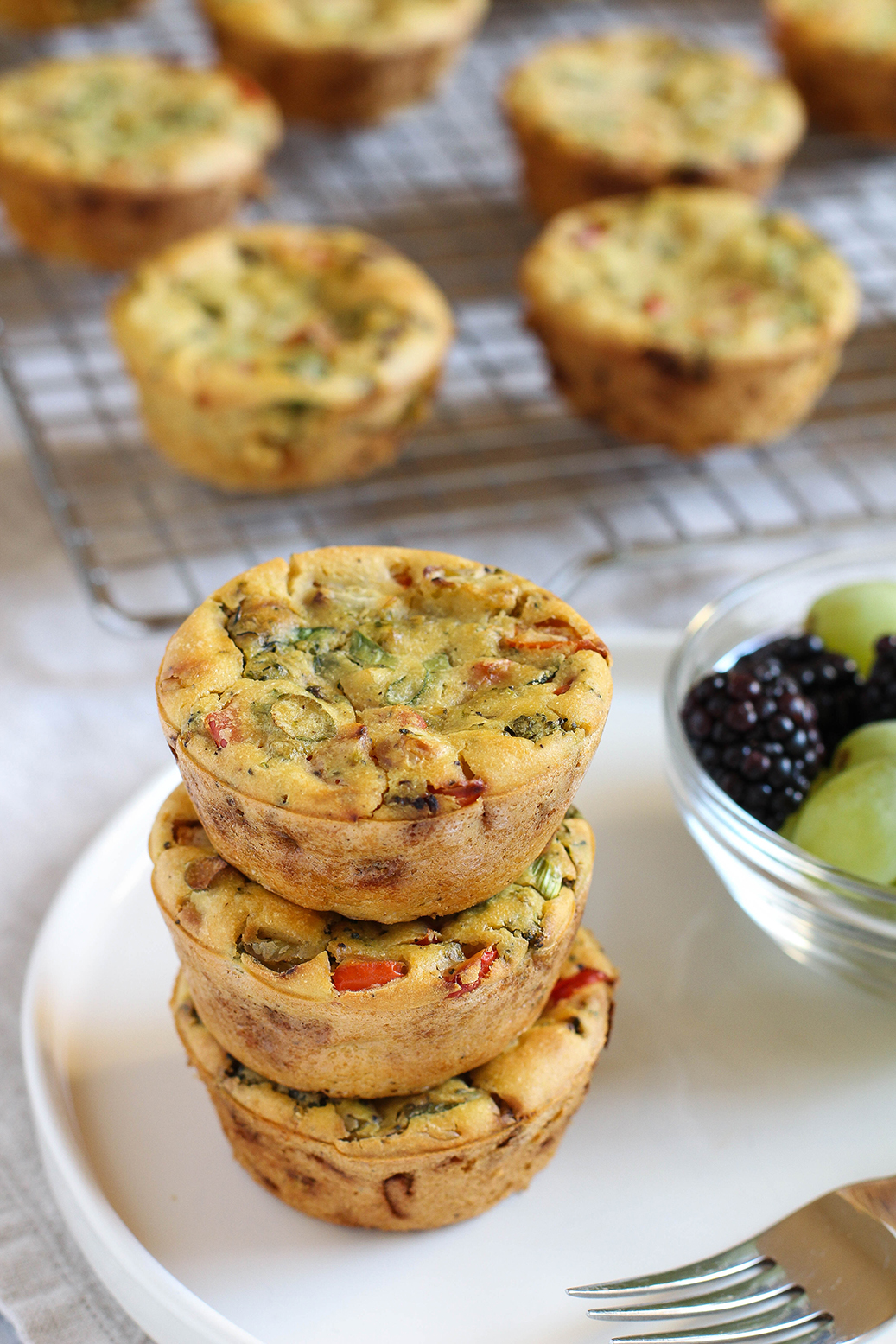 These Chickpea Flour Mini Veggie Frittatas have become a daily habit around here. I eat one as a mid-afternoon snack and my (non-vegan) husband has happily replaced his morning desk breakfast of boring 'ol hard boiled eggs with a few of these savory babies.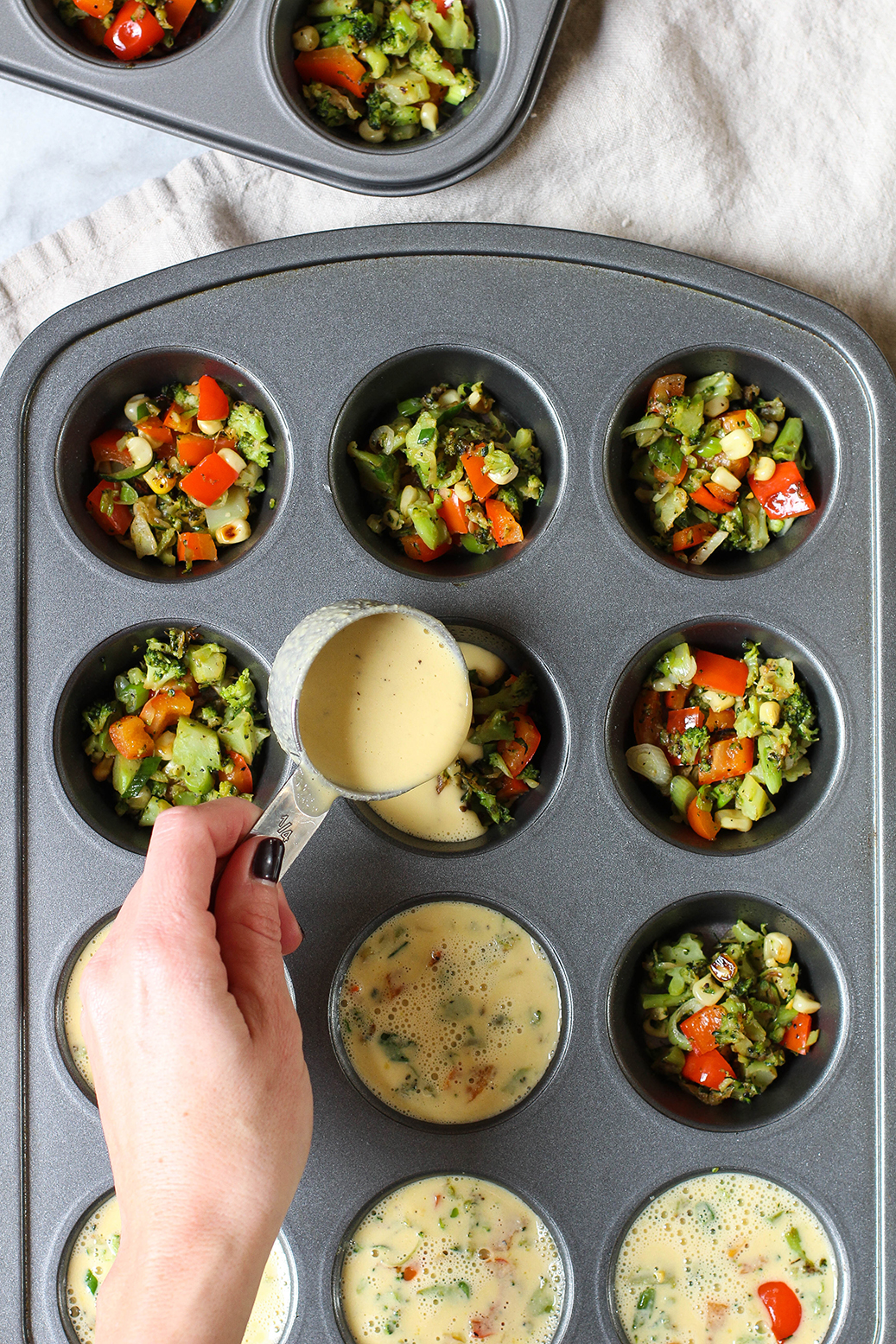 So, what exactly is in these? Chickpea flour is made from ground up dried chickpeas – garbanzo beans to some of you – meaning it has all of the nutritional benefits of chickpeas, specifically that it's high in protein and fiber. When mixed with water and used in lieu of eggs in recipes, it cooks up egg-like and custardy. I first whipped up a non-mini frittata with potato, rosemary and asparagus over at Project Juice's Ritual Wellness blog, and I knew a grab and go version was in my future. These are too yummy not to enjoy on the regular.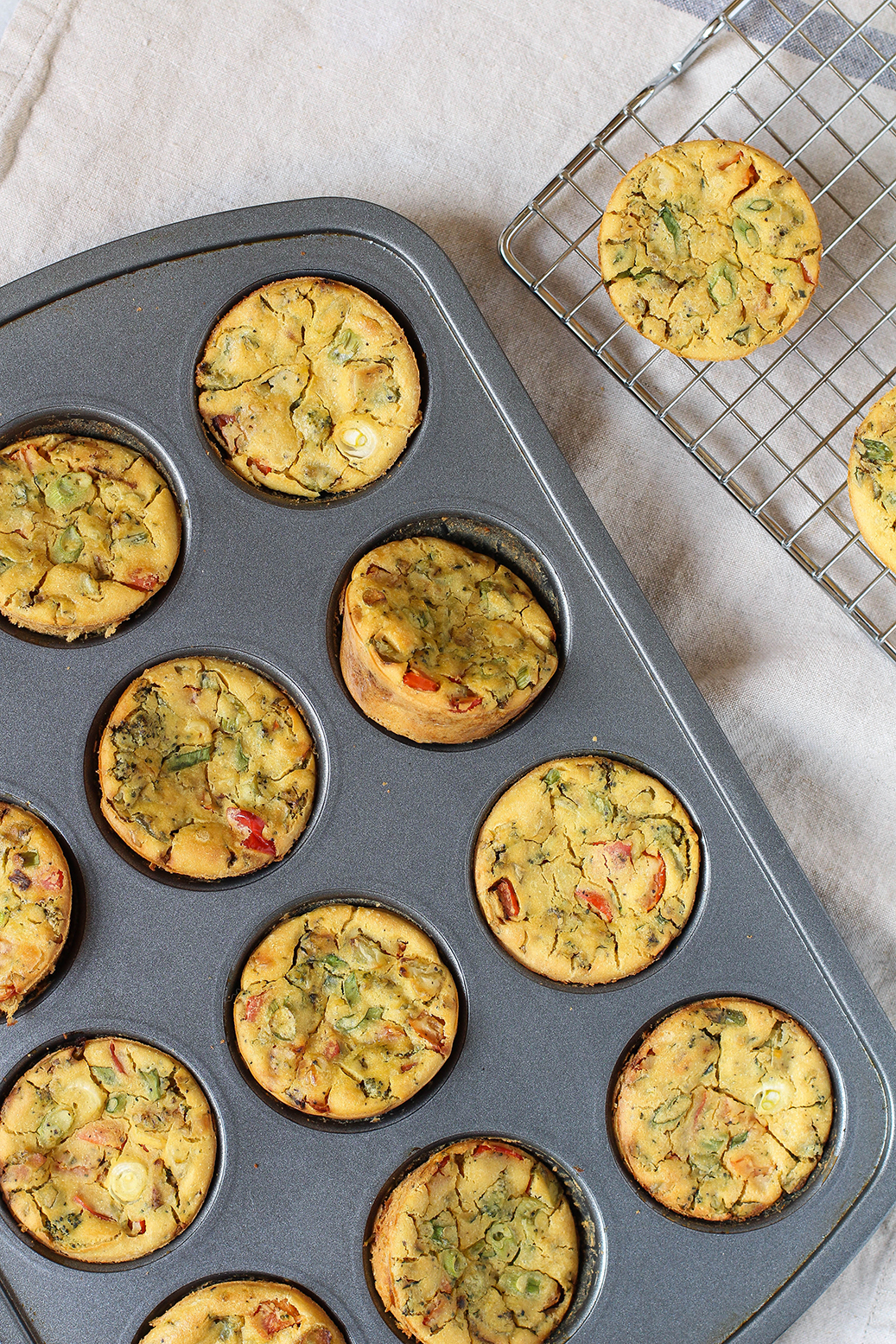 In addition to the chickpea flour, I add a hefty scoop of nutritional yeast to the batter for a bit of cheesy flavor (don't skip this ingredient, chickpea flour can be very bland on its own), and then there's the veggies. The minis pictured are packed with a mix of broccoli, corn, shredded zuchhini, and chopped red bell pepper. But any veggies will work – mushrooms, spinach, kale, carrots, and on, and on. I always thrown in a hefty amount of chopped green onions, mostly because I'm not a fan of the texture of cooked regular onions in baked dishes, but feel free to add some sauteed red or yellow onion if that's your thing.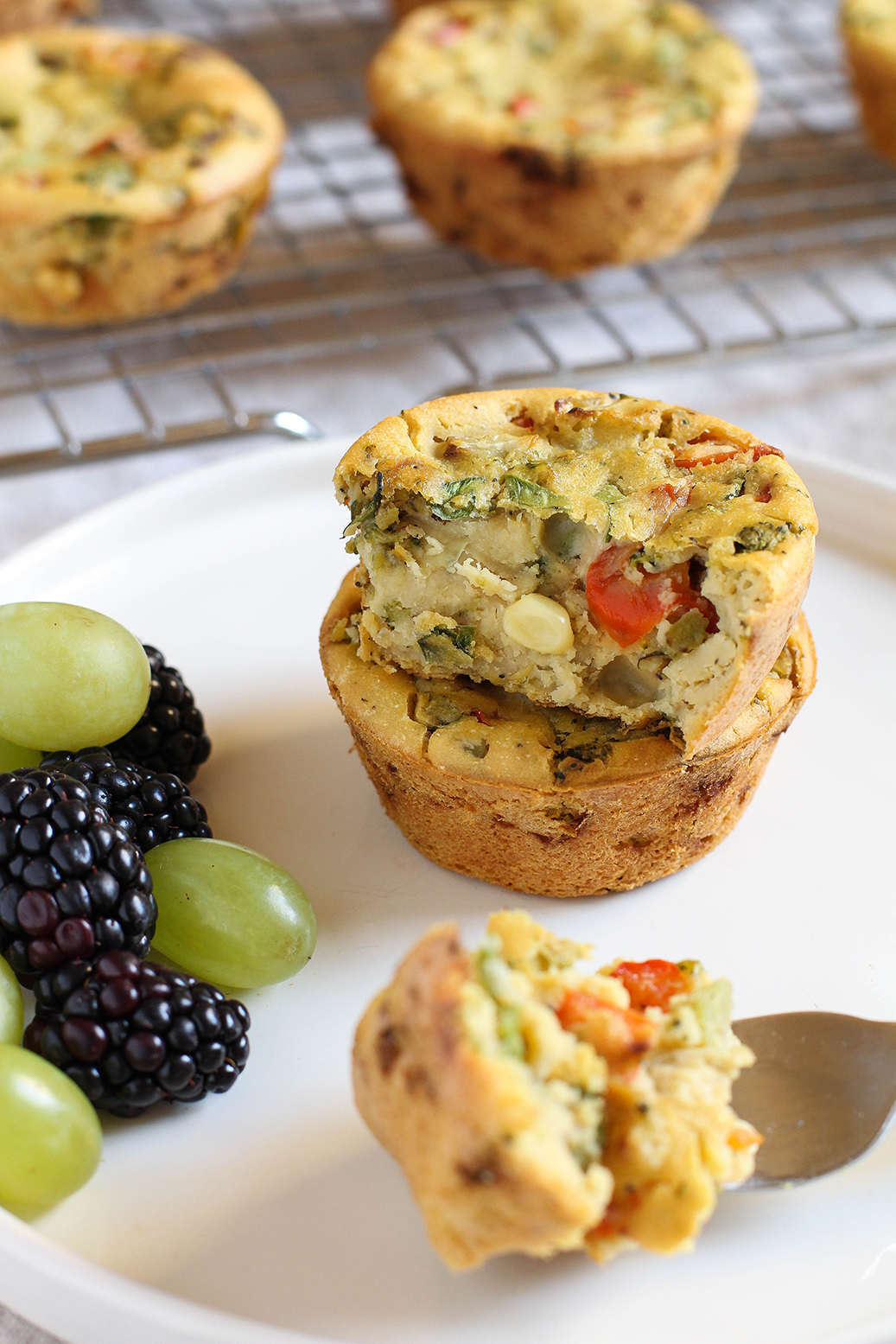 Leftovers will last up to five days in the fridge and can be nuked in the microwave or reheated in the oven (toaster oven, let's get real). I like to reheat them until they get a little crispy on the outside – kinda like a hybrid frittata and quiche – and devour with a drizzle of hot sauce. Yum, yum. I hope you make these and discover just how tasty an egg-free frittata can be!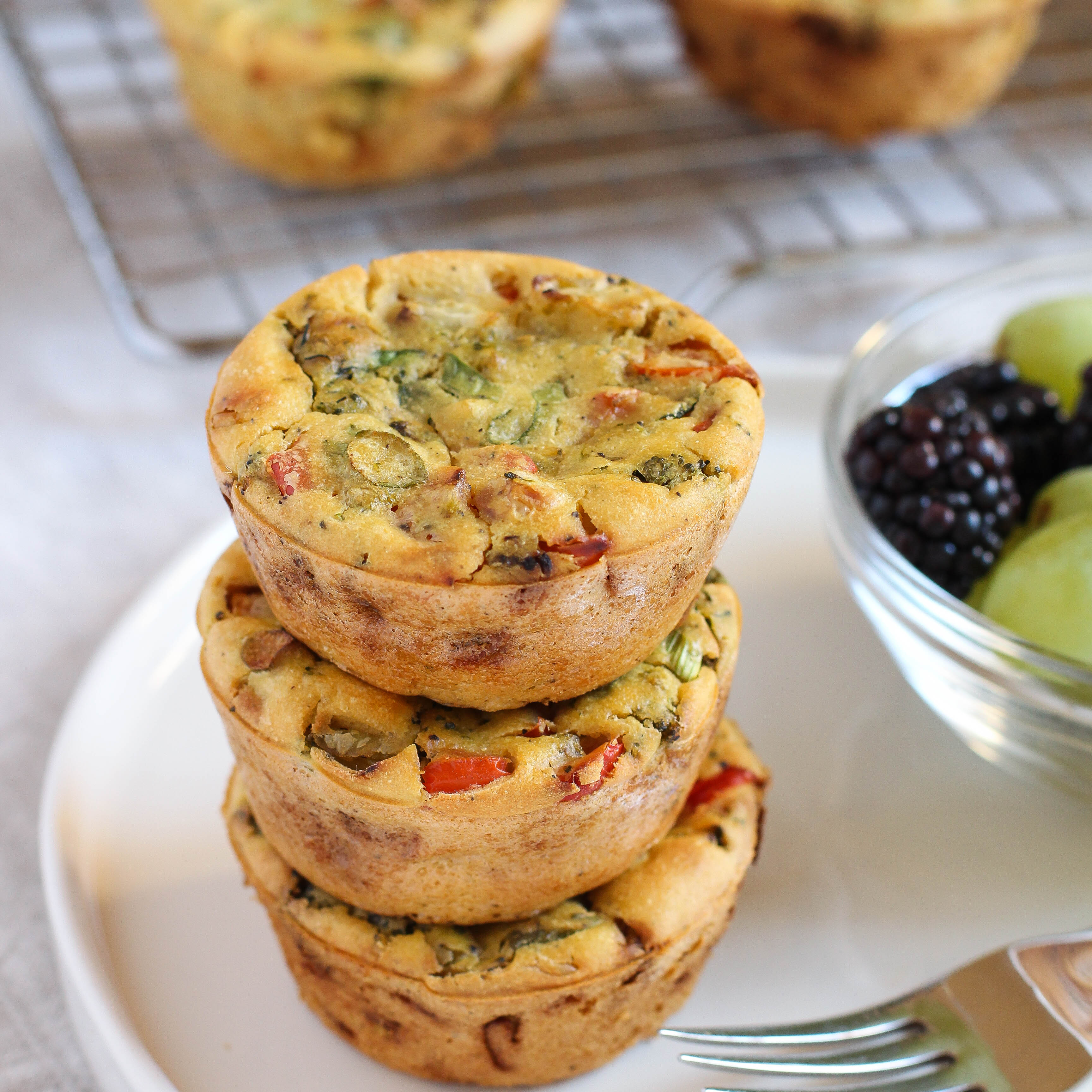 Chickpea Flour Mini Veggie Frittatas
2017-01-05 17:08:33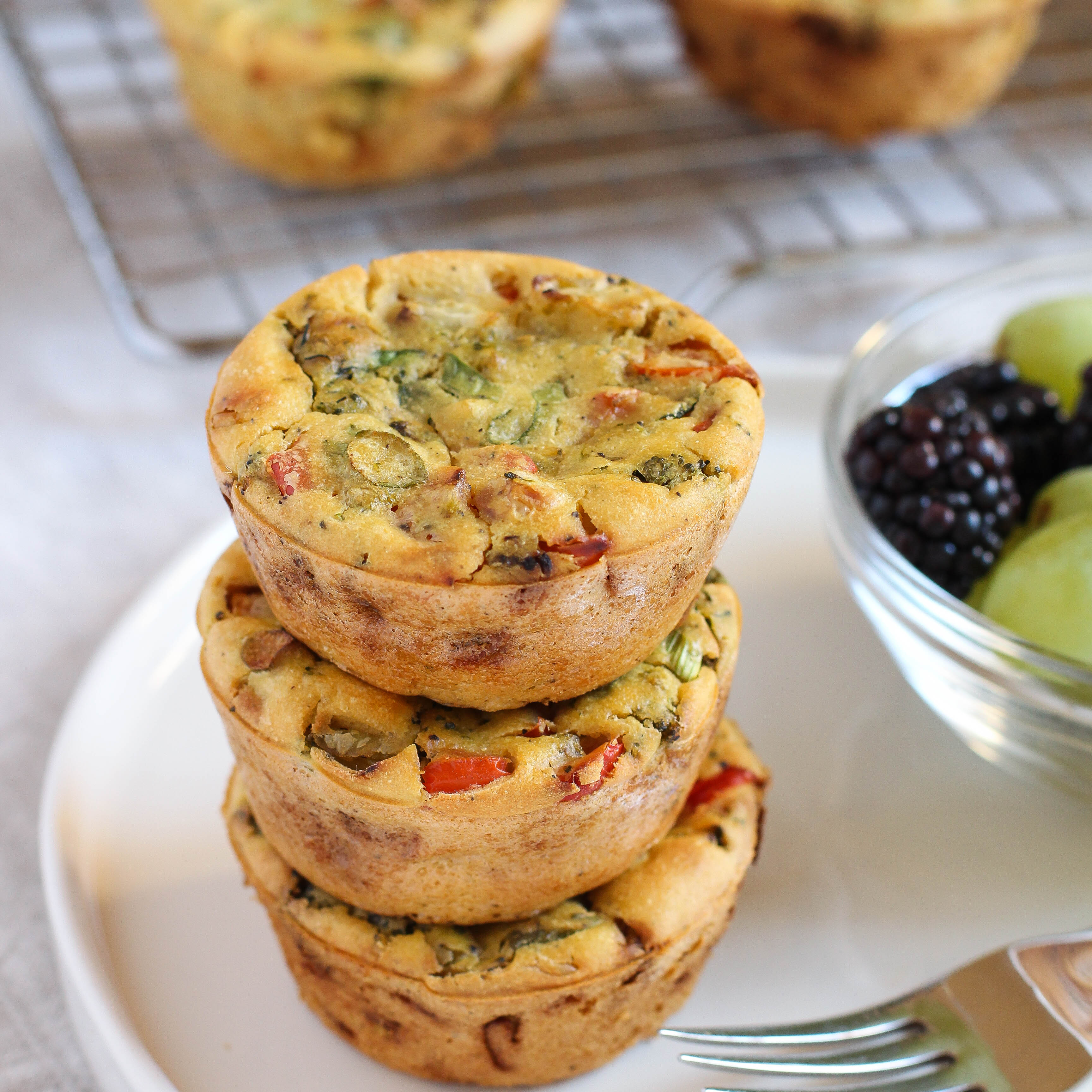 Makes 14 mini frittatas.
Ingredients
3 cups assorted chopped veggies - broccoli, corn, bell pepper, zucchini, spinach, etcetera*
1/2 cup green onion, thinly sliced
2 tablespoons extra virgin olive oil, plus additional oil for brushing muffin tins
2 cups chickpea (garbanzo bean) flour
1/4 cup nutritional yeast
1 teaspoon baking powder
1 teaspoon sea salt
1/2 teaspoon black pepper
Instructions
Preheat oven to 400 F. Combine chickpea flour, nutritional yeast, baking powder, salt, and pepper in a bowl with 2 1/2 cups water. Whisk to combine and set aside while preparing the veggies.
Heat olive oil over medium-high heat in a skillet. Add all veggies to skillet (except for green onions) and cook until veggies cook down and begin to brown, about 7 minutes. Add green onions to skillet and cook 2 minutes more. Season with salt and pepper to taste and remove from heat.
Brush a standard sized muffin tin and one smaller, 6 muffin tin with olive oil.** Divide veggie mixture between muffin cups by the heaping tablespoon. Divide any remaining veggies between cups. Using a 1/4 cup measure, fill cups with chickpea batter. Use a spoon to gently stir each cup to ensure the batter gets under the veggies.
Bake for 30 - 35 minutes, until a toothpick inserted in center comes out clean and frittatas are beginning to brown on top. Remove from oven and allow to cool for 10 minutes (this allows the batter to set) before removing from tin and cooling on a rack. Depending on your muffin tin, you may have to use a knife or offset spatula to gently loosen sides of frittatas before removing from tin.
Serve warm or allow to cool completely before storing in the refrigerator for up to 5 days. Frittatas can be reheated in the microwave but are best when warmed in the oven or toaster oven at 400 F for 10 minutes.
Notes
* Shown is a combination of 1 cup chopped red bell pepper, 3/4 cup shredded zucchini (squeezed with a paper towel to remove excess water), 1/4 cup frozen corn, and 1 cup frozen broccoli, which I allowed to thaw slightly before roughly chopping and adding to the pan with the other veggies.
** Because this recipe yields exactly 14 mini frittatas, I use a 12 cup muffin tin and a 6 cup muffin tin to hold the 2 extra frittatas. Both fit on one rack in my oven at the same time.
You could also try using cupcake liners in your muffin tins, but I would use the parchment paper cupcake liners if you can find them. The frittatas might stick to a standard paper liner.
The Mostly Vegan http://www.themostlyvegan.com/
Just an FYI, I am no longer responding to comments on this post. If you have a question, please scroll through the previous comments.