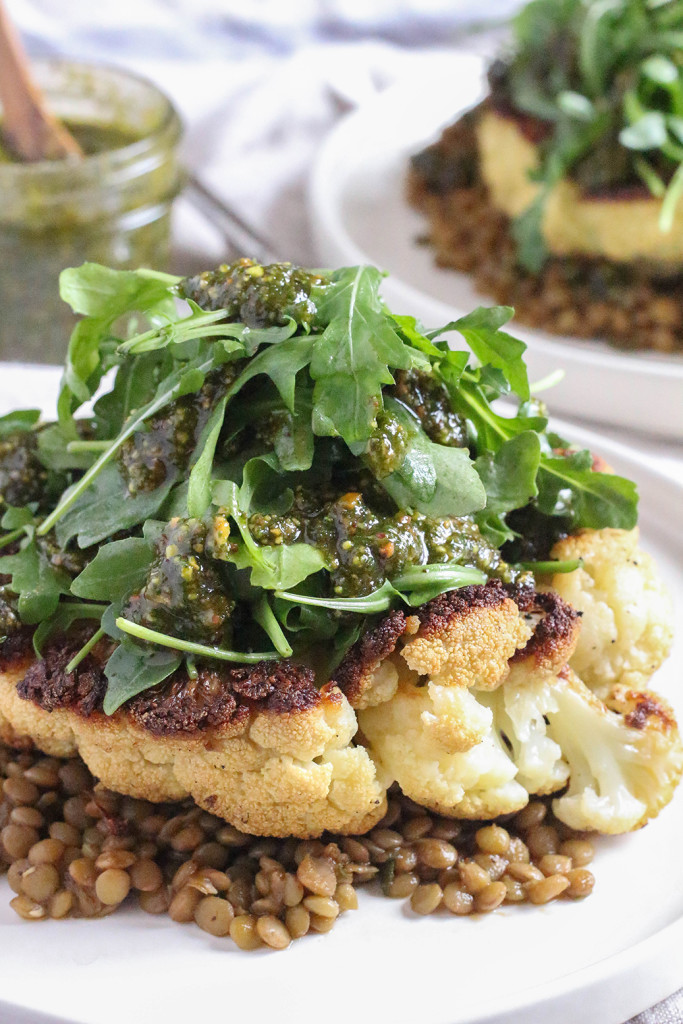 Ok, first things first. These cauliflower steaks do not taste anything like steak. Not one bit, but I'm guessing you already knew that since you're reading this blog and are therefore quite savvy and sophisticated. And, as any sophisticated plant eater knows, trying to replicate the taste of meat in a plant based diet is a fool's errand. It's not gonna happen. And that's ok, because there are so many fabulous veggies out there to play with, our taste buds will never be bored.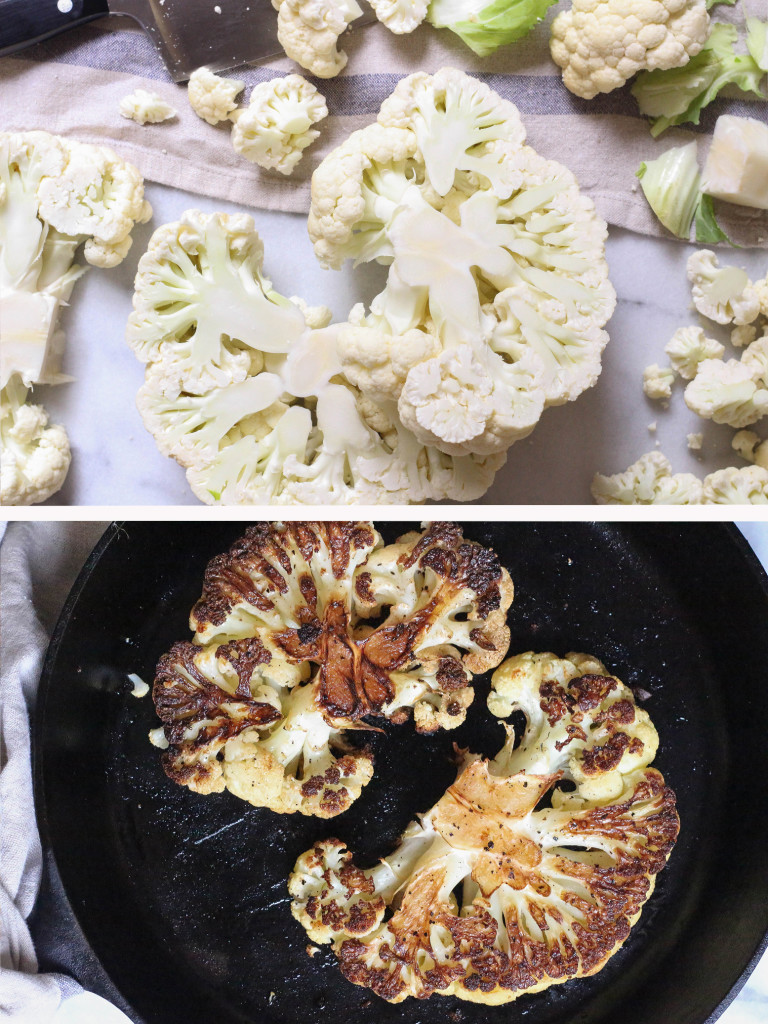 Like for reals, do you think it's possible to be bored eating meaty (wink) cauliflower steaks with herbed lentils, lemony arugula, and a heavenly roasted pistachio mint pesto. I think not! This is plant based eating at it's finest, my friends. Reminiscent of one of my earlier and still favorite recipes on The Mostly Vegan, Roasted Vegetables with Raisin-Caper Chimichurri, this dish also utilizes a flavor bomb sauce to jazz up the otherwise humble cauliflower. The construction of the plate starts with a generous helping of delicately herbed lentils (make a double batch for tossing on salads all week!), which amp up the protein and lend their undeniable earthiness. Next comes the cauliflower steaks, seared on the stovetop to develop a gorgeous golden brown crust and then finished in the oven until they're fork tender and just starting to fall apart. The steaks are topped with peppery arugula – simply dressed with a squeeze of lemon and hit of salt and pepper – providing a refreshing acidity.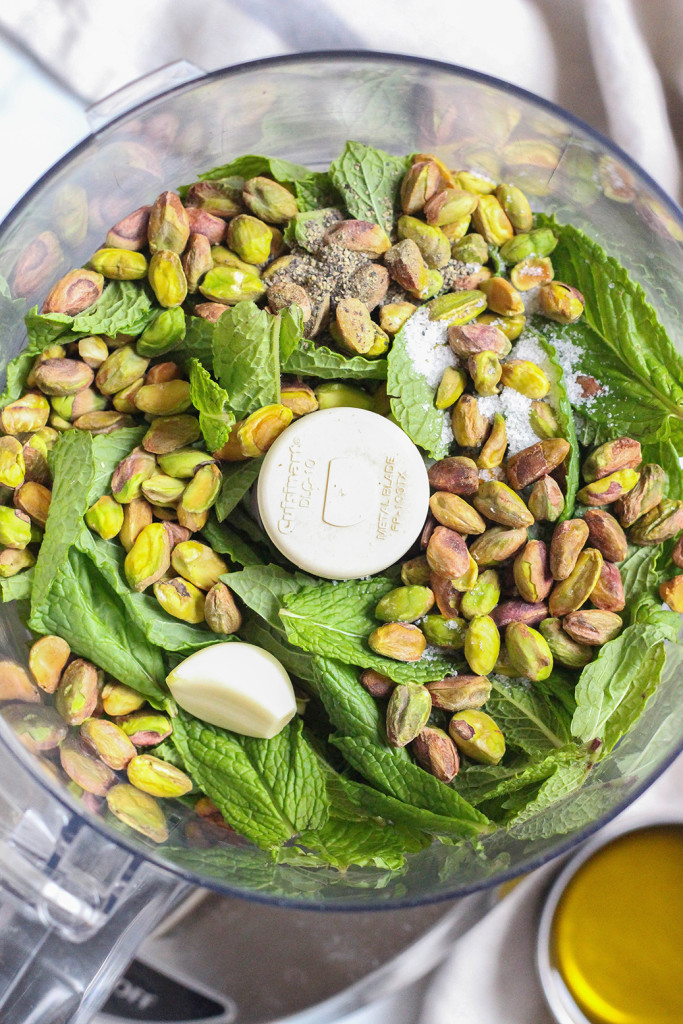 And to top it all of, my newest, most favoritest pesto in the whole wide world – Pistachio Mint. How have I waited so long to get to the pesto?! It's seriously the best part. Totally vegan and bursting with flavor from the simplest combo of roasted pistachios and fresh mint. I've been eating leftovers by the spoonful and I won't be stopped. It's fresh and springy, decadent from the rich pistachios, and just a bit (naturally) sweet from the mint.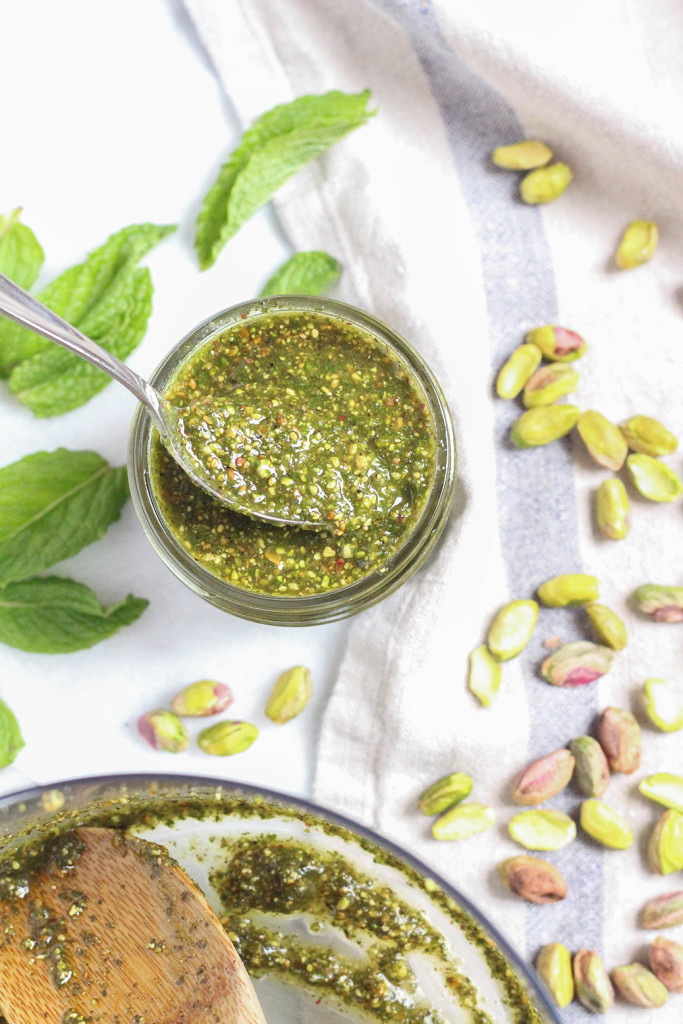 So go ahead, veg out on this dish and make all the meat eaters jealous.

Cauliflower Steaks with Lentils & Pistachio Mint Pesto
Serves 2.
Ingredients
1 head cauliflower
2 tablespoons olive oil, divided
2 handfuls arugula
juice of half a lemon
sea salt & pepper
Herbed Lentils
½ cup green lentils
1 cup low sodium vegetable broth
1 sprig thyme
1 bay leaf
¼ teaspoon sea salt
¼ teaspoon ground black pepper
Pistachio Mint Pesto
2 cups loosely packed mint leaves
½ cup pistachios
½ cup extra virgin olive oil
1 large clove garlic
½ teaspoon sea salt
¼ teaspoon black pepper
Instructions
Preheat oven to 425 F. Meanwhile, combine all ingredients for lentils in a pot. Bring to a boil then lower to a simmer and cook, covered for 35-40 minutes, until lentils are tender but not mushy. Discard bay leaf and thyme sprig.
For the cauliflower, cut off sides to make as straight as possible, saving florets for another time. Cut remaining head into three, 1 - 1½ inch thick steaks. (This will depend on the size of your cauliflower.)
Heat a cast iron skillet, or other oven safe sauté pan, on the stovetop over medium-high heat with 1 tablespoon of olive oil. Once oil is hot, add the cauliflower steaks to skillet. Drizzle with remaining 1 tablespoon olive oil and season with sea salt and black pepper. Cook until well browned, about 5 minutes then flip the steaks over. Season other side with salt and pepper then place skillet in oven. Cook until steaks can easily be pierced with a fork, about 10 minutes.
Pistachio Mint Pesto
To toast pistachios, spread out on a cookie sheet and bake in a 400 F oven for 6 - 8 minutes. Allow to cool.
Combine all ingredients, except for olive oil in a food processor. With processor running, slowly pour in the olive oil and allow to run until oil is just incorporated, about 20 seconds. Leftover pesto can be stored in the fridge for up to 5 days.
To serve
Toss arugula with lemon juice and season with salt and pepper. Divide lentils between two plates and top with cauliflower steaks. Pile arugula on top of steaks and drizzle with pesto.