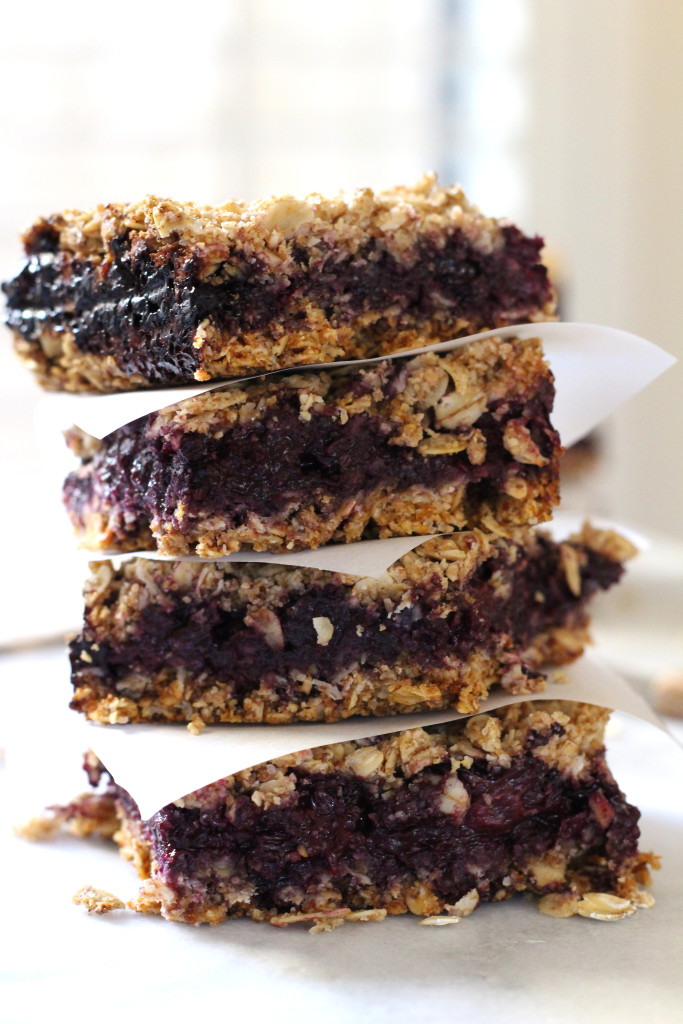 I've been on a baking kick lately, which isn't really newsworthy except for the fact that I'm generally not much of a baker. Aside from the occasional muffin recipe, I've always been a bit intimidated by the wide world of baking. There's a lot of science involved in getting dough to rise just so and perfecting the crumb on a quick bread, which surprisingly enough, might be just the thing that's sparking my interest as I get older. Cake science. I wish they'd offered that class in high school. Recent test kitchen menu items have included oodles of homemade pizza dough (if it's got yeast, I consider it baking), cinnamon rolls, cornbread and these Berry Oat Bars. In one of my earlier posts, I veganized my favorite Starbucks zucchini walnut muffins. Well, I'm at it again with these bars, a take on another former fave from the good 'ol Sbux, the blueberry oat bar. I was inspired to come up with a vegan version after seeing so many fruit cobblers and crisps floating around the internet. It's as if summer arrives and everyone declares fruit and oats the new it couple. I'm totally on board.
These bars are chewy, sweet, slightly tart, and way more decadent tasting than the rather healthy ingredient list would lead you to believe. They're perfect for breakfast but also taste mighty fine topped with a giant scoop of vanilla ice cream. They'd make a great treat to bring to a work potluck because they're equally yummy straight from the fridge or at room temperature, although none of my batches have actually made it out of the house. Sorry office mates. We've grown so accustomed to having these in the house that a slight panic takes hold when they run out. Where are the oat bars? Are you making more? When are you making more? Or, my favorite, who ate the last oat bar? Well, that would be me. There should be advantages to being the only baker in the house after all.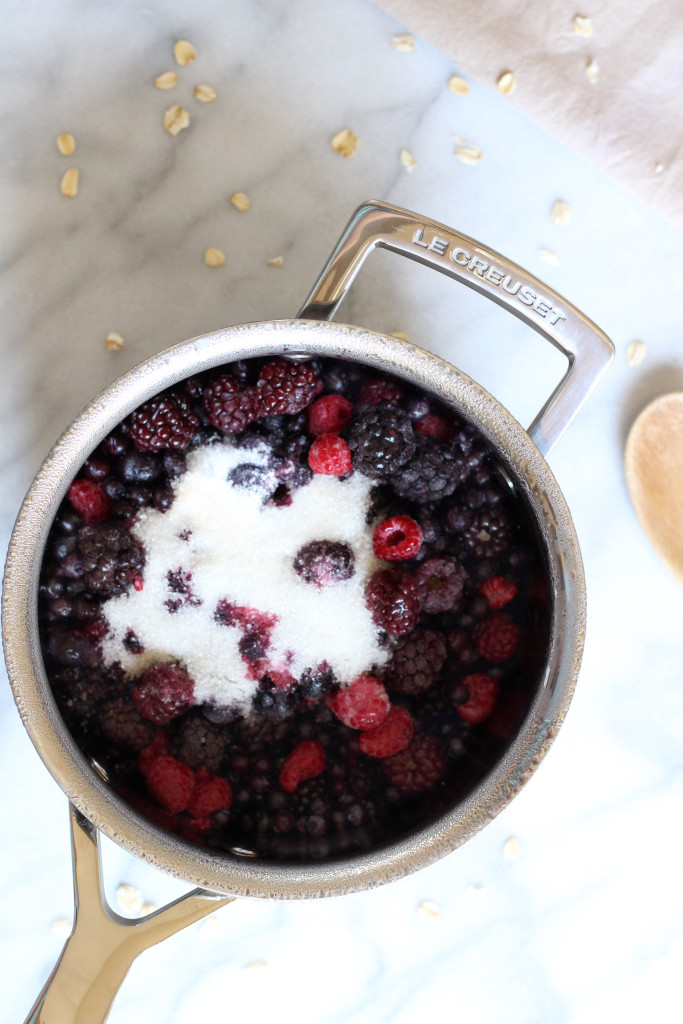 For the berry filling, I used a mix of frozen blueberries (specifically wild boreal blueberries from Trader Joe's, because, tiny berries! squee!), raspberries, and blackberries. A wee bit of sugar and cornstarch turns the berries into a perfect compote, which I'm already dreaming up other uses for… swirled into oatmeal, spread on toast. I highly recommend you use frozen as opposed to fresh berries. I tried it both ways and hands down preferred the frozen. The fresh berries don't break down enough to achieve the jammy consistency we're going for here. I'm not complaining though, I felt kinda bad turning lovely fresh fruit into a jam, and with frozen, you can easily make these bars year round.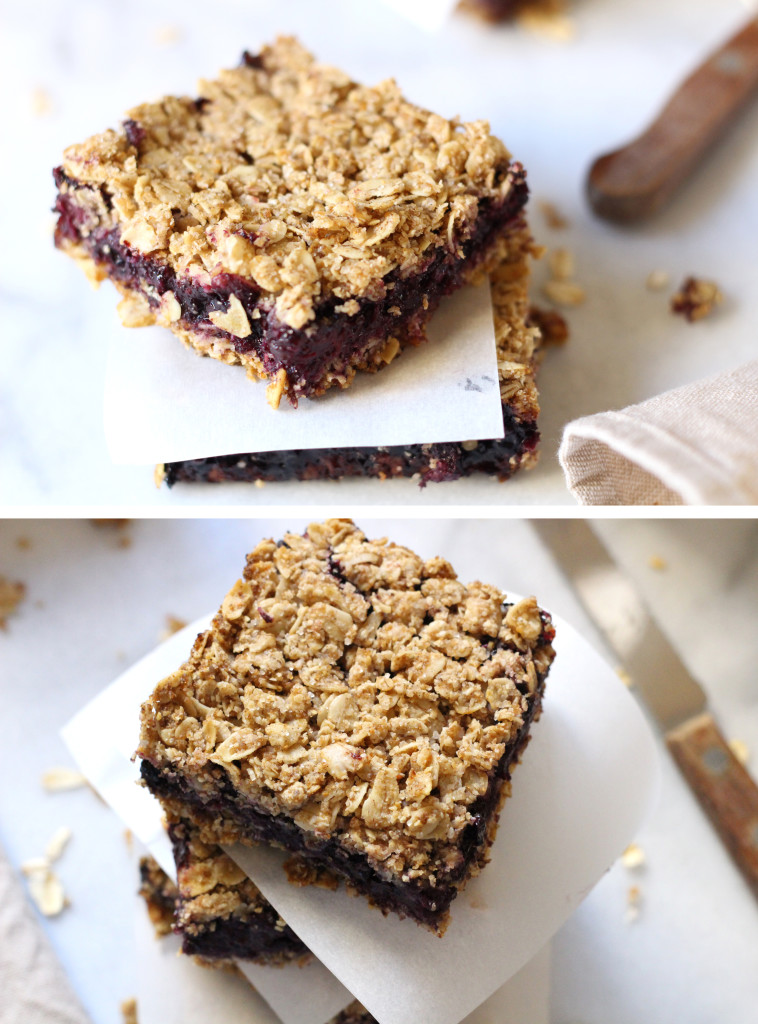 The base for these bars is pure oats, half of which are pureed into a fine flour in a food processor. You could use premade oat flour, but it's so easy to make your own and way cheaper to boot. If you're strictly gluten free, be sure to use certified gluten free oats. The sugar in the oat mix is half white and half brown sugar. I experimented with subbing maple syrup for what was originally all white sugar with less than stellar results. The bars were way too soft and lost all of their chewiness. I finally settled on an equal mix of brown and white. Like maple syrup, the molasses in brown sugar creates extra moisture, resulting in a slightly softer baked good, but the white sugar ensures it retains a healthy amount of chew. The addition of brown sugar also lent a richer, more well rounded flavor and pretty, golden color. The consensus from my official taste testers – hey, mom! hey hubs! – was that the brown sugar version was tops.
Now, let's get baking.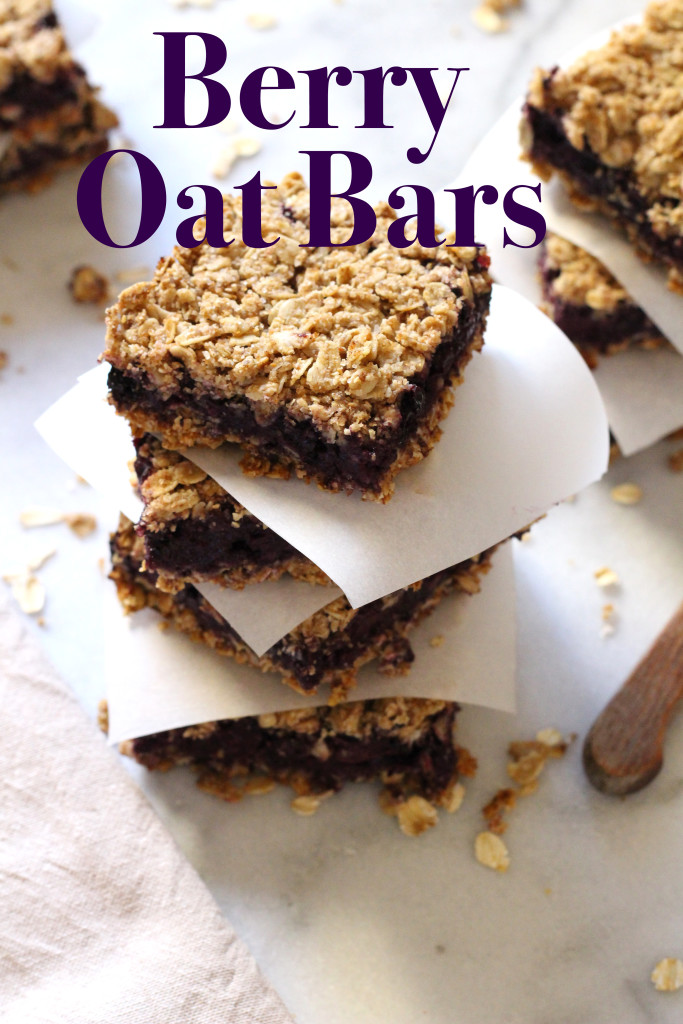 Berry Oat Bars
2015-06-08 16:08:14
Makes 9 bars
Ingredients
4 cups rolled oats
4 cups frozen mixed berries (any combination of blueberries, strawberries, raspberries or blackberries)
1/2 cup sugar, divided
1/4 cup brown sugar
1/2 cup unrefined coconut oil, melted
1 tablespoon cornstarch
2 teaspoons baking powder
1/2 teaspoon ground cinnamon
1/4 teaspoon sea salt
Instructions
Preheat oven to 375 F. Line a 8 x 8 inch baking pan with parchment paper. Put 2 cups oats in a food processor and blend for approximately three minutes until they take on the consistency of flour. Combine with remaining two cups oats, 1/4 cup white sugar, 1/4 cup brown sugar, baking powder, sea salt and cinnamon. Add melted coconut oil to mixture and stir until well combined.
Measure out 2 cups of mixture and spread over the bottom of the parchment lined pan, using your fingers to press down firmly. Bake for 10 - 15 minutes until the oats just begins to brown. Allow to cool for at least 15 minutes.
Meanwhile, place berries and remaining 1/4 cup sugar in a saucepan over medium high heat. Bring to a boil and then simmer for 10 minutes. After 10 minutes, add tablespoon cornstarch and simmer 5 minutes more until compote is thickened. Remove from heat and allow to cool.
Once the oat mixture and berries are slightly cooled, spread berry compote over oats and top with remaining oat mixture. Using your hands or a spatula, press down on the oats. Bake for 40 - 45 minutes. Remove from oven and allow to cool completely (about 2 hours) before cutting into 9 squares. Store in the refrigerator and serve slightly chilled or at room temperature.
The Mostly Vegan http://www.themostlyvegan.com/