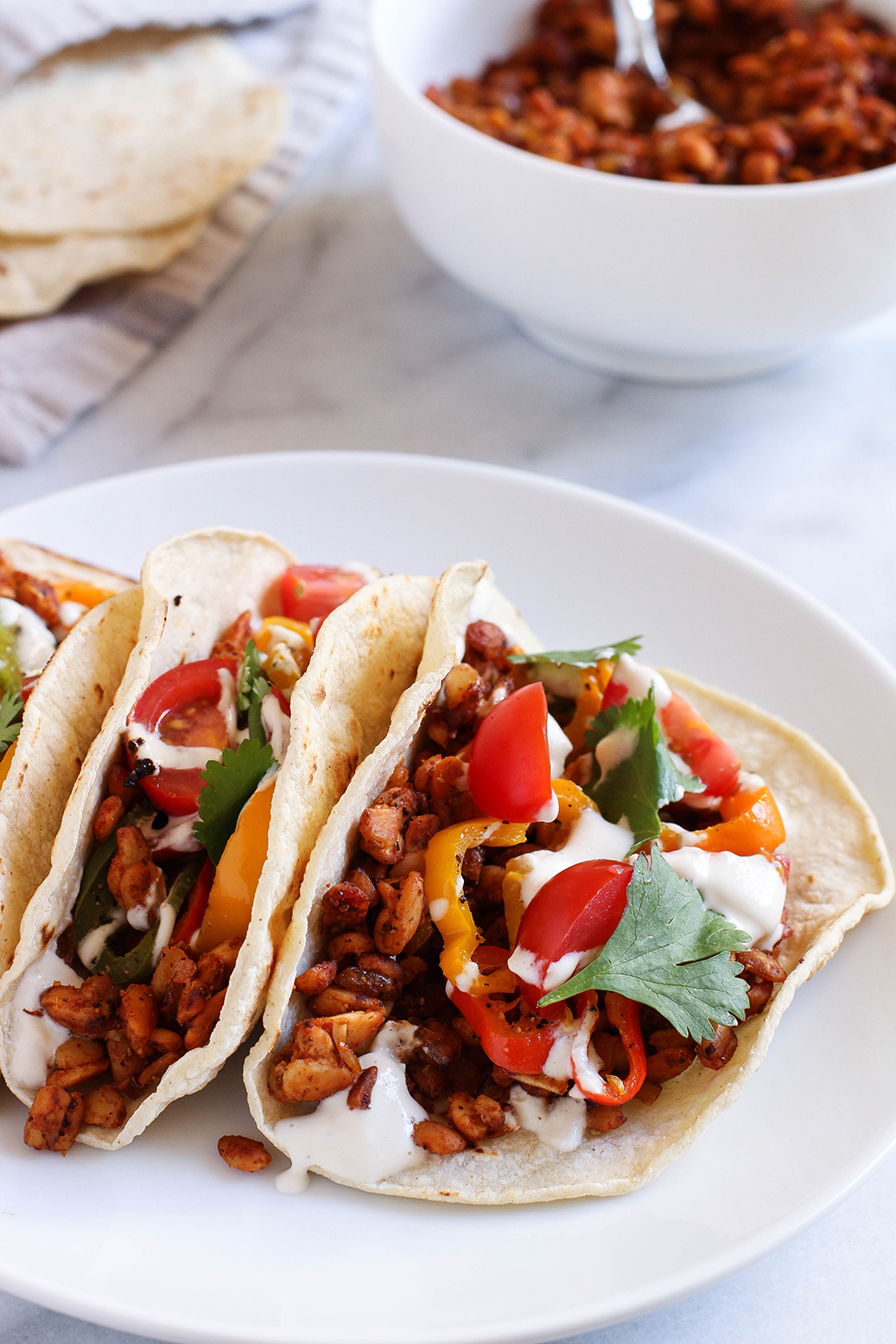 Confession. I may be addicted to this 20 Minute Tempeh Taco Meat. I know, I know…. I basically confess a new food obsession every week, but this is a next level food craving. I mean, I've made this taco meat – and various accompanying taco toppings – three times in the last week. And I'll probably make them again tonight.  Maybe tomorrow night too. They're just so damn easy to make, and most importantly, they satisfy those intense taco cravings (you know the ones) in one delicious, plant-based fell swoop.  Three cheers for the weirdness that is fermented soybeans!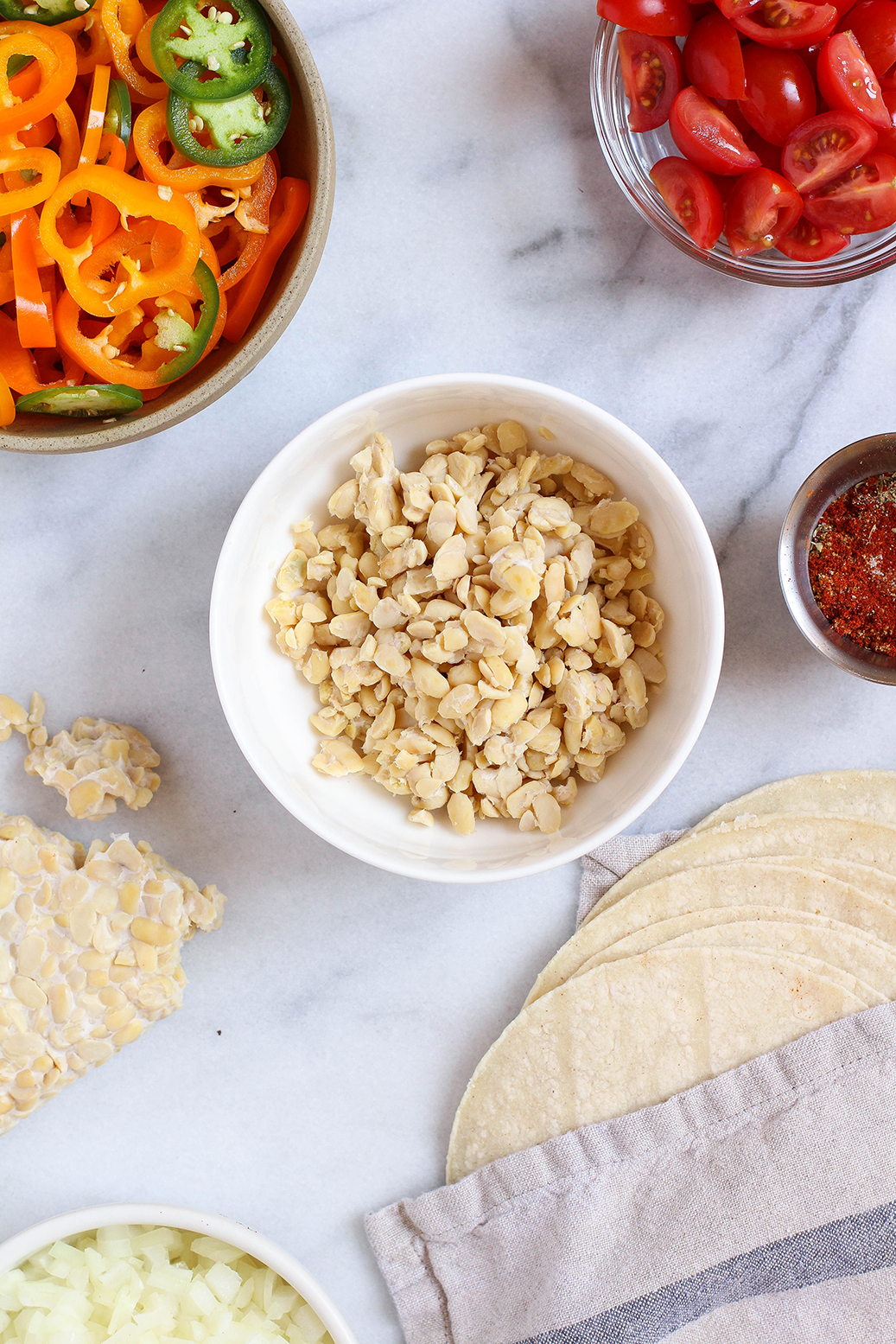 To whip up, simply crumble a block of tempeh and saute in oil with diced onion before adding classic taco spices and a little bit of water to bring everything to a simmer.  The "meat" is then cooked for about 10 minutes to allow all those spices to really sink in.  Yup, it's basically just how you remember making ground beef into savory taco meat using those pre-made seasoning packets.  Just way healthier, and because tempeh is kind of – how should I put it? – humble in the flavor department all on its own (kind of like jackfruit), it's the perfect vehicle for absorbing whatever flavors you choose. (See my Barbecue Ranch Tempeh Burgers.) After you prep the tempeh,  how you enjoy it is up to you.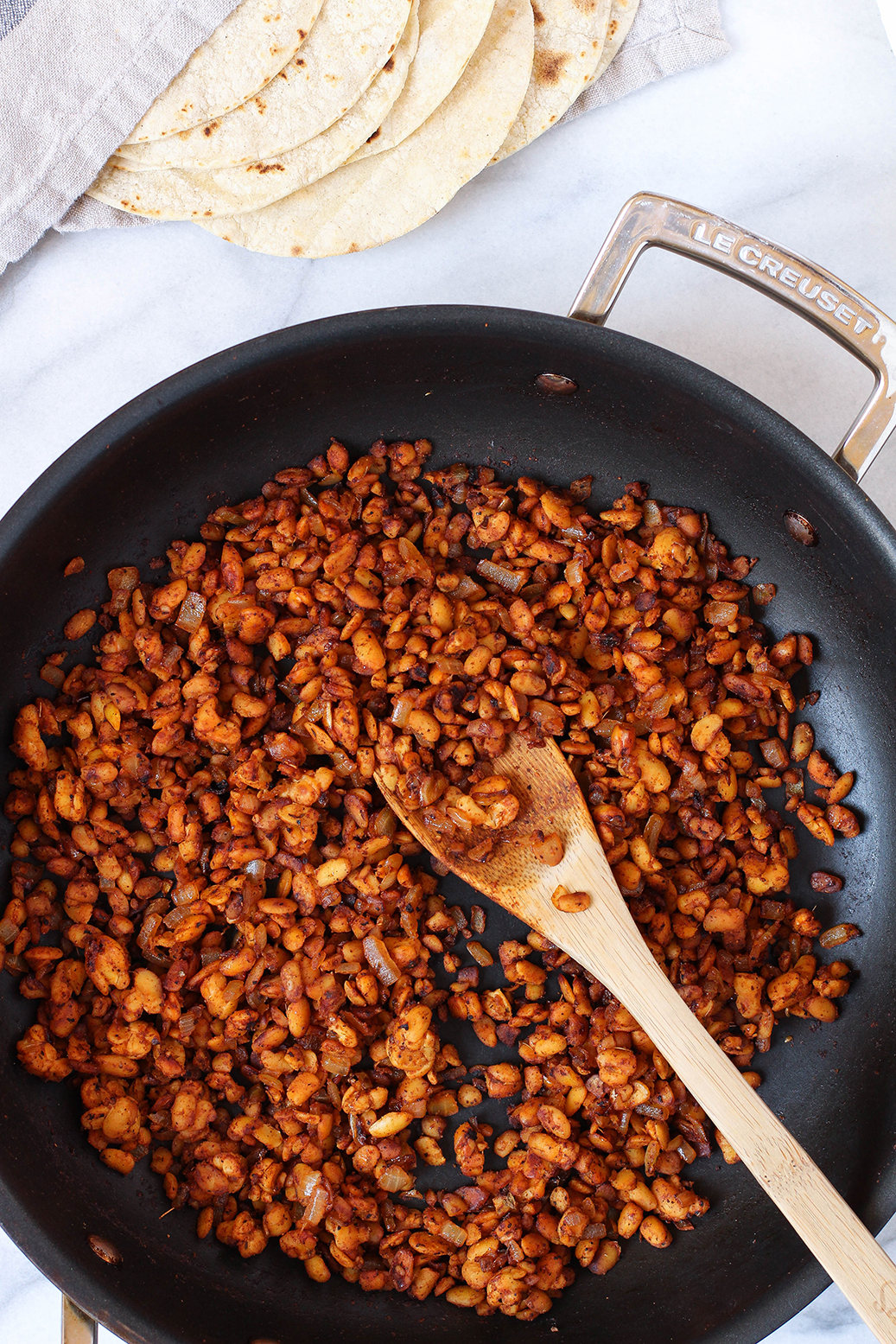 My current fave tortilla and topping combo? Charred corn tortillas, cashew sour cream, a drizzle of hot sauce, quick sauteed peppers and jalapenos, chopped cherry tomatoes, and cilantro.   It's soooo good!  But feel free to make these your own. Guacamole would be awesome on top or maybe some grilled corn with a drizzle of my Southwest Dipping Sauce for a little bit of sweetness to offset the spiciness of the tempeh.  You could even go the burrito route, tempeh taco meat with black beans and rice inside a big 'ol flour tortilla.  Ok, new obsession officially identified.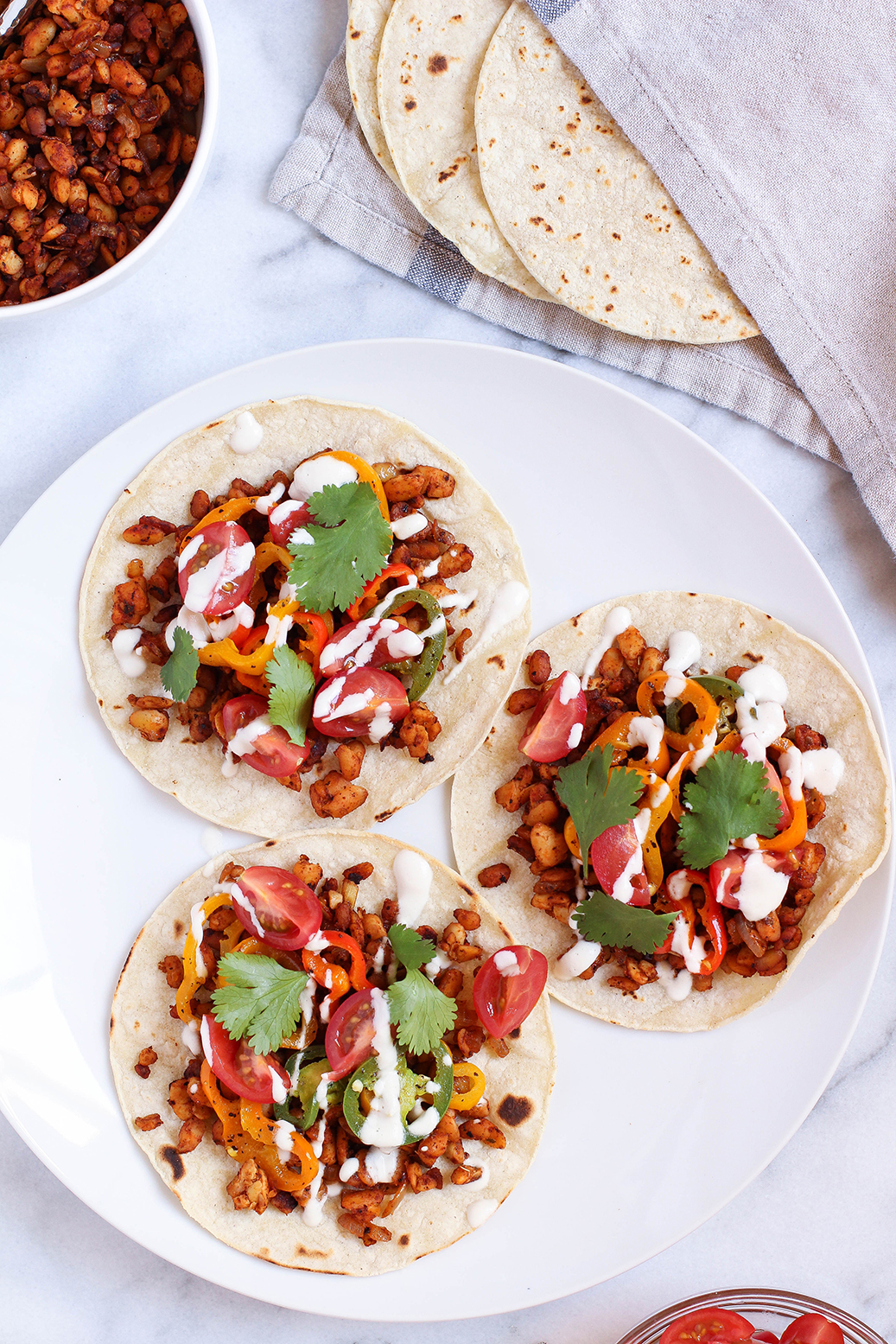 20 Minute Tempeh Taco Meat
Makes enough taco meat for 8 tacos, serves 2 to 3.
Ingredients
8, 5 - 6" corn tortillas
8 ounces tempeh
¼ yellow onion
1 tablespoon extra virgin olive oil
2 teaspoons chili powder
1 teaspoon cumin
½ teaspoon paprika
¼ teaspoon garlic powder
¼ teaspoon oregano
¼ teaspoon cayenne
¼ teaspoon black pepper
½ teaspoon sea salt
Optional Taco Toppings
Instructions
Heat olive oil in a pan over medium-high heat. Use your hands to break the tempeh into small pieces.
Add onion to pan and cook until just softened, about 3 minutes. Add tempeh to pan and cook until it begins to brown, 5 - 7 minutes. Add spices to pan along with ⅓ cup of water. Stir mixture to evenly coat tempeh with spices. Continue to cook until water is completely absorbed and tempeh begins to brown and get crispy on the edges, 10 - 12 minutes, stirring occasionally to prevent sticking.
While the tempeh cooks, heat your tortillas in a small skillet over medium-high heat. Warming on each side for about 2 minutes.
To serve, spoon tempeh into warmed tortillas and pile on your desired toppings.