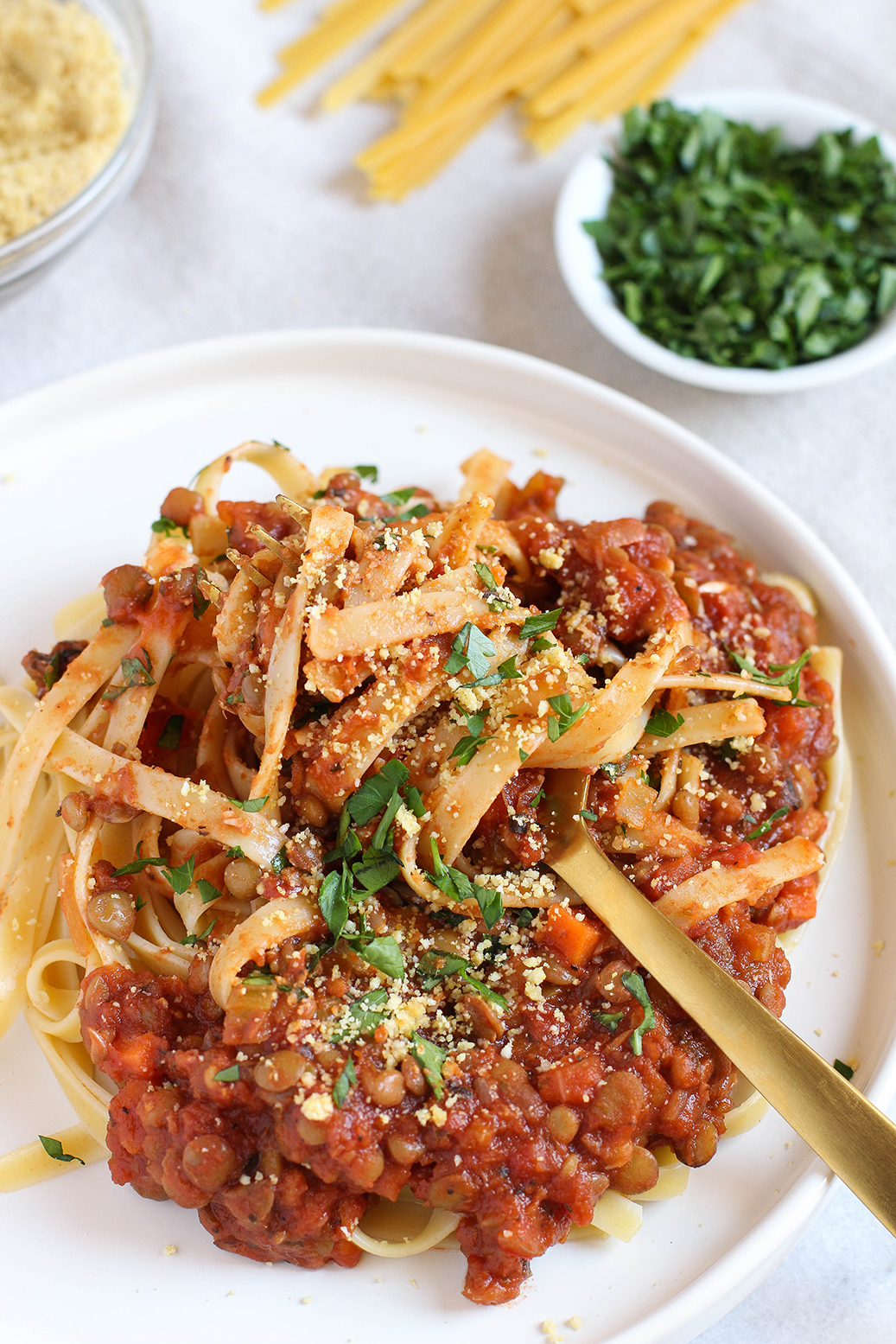 It's finally starting to feel like winter here in Southern California and I'm pretty excited about it. Ok, maybe 65 degrees in December isn't what the average person would deem sweater weather, but I think it's positively chilly. With cooler temps comes the hankering for warming, hearty meals. And carbs. All the carbs. Soups, stews, and pastas have been showing up more and more in our weekly dinner rotation, which is where this Weeknight Lentil Bolognese comes in.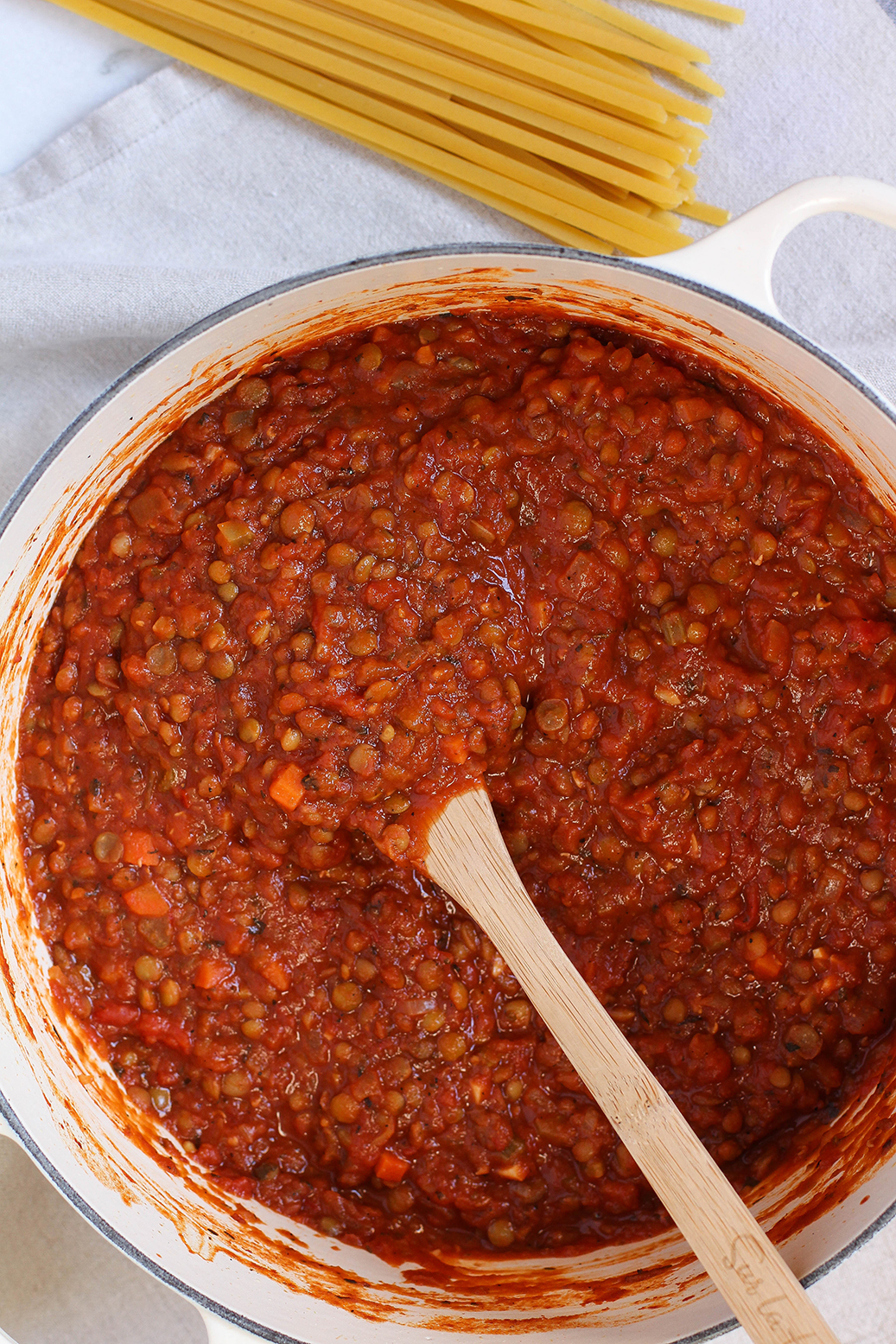 I've been working on this recipe for awhile, well before temps started to dip, cooking up a pot every other week or so and making changes until I got it just right. Because the recipe is inspired by the traditional Bolognese – you know, of the meat variety – that I used to make before transitioning back to vegetarian and then vegan eating, changes had to be made. I started by prepping the lentils, simmering in veggie broth and herbs so that they're infused with tons of flavor before being stirred into the sauce. I added onion, carrots, and celery – all absent from my original recipe – to build in even more flavor. I switched out white wine for the red in the original to tone down the acidity that used to be balanced by the fat in the meat. A touch of brown sugar and vegan Worcestershire sauce round out the tweaks. It all comes together to make one delish vegan Bolognese.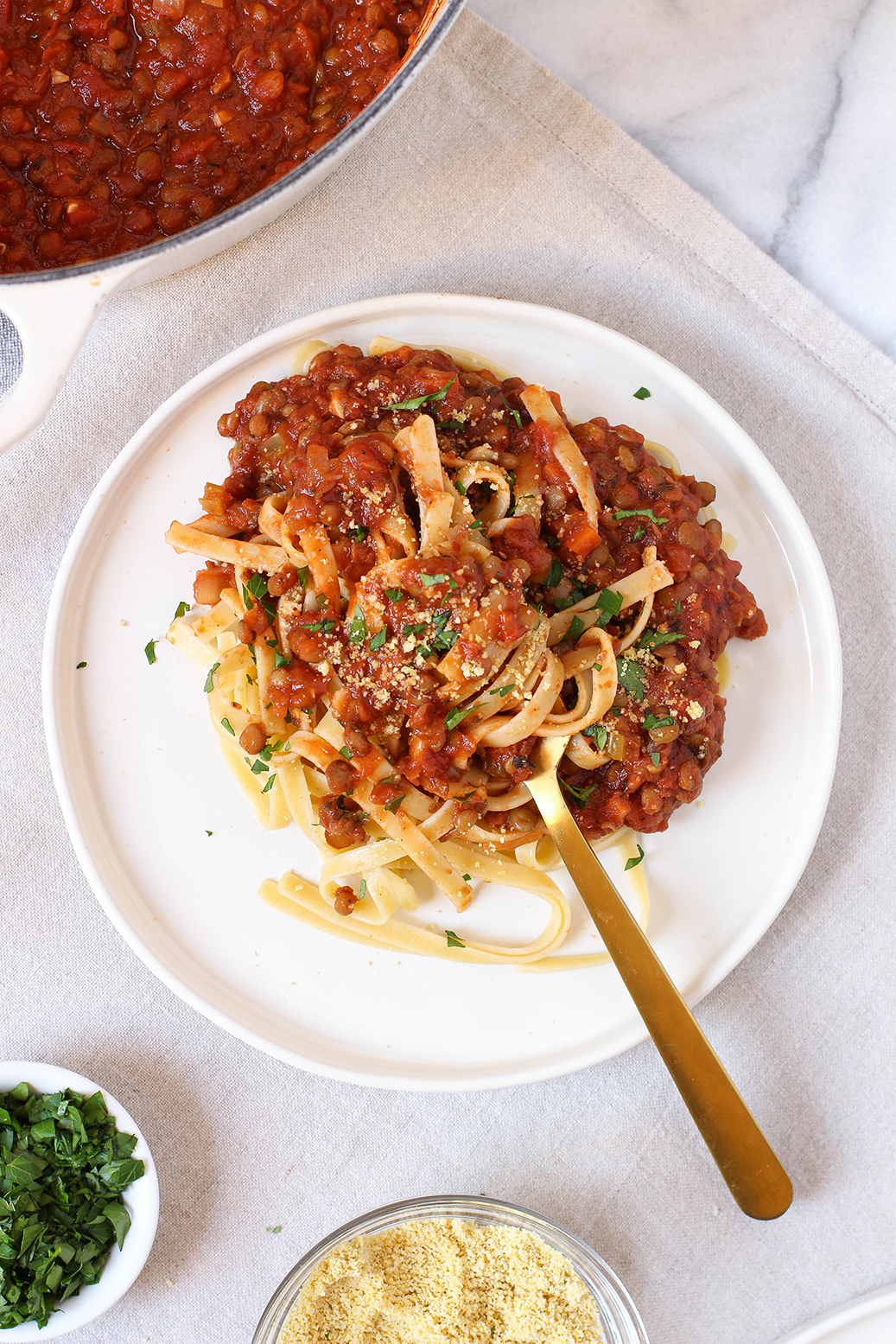 I'm calling this weeknight lentil Bolognese, because if you prep the lentils the day before (or the morning of between showering and eating your breakfast), this sauce comes together in just over 30 minutes. Which means you can have a crazy good, healthy meal packed with classic Italian flavors on the table even after a hectic work day. Just like my Weeknight Marinara, this sauce also tastes amaze over more than just pasta. Pour it over a baked potato with steamed broccoli for a gluten free option, or stuff the filling in cabbage leaves and bake in tomato sauce for a vegan take on cabbage rolls (we actually do that a lot). The possibilities are endless, but for now, pasta is calling. And maybe some Gremolata Garlic Bread too.

Weeknight Lentil Bolognese
Serves 6.
Ingredients
Lentils
1 cup dry green or brown lentils
2 cups low sodium vegetable broth
1 bay leaf
½ teaspoon dried oregano
½ teaspoon dried basil
½ teaspoon sea salt
½ teaspoon black pepper
Bolognese
2 tablespoons extra virgin olive oil
1 cup yellow onion, diced
½ cup carrots, finely diced
½ cup celery, finely diced
4 cloves garlic minced
2 teaspoons dried oregano
1 teaspoon dried basil
1 teaspoon sea salt
½ teaspoon black pepper
¼ teaspoon crushed red pepper flakes
2 teaspoons organic brown sugar
½ cup dry white wine
1 tablespoon tomato paste
1 tablespoon vegan Worcestershire sauce (sub with coconut aminos to make gluten free)
1, 28 ounce can crushed tomatoes
⅛ teaspoon ground nutmeg
1 pound dried pasta of your choice
fresh parsley and cashew parmesan for serving
Instructions
Lentils
Combine lentils, vegetable broth, bay leaf, oregano, basil, salt and pepper in a small pot. Bring to a boil then lower to a simmer and cook covered until lentils are very soft, 40 - 50 minutes. Remove from heat and allow lentils to cool. Do not drain. Lentils can be prepared one day in advance. Allow to cool completely before storing in the refrigerator.
Bolognese
Heat olive oil in a large pot over medium-high heat. Add onions, carrots, celery, garlic, oregano, basil, red pepper, salt and black pepper to pot and cook until vegetables are very soft, about 10 minutes. Add brown sugar and cook 1 minute more. Add white wine to pot and stir to scrape up browned bits. Continue to simmer until most of the wine cooks off, about 5 minutes.
Add tomato paste and Worcestershire sauce to pot and cook 1 minute more. Add crushed tomatoes, prepared lentils, and nutmeg. Bring to a boil, then lower to a simmer and cook partially covered for 20 to 25 minutes.
While bolognese simmers, prepare pasta according to package directions.
Season bolognese with salt and pepper to taste and serve hot over prepared pasta. Garnish with freshly chopped parsley and cashew parmesan if desired.