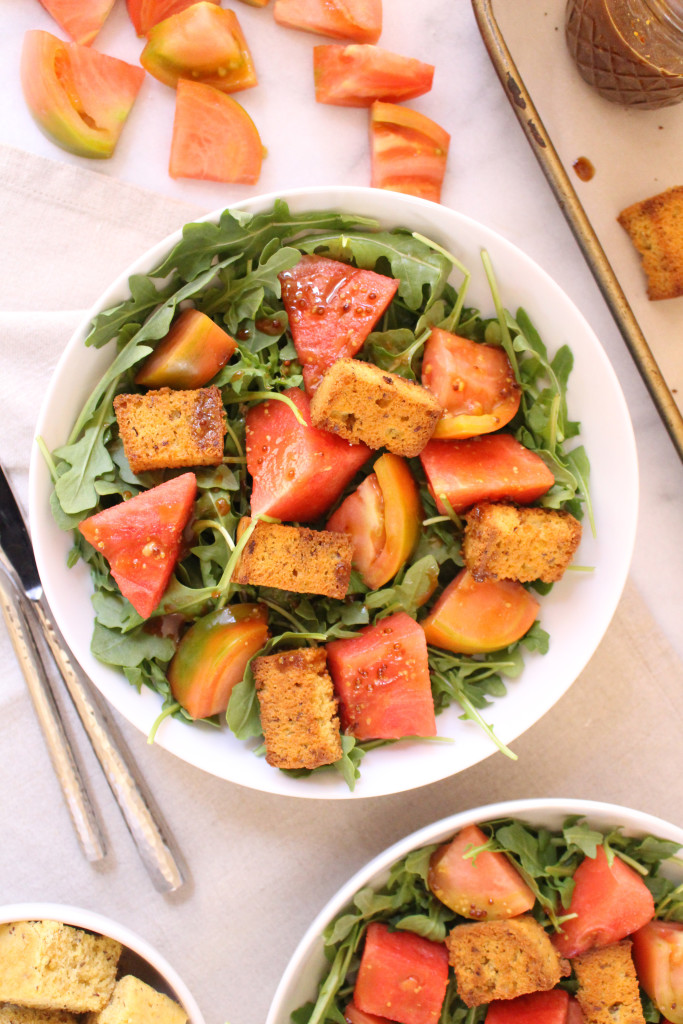 With 4th of July right around the corner, it's only fitting that this salad tastes like summer. It's light and refreshing and full of lovely summery things like watermelon, heirloom tomatoes, spicy arugula and a slurp-worthy maple Dijon vinaigrette. The real stars of this salad, however, are the cornbread croutons. Buttery, salty, cornbready goodness. You get the idea.
The motivation for this salad came from my desire to perfect a vegan cornbread. I've always loved cornbread, preferably slathered in warm butter and served alongside veggie chili. This version is light and fluffy, super moist with a bit of a crumb and just the right amount of sweetness. I opted for fine ground corn flour instead of corn meal, to avoid any grittiness. For crouton making convenience, I baked this version in a square pan but it would also make fabulous muffins. I wish I had more photos to share of the actual cornbread, pre-crouton, but the fact is that we gobbled up half a pan while standing in the kitchen. What was left was used for crouton making purposes, one batch to test (you know, quality control), and another for photo ops. I'd make more, but at this point I don't trust myself around a fresh batch. You'll just have to believe me that it looks as good fresh out of the oven as it does toasted into crunchy, crouton awesomeness.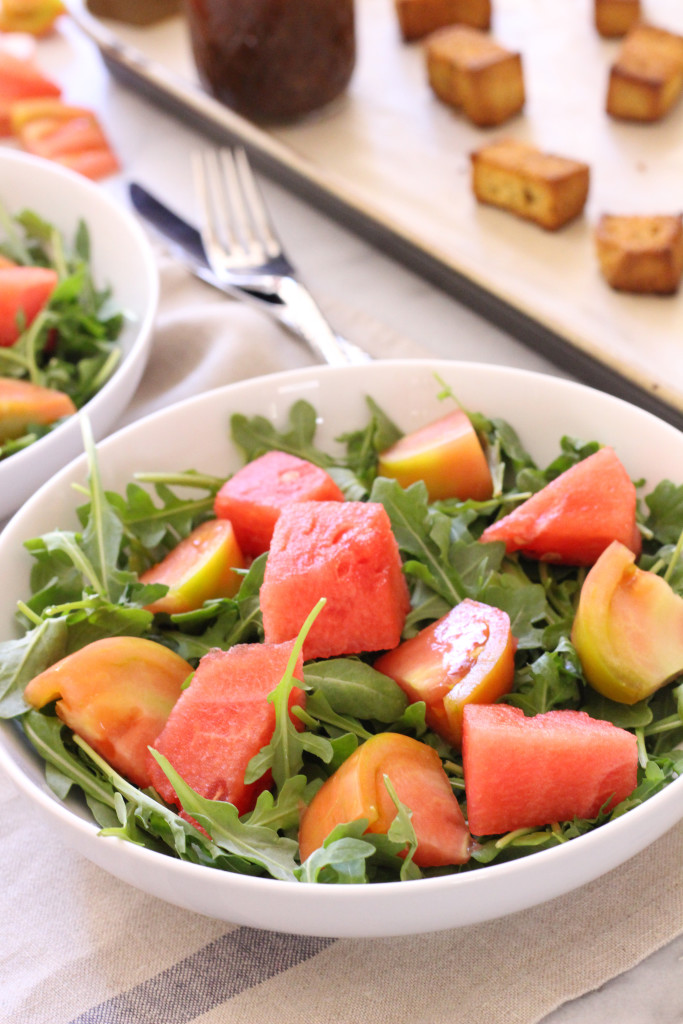 I basically could have called it a day with this cornbread but we had a giant watermelon at home that was quickly heading south of ripe. Hence, watermelon and arugula salad with cornbread croutons. The croutons could not be easier – coated with a little olive oil and roasted in the oven for about 15 minutes – they come out looking like golden squares of yumminess. Accompanying the watermelon are large, gorgeous chunks of heirloom tomatoes and our house favorite maple Dijon vinaigrette. This is our go to dressing – simple and tangy – because it works on all kinds of salads. Sooo, you're really getting four recipes in one post. Cornbread. Croutons. Vinaigrette. Salad. It's a quadfecta. Make one or make them all. Even if burgers and hot dogs are on your 4th of July menu, you still gotta eat some salad, man! Consider this my 4th of July gift to whatever backyard cookout shenanigans you'll be partaking in this year.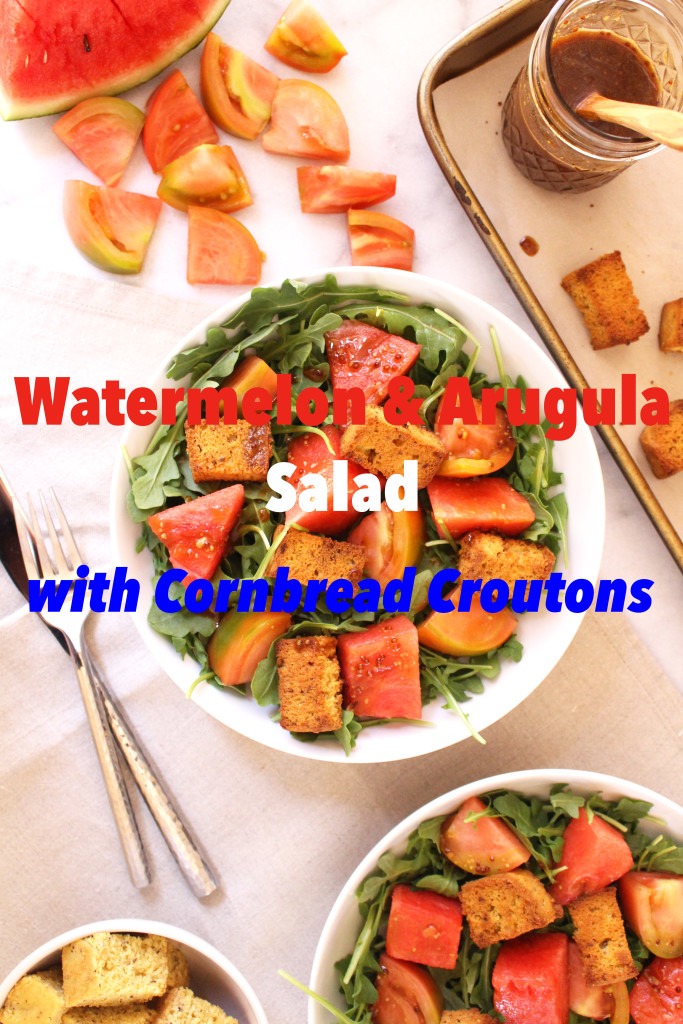 Watermelon & Arugula Salad with Cornbread Croutons
2015-06-25 12:18:28
Serves 2
Ingredients
VEGAN CORNBREAD
1 cup unbleached all purpose flour
1 cup fine ground corn flour
1 cup unsweetened almond milk
1/2 organic sugar
1/3 cup unrefined coconut oil, melted
2 tablespoons ground flaxseed
1 teaspoon apple cider vinegar
1 teaspoon baking powder
1/2 teaspoon baking soda
1/2 teaspoon sea salt
MAPLE DIJON VINAIGRETTE
2 tablespoons olive oil
2 tablespoons balsamic vinegar
1 tablespoon wholegrain Dijon mustard
1 tablespoon maple syrup
1 teaspoon Dijon mustard
WATERMELON & ARUGULA SALAD
1/4 pan prepared Vegan Cornbread, cut into large cubes
3 tablespoons prepared Maple Dijon Vinaigrette
2 large handfuls arugula (roughly 2 cups)
1 cup watermelon, chopped
1 cup heirloom tomatoes, chopped
cooking spray
sea salt
Instructions
VEGAN CORNBREAD
Combine flaxseed with 6 tablespoons water and set aside (this is your flax egg). Add 1 teaspoon apple cider vinegar to almond milk and set aside. Allow both to sit for at least 20 minutes to allow flaxseed to thicken up and almond milk to curdle.
Preheat oven to 350 F. Combine flour, corn flour, baking powder, baking soda and sea salt in a bowl. Whisk until just incorporated. In a separate bowl combine sugar, flax egg, almond milk and coconut oil. Add wet mixture to dry ingredients and mix.
Pour batter into an 8x8 pan lined with parchment paper or coated with cooking oil. Bake for 25 - 30 minutes until a toothpick inserted in the center come out clean. Remove from the oven and allow to cool completely before cutting. Cornbread can be made up to a day in advance.
MAPLE DIJON VINAIGRETTE
Whisk together all ingredients and store in the refrigerator.
WATERMELON & ARUGULA SALAD
Preheat oven to 400F. Coat cornbread cubes with cooking spray and a sprinkle of sea salt and lay out on a parchment lined cooking sheet. Bake for 15 - 20 minutes, flipping every 10 minutes, until golden brown. Allow to cool completely.
To assemble salad, divide arugula, watermelon and tomatoes between two bowls. Top with croutons and drizzle with vinaigrette.
The Mostly Vegan http://www.themostlyvegan.com/