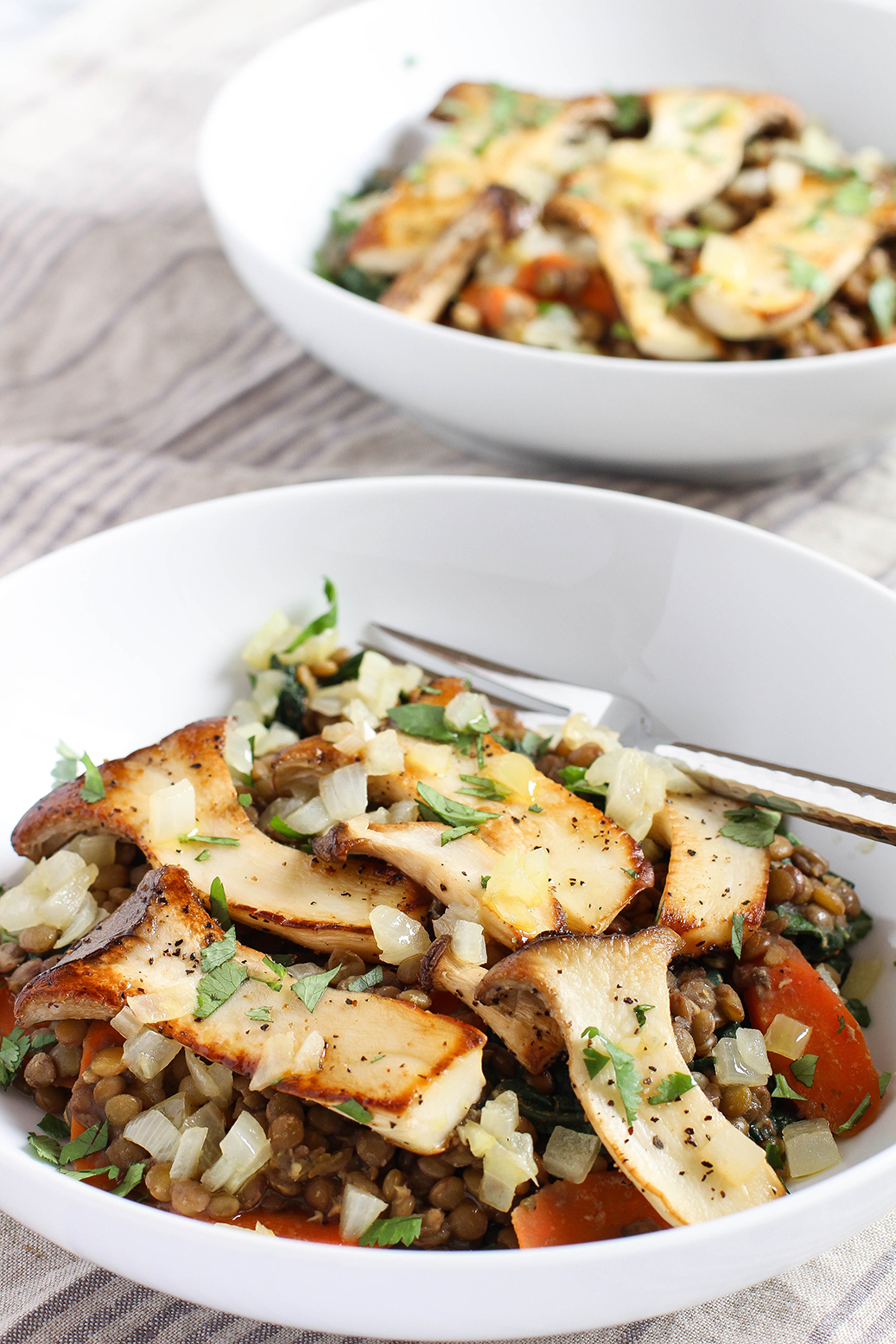 I'm really excited about this recipe you guys. It's crazy easy to make, ridiculously healthy, and most importantly, so damn tasty. Reminiscent of my Cauliflower Steaks with Lentils & Pistachio Mint Pesto, this is one of those dishes you could serve to guests and walk away feeling like a total rockstar veggie chef. I can't get enough of the mix of flavors going on here – earthy, sweet, fresh, tangy – it's like opening day, bases are loaded, and you just know you're going to hit it out of the park (my first and last baseball metaphor, not even sure if I used it right). The all stars (apologies, second and final) of this dish are the trumpet – also known as king oyster – mushrooms. If you've never had them before, they're definitely worth seeking out. I've seen them at Whole Foods, but they're way cheaper and organic to boot from my local Asian market. I'd venture to say that trumpet/oyster mushrooms are the least mushroomy tasting of all mushrooms.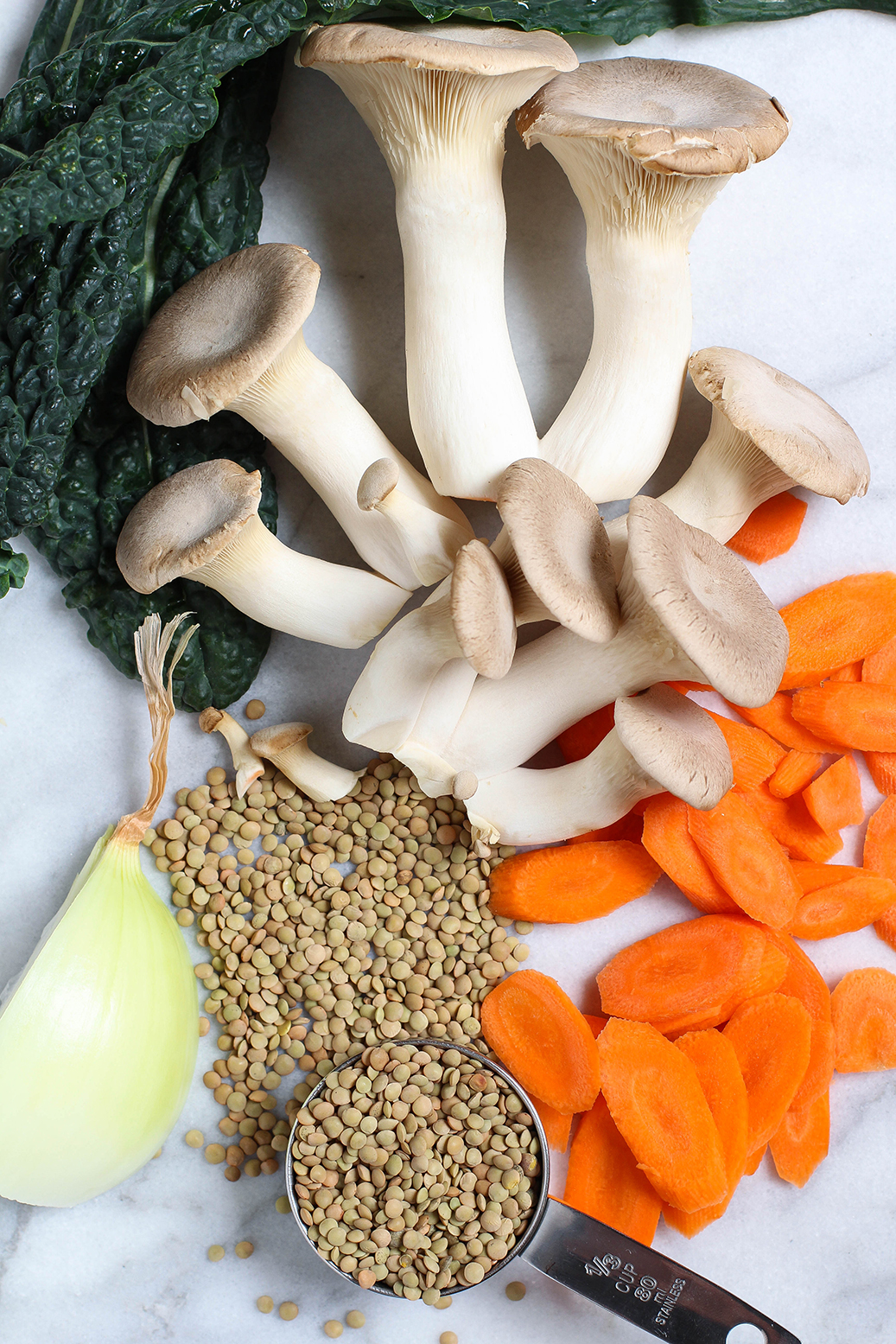 You know what I mean, right? It's the difference between my mushroom apathetic husband being like, "oh….mushrooms for dinner," and "oh! Mushrooms for dinner!" I give them a quick sear in a pan to release some of their moisture but maintain that nice, meaty texture. Mushrooms – especially the Asian varieties like trumpet, maitake, and shitake – are a great source of vitamins B12 and D, two nutrients that vegetarians and vegans can sometimes be lacking in. The mushrooms are laid on top of herbed green lentils, which are mixed with carrots for some sweetness and a bit of lacinato kale for added texture (and because sneaking in extra veggies is always fun). Everyone knows lentils are high in protein, but they're also a great source of iron and folate. See what I meant about this meal being ridiculously healthy.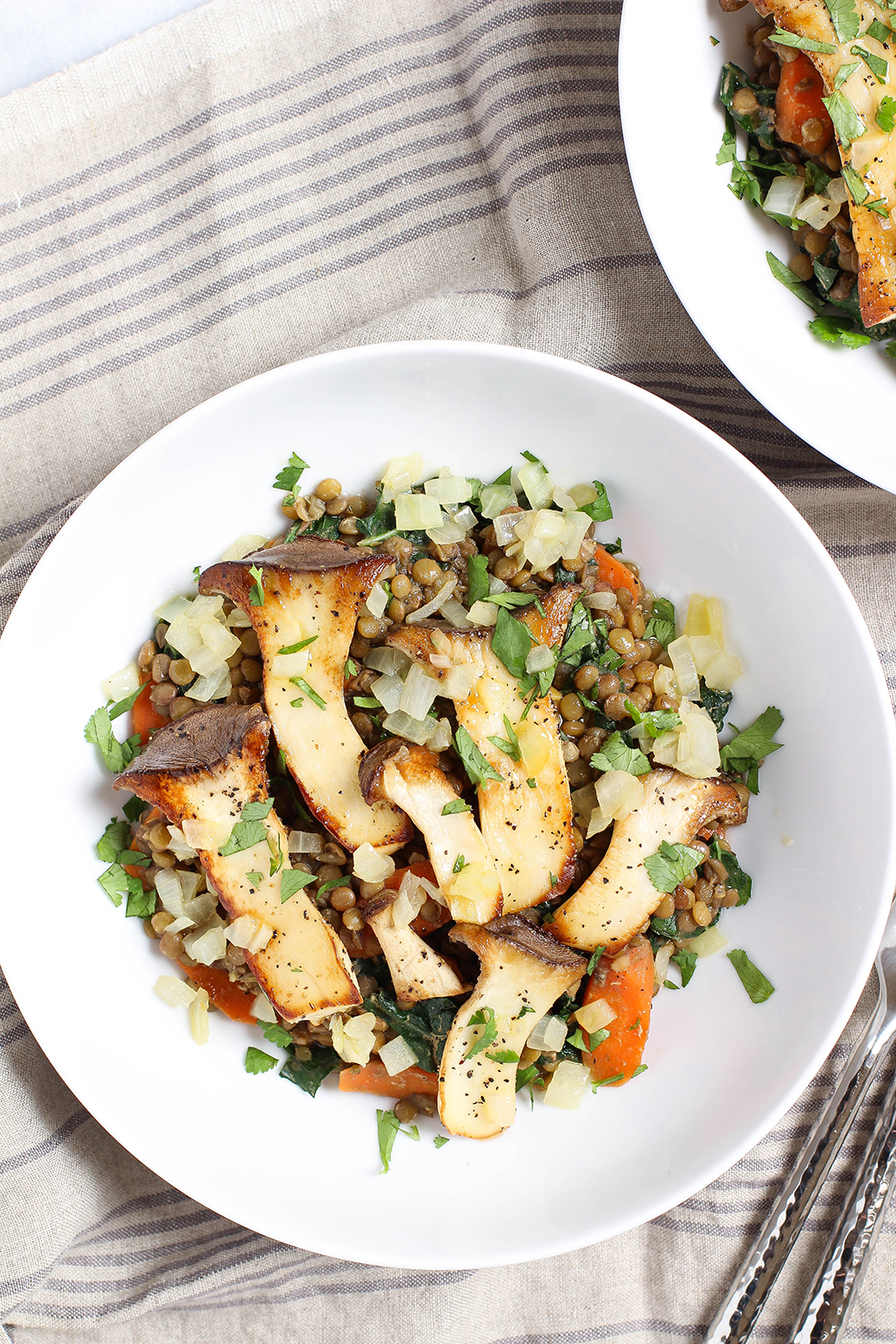 The lentils are the only element of this dish that requires a time commitment (40 minutes of simmering) but you could definitely prep them the day before, just add a little extra veggie broth when reheating to keep everything on the saucy, as opposed to dry, side. And to add even more sauciness, a tangy apple cider vinegar and onion sauce is spooned on top of everything. It makes the perfect foil to the inherent earthiness of the mushrooms and lentils. The sauce takes about 5 minutes to make and could not be simpler. A handful of diced yellow onions are sauteed in some olive oil before adding apple cider vinegar to the pan. Done and done. I know, it might sound a bit weird, but the hint of sour from the vinegar and onions breaks up all that earthiness in just the right way. Trust. This is going to be your new favorite meal.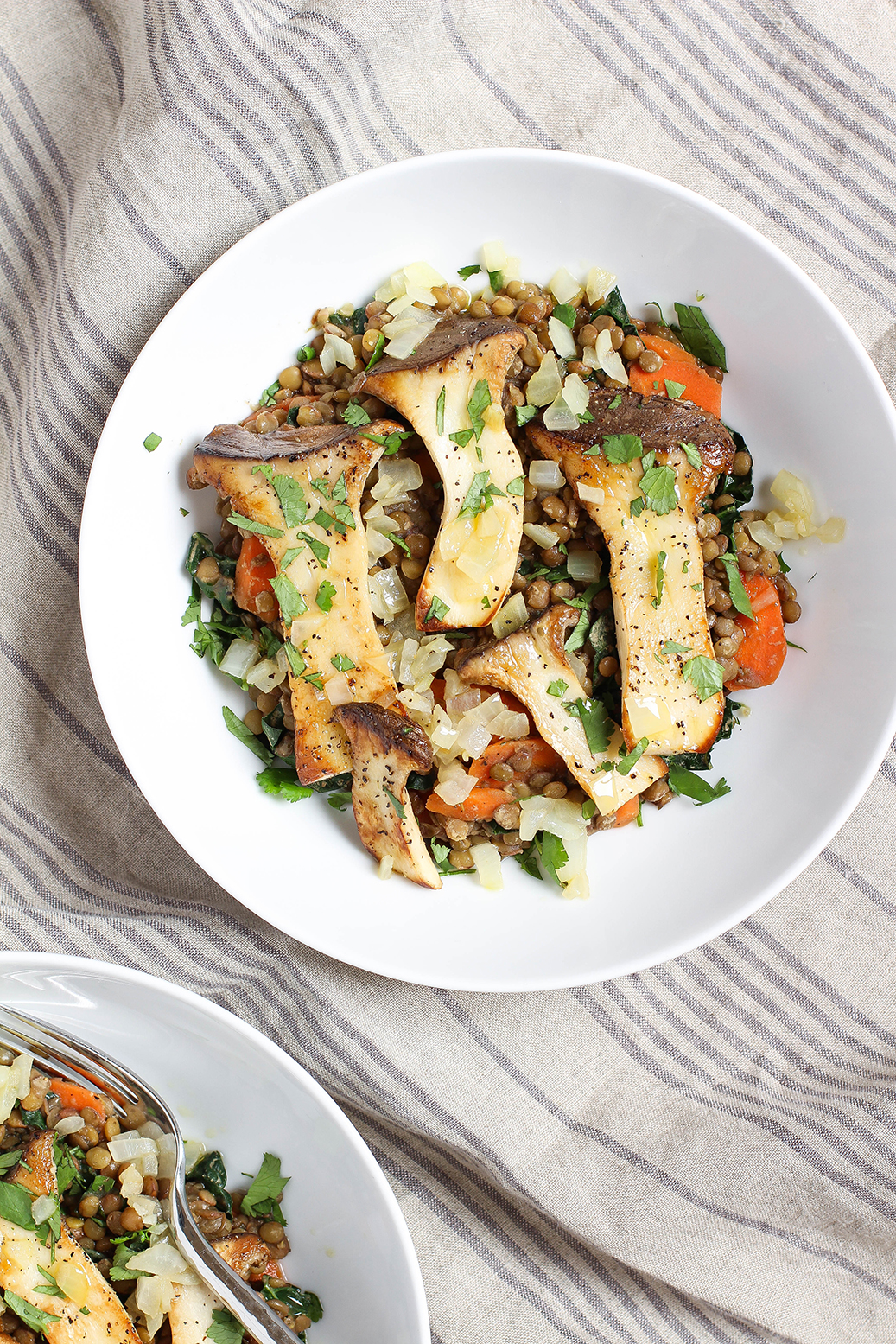 (A quick aside, if you've been following the blog for awhile, you might notice my recipe layout is looking a bit different today. I've had to update to a new recipe plugin after running into issues – like being unable to save recipes! – with my former plugin. I'll slowly be migrating over past recipes to the new format, so expect some design discrepancies from post to post in the meantime.)

Trumpet Mushrooms with Herbed Lentils
Serves 2.
Ingredients
Mushrooms
8 ounces trumpet (king oyster) mushrooms, sliced in half lengthwise
1 tablespoon extra virgin olive oil
sea salt & pepper
Herbed Lentils
2 medium sized carrots, thinly sliced
2 leaves lacinato kale, ribs removed & chopped
⅔ cup green lentils
1⅓ cups low sodium vegetable broth
1 bay leaf
½ teaspoon dried thyme
½ teaspoon marjoram
½ teaspoon black pepper
½ teaspoon sea salt
Apple Cider Vinegar Sauce
¼ small yellow onion, diced
2 tablespoons extra virgin olive oil
2 tablespoon apple cider vinegar
handful chopped cilantro (optional)
Instructions
Herbed Lentils
Combine lentils, vegetable broth, herbs, bay leaf, salt, and pepper in a medium-sized pot. Bring to a boil then lower to a simmer and cook, covered for 30 minutes. After 30 minutes, add carrots to pot. Cover and cook 10 minutes more.
Add kale to pot and stir to mix. Turn off heat and cover. Allow to steam for 5 minutes. Lentils should be tender but still firm. It's ok if the veggie broth is not completely absorbed. You want it to be a bit saucy for serving.
Mushrooms
Once the lentils are almost done cooking, heat 1 tablespoon olive oil in a large skillet over medium-high heat. Add mushrooms to skillet (flat side down) and season with salt and pepper. Allow to cook until just starting to brown, 2 to 3 minutes.
Flip mushrooms over and use a spatula to press mushrooms down so that they brown evenly. Season with salt and pepper again and cook for 2 to 3 minutes more. Remove mushrooms from pan and lay on a plate lined with a paper towel to soak up any moisture.
Apple Cider Vinegar Sauce
Wipe out pan from mushrooms and add 2 tablespoons olive oil. Heat over medium and add onions to pan. Cook until onions are translucent, about 5 minutes. Turn off heat and add apple cider vinegar to pan.
To serve, divide lentil and veggie mixture between two plates. Lay mushrooms on top of lentils and spoon over vinegar sauce. Garnish with cilantro and serve warm.