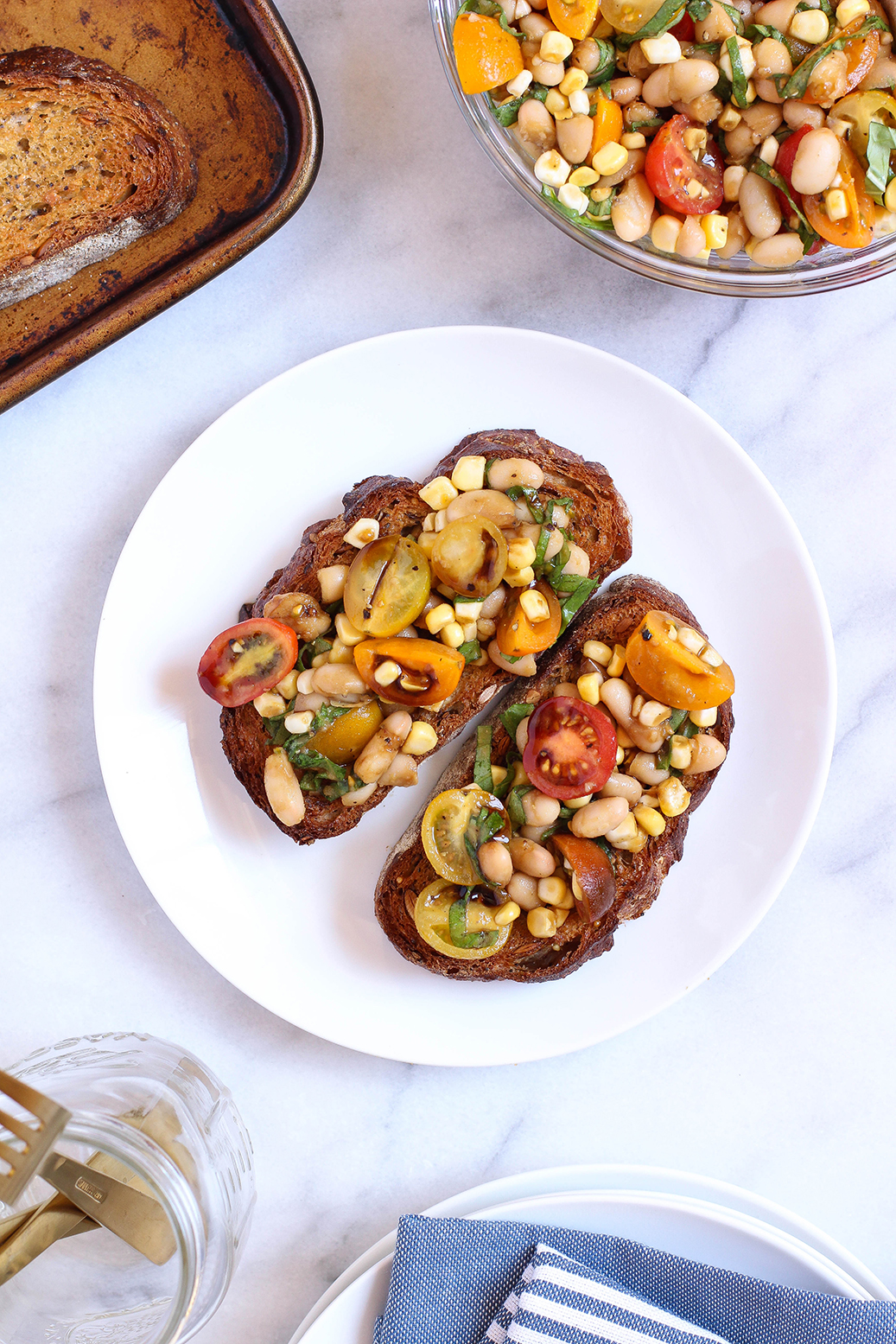 Prepare yourself, you're going to be making this salad on repeat all summer long.  Mainly because it's delicious, refreshing and basically tastes like summer in a bowl – or piled high on a slice of crusty bread – but also because it literally takes less than 10 minutes to whip up.  I kid you not.  This is a no-cook meal, and don't be fooled, I may be calling it a salad but those protein-packed cannellini beans will keep you full and satisfied for hours.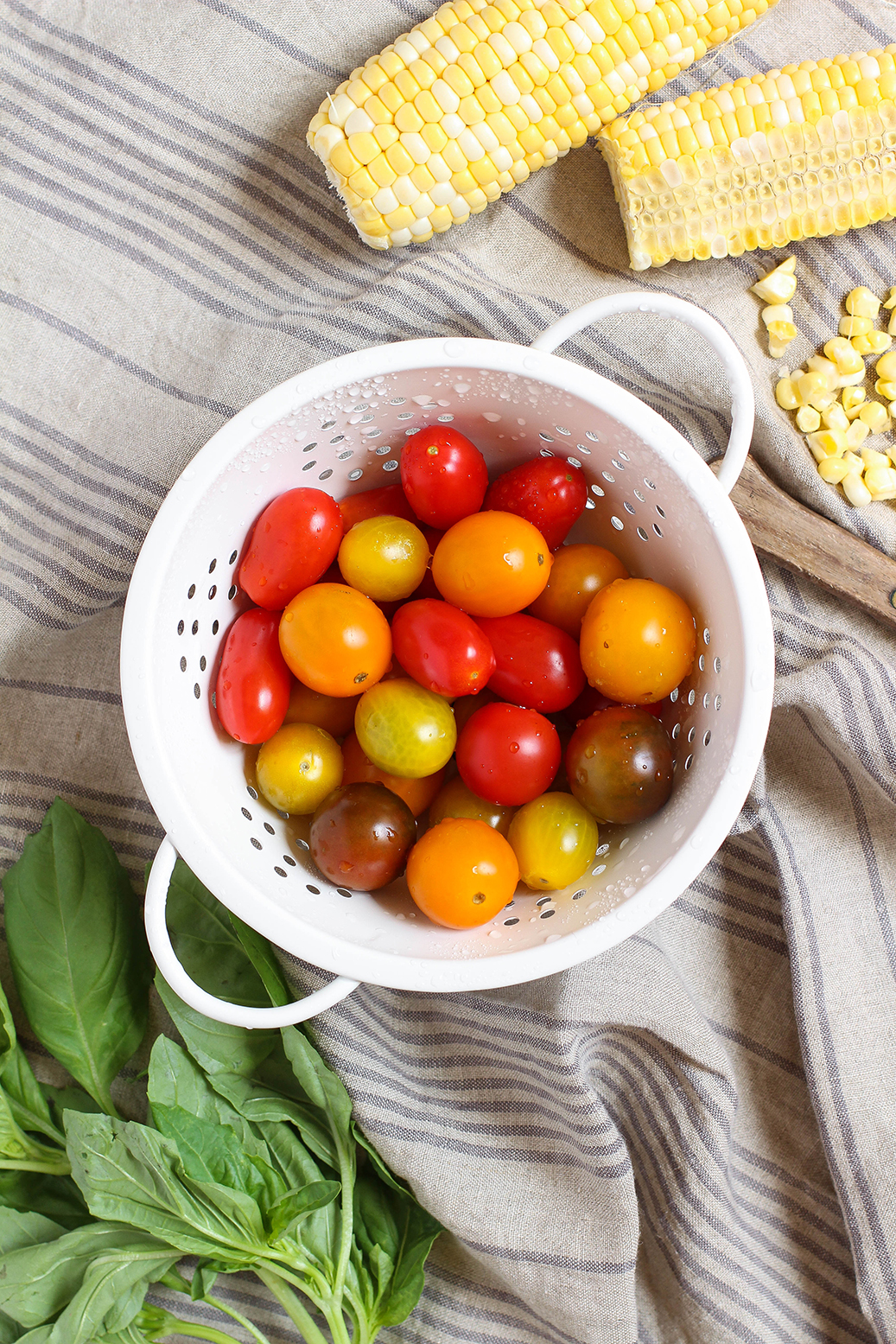 Besides the cannellinis, the other five ingredients that comprise this salad are sliced cherry tomatoes (use heirlooms if you can get your hands on them), an ear of fresh corn – sliced right off the cob and tossed in raw – ribbons of basil, a tablespoon of extra virgin olive oil, and an equal glug of aged balsamic vinegar.   That's right, this whole salad comes together with only one tablespoon of olive oil, so it's obnoxiously healthy too.  Just be sure to use a quality olive oil – I love this one – and an equally good balsamic, like this one or this one, if you're feeling real fancy.  A generous sprinkle of freshly cracked sea salt and black pepper is the only seasoning you need. How you serve it is up to you.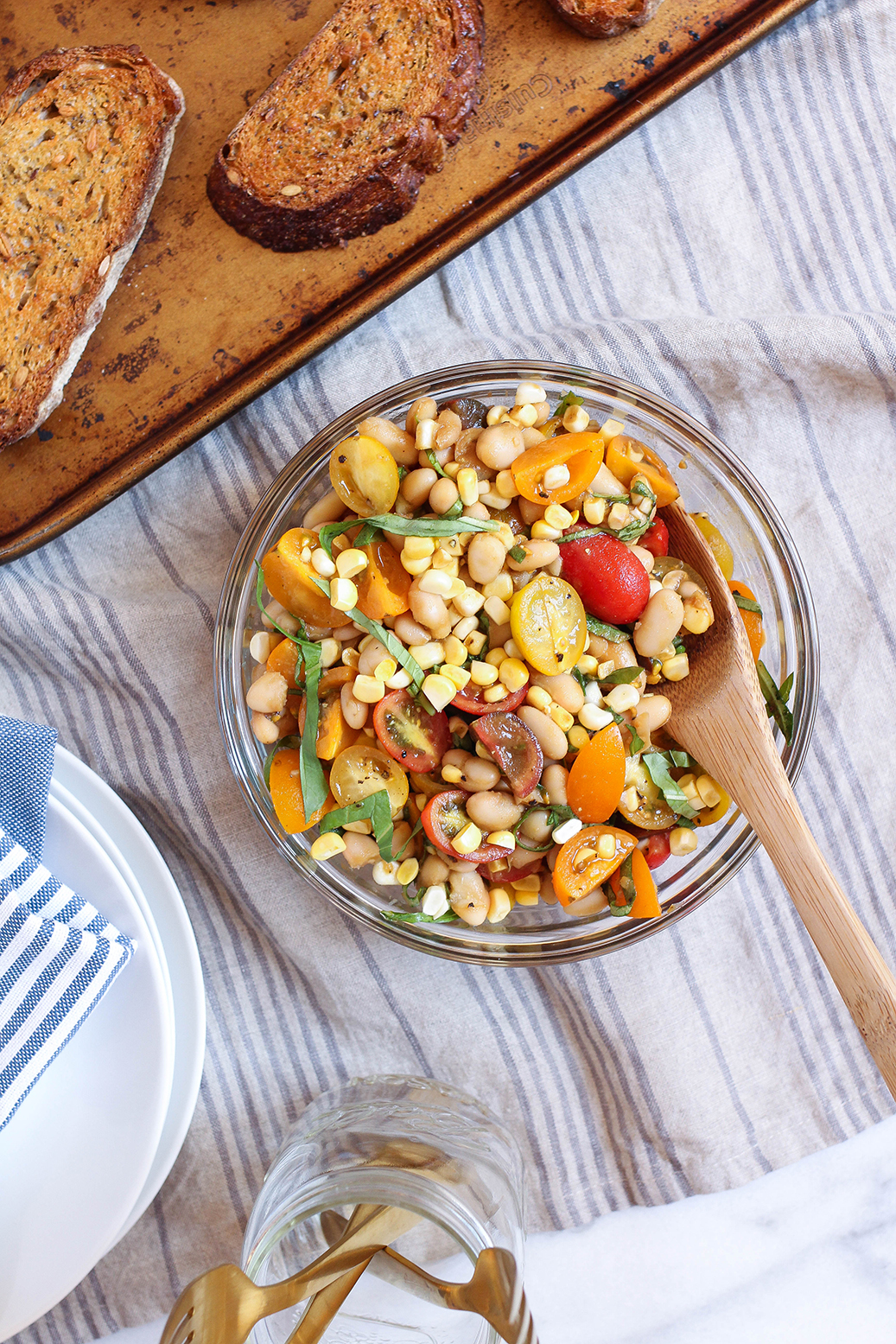 I'm currently digging it spooned on top of toasted thick-sliced whole grain bread, bruschetta style, but it's also delicious scooped up with freshly grilled pita or eaten all on its own.  The creaminess of the cannellinis pairs perfectly with the sweet tomatoes and the fresh corn provides just the right crunch. It's the  basil that really makes this salad shine though. As far as I'm concerned it should be rebranded as the official herb of summer. While this salad will be a welcome addition at your next barbecue, it also keeps remarkably well in the fridge for days, making it ideal for lunches all week long.  However you choose to eat it, you're going to want to make it.
For more summery salad inspiration, check out my Spicy Broccoli Salad with Peanut Dressing and my Very Green Pasta Salad, that's tossed with an out of this world pistachio mint pesto.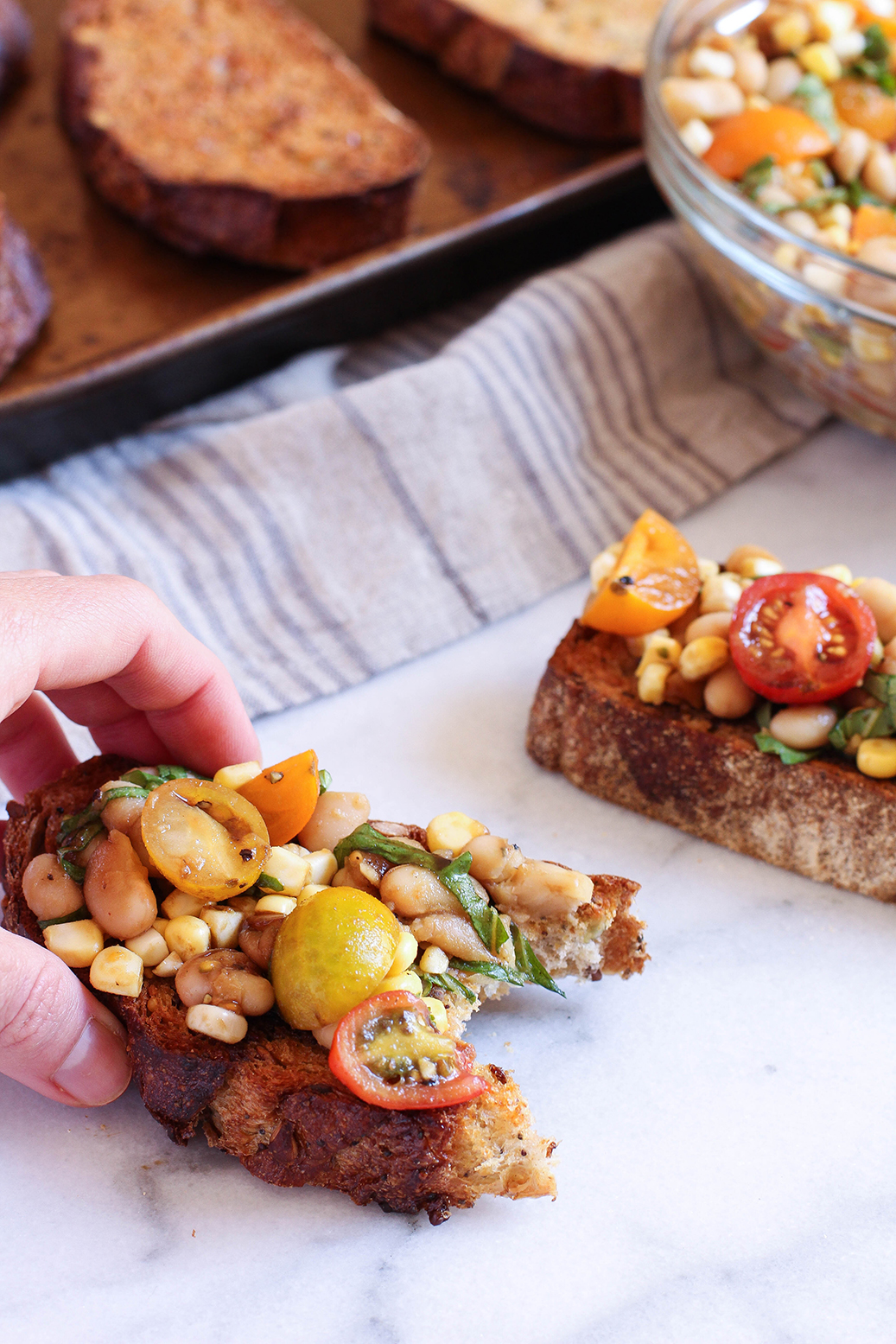 Summer Corn, Tomato & White Bean Salad
Makes about 4 cups.
Ingredients
1, 15 ounce can cannellini beans, drained & rinsed*
2 cups cherry tomatoes, halved or quartered if larger
1 ear fresh corn
large handful fresh basil, julienned
1 tablespoon extra virgin olive oil
1 tablespoon aged balsamic vinegar
freshly cracked sea salt & black pepper
Instructions
Use a knife to cut corn kernels off of the cob. Combine corn in a bowl with tomatoes and cannellini beans. Drizzle with olive oil and balsamic vinegar and stir to coat. Season generously with salt and pepper and sprinkle with basil. Stir to evenly distribute basil.
Serve salad as is, spooned over crusty bread, or with toasted pita wedges as a dip. Drizzle with additional balsamic vinegar before serving if desired.
Leftovers can be stored in the fridge for up to 5 days.
Notes
* Substitute with any mild white bean, except for garbanzos which might be too overpowering.