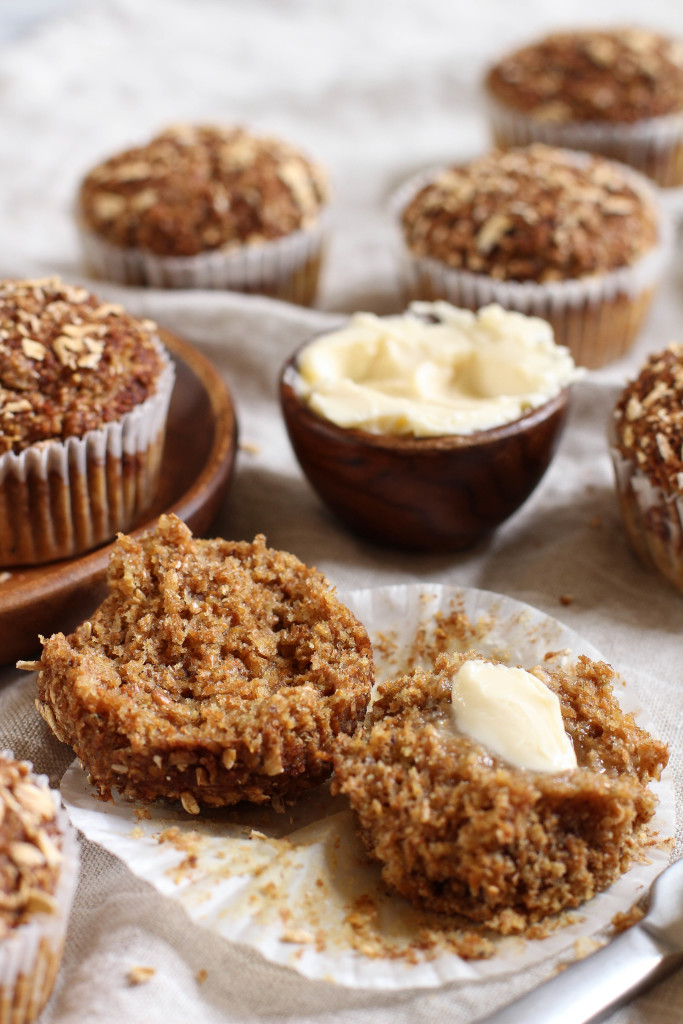 Sometimes your body just craves a bran muffin? Am I right?! Maybe it's just me. That hearty, dare I say branny goodness, lightly sweetened with molassesy brown sugar and just begging for a generous dab of butter atop a craggy crumb. Craving one yet? It might be a nod back to my childhood. My granny bakes up a pretty mean bran muffin and I remember even liking the version from the grocery store. You know, the giant ones, full of ingredients that I don't even want to think about.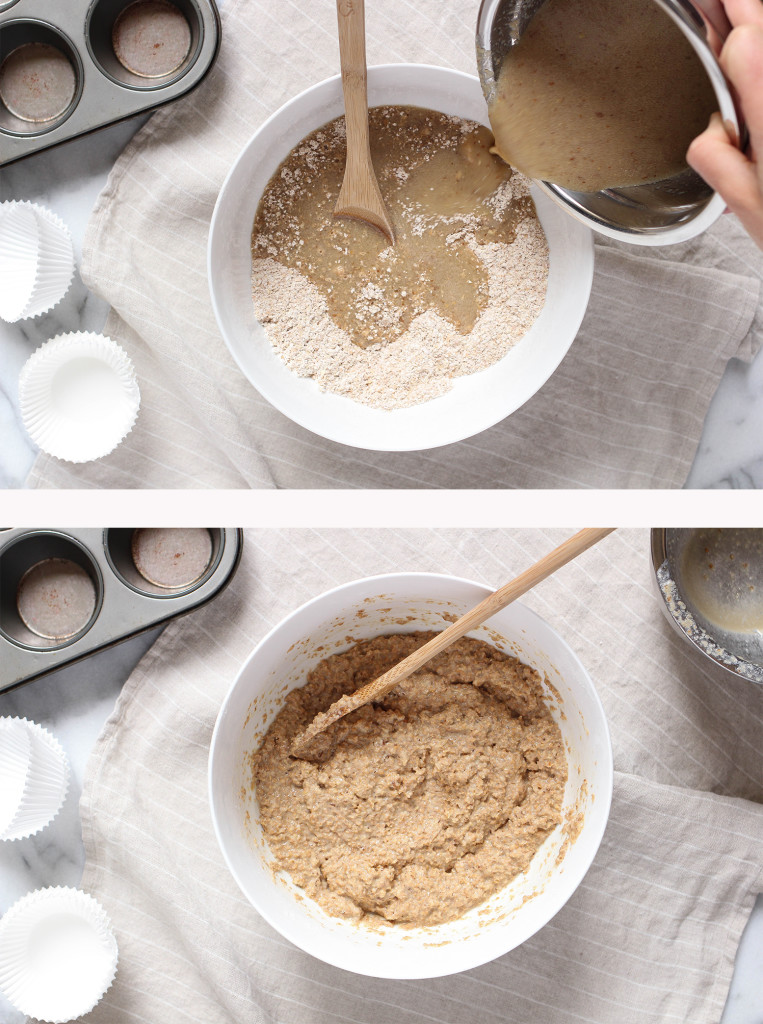 Since going mostly vegan almost 2 years ago, my desire for bran muffins has gone unsatisfied. Until now. These Perfect Bran Muffins are my current favorite breakfast, but I have the feeling they'll stand the test of time. They're everything a bran muffin should be (read above), but like all of my muffins, wrapped up in a vegan and hugely healthified little package. Wheat bran is of course the star of the show, brown sugar and applesauce provide the sweetness, a flax egg binds everything together, and unrefined coconut oil adds some healthy fat. The coconut oil also keeps these tasting like muffins and not healthy bricks.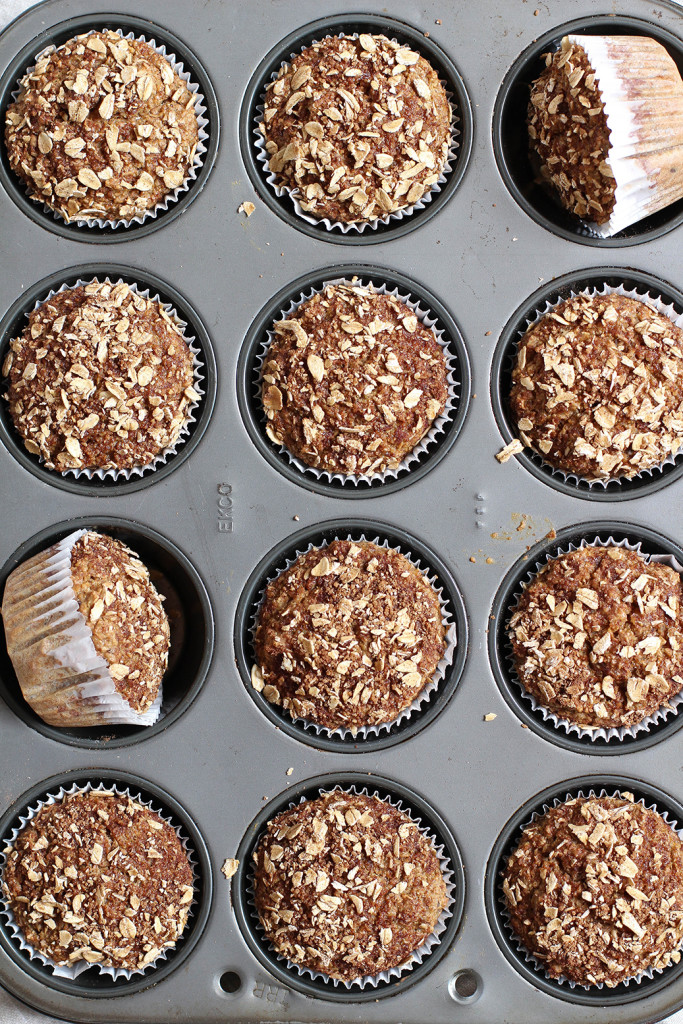 A sprinkle of brown sugar, oats, and cinnamon accentuates the sweet little domed tops of these muffins. It's totally optional, but I like the texture the oats add to the muffins and a hint of cinnamon is always a plus in my kitchen. I've been enjoying these warmed with a slather of blueberry or raspberry compote, but my favorite accoutrement is a pat of vegan butter. They're plenty moist on their own, but a little butter is never a bad idea and sometimes breakfast demands an equal amount of decadence with virtuousness. However you top 'em, just make 'em and embrace the bran.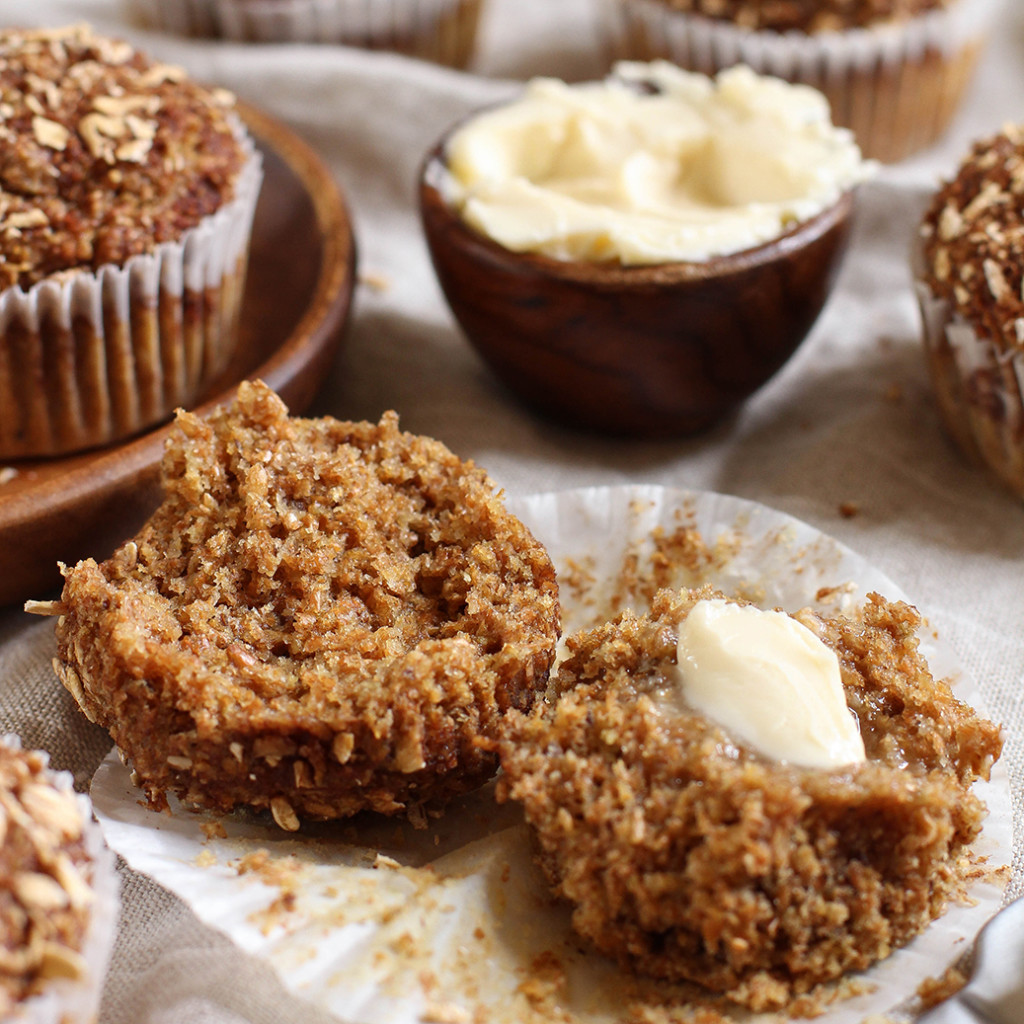 Perfect Bran Muffins
2016-06-15 11:37:03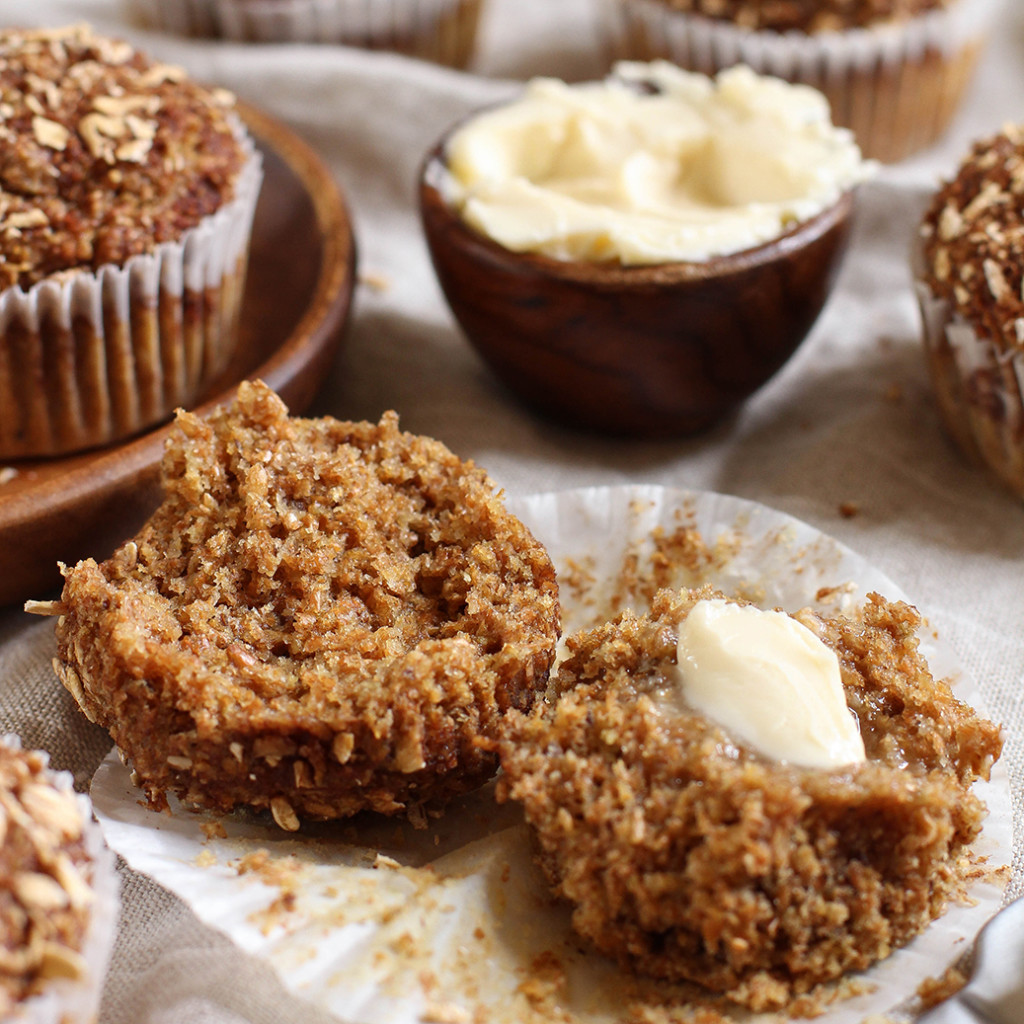 Makes 12 muffins.
Ingredients
2 cups wheat bran
1 cup unbleached all-purpose flour*
1 cup unsweetened almond milk
2 teaspoons apple cider vinegar
1 tablespoon ground flaxseed
1/4 cup unrefined coconut oil, melted
1/3 cup plus 1 tablespoon unsweetened applesauce
1/2 cup brown sugar
1 teaspoon vanilla extract
1 teaspoon baking powder
1/2 teaspoon baking soda
1/2 teaspoon sea salt
CINNAMON OAT TOPPING (optional)
2 tablespoons old fashioned oats, roughly chopped
1 tablespoon brown sugar
1/2 teaspoon cinnamon
Instructions
Preheat oven to 350 F. Combine flaxseed with 3 tablespoons water and set aside (this is your flax egg). Add apple cider vinegar to almond milk and set aside. Allow both to sit while you prepare the other ingredients.**
Stir together flour, wheat bran, baking powder, baking soda, and sea salt in a large bowl. In another bowl combine brown sugar, vanilla extract, coconut oil, and applesauce. Once flax has thickened and almond milk has curdled, add to sugar mixture and whisk to thoroughly combine.
Add wet ingredients to dry and stir until no dry spots remain. Scoop batter by leveled quarter cupfuls into muffin tin with paper liners. In a small bowl, stir together oats, brown sugar, and cinnamon for topping. Sprinkle on top of muffins.***
Bake for 20 - 25 minutes, until a toothpick inserted in the center come out clean. Remove from oven and allow muffins to cool completely on a cooling rack before serving.
Muffins can be stored at room temperature for one day and then in the refrigerator for up to five days. Warm muffins in the microwave for 20 seconds before serving
Notes
* Whole wheat or spelt flour can be subbed for the all purpose flour but the muffins will be denser.
** Almond milk should be at room temperature so that it does not cause the coconut oil to harden when mixed together. If it's still cold from the fridge, warm in the microwave in 10 second increments.
*** Do not allow the muffin batter to sit too long before portioning out and placing in the oven. The wheat bran will continue to absorb moisture from the wet ingredients and can cause the muffins to stick to the paper liners once baked and cooled.
The Mostly Vegan http://www.themostlyvegan.com/