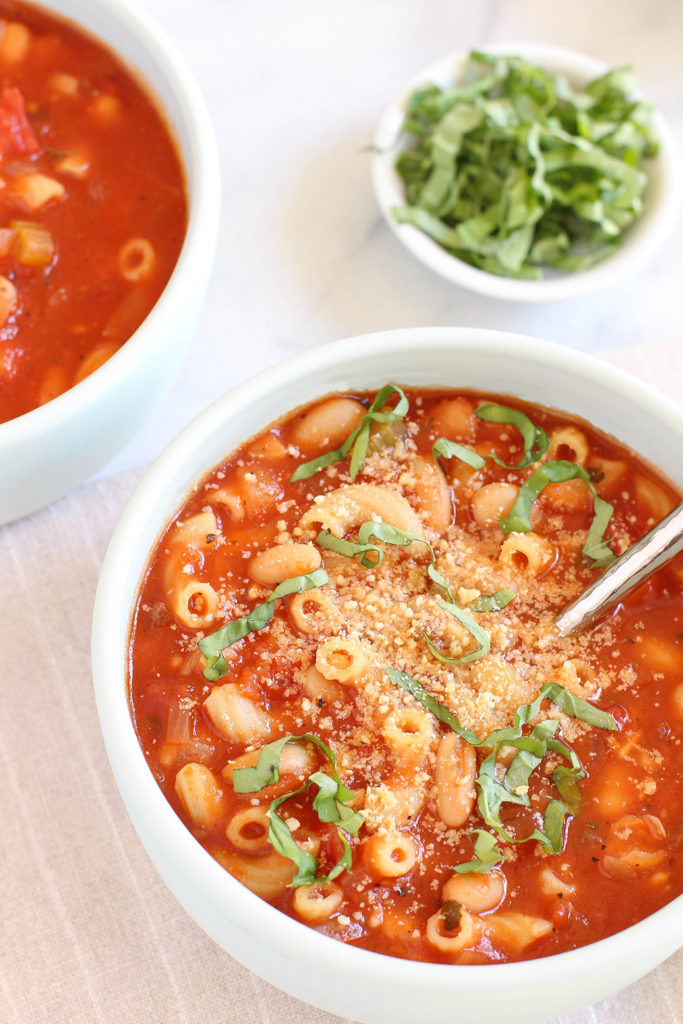 This Pasta e Fagioli, you guys, it's quite possibly the most perfect fall meal, in the history of fall meals and it needs a spot in your weekly meal rotation. So what exactly is it? Pasta e Fagioli, simply translated, is pasta and bean soup. It's an old timey (we're getting real historically accurate here, folks) Italian peasant dish made up of simple and inexpensive ingredients, with pasta and beans (naturally) being the main attraction. If you get on the 'ol Google, you'll find literally thousands of iterations of this classic soup. My version is adapted from Fine Cooking magazine. I first tore out the recipe from their December 2015 issue, put my own vegan spin on it, and guess what, life has never been the same.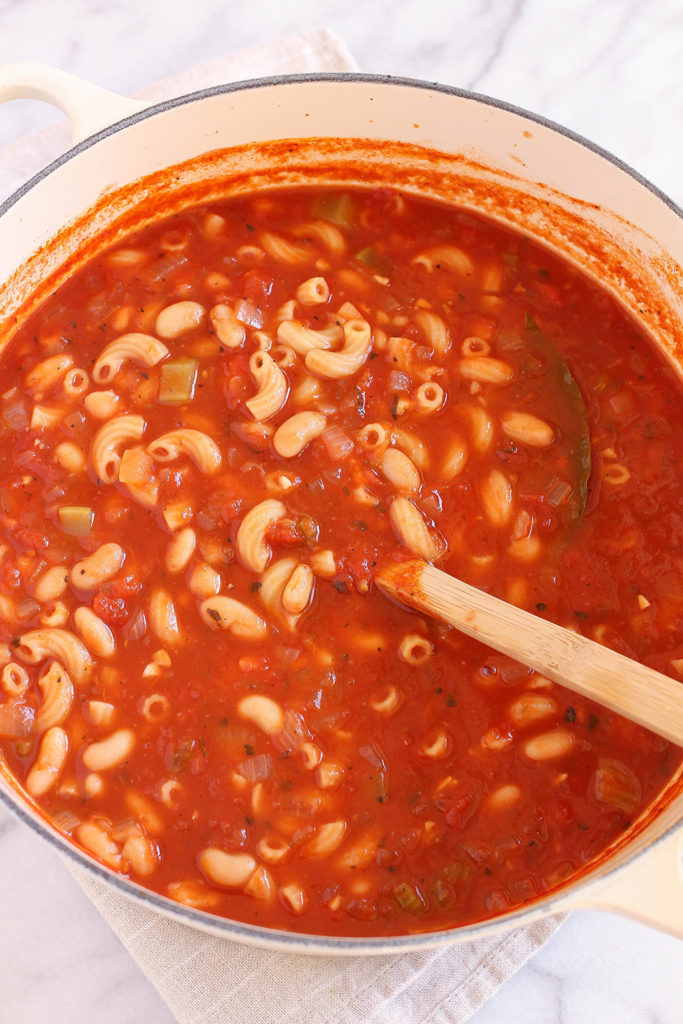 My tendency for hyperbole aside, allow me to explain why this soup is so awesome: it's fast – like prepped and cooked in just over 30 minutes fast, leaving plenty of time to do more fallish type things like pumpkin carving and shopping for really chunky sweaters; it's healthy – low in fat, packed with the powerful antioxidant lycopene from a tomato broth, and high in fiber from hearty cannellini beans – you don't have to worry about wrecking your healthy eating habits just to indulge in a little pasta; and most importantly it's delicious – crowd pleasing, kid approved, feed this to your pickiest eater and be amazed delicious. The soup starts with a simple saute of garlic, celery, and onion with a hefty pinch of dried basil. Once the aromatics are working, veggie broth and crushed tomatoes are added to the mix then allowed to simmer for a good 15 minutes. After the 15 minutes are up, cannellini beans (my personal preference but any white bean would work) and dried pasta are added to the pot and simmered until the pasta is tender. Oh, ya! Did I forget to mention that this is also a one pot meal?! Less dishes = more time for apple picking.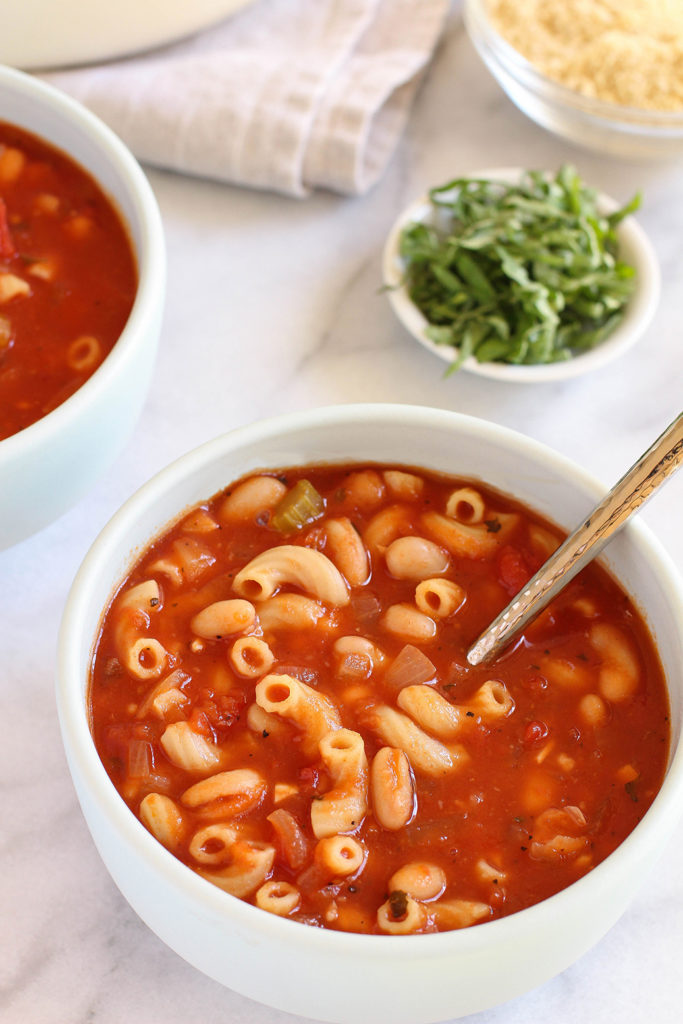 Not surprising for this carb loving gal, the pasta is my favorite part of this soup. We often use elbow macaroni, which is shown in the pictures, but ditalini is a great substitute if you have it in your pantry (you can also sub in gluten free pasta). Just like my favorite Weeknight Marinara, this soup comes together fast yet tastes like it's been simmering away for hours in an Italian grandmother's kitchen. Make it, love it, and repeat all fall long.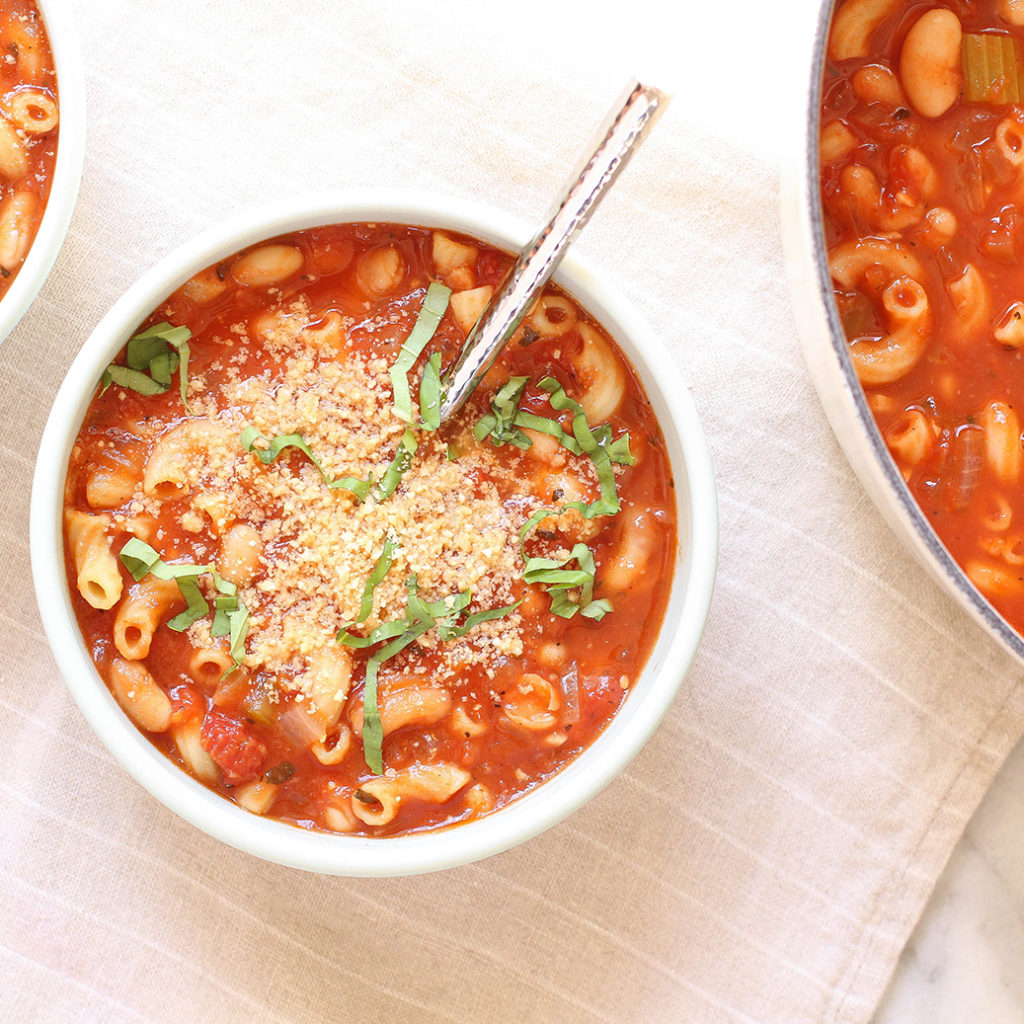 Pasta e Fagioli - Pasta & Bean Soup
2016-09-21 14:18:46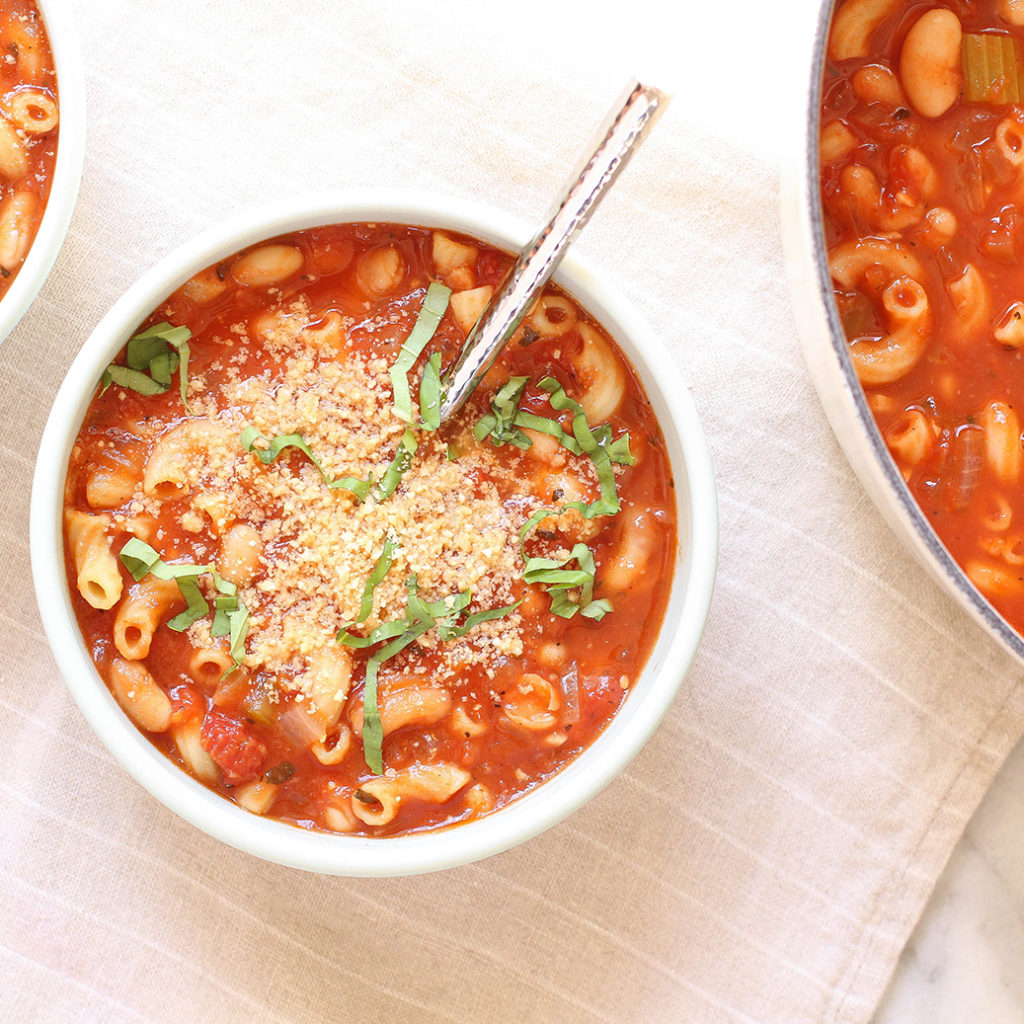 Serves 6.
Ingredients
2 tablespoons extra-virgin olive oil
4 cloves garlic, minced
3 ribs celery, diced
1 yellow onion, diced
5 cups low sodium vegetable broth
1 28-oz. can no salt added crushed tomatoes
1 teaspoon dried basil
1 bay leaf
1 1/2 teaspoons sea salt
1/2 teaspoon black pepper
2 15-oz. cans cannellini beans, drained and rinsed
1 cup dried elbow macaroni or ditalini pasta
fresh basil and cashew parmesan for serving (optional)
Instructions
Heat the olive oil in a large pot over medium heat. Add the garlic, celery, onion, basil, salt, and pepper. Cook until veggies are soft and just beginning to brown, about 5 minutes.
Add the broth, tomatoes, and bay leaf. Bring to a boil. Reduce to a simmer and cook covered for 15 minutes. Remove lid, add the cannellini beans and pasta, and simmer until the pasta is tender, 10 to 12 minutes. Remove the bay leaf, season to taste with freshly cracked sea salt and black pepper.
Serve garnished with cashew parmesan and basil.
Adapted from Fine Cooking
The Mostly Vegan http://www.themostlyvegan.com/