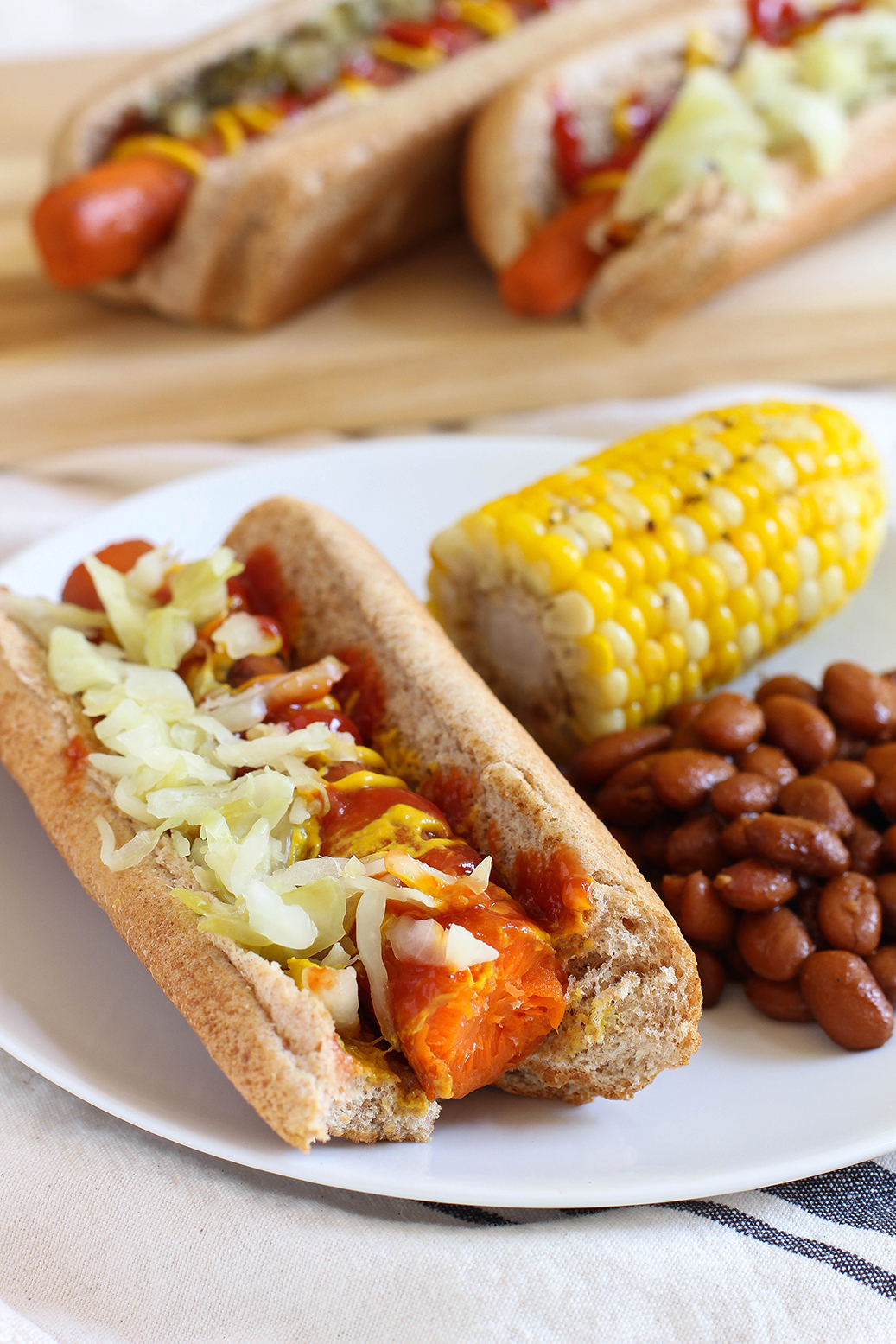 Alright, I know what you're thinking. "Carrot hot dogs…. I don't think so!" Before you scroll on out, just hear me out. Give me 2 minutes to convince you, because I've been where you've been. Self proclaimed former carrot hot dog doubter turned carrot hot dog lover, right here guys. Like you, I'd seen various carrot hot dog recipes floating around Pinterest for a while, and my immediate and only thought was always, stupid. How on earth could a frickin' carrot taste anything like an actual hot dog? Similar shape does not an adequate food substitute make. Butttt, and that's a huge but, since first laying my peepers on a picture of a carrot hot dog, I've been intrigued. Like, what's all the hype about? There's gotta be something there, right?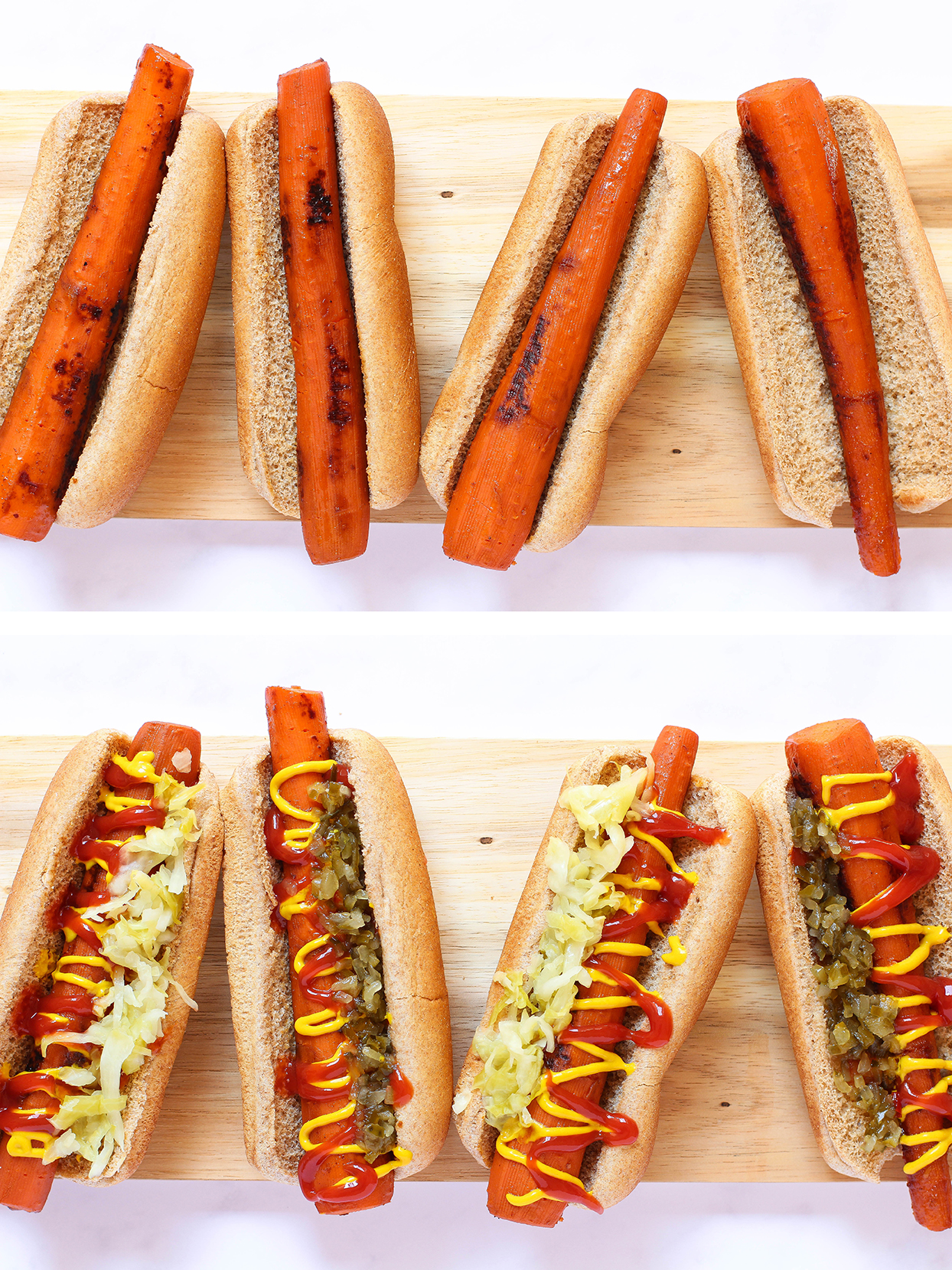 Despite not ingesting an actual hot dog in years – not even the soy-based faux meat variety – I was hit hard by the craving for a dog (oh hi, pregnancy) earlier this summer. So I caved and decided to finally give carrot hot dogs a go. If they sucked at least I could say I'd been right all along. Man, I was so wrong. Carrot hot dogs are kinda awesome and after years of dog deprivation, I've got hot dogs back in my life. Healthy, plant-based hot dogs. The secret(s) to replacing a meat dog with a carrot? It's all about the marinade and a long marinade time, we're talking 24 hours here. Let's face it, these are carrots. They need all the help they can get.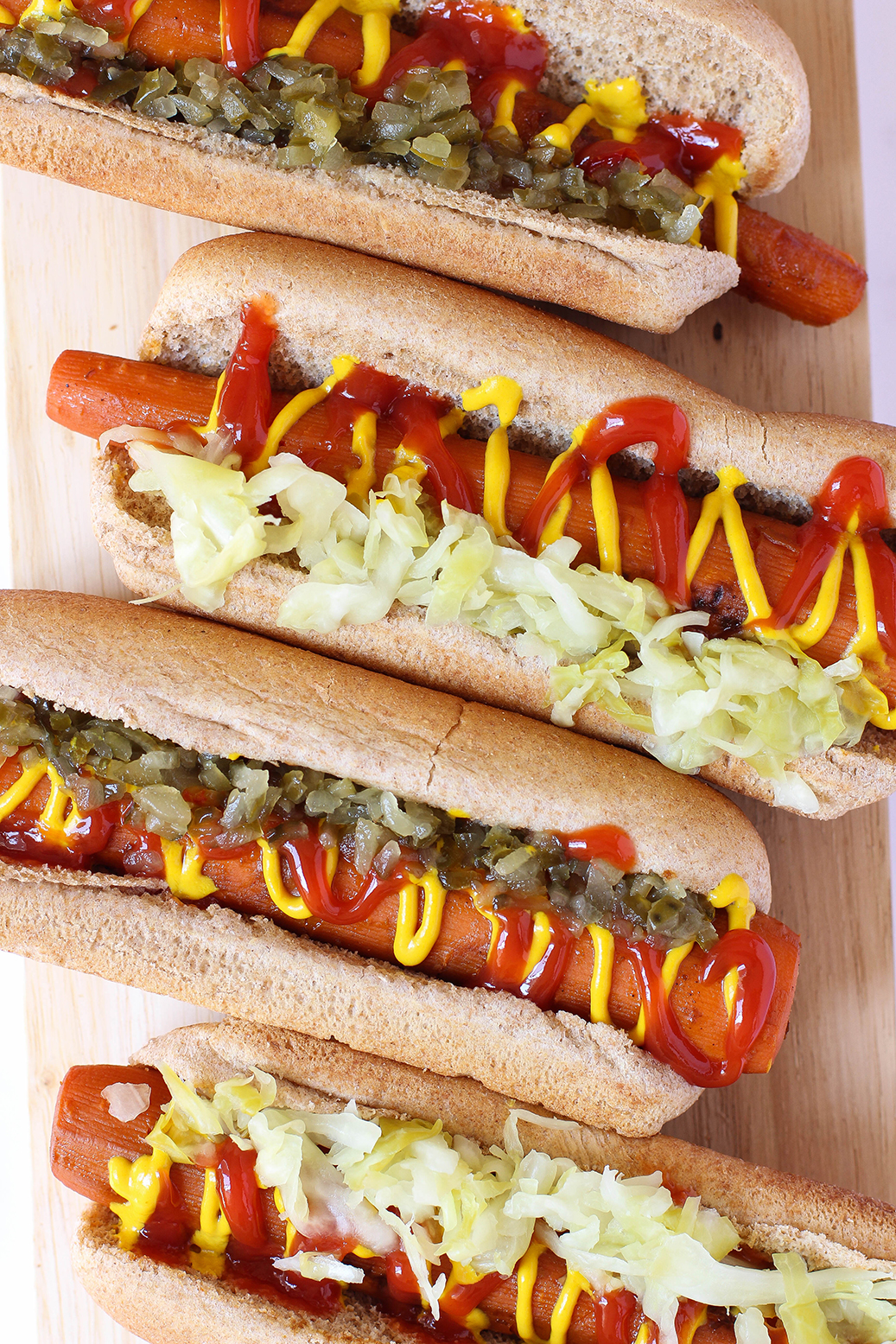 When I started throwing together my marinade, I basically thought about flavors I'd want in a tasty baked bean or barbecue sauce. (As an added bonus you can totally use this marinade to make delicious vegan baked beans.) Coconut aminos – a milder and less salty (and gluten free) version of soy sauce – make up the base of the marinade. The rest of the ingredients are dead easy, equal amounts of apple cider vinegar, maple syrup, blackstrap molasses (just buy some already), sauce from a can of chipotles in adobo, and fresh garlic. The marinade strikes the perfect balance between salty, sweet and smoky. Just what you'd want in a barbecued dog. The carrots are prepped for the marinade by boiling until super tender (whatever you do, don't steam them in the microwave like I lazily tried, they basically deflate from the inside out). Allow them to cool, then soak in the marinade for a full day. I know, such a long time, but it's so necessary. Once the carrots have had time to soak in all that marinade goodness, grill on the stovetop or outdoor barbecue. You can also roast them if you've got more time on your hands.
Pile the finished dogs into buns and load 'em up with your fave hot dog accoutrement. Devour. I don't know how to describe the finished product other than saying they taste like hot dogs. Not exactly like hot dogs, but not exactly not like hot dogs either. Does that make sense? They will definitely satisfy your hot dog craving and more importantly, they don't taste like carrots. The texture is also pretty spot on too. Even my non-vegan/non-vegetarian husband loves them. He genuinely gets excited when I tell him we're having carrot hot dogs for dinner. Plant eater win!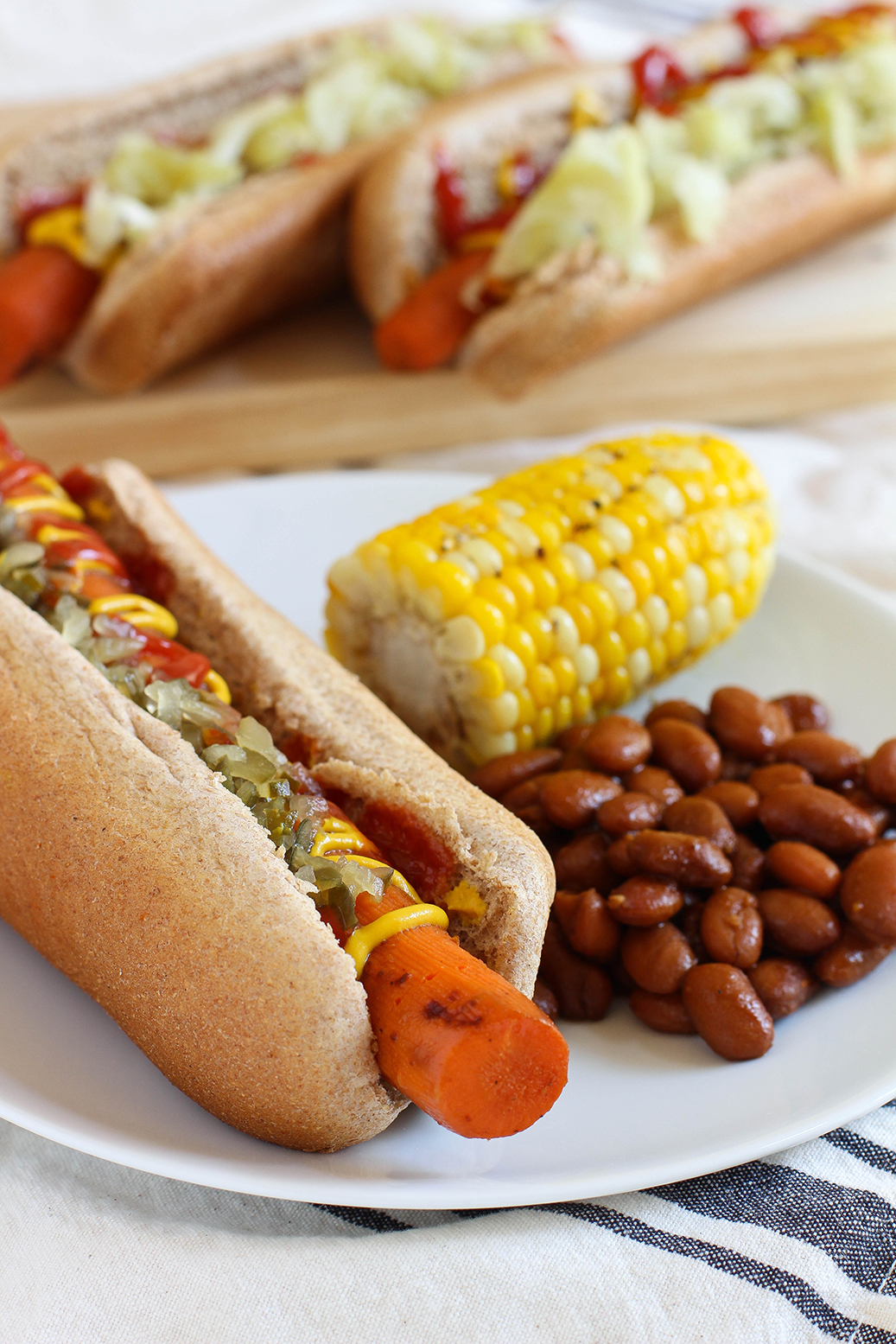 Have you had carrot hot dogs before? Love 'em or hate 'em? I want to hear about it in the comments section. And, I know summer is basically over, but check out my Barbecue Ranch Tempeh Burgers if you're craving more cookout worthy eats.
Carrot Hot Dogs
Makes 4 carrot dogs.
Ingredients
¼ cup coconut aminos
1 tablespoon maple syrup
1 tablespoon apple cider vinegar
1 tablespoon sauce from a can of chipotles in adobo (or 2 chipotles in adobo)
1 tablespoon molasses
3 cloves garlic, minced
pinch of sea salt & ground black pepper
4 extra large carrots, peeled & trimmed to fit a hot dog bun
4 hot dog buns
various hot dog toppings: ketchup, mustard, sauerkraut, relish
Instructions
Place carrots in a large pot of water (carrots should be completely covered with water). Bring water to a boil then continue to boil for 10 minutes until carrots are very easily pierced with a fork (they'll probably be softer than you think they should be, but trust me, you don't want them to have any crunch left)
Remove carrots from pot and allow to cool completely. Whisk together all marinade ingredients and pour into a large, sealable plastic freezer bag. Add carrots to bag, seal, and shake to coat with marinade. Place bag flat on a plate & refrigerate carrots overnight. In the morning, flip bag over to coat opposite side of carrots. Continue to marinate until ready to prepare carrots. *
To grill carrots, brush a large skillet with olive oil and heat over medium-high. Remove carrots from marinade** and add to skillet. Grill on all sides for 2 to 3 minutes for a total of 8 to 10 minutes. Carrots should be well browned & possibly blackened in spots.
To roast carrots, preheat your oven to 425 F. Remove carrots from marinade and place on a parchment lined cookie sheet. Roast for 45 to 50 minutes, until carrots are well browned on all sides.
Serve carrots warm in buns and garnish with desired toppings.
Notes
* Carrots should ideally marinate for 24 hours in order to fully absorb the flavors of the marinade.
** Leftover marinade can be used to prepare delicious vegan baked beans. Drain but do not rinse a 15 ounce can of no salt added pinto beans. Combine beans and marinade in a small pot and bring to a boil. Lower to a simmer and continue to simmer until sauce thickens significantly, about 30 minutes. Serve hot.