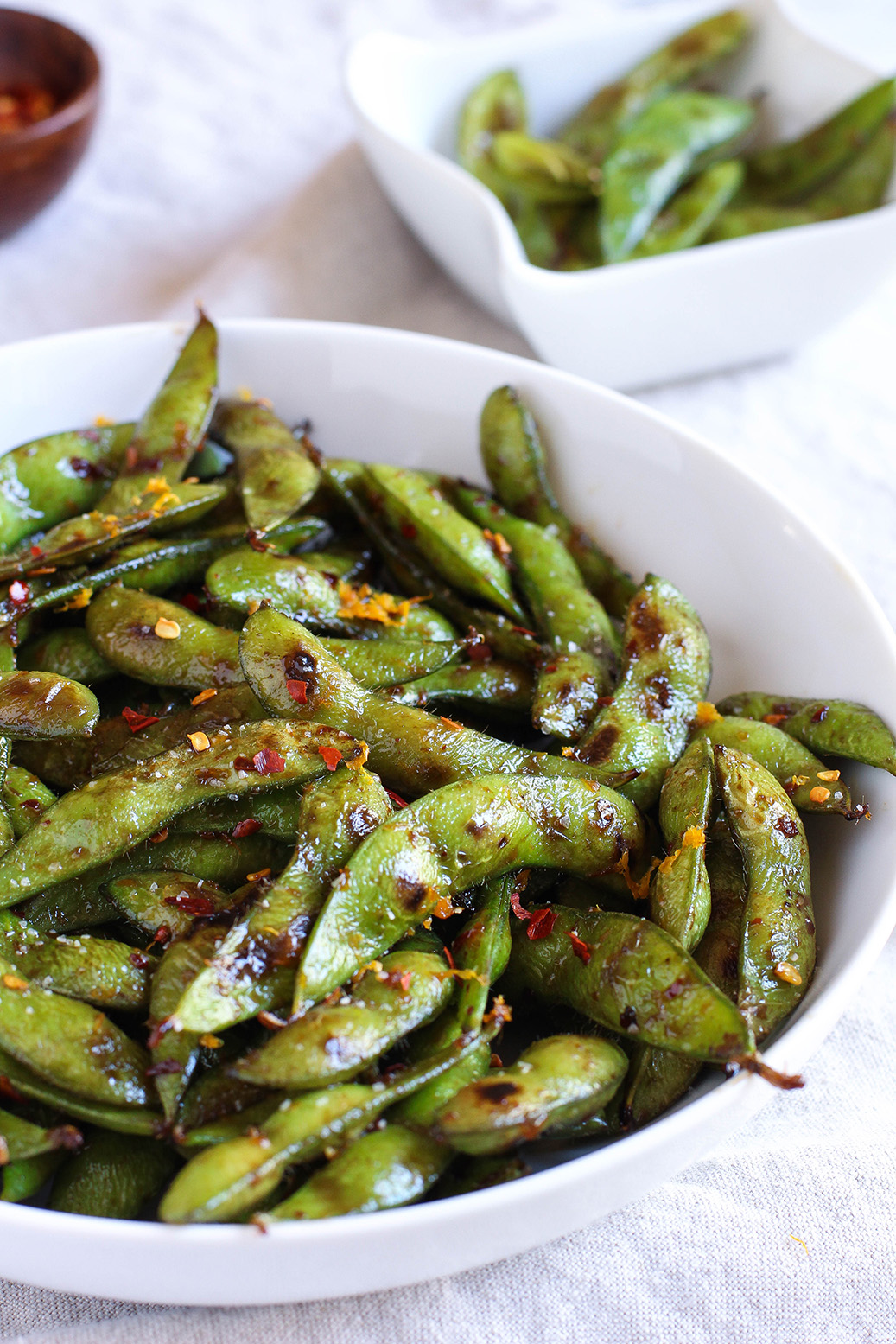 So here's the thing, I was going to call these 15 Minute Orange Spiced Edamame, but decided that after last week's 15 Minute Lemony Grilled Artichokes post, the whole countdown and citrus fruit thing might be bordering on gimmicky. Why the sudden fixation on quick fire recipes? Well, if you follow me on Instagram you might have seen my announcement that I'm with child. (Isn't that just the creepiest way to put it ever?! I promise, I didn't actually announce it that way.) I'm knocked up folks. Yup, me and the husband are expecting our first babe, and as this belly grows my desire to spend hours in the kitchen diminishes exponentially. Sitting – and reading up on French parents' secrets to raising perfectly behaved pint-sized Parisians – is more my jam these days.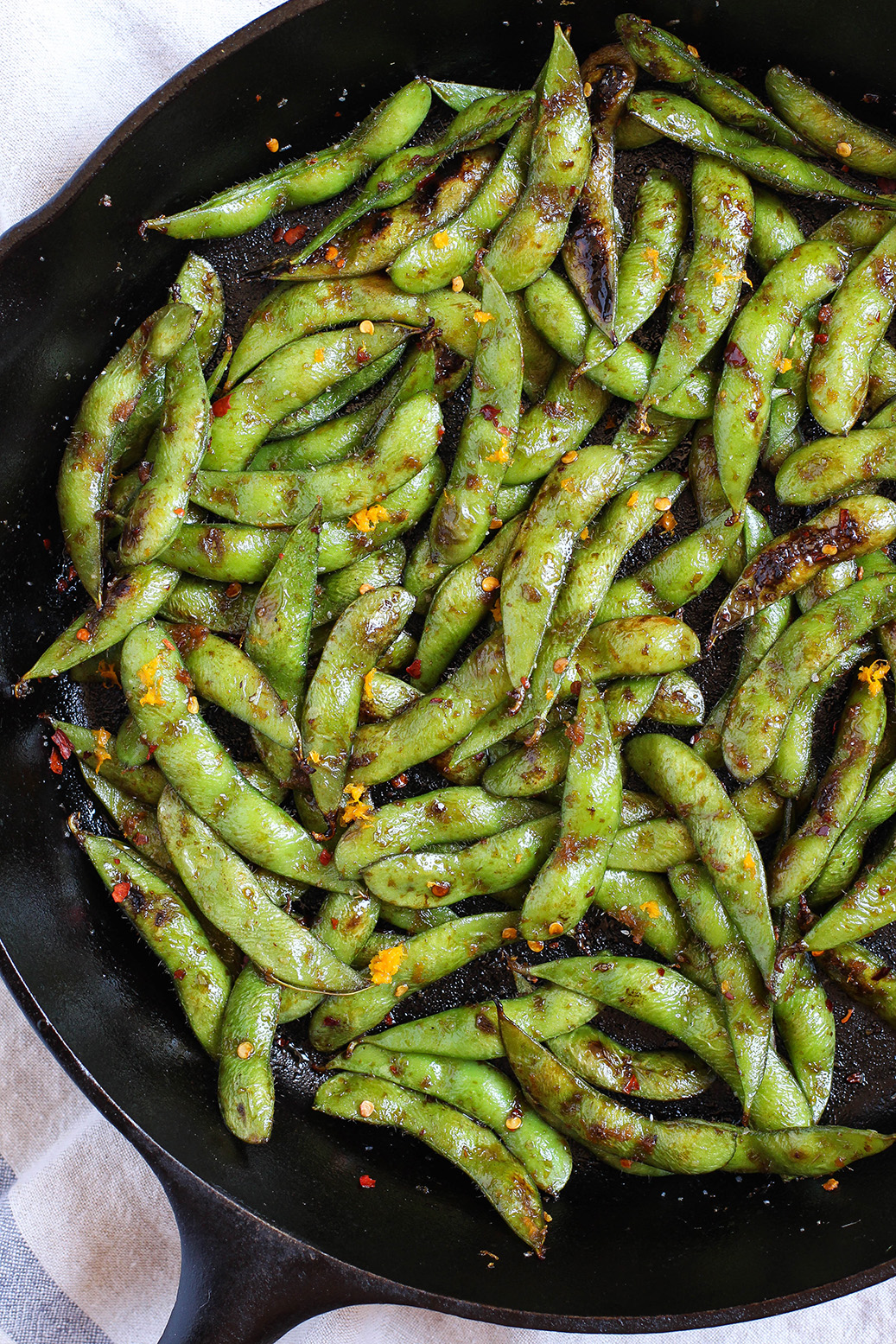 That being said, I'm not about to let my healthy eating habits fall by the wayside (not with this belly staring up at me at all times), and these edamame do only take 15 minutes to throw together. Fifteen minutes and you've got yourself one of the most addictive protein-packed, totally plant-based snacks or apps ever. They're sweet, salty, and tangy all in one and will crush any craving, pregnancy related or not, that might hit. One of my favorite things about these edamame is that they can literally be thrown together at the drop of a hat, or the ring of a doorbell when unexpected guests drop by.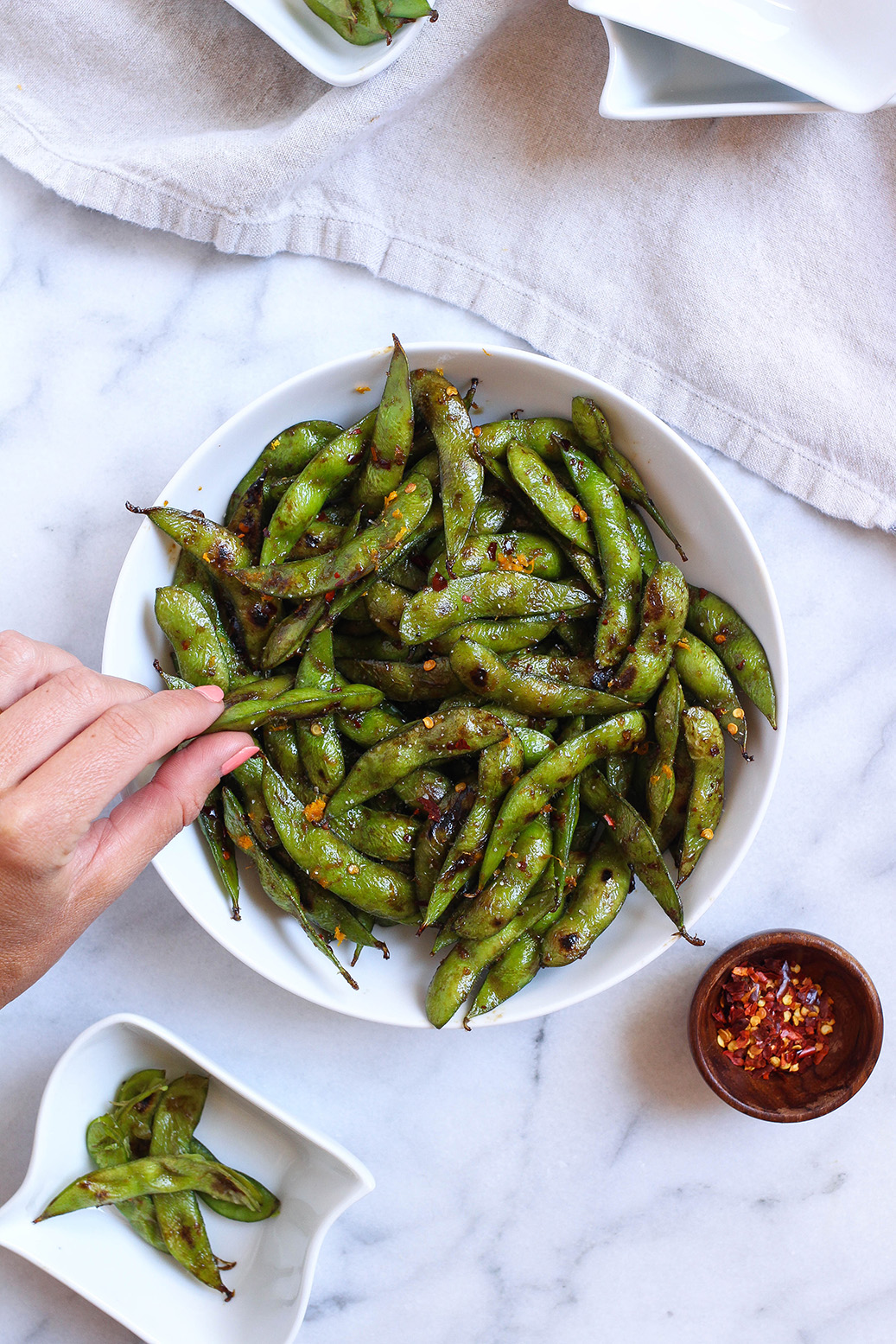 Keep your freezer stocked with a bag of frozen edamame at all times, and along with a few pantry staples – olive oil, maple syrup, salt, red pepper – you can have yourself a delicious dish to impress guests, or to chow down on all by your lonesome, hot from the saute pan in a matter of minutes. The solo outlier, freshly grated orange zest, might not be a pantry staple, but make these edamame once and you'll definitely be tossing a couple of navels into your cart every time you hit the produce section. Whip these up and let me know what you think in the comments, or share your own go-to combos for healthy meals in a flash.

Orange Spiced Edamame
Serves 4 as an appetizer.
Ingredients
1, 16 ounce bag frozen edamame (in pods)
1 tablespoon extra virgin olive oil
1 tablespoon maple syrup
½ teaspoon kosher salt
½ teaspoon red pepper flakes
zest of one navel orange
Instructions
Place frozen edamame in a microwave safe dish and cover. Defrost on high for 4 minutes.
Heat olive oil in a saute pan over medium-high heat. Add edamame to pan and toss to coat with oil. Cook until edamame begin to brown, about 5 minutes, stirring frequently.
Add maple syrup to pan and toss to coat. Cook edamame 3 minutes more until well browned and charred in spots. Turn off heat and sprinkle edamame with salt, red pepper flakes, and orange zest. Toss edamame and plate.
Serve warm with an additional sprinkle of salt if desired.