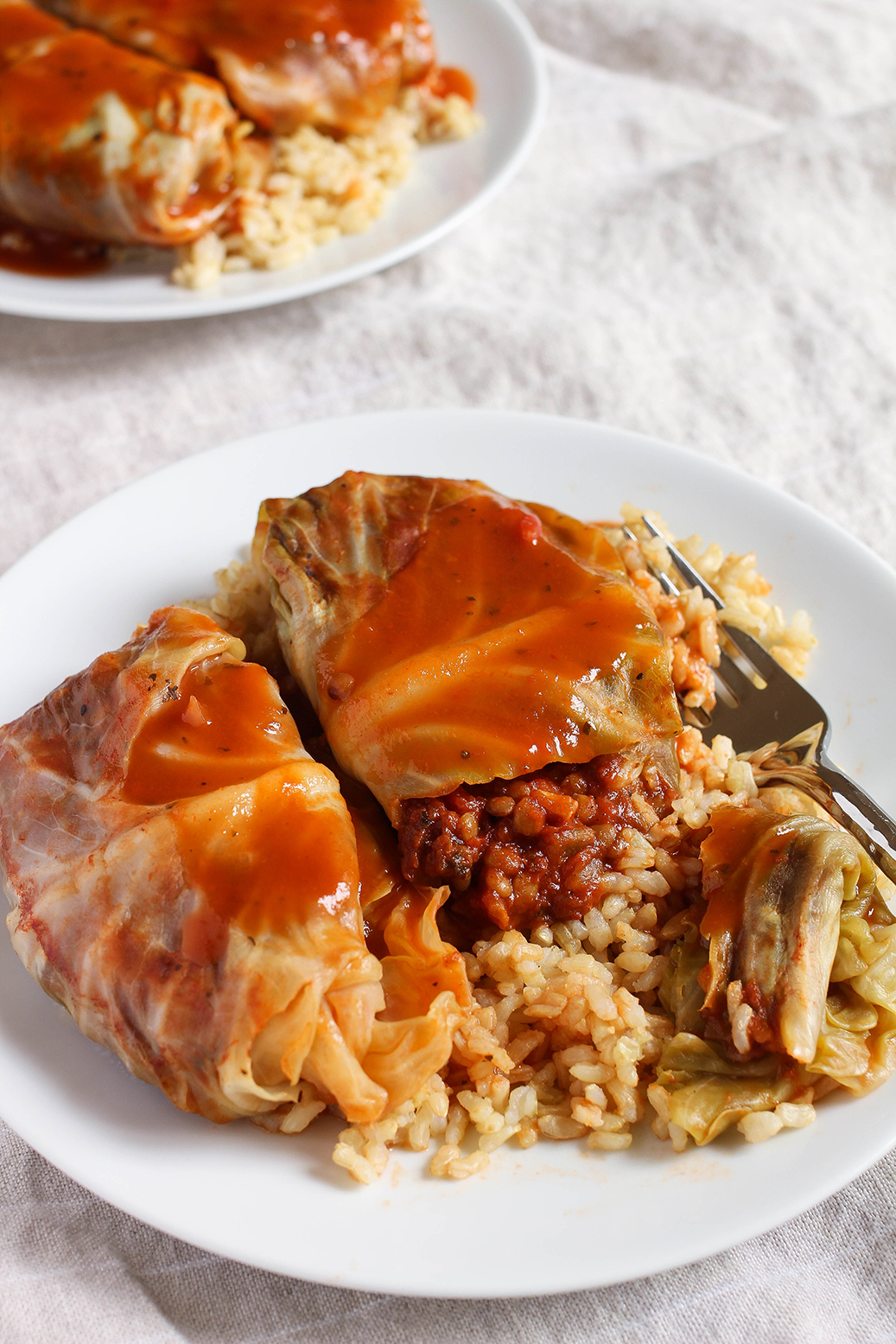 Full disclosure, the recipe for these Lentil Bolognese Stuffed Cabbage Rolls was not born out of some grand plan and endless testing to get the final product just right. It actually came about one Friday while racking my brain to come up with something easy to whip up for dinner. I had a healthy amount of my Weeknight Lentil Bolognese leftover from pasta night the day before and a head of cabbage hours away from being tossed in the trashbin. I'd never actually made stuffed cabbage rolls in my life, but I was suddenly filled with determination. A can of tomato soup from the pantry would serve as the sauce, because it was a Friday you guys, and fancy/time consuming cooking was not happening.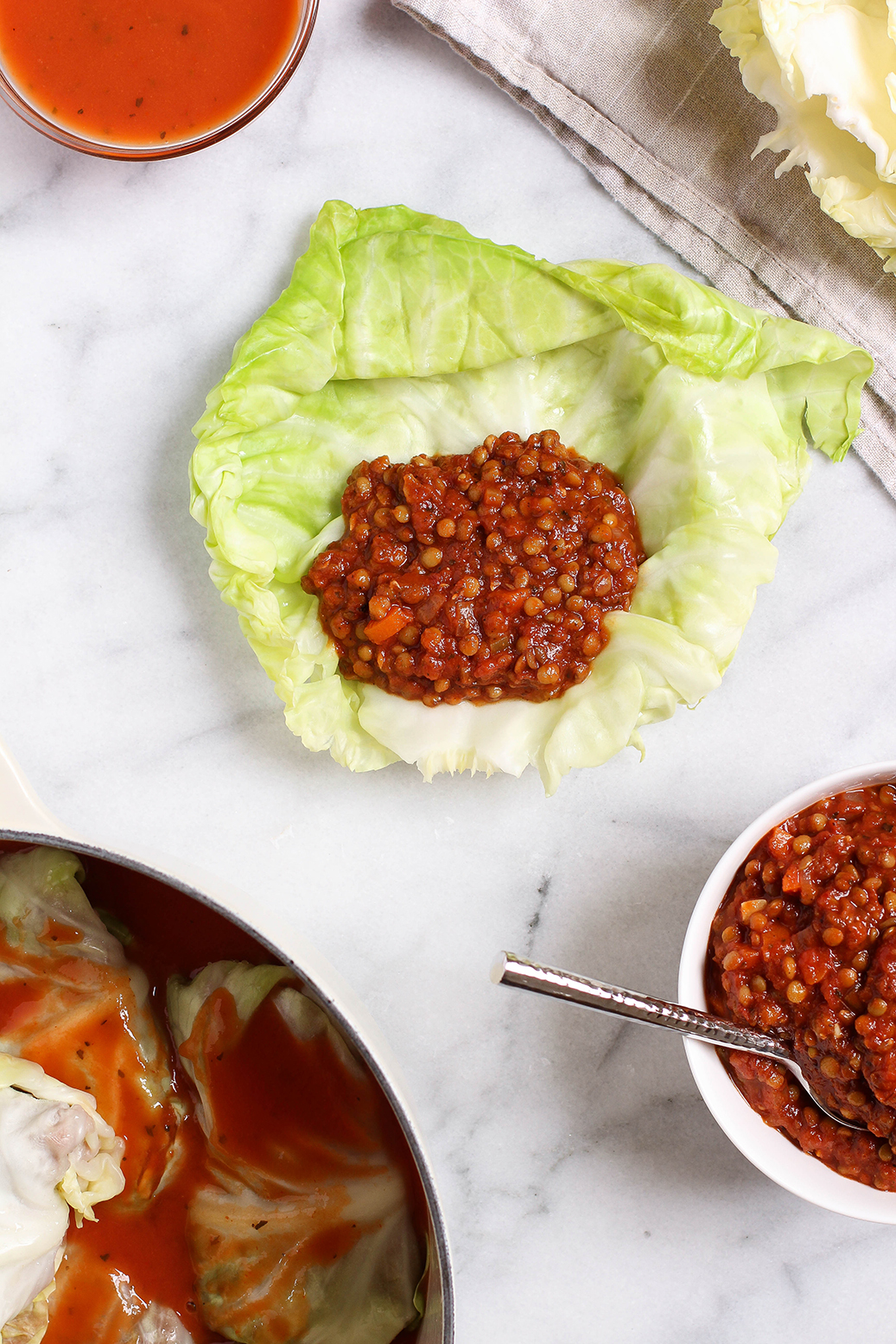 I steamed the cabbage (in the microwave because who wants to pull out another pot to boil it?), heated up the lentil bolognese and then got to work. I coated the bottom of my dutch oven with a little bit of tomato soup before layering on the stuffed cabbage rolls, followed by another drizzle of soup before popping on the lid and throwing the whole thing in the oven to forget about for 40 minutes. The piping hot rolls, served over a hearty bed of brown rice, made for one extremely satisfying homestyle meal that immediately made it's way into our regular dinner rotation.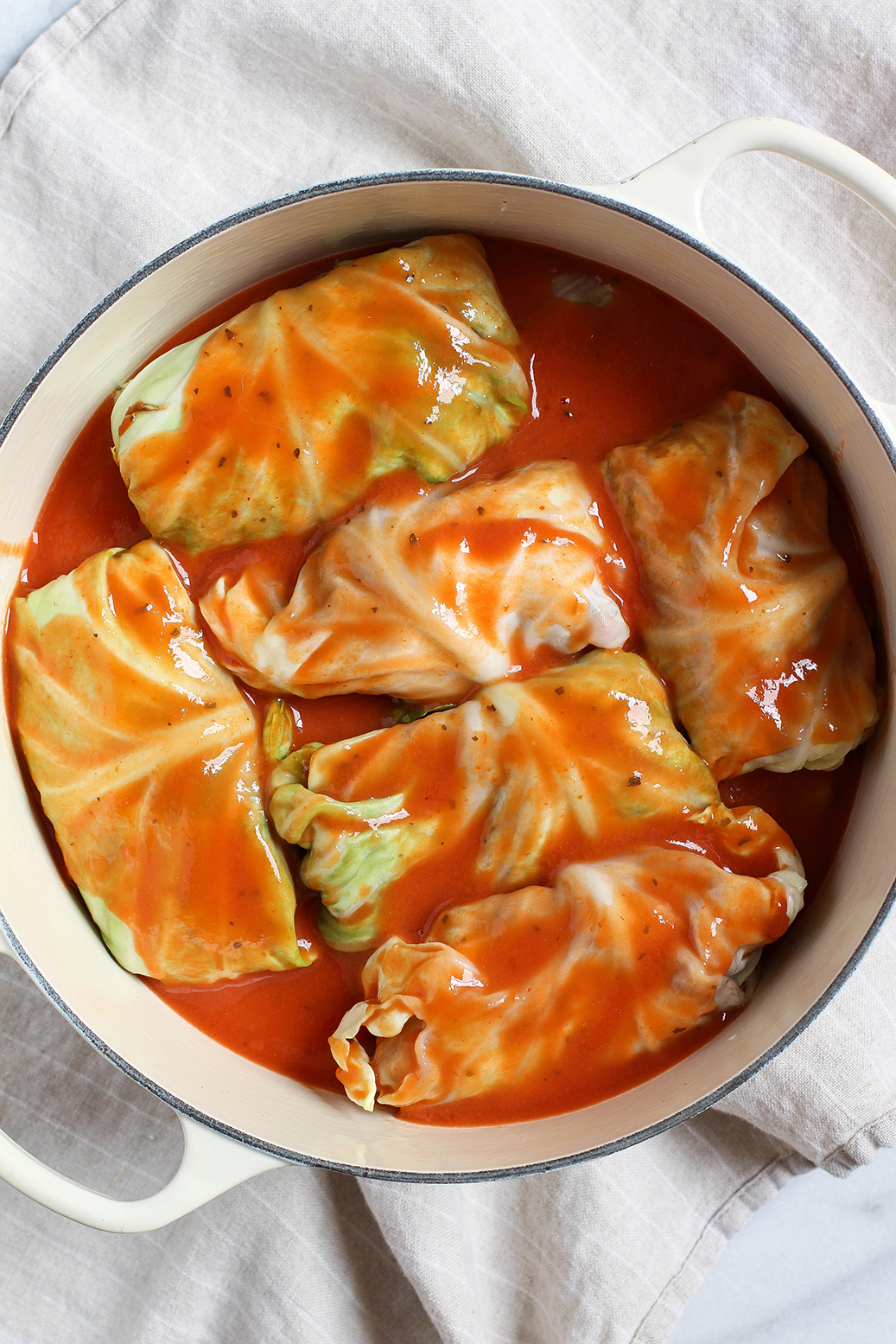 What I love most about this recipe is that it's infinitely customizable. As written, it serves about 6 hungry folks. When I make it for just my husband and me however, I only make about 5 to 6 rolls total. The concept is still the same, you just create one layer of rolls in your pot instead of two, or use a smaller casserole dish if you're not rocking a dutch oven. If you do have a dutch oven, you can choose to forego the oven completely and cook your rolls on the stovetop for an equal amount of time. And while the lentil bolognese on its own is pretty legit as the stuffing for these babies, I often saute up whatever veggies I have in the fridge – think broccoli, bell pepper, zucchini – to add to the bolognese before stuffing the cabbage leaves. Using up leftovers and packing in more veggies? A savvy shortcut to a delicious and healthy meal.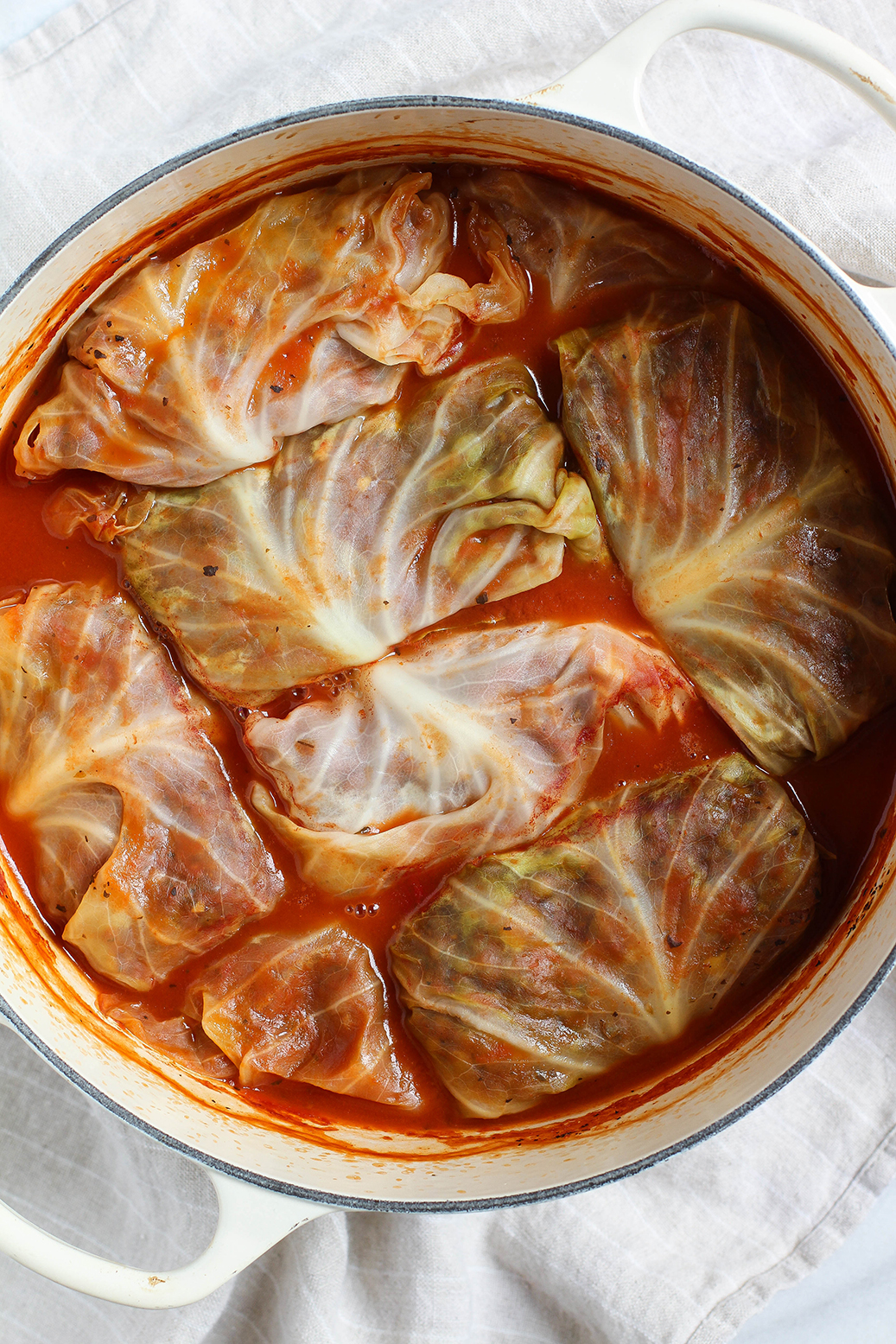 Lentil Bolognese Stuffed Cabbage Rolls
Serves 6.
Ingredients
3 to 4 cups prepared lentil bolognese
1 large head cabbage
1, 18.5 ounce can tomato soup (about 2 cups)*
3 cups prepared brown rice
Instructions
Preheat oven to 375 F. Place whole cabbage in the microwave and heat on high for 5 minutes, then heat in 2 minute increments until leaves are very pliable and can easily be removed from the head (up to 10 minutes total).**
In a large dutch oven or baking dish, pour enough of the tomato soup to lightly coat the bottom of the dish.*** Warm lentil bolognese filling on the stovetop. Fill a cabbage leaf with ¼ cup to ⅓ cup of bolognese, depending on the size of the leaf. Roll leaf from bottom halfway up, then tuck in sides and continue to roll until closed. Place stuffed leaf seam side down in pot or baking dish. Repeat with remaining leaves and filling. If using a pot, you'll probably need to make 2 layers of stuffed leaves. Pour about a half cup of tomato soup on top of bottom layer of leaves before starting on your second layer. Once you've used all of your leaves and/or filing, pour the remainder of the tomato soup on top.
If using a dutch oven, place lid on top and heat pot on the stovetop over high heat for about 5 minutes, until tomato sauce is bubbling. Place in the oven and cook for 35 - 40 minutes. Cabbage rolls should be puffed up and leaves will be translucent.
If using a baking dish, cover top tightly with tinfoil and place directly in the oven. Bake for 40 - 50 minutes.
Serve rolls over a scoop of brown rice, spooning additional tomato sauce over top. Cool leftovers completely before storing in the refrigerator.
Notes
* If you like your cabbage rolls with lots of extra sauce for serving, use an additional cup of tomato soup.
** You can also steam the cabbage in a pot of boiling water for about 5 minutes.
*** I use a 7.25 quart Le Creuset dutch oven so I can heat the cabbage rolls on the stovetop before placing in the oven. If using a baking dish, such as a 9 x 13 inch glass casserole dish, you'll have to skip this step and add about 10 minutes to the suggested oven cook time.