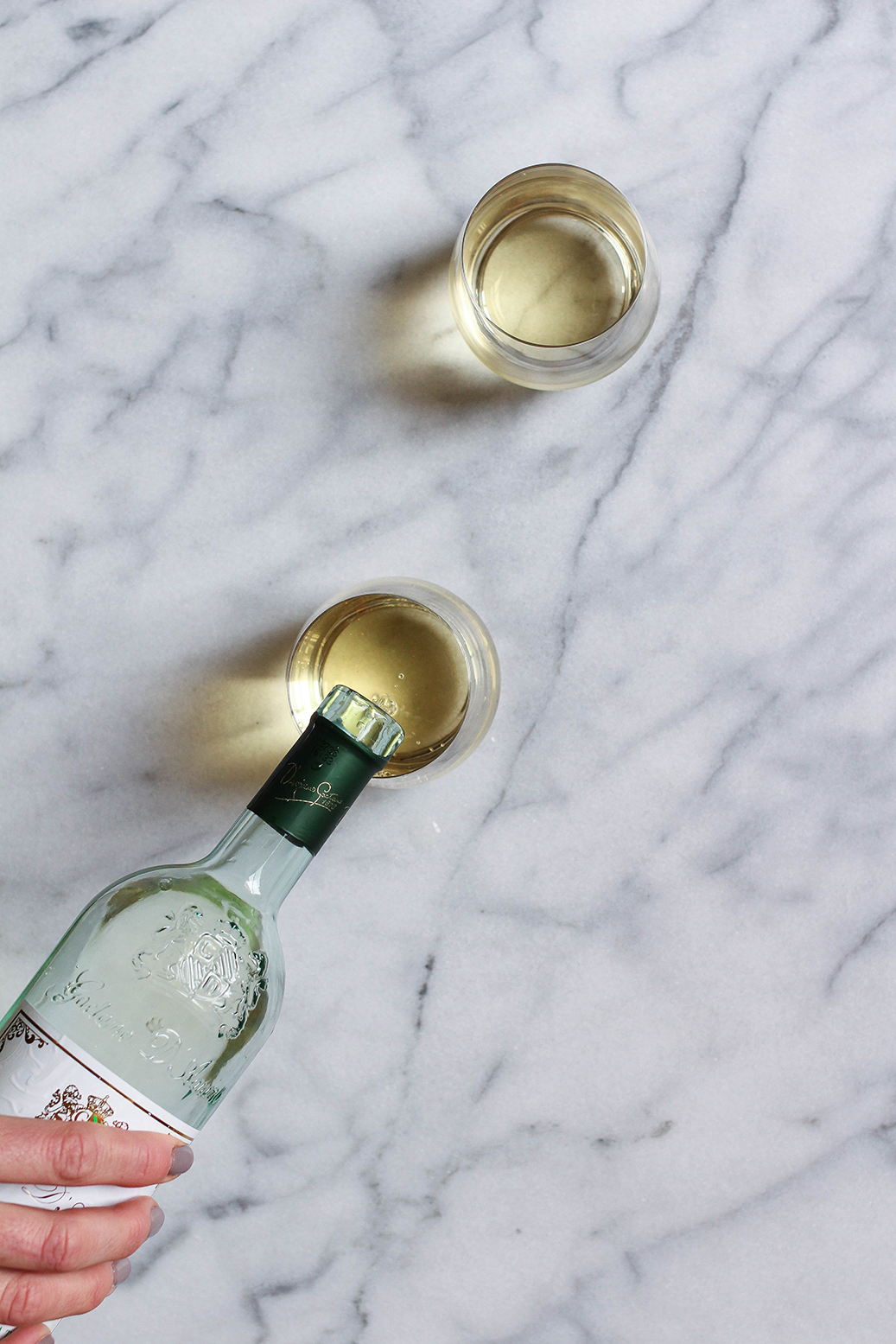 Hey there lovely readers! I've been spending this week refining a few new recipes for upcoming posts here on The Mostly Vegan, so I thought I'd share my Dry January experience with you in lieu of a new recipe. I hope you don't mind! If you came looking for crowd pleasing Super Bowl munchies, be sure to check out my Spinach & Artichoke Stuffed Spanakopita Triangles, Harissa-Spiced Red Lentil Hummus, Game Day Nachos with Chipotle Cashew Queso (that's what we'll be making), Jackfruit Taquitos, Classic Muhammara, Rosemary Roasted Grape Crostini, and of course the Best Damn Homemade Pizza…Ever.
Now, back to Dry January. If you've never heard of it before, welp, it's exactly what you're thinking. No alcohol for the entire month of January. The challenge was born in the UK a few years ago but has since spread across the pond. Come January 1st, you can find #dryJanuary hashtags all over Twitter and Instagram from brave souls looking to detox from the holidays and start the New Year off on a healthy foot. I first started toying around with the idea of participating in my own Dry January around mid-December. My occasional weekday glass of Sauvignon Blanc or Pinot Grigio with dinner had become a daily, two to three glass habit. Combine my love of white wine with the occasional cocktail on a Friday and Saturday night and mimosas at Sunday brunch (because it's brunch, just have one!) and my tally of weekly drinks was really starting to add up. I was never drinking to get drunk, but I didn't like the feeling of needing to have a glass of wine come dinnertime. I also hoped cutting out alcohol for the month would rid me of my holiday padding. You know what I'm talking about.
So, I went out with friends on New Year's Eve, had my last few drinks of 2016, and woke up to 2017 with no alcohol in sight for the next 31 days. Here's what I learned.
1) The first 10 days will be rough
I knew giving up alcohol wasn't going to be a cakewalk, but the first 10 days kinda sucked. And by kinda, I mean supremely. I was irritable and snappy. The idea of hanging out with friends in any social situation where alcohol would be involved (all of them?) made me feel pathetically sorry for myself. How was I going to have fun when everyone else was drinking? I gave my husband the side eye when he poured a glass of red wine to enjoy with dinner on the first Friday of January. The side eye turned to a brazen scowl when he did the same that Saturday. (I also may or may not have taken a big whiff from his glass when he left the room. And I don't even like the smell of red wine!)
I found myself mindlessly Googling hotel rates in Las Vegas and Napa, you know, for when the 31 days were over. And on top of everything, I wasn't sleeping very well. A lot of people claim to have the best sleep ever during Dry January. I didn't turn into an insomniac or anything, but I realized that the whole "wine makes you sleepy" claim definitely rang true for me.
2) Stress will become easier to handle
Once I made it past the initial 10 day hump, however, I started feeling great. My sleep patterns went back to normal and I had energy to spare, which translated into feeling less stressed overall. I felt like I had more time to get stuff done. I suppose not plopping down on the couch with a glass of wine in hand at 6 o'clock will do that for you. I'm not gonna lie, Inauguration Day was a bit of a stressful one without the option of quelling my anxiety with a cocktail or two, but I think not having alcohol as a crutch actually helped me deal with stress more productively.
I'm also lucky that my friends and family were supportive of my commitment to the 31 day challenge. I've read about a lot of people who saw friendships dissolve over the course of the month, certainly not helpful in the way of stress management.
3) Your skin will glow
Yes, I still get pimples, and the fine lines on my forehead and around my eyes have not miraculously disappeared, but overall, my skin just looks better. More even toned and smooth, and ok, borderline glowy. Alcohol is a known diuretic, so everytime you imbibe, you're depleting your body – and by extension your skin – of much needed moisture.
Besides a small coffee with unsweetened almond milk in the morning and the occasional turmeric latte in the afternoon, water became my sole drink of choice, which also helps you get that glow. I started pouring a can of seltzer into a long-stemmed wined glass with ice and fresh wedges of lemon or lime to have with dinner every night, and boom, I felt like I was (almost) enjoying a cocktail. It's a bit crazy how much I look forward to that glass of bubbly water now.
4) Making healthy food choices will become second nature
Perhaps the biggest revelation from not drinking was how quickly my cravings for unhealthy foods decreased. I maintain a pretty clean, vegan diet in general, but that doesn't mean I don't cave to cravings for fried foods and sweets on occasion. Tostitos might be vegan and whole grain, but let's face it, they're not a health food, especially when you eat a third of a bag. Not having alcohol made it crazy easy to resist my go to treats, especially on the weekends when the whole treat yo self mentality comes into play.
Alcohol lowers your inhibitions, which can easily lead to overindulging food wise. When taken out of the equation, I felt more satisfied with the healthy meals I was already eating. I also felt less hungry overall.
5) The scale will go down
Because I know you're dying to know, I did lose weight on this challenge. Eight pounds to be exact. It's kind of impossible not to lose weight when you're consistently making healthier food choices in addition to cutting out all those excess alcohol calories. Assuming you don't go the opposite direction and replace alcohol with a giant bowl of vegan ice cream every night, you should see the scale go down.
For me, those 8 pounds – which I attributed to holiday excess – mean I'm no longer throwing a minor hissy fit every time I try on my fave skinny jeans.
6) You will survive (and thrive) without alcohol
So here we are on February 3rd and I still haven't had a drink. But the challenge is over! Why don't you reward yourself? The truth is, I simply don't feel like it. I thought I would be counting down the seconds until I could have my first drink, but alcohol – especially on a weekday – doesn't hold the same allure it once did. I'm going out with friends and family to a celebratory brunch this Saturday (not related to Dry January) and I'm planning on having a glass of wine, but will likely stop with one. The idea of feeling groggy for the rest of the day post boozy brunch sounds pretty terrible. Heading home to walk my dog and clean my house so that I can enjoy Super Bowl Sunday chore free, sounds like a much better plan. I might even make myself a margarita to sip on while watching the game. And, I might not. We'll see how I feel.
One thing's for sure, my attitude towards alcohol has shifted. Less of it in my life means better skin and a slimmer waistline, but it's no longer something I need at the end of a long day, and that's the biggest reward of all.
Have any of you attempted Dry January or a similar challenge? I'd love to hear about your experiences in the comments section.