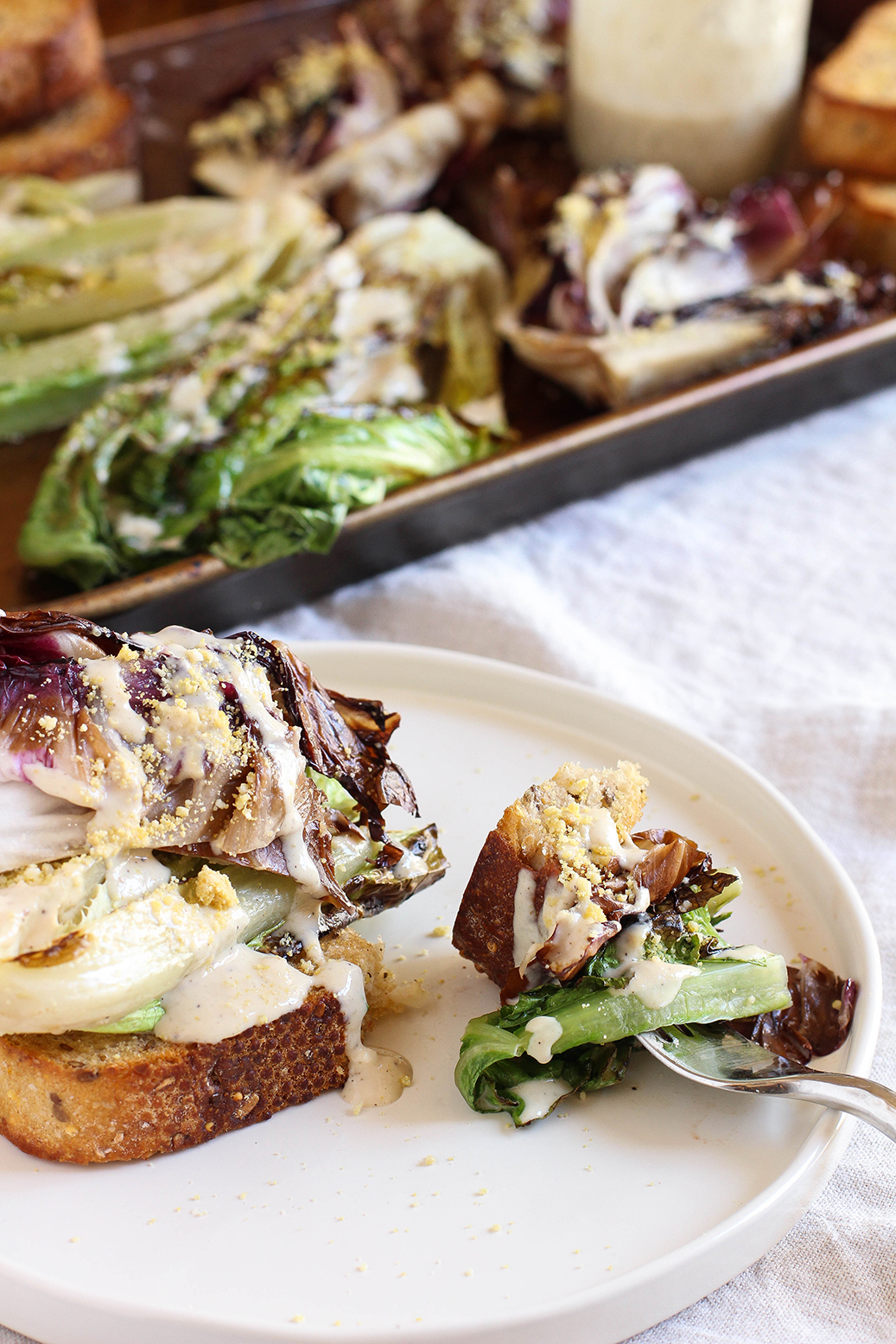 I'm so in love with these grilled Caesar salads at the moment. They've become a regular in our weekly meal rotation because well, they're delicious and also incredibly easy to throw together for a weeknight dinner. One pan – or grill- and about 10 minutes is all you need to prep the romaine, radicchio, and bread. The Garlic Tahini Dressing – which subs in for a classic Caesar – can be whisked up in a minute and the cashew parmesan (which does require some food processor action), can be prepped ahead of time. I always have a jar ready to go in the fridge. Despite the ease with which this salad comes together, it's packed with flavor and I'd venture to say, even kind of fancy. It starts with the bottom layer – a thick-cut slice of toasty bread – which is basically a giant crouton. A fancy crouton. I mean, that's reason enough to love this salad, am I right?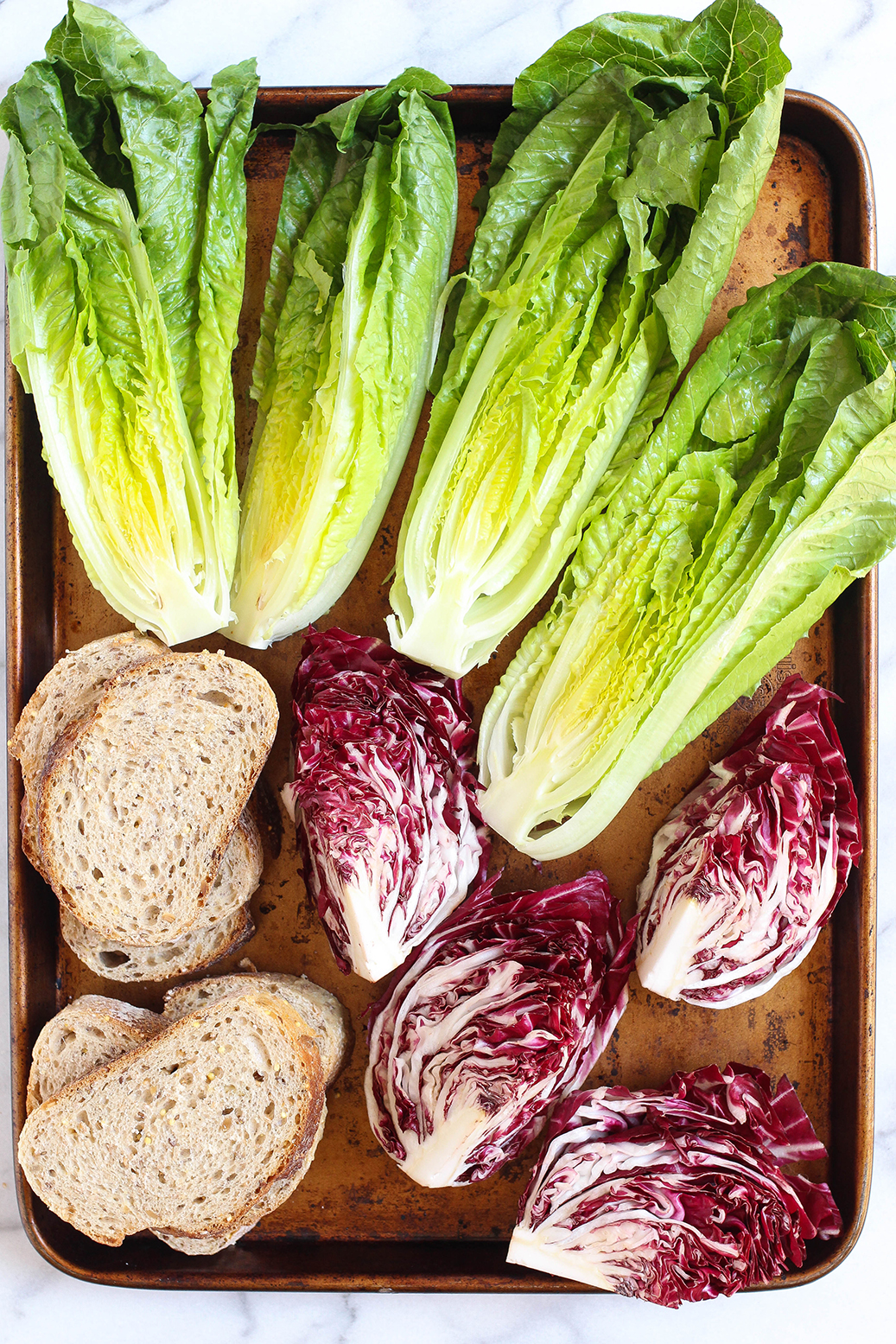 Next comes the grilled romaine and radicchio. Not only does grilling impart a layer of smoky flavor to the lettuces, but it also brings out the sweetness of the romaine and mellows the bitterness of the radicchio. You're going to wonder why you haven't been grilling all your greens. The creamy Garlic Tahini Dressing has all of the elements of your favorite addictive Caesar – tangy, garlicky, salty. Drizzled on top of the warm lettuces and bread, it literally melts into every crevice, creating a salad you can't stop eating. The cashew parmesan – I always use this recipe from Minimalist Baker – adds another layer of salty goodness and texture.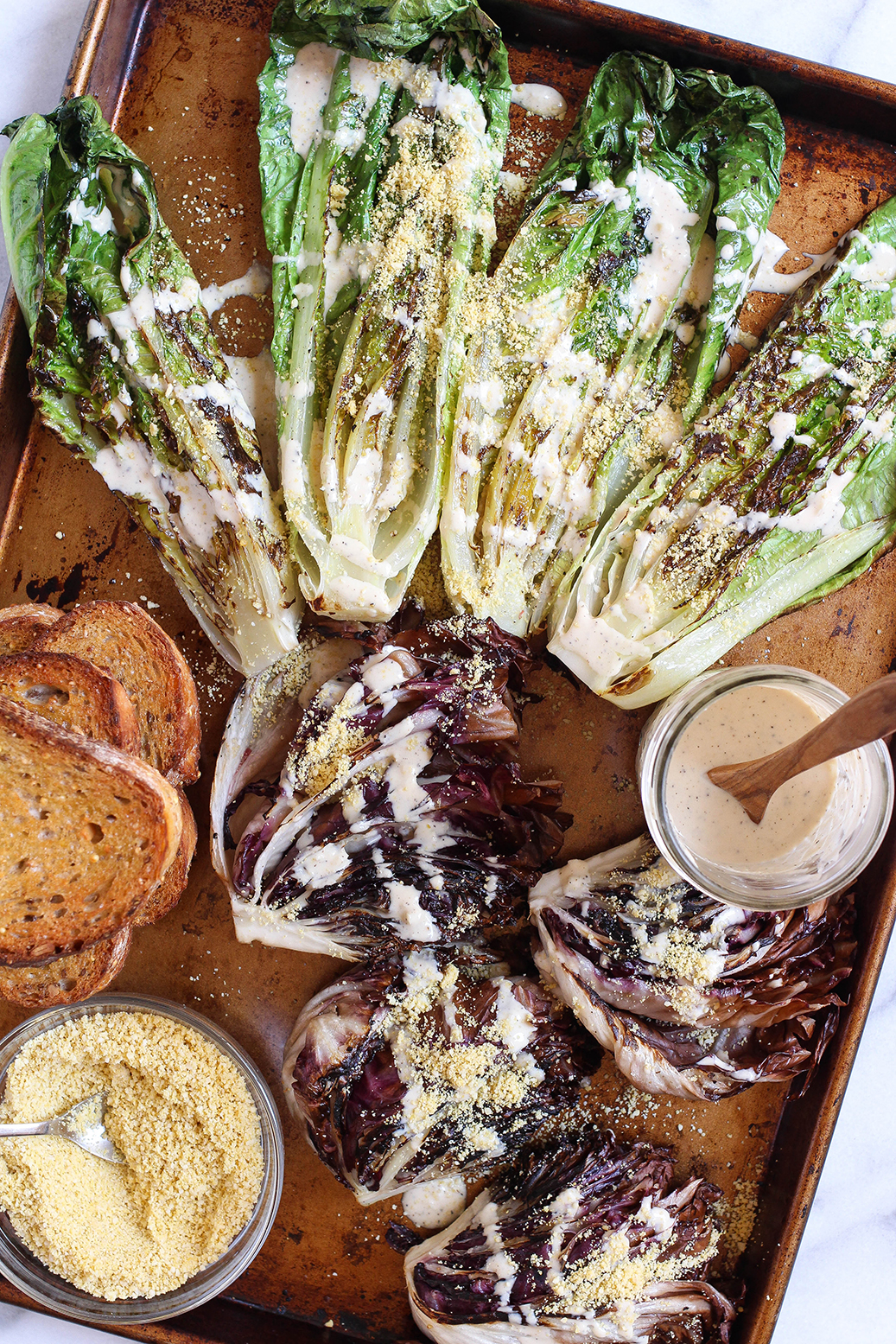 If you're been following the blog for a while, you might be experiencing a slight case of salad déjà vu. That's because this Caesar is basically a mishmash of two of my all time favorites, my Kale Caesar Salad with Garlic Tahini Dressing and Grilled Romaine & Radicchio Salad with Charred Carrot Dressing. I like to think of it as the summer version of my Kale Caesar that incorporates all the fun of the Grilled Romaine & Radicchio, because eating salads off of big 'ol pieces of yummy bread is fun, and fancy.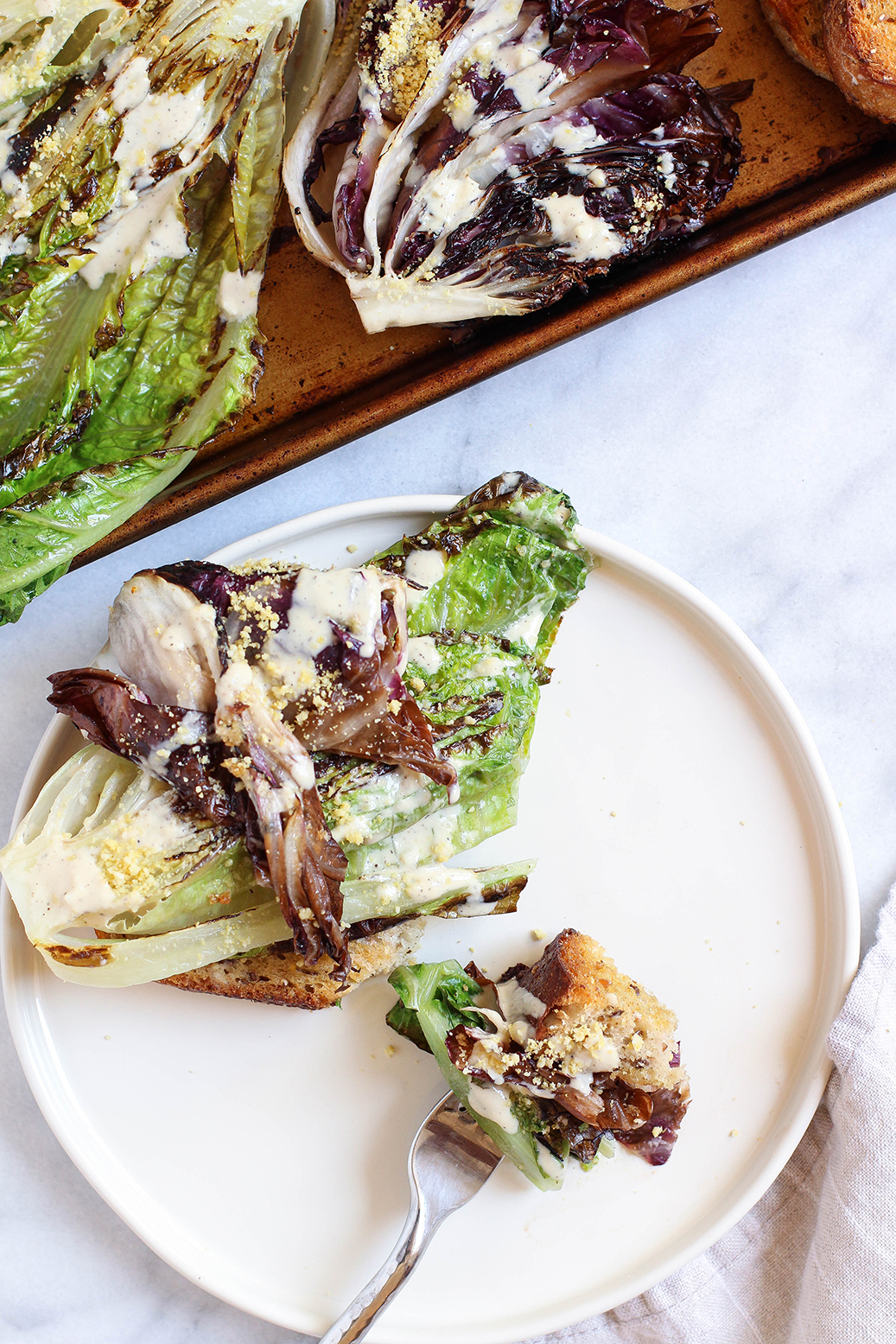 Grilled Caesar Salads with Garlic Tahini Dressing
Serves 4 as an appetizer salad, 2 as a main.
Ingredients
4 slices thick cut whole grain or sourdough bread
1 head romaine lettuce
1 head radicchio
salt and pepper
¼ cup extra virgin olive oil or garlic oil
Garlic Tahini Dressing
3 tablespoons tahini
2 tablespoons water
2 tablespoons lemon juice
1 teaspoon minced garlic (about 2 cloves)
¼ teaspoon sea salt
¼ teaspoon black pepper
Instructions
Heat a large skillet over medium-high heat and coat bottom with olive oil. Cut romaine and radicchio lengthwise into 4 pieces each.* Using a pastry brush, coat bread and lettuces generously in olive oil.
Working in batches, lay bread and lettuces in pan and cook until charred on both sides, about 2 minutes each side.** Season with salt and pepper.
To assemble salads, place grilled bread on a plate, top with a piece of romaine and radicchio, drizzle with Garlic Tahini Dressing and a tablespoon of cashew parmesan.
Garlic Tahini Dressing
Combine all ingredients in a small bowl and whisk to combine. If dressing is too thick, add water a teaspoon at a time to thin. If dressing is to thin, add additional tahini, a teaspoon at a time, and whisk to combine.
Notes
* If using romaine hearts, you might want to use two and only cut in half.
** Alternately, bread and lettuces can be cooked on an outdoor grill. You can also toast the bread in a 425 F oven for about 10 minutes.