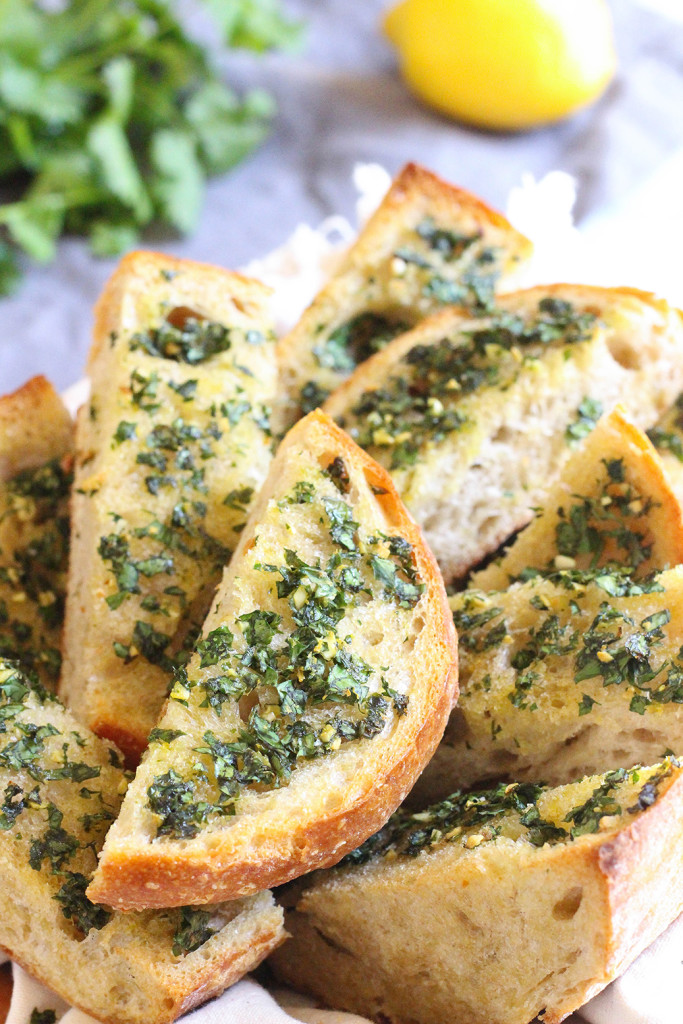 Raise your hand if when you were growing up garlic bread meant some kind of French loaf smothered in butter, parmesan cheese, garlic powder, paprika and dried parsley – or some take on that combo? Can you see me? I've got my hand waving high in the air. While I'll always love garlic bread prepared this way – although I tend to switch out the butter for Earth Balance and cheese for a sprinkle of cashew parmesan – I've found a new way to do some serious damage on a bread basket and it comes in the form of Gremolata Garlic Bread. This ain't your momma's garlic bread, folks. But your momma will love it, trust me.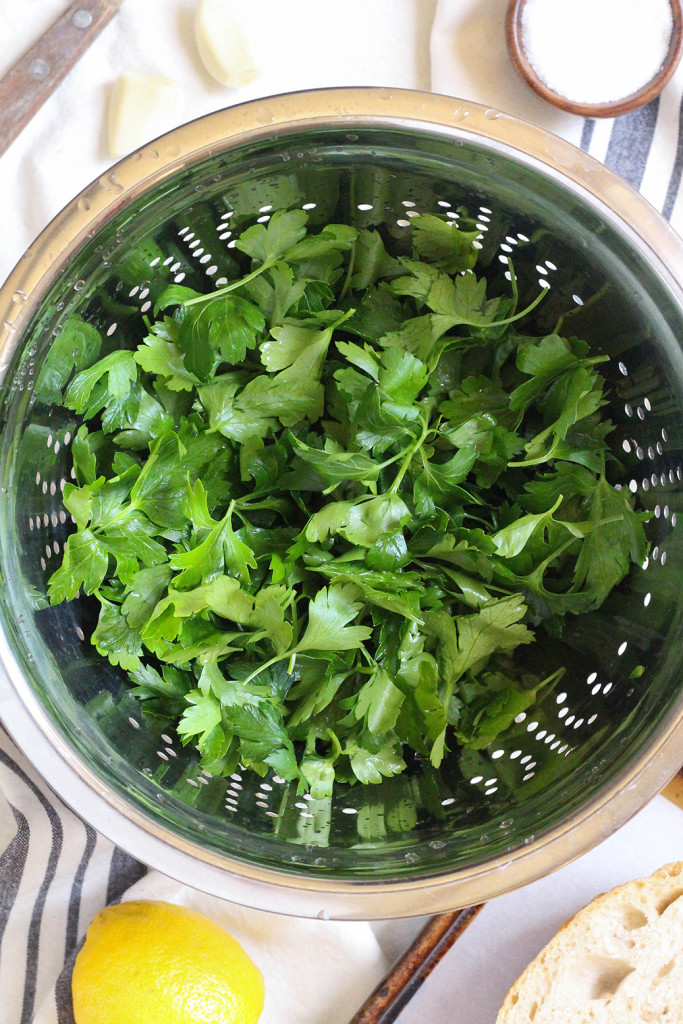 Gremolata, if you've never heard of it, is a classic Italian condiment of sorts. A simple mix of finely minced parsley, fresh garlic, and lemon zest. It's bright and refreshing and kind of heavenly when schmeared on bread with a generous glug of homemade garlic oil. The last time we had a family Weeknight Marinara night, I made half a loaf of traditional garlic bread and half of my gremolata concotion. A food experiment of sorts. No surprise, the gremolata version disappeared twice as fast.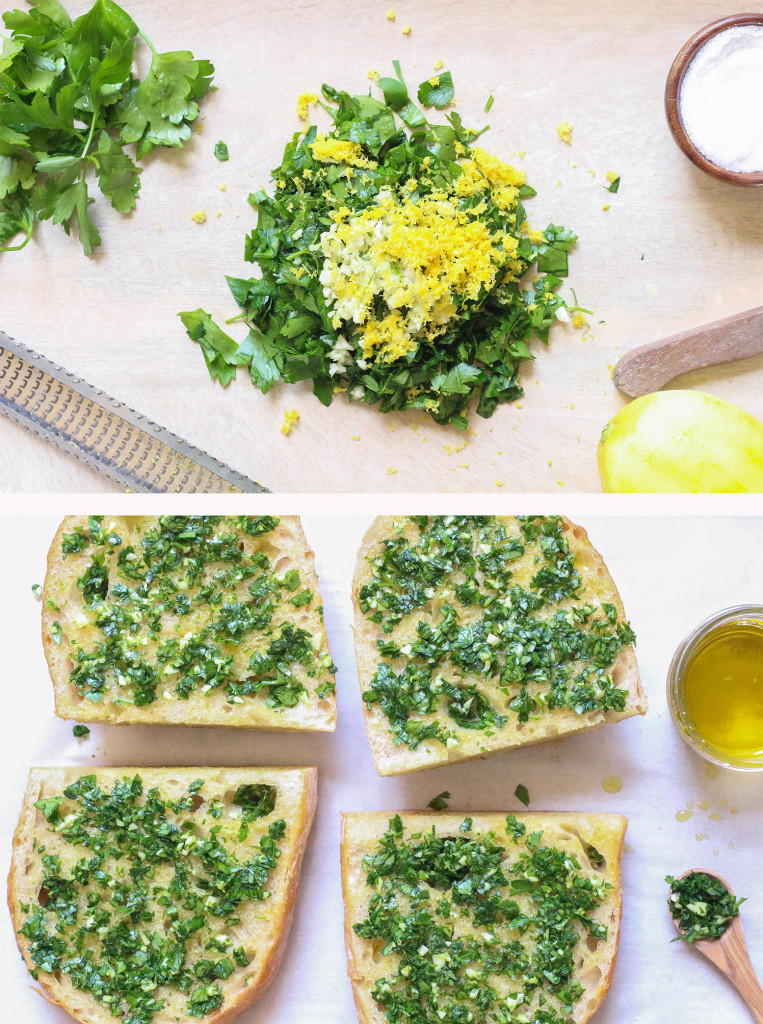 Packed with garlic flavor – a double whammy thanks to the garlic oil (can I just say, oil > butter on garlic bread, like for reals) and fresh clove minced into the gremolata topping – and the freshness of parsley and lemon, this bread is just as perfect alongside a light salad as it is a full blown pasta dinner. Make it, love it, and start a new garlic bread tradition.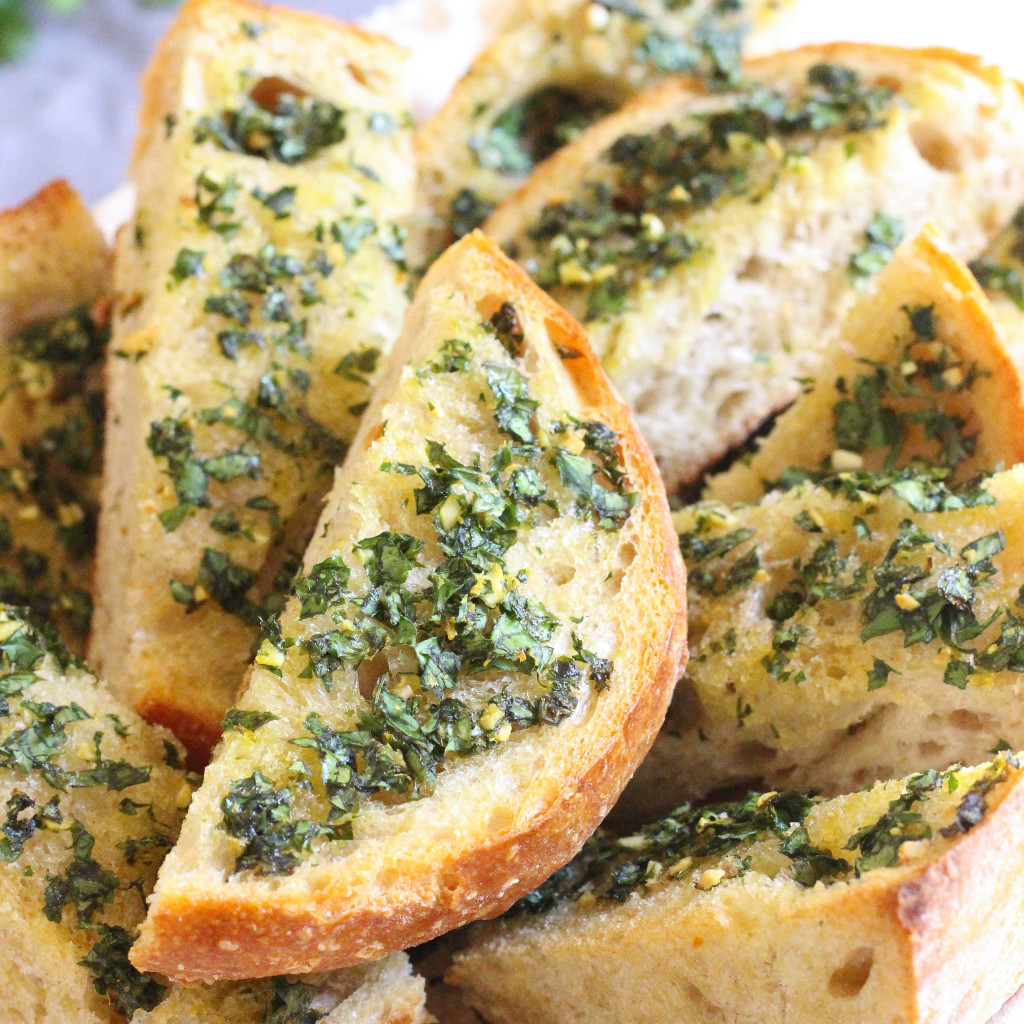 Gremolata Garlic Bread
2016-05-03 14:33:41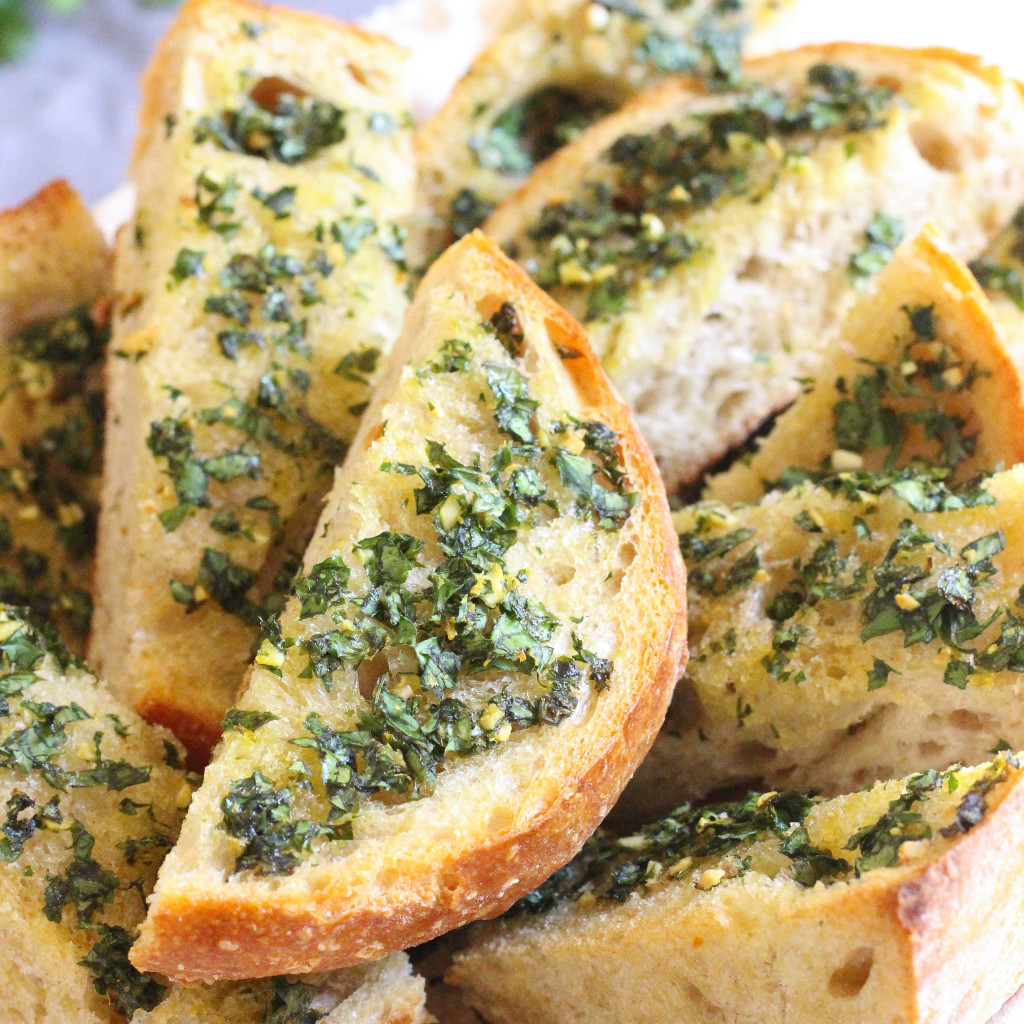 Serves 4 - 6.
Ingredients
1 cup loosely packed parsley, most of the stems removed
1 large clove garlic
1 lemon
generous pinch of sea salt or kosher salt
about 1/4 cup garlic oil*
1 loaf French country bread, ciabatta loaf, or French baguette, sliced in half
Instructions
Preheat oven to 375 F. Roughly chop parsley and garlic. Layer garlic on top of parsley and using a microplaner, grate lemon zest over garlic. Add a generous pinch of sea salt and continue to chop the mixture until the parsley and garlic are very finely minced.
Lay bread cut side up on a parchment lined cookie sheet. Using a pastry brush, generously coat bread with garlic oil. Divide gremolata evenly between bread slices. Bake until bread is golden brown, about 15 - 20 minutes. Remove from oven and cut into slices.
Notes
* To make garlic oil, bring a 1/4 cup extra virgin olive oil to a simmer in a small saucepan. Add three smashed garlic cloves and simmer until cloves turn a golden brown, 5 -7 minutes. Remove cloves and allow to cool. Oil can be stored in the fridge for up to a week. (I always make a double batch!)
The Mostly Vegan http://www.themostlyvegan.com/