It's creeping up to 80 degrees here in Southern California (I'm sorry rest of the country) and I still want to eat this soup. It's sooo good! And it might just be the easiest vegetable soup you will ever make. Now shush up, because I know what you're thinking… zucchini soup? Pass. I've got more exciting recipes hanging out on my Pinterest board to give a whirl, like those Coffeehouse Zucchini Carrot Spice Muffins.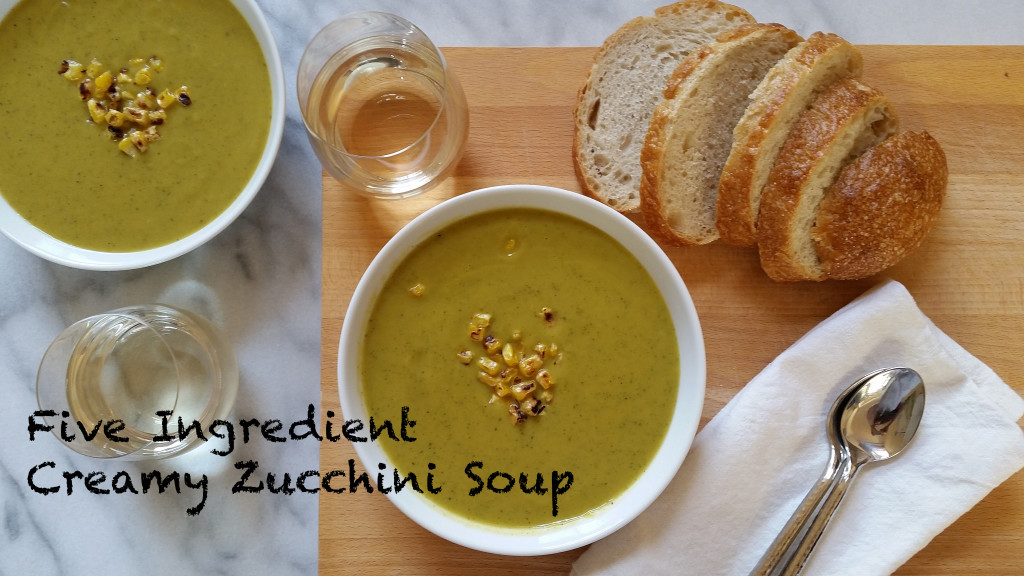 But I strongly (no, emphatically!) urge you not to file this soup away under I'll try it one day – like the next time a well meaning co-worker unloads their bumper crop of homegrown zucchini on my desk and I've got a lot of free time on my hands – but not today.
Because, for reals you guys, this soup is damn tasty. With only five ingredients – zucchini, onion, garlic, olive oil, and veggie stock (salt & pepper too, but whatevs) – you can have a gorgeous meal ready to go in under 25 minutes. I personally like mine with a side of crusty bread for sopping up every last drop of green goodness, but if you're into detoxes this soup is a great option too. It would make a perfect lunch or dinner option to round out a day of juicing or heavy green smoothie consumption.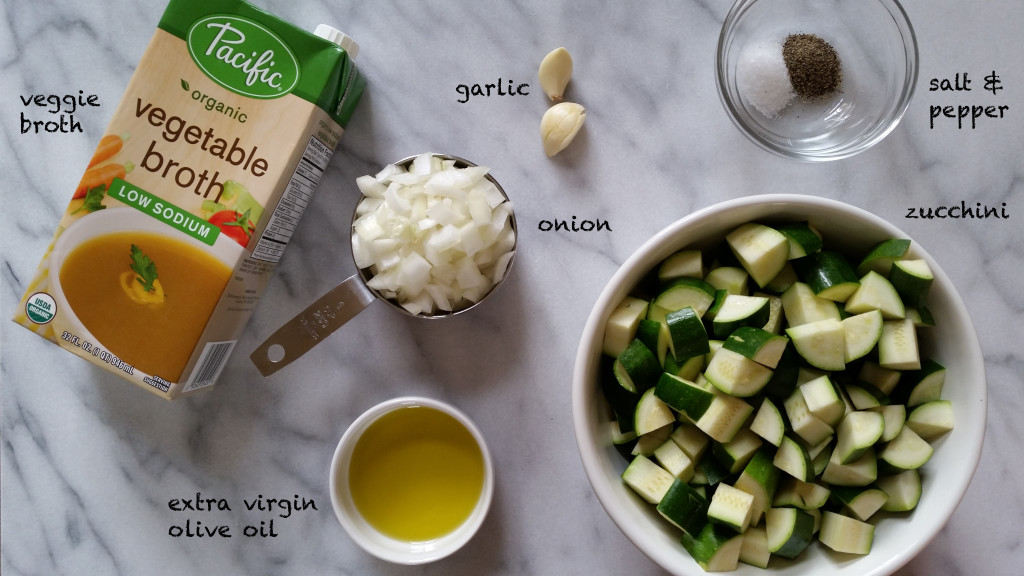 Adapted from chef Grant Achatz's recipe in Food and Wine, this veganized version is delicious and obnoxiously healthy. Browning the garlic, onion and zucchini before pureeing lends crazy flavor to a simple, rustic dish and the striking green color gives this soup a total "it" factor. The sweet earthiness of the zucchini is offset by the acidity of the onion and garlic, making for a surprisingly complex first slurp, and subsequent slurping thereafter. Serve as a starter course at a dinner party or in shot glasses as an appetizer at a cocktail shindig. Can I interest anyone in a soup shooter?
Or, whip up a pot on St. Patrick's Day, because it's green and you love theme food, or on Halloween because it's green like monster snot. I could go on all day!
Five Ingredient Creamy Zucchini Soup
2015-03-06 16:57:40
Serves 4
Makes 6 cups
Ingredients
2 tablespoons extra-virgin olive oil
1 1/2 pounds zucchini, chopped
1 heaping cup onion, diced
2 cloves garlic, minced
4 cups low-sodium vegetable broth
1 teaspoon sea salt
1/2 teaspoon pepper
1/4 cup frozen or fresh corn kernels (optional)
Instructions
Heat oil in large sauté pan over medium-high heat. Add garlic and onions and sauté until softened, about 5 minutes. Add the zucchini, salt and pepper, and cook until browned, 10 minutes more. Add 4 cups broth and bring to a simmer. Cook until the zucchini is very soft, about 5 minutes.
Working in batches, transfer soup to a blender and puree until smooth. Return puree to pan and season with salt and pepper to taste. Garnish with corn kernels lightly browned in a saute pan with a drop of olive oil.
Adapted from Food and Wine
The Mostly Vegan http://www.themostlyvegan.com/