Lentil Bolognese Stuffed Cabbage Rolls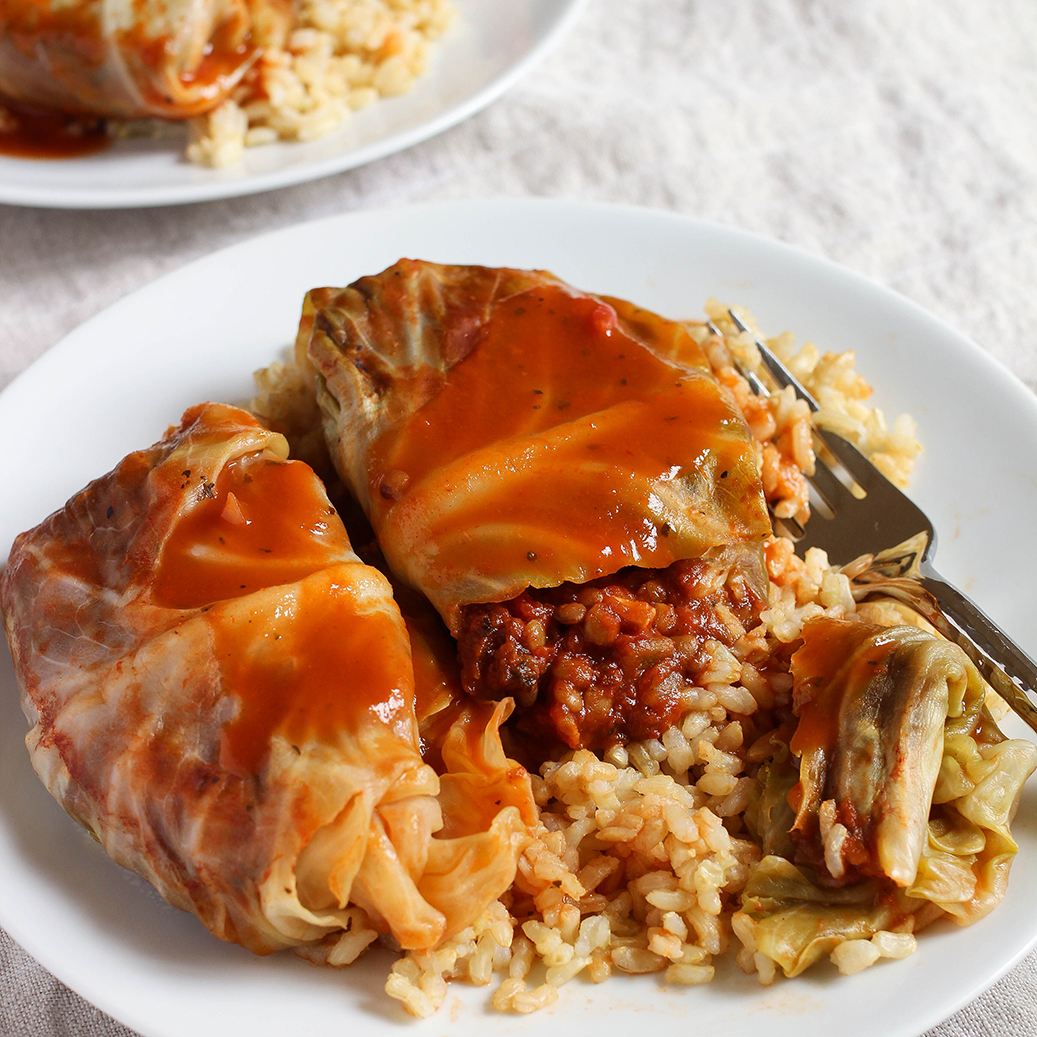 3 to 4 cups prepared lentil bolognese
1 large head cabbage
1, 18.5 ounce can tomato soup (about 2 cups)*
3 cups prepared brown rice
Preheat oven to 375 F. Place whole cabbage in the microwave and heat on high for 5 minutes, then heat in 2 minute increments until leaves are very pliable and can easily be removed from the head (up to 10 minutes total).**
In a large dutch oven or baking dish, pour enough of the tomato soup to lightly coat the bottom of the dish.*** Warm lentil bolognese filling on the stovetop. Fill a cabbage leaf with ¼ cup to ⅓ cup of bolognese, depending on the size of the leaf. Roll leaf from bottom halfway up, then tuck in sides and continue to roll until closed. Place stuffed leaf seam side down in pot or baking dish. Repeat with remaining leaves and filling. If using a pot, you'll probably need to make 2 layers of stuffed leaves. Pour about a half cup of tomato soup on top of bottom layer of leaves before starting on your second layer. Once you've used all of your leaves and/or filing, pour the remainder of the tomato soup on top.
If using a dutch oven, place lid on top and heat pot on the stovetop over high heat for about 5 minutes, until tomato sauce is bubbling. Place in the oven and cook for 35 - 40 minutes. Cabbage rolls should be puffed up and leaves will be translucent.
If using a baking dish, cover top tightly with tinfoil and place directly in the oven. Bake for 40 - 50 minutes.
Serve rolls over a scoop of brown rice, spooning additional tomato sauce over top. Cool leftovers completely before storing in the refrigerator.
* If you like your cabbage rolls with lots of extra sauce for serving, use an additional cup of tomato soup.
** You can also steam the cabbage in a pot of boiling water for about 5 minutes.
*** I use a 7.25 quart Le Creuset dutch oven so I can heat the cabbage rolls on the stovetop before placing in the oven. If using a baking dish, such as a 9 x 13 inch glass casserole dish, you'll have to skip this step and add about 10 minutes to the suggested oven cook time.
Recipe by
The Mostly Vegan
at http://www.themostlyvegan.com/lentil-bolognese-stuffed-cabbage-rolls/