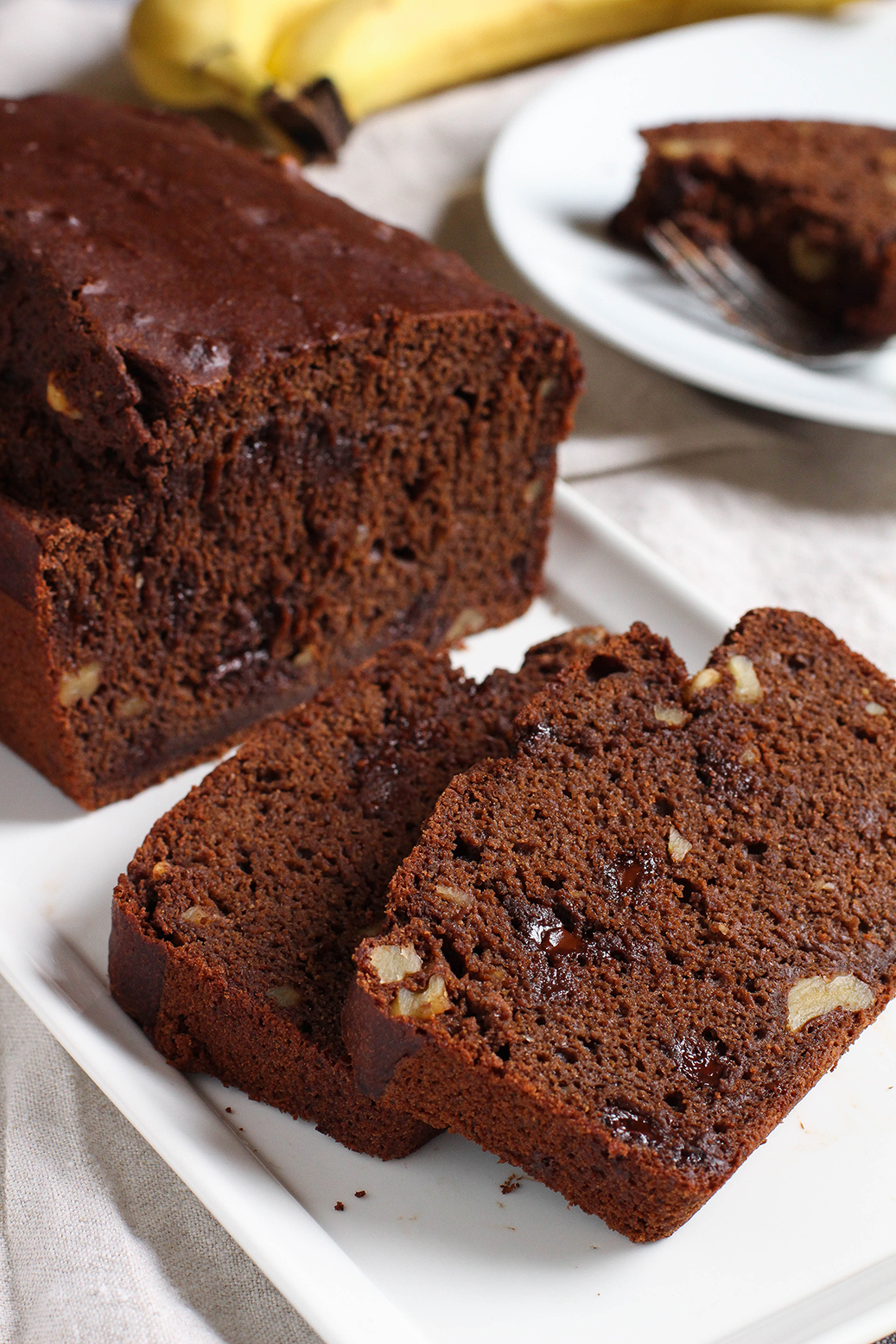 I've been on the ultimate loaf making kick lately. In the past three weeks I've whipped up cranberry orange loaves, almond poppy seed, chocolate raspberry, and of course this Double Chocolate Banana Bread version. Seriously, my friends and family might be suffering from loaf fatigue (never!). There's just something about a loaf though, it instantly makes breakfast better. They feel indulgent when they're secretly quite virtuous, at least the way I make them. I usually swap out half of the all purpose flour for fiber packed spelt and I try to use as little sugar as possible, without sacrificing taste of course.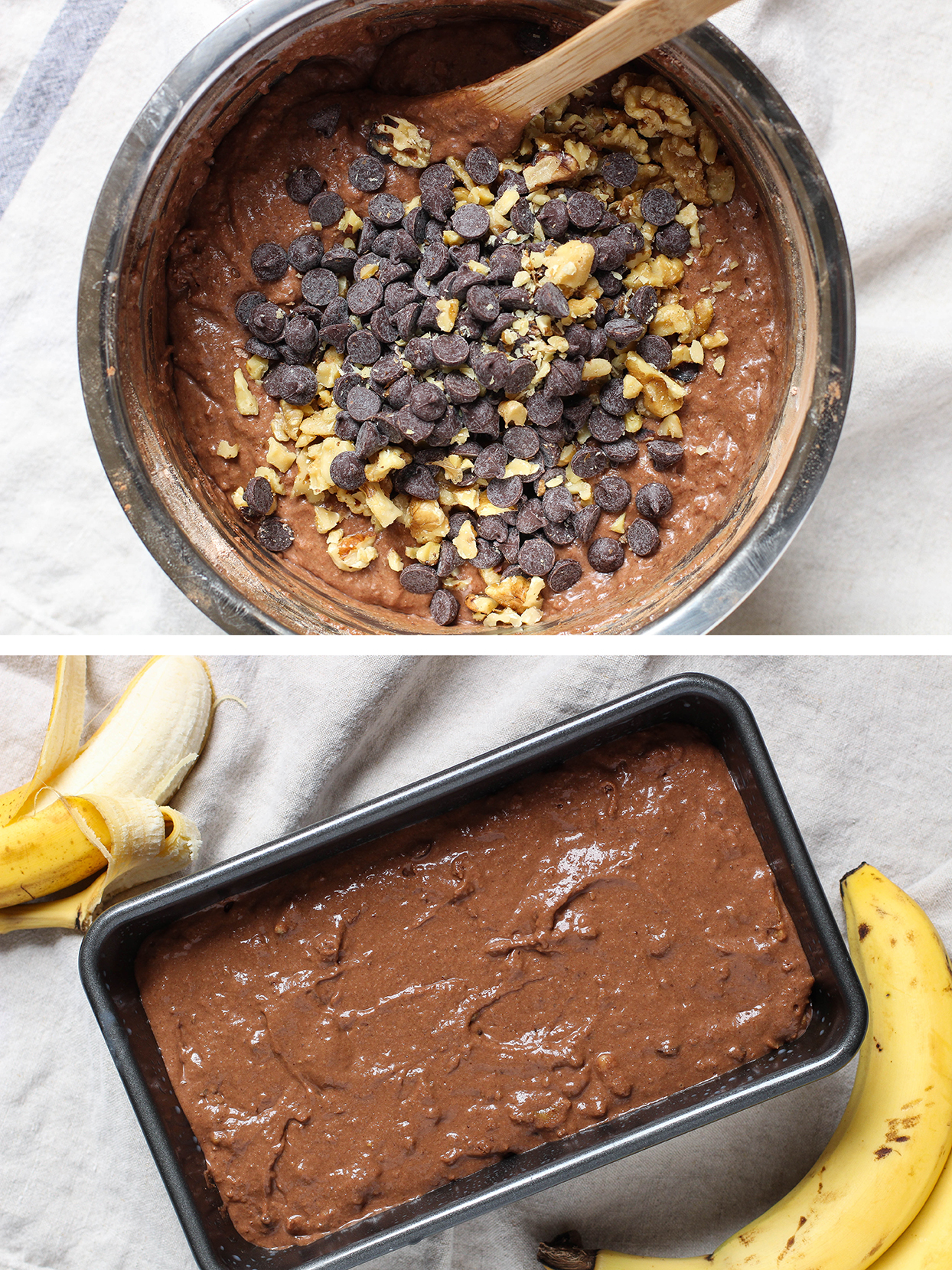 But believe me, no one will care about any healthy subs once they take a bite of this Double Chocolate Banana Bread. Just look at that rich color and all those flecks of melty chocolate chips and crunchy walnuts. The banana definitely shines through here but isn't overwhelming. I'd say it's equal parts banana and chocolate flavored, which is exactly where you want a chocolate banana bread to fall on the flavor spectrum, if I do say so myself. This loaf is insanely moist, we're talking borderline chocolate cake decadence here, and keeps nicely in the fridge for a few days after you bake it. I like leftovers best when warmed for about 25 seconds in the microwave (how else are you going to reactivate all that melty chocolate chip action) before eating.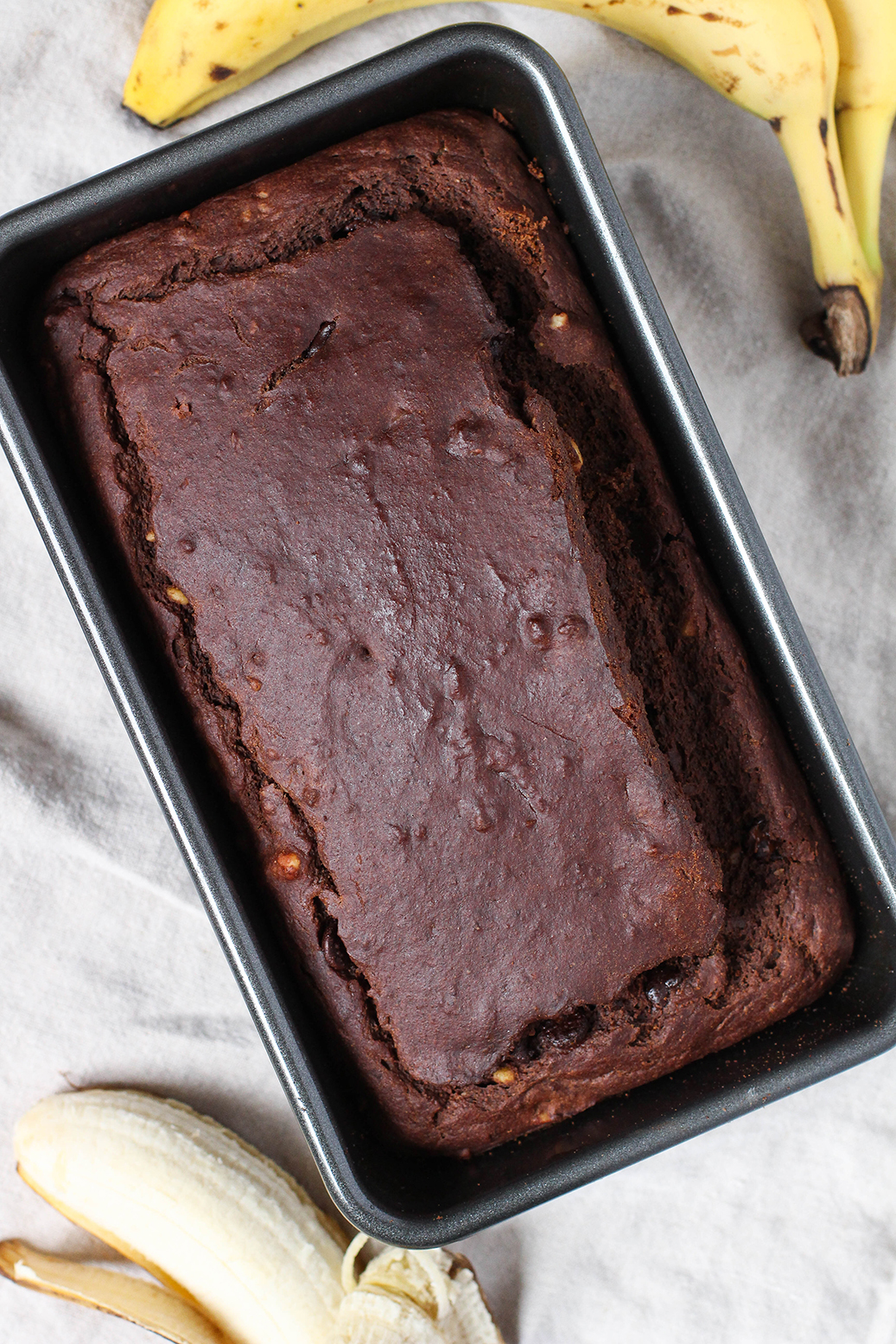 Now for one last note regarding the spelt flour. When I first started developing this recipe I adapated it from my Easy Vegan Cornbread. I figured since that recipe calls for half corn flour, I could easily substitute another whole grain flour and throw the whole thing in a loaf pan. Since I'm a big fan of spelt (check it out in my Pumpkin Maple Spelt Scones), and generally opt for it over traditional whole wheat flour, I knew it would go great in this bread. One thing to remember about spelt – and any whole grain flour for that matter – it really sucks up moisture and can leave baked goods dry unless you compensate with additional oil, fruit puree, etcetera. I settled on half spelt in this recipe after attempting multiple versions with one hundred percent of the whole grain stuff, all of which were a bit too dry for my taste. Feel free to use all spelt flour, but remember to tweak your liquid ratios somehow. Or you know, just make the recipe as written. It's Mostly Vegan approved.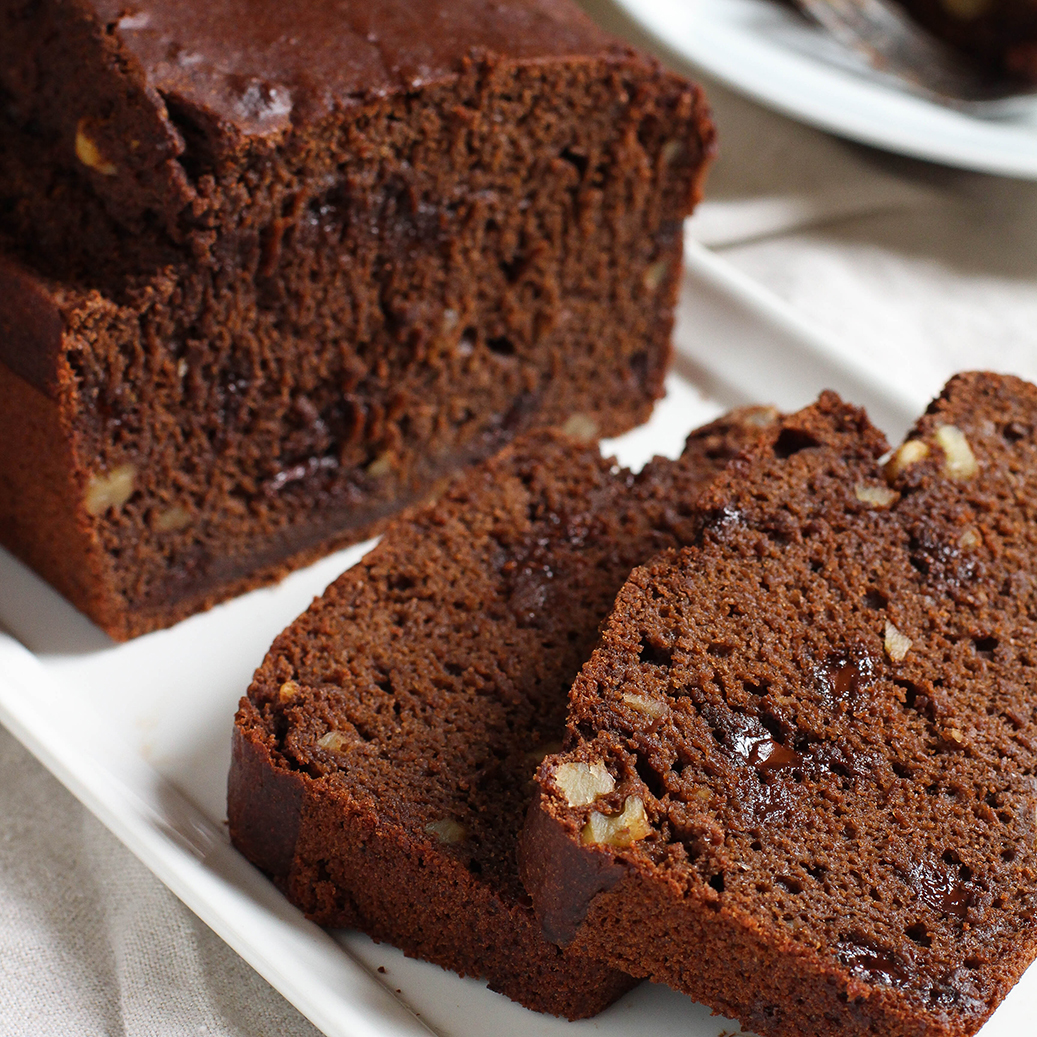 Double Chocolate Banana Bread
2017-02-07 11:48:04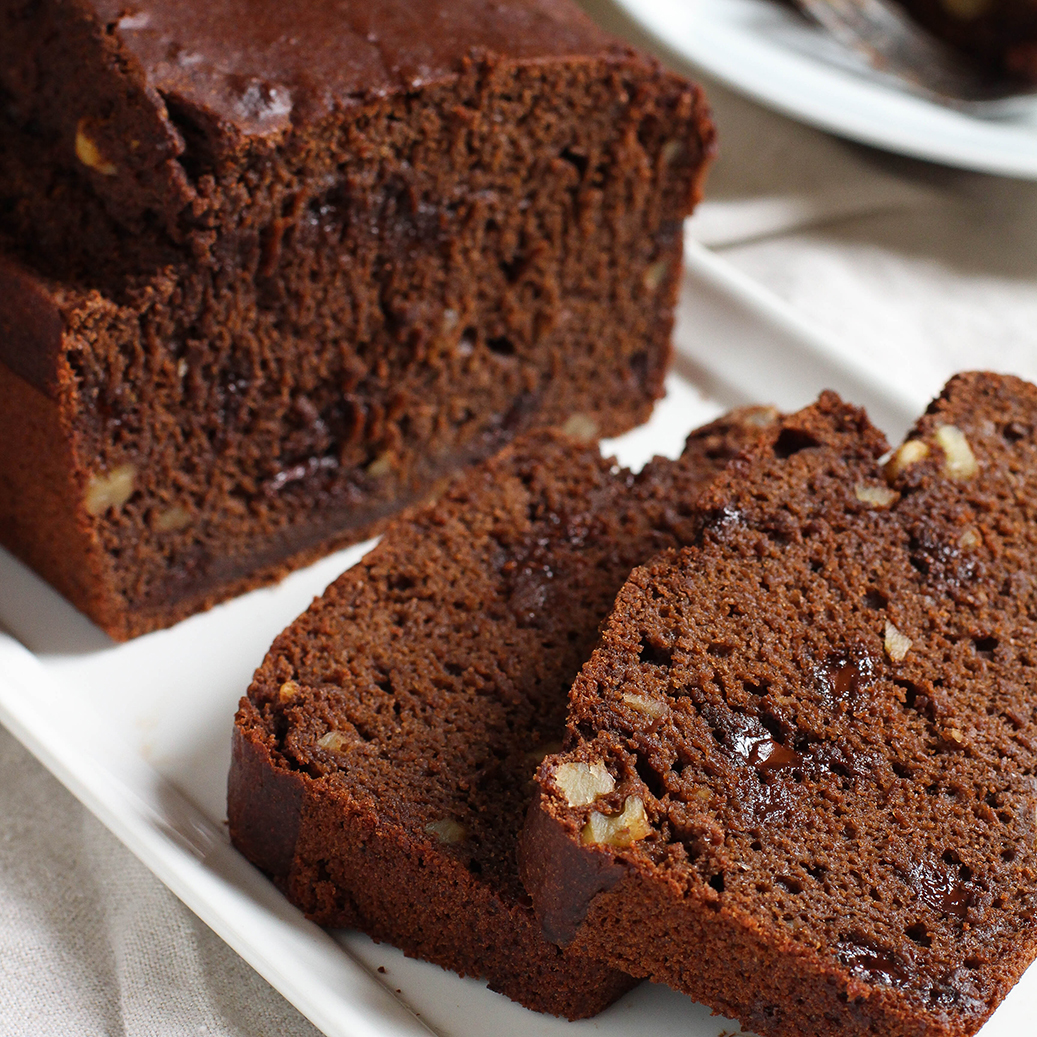 Makes 1 loaf.
Ingredients
1 cup whole grain spelt flour
1 cup unbleached all purpose flour
1/2 cup cocoa powder
3 very ripe medium bananas
1 cup unsweetened almond milk
1/2 cup organic cane sugar
1/3 cup unrefined coconut oil, melted (plus additional oil for coating pan)
1 tablespoon ground flaxseed
1 teaspoon apple cider vinegar
1 teaspoon vanilla extract
1 1/4 teaspoons baking powder
1/2 teaspoon baking soda
1/2 teaspoon sea salt
1/2 cup semi sweet chocolate chips*
3/4 cup walnuts, roughly chopped
Instructions
Combine flaxseed with 3 tablespoons water and set aside (this is your flax egg). Add apple cider vinegar to almond milk and set aside. Allow both to sit for at least 10 minutes to allow flaxseed to thicken up and almond milk to curdle.
Preheat oven to 375 F and brush a 9" loaf pan with coconut oil. Combine flours, baking powder, baking soda and sea salt in a bowl. Sift in cocoa powder then whisk all ingredients together thoroughly.
Mash bananas until no lumps remain. Mix together with sugar, flax egg, almond milk, coconut oil and vanilla extract. Add wet mixture to dry ingredients and stir to combine. Fold in chocolate chips and walnuts.
Pour batter into loaf pan and bake until a toothpick inserted in the center comes out clean, 45 - 55 minutes.
Remove from the oven and allow to cool completely on a cooling rack. Run a knife along edges of pan to loosen loaf then gently flip upside down to shake loose.
Notes
* Check ingredient list to make sure your chocolate chips do not contain milk. I use Guittard.
The Mostly Vegan http://www.themostlyvegan.com/