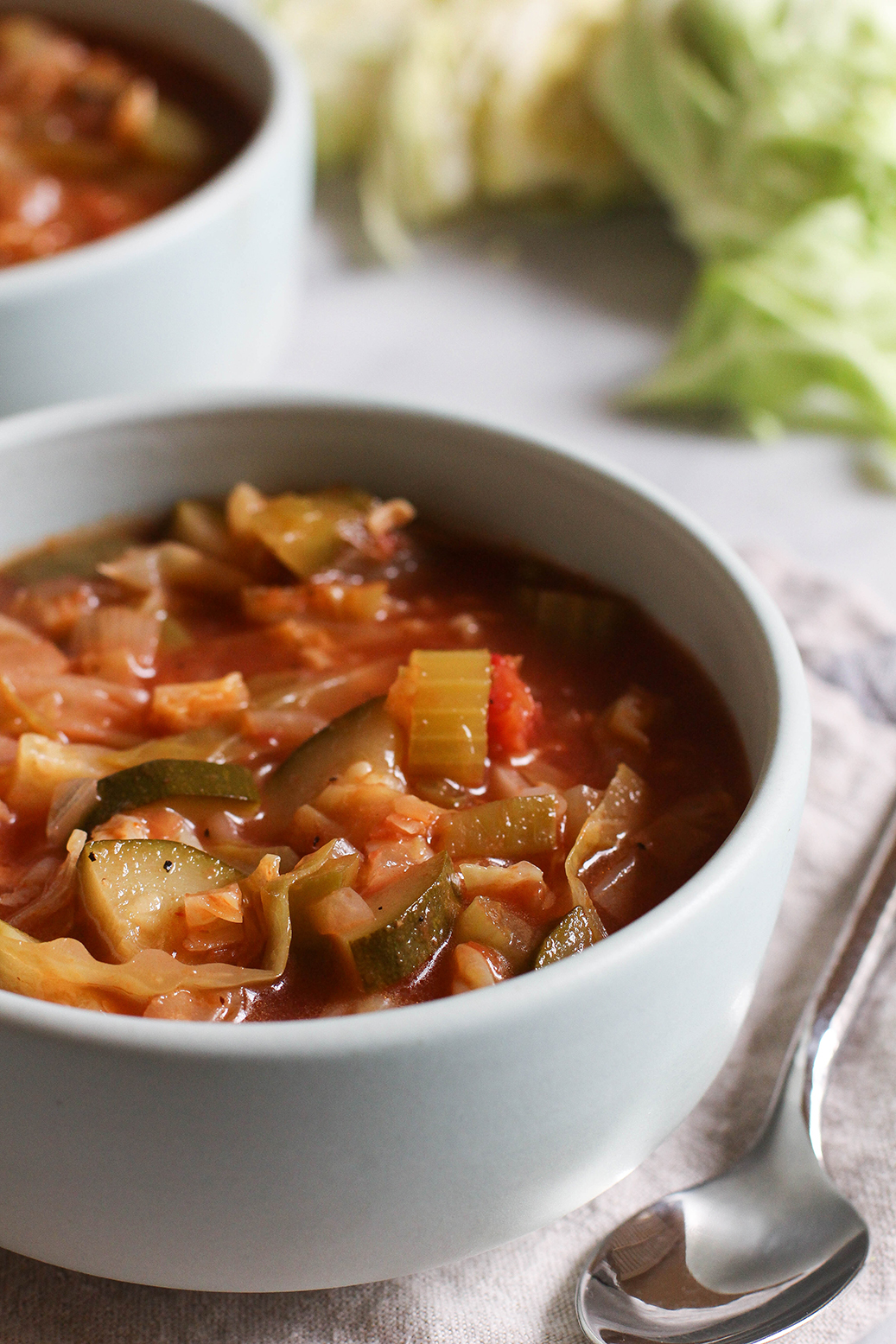 Ok, guys, it's almost mid-January. Time for a resolution check in. How's everybody doing? Scale of 1 to 10? I've never been much of a resolution maker myself. Instead, I view January as the perfect time to return to the cleaner eating habits and regular workouts that might have taken a back seat to all the sweets and treats and time spent relaxing with friends and family over the holidays. Like it or not, it's back to reality. Just like my Warm Lentil Detox Salad helped get me through the holidays without resorting to sweatpants and Santa sweaters, this Detoxifying Cabbage Soup is here to soften the New Year blow.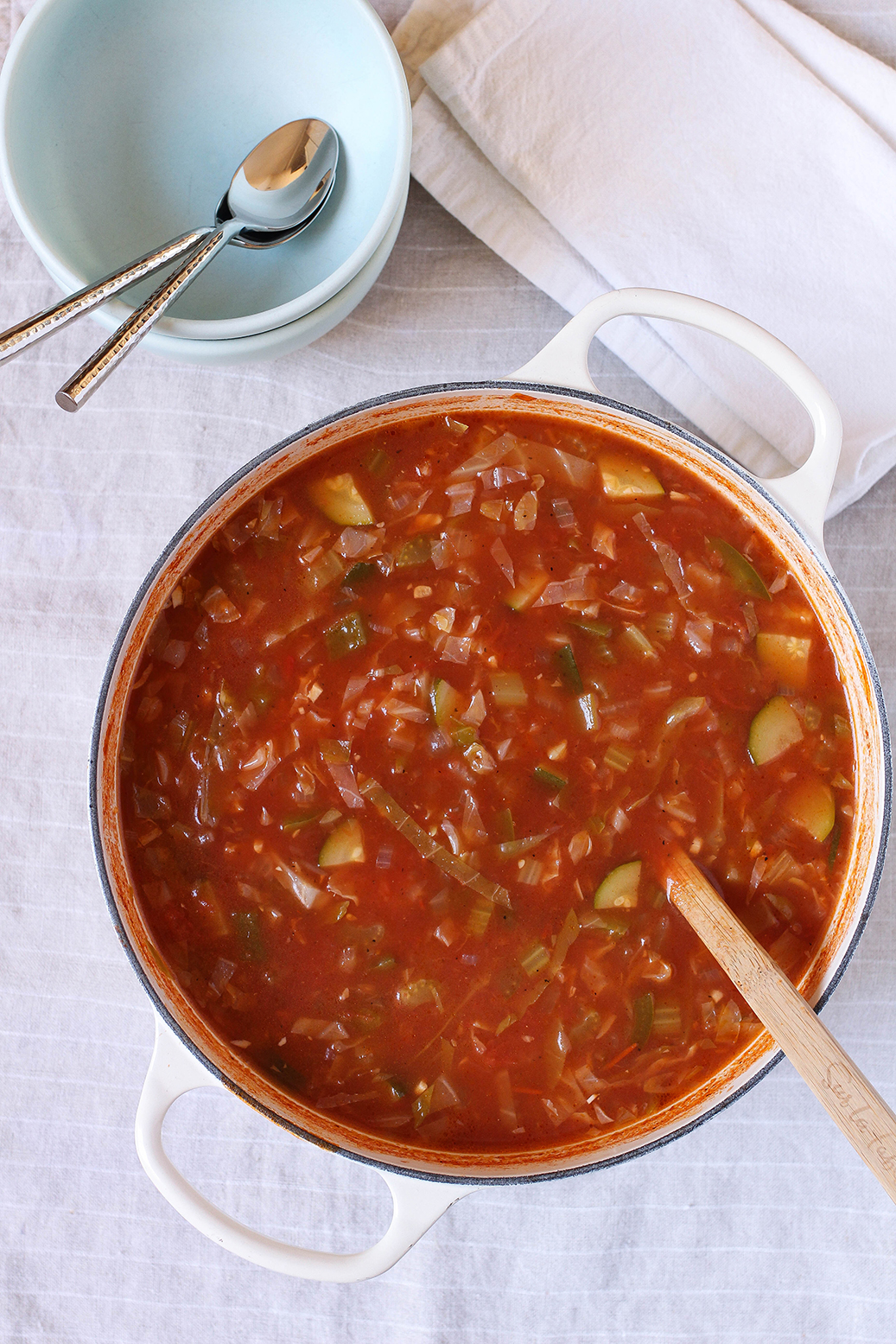 An homage to the infamous cabbage soup diet craze from the 90's, my version is of course uber healthy and uber tasty. It's actually become our go to veggie soup recipe. Instead of throwing everything in a slow cooker with plain old water (yes, a lot of the throwback recipes for cabbage soup take that route) I start with cooking down the onions and garlic over medium heat for a full 10 minutes to build flavor, then add in heaps of zucchini, celery, and bell pepper. (You could thrown in carrots as well, but cabbage soup lore typically leaves them out in favor of veggies with higher water content). Canned crushed tomatoes lend a bit of acidity and low sodium veggie stock some depth of flavor. The veggies are simmered briefly before adding the cabbage, so you're not left with a pot of mushy veggie slop. A bay leaf, sea salt, and black pepper are the soup's sole seasonings. Sounds bland, but sometimes simple is best.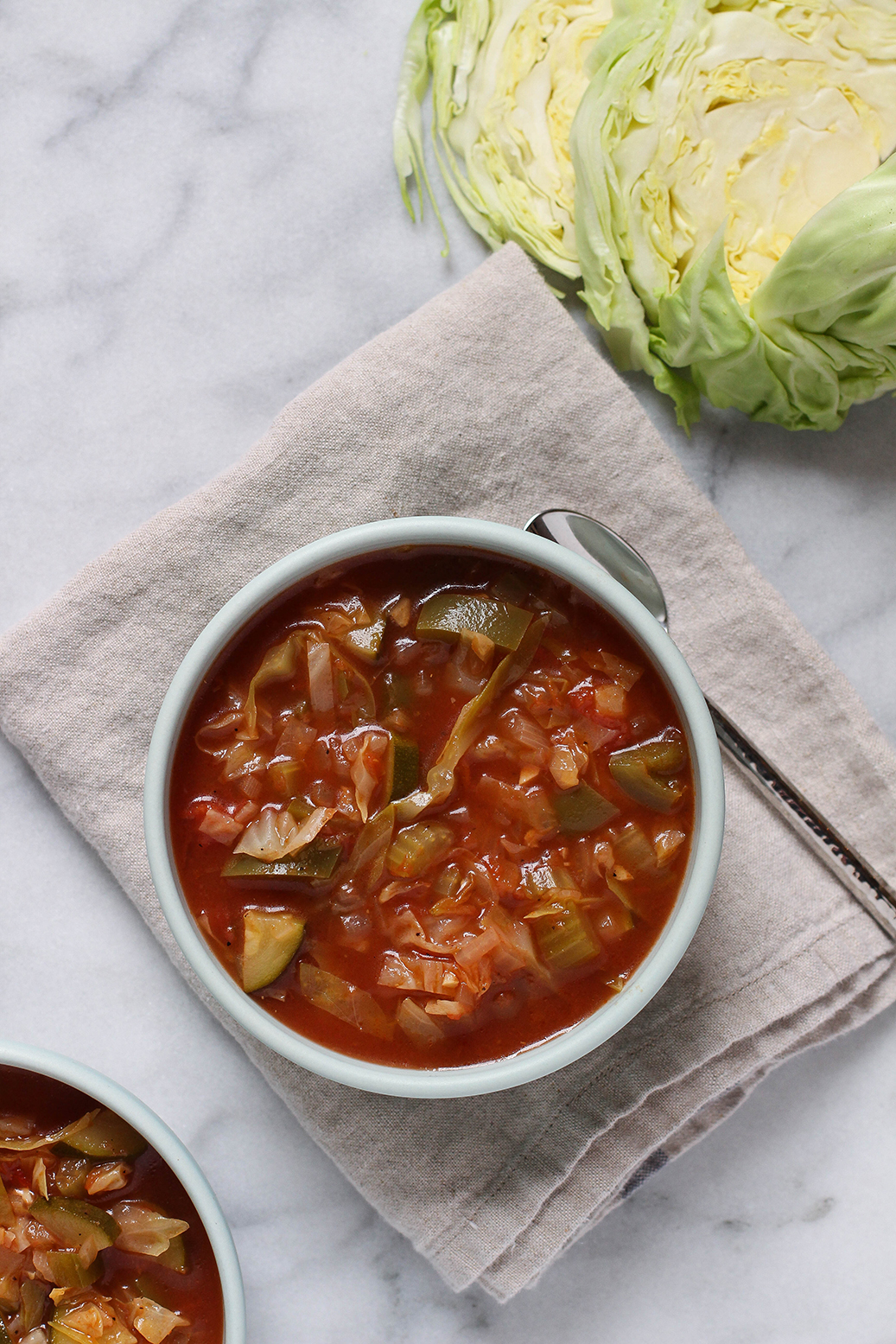 I've made this soup twice already in the New Year and even though the recipe yields a vat's worth of soup, it's gobbled up within a few days. While I don't advocate going the retro route and eating it for breakfast, lunch, and dinner for a whole week, it makes a pretty sweet desk lunch, afternoon snack, or my favorite – a light and cozy dinner alongside a couple of pieces of whole grain bread brushed with coconut oil. Whether your New Year's Resolution is bold, like going completely vegan; or modest, like making soup from scratch instead of relying on the canned stuff, this soup is the perfect recipe to get you on track and start a new, healthy habit.

Detoxifying Cabbage Soup
Makes about 17 cups.
Ingredients
5 cups shredded cabbage (1 small head cabbage)
1 medium yellow onion, diced
6 cloves garlic, minced
2 cups green bell pepper, diced (1½ large peppers)
2 cups celery, diced (8 stalks celery)
2 cups zucchini, diced (2 medium zucchini)
1, 20 ounce can no salt added crushed tomatoes
8 cups (64 ounces) low sodium vegetable broth
2 tablespoons extra virgin olive oil
1 bay leaf
1½ teaspoons sea salt
1 teaspoon black pepper
Instructions
Heat olive oil over medium heat in a large stock pot. Add onion, garlic, salt, and pepper to pot and saute until onions are cooked down and very soft, about 10 minutes.
Add remaining vegetables to pot - except for cabbage - with crushed tomatoes, vegetable broth, and bay leaf. Bring soup to a boil then lower to a simmer and cook, covered for 15 minutes. After 15 minutes, add cabbage to pot and cook, covered an additional 15 minutes.
Season with salt and pepper to taste and serve hot. Allow soup to cool completely before storing leftovers in the refrigerator for up to a week.
Bonus Recipe Alert!!!
Head over to Project Juice's
Ritual Wellness blog
where I cooked up more healthy New Year eats. These roasted stuffed sweet potatoes- with shredded brussels sprouts, herbed black lentils, and a to die for pomegranate chimichurri – are delicious fiber and protein packed powerhouses.