My all time favorite muffin in the history of my muffin eating life is the Zucchini Walnut Muffin from Starbucks. Maybe I'm perpetually nostalgic for my college days spent as a barista, waking up at 4:30am to make my opening shift at Starbucks, where I'd unpack a days worth of gorgeous baked goods into the pastry case. There were lots of delicious options but the zucchini walnut muffin was where it was at, spicy, crumbly cake with little flecks of zucchini and toasted walnuts on top. I don't miss waking up predawn but I do miss eating those muffins on the regular.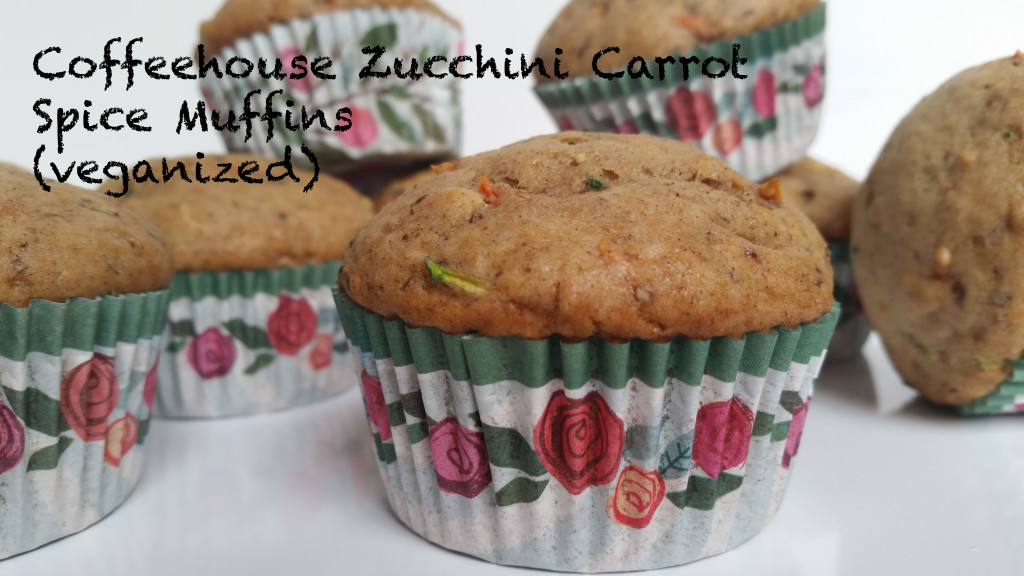 My Coffeehouse Zucchini Carrot Spice Muffins are an updated version of this all time fave, veganized and – it had to be done – slightly healthified. It took me 4 batches to perfect these babies but persistence pays off with delish homemade muffins.
With the first batch, I used 1/2 cup vegan butter. The finished product had a great crumb but the batter came together super thick. Maybe I need to experiment more, but for now I'm going with vegan butter for schmearing, not for baking. I also accidentally used expired baking powder in this batch, resulting in a distinct aluminum taste. So, sorry vegan butter, you never had a chance.
The second batch entered into crazy crunchy granola lady territory with applesauce subbed for all of the butter/oil and half whole wheat flour. I used too much liquid in the form of almond milk and the batter never cooked all the way through. And, these puffed up initially in the oven but fell flat as soon as they came out.
On to the third batch, I kept 'em uber healthy but lowered the liquid content. I was also determined to get a perfect domed top and diligently scoured muffin forums on the interwebs. Many a muffin expert advised upping the amount of baking powder, but I didn't see that doing much besides giving these a higher first rise in the oven that would ultimately fall flat. With the muffin gods smiling down on me, I stumbled across an article on Food52 conveniently titled How to Make Perfect Domed Muffins.  Inquiring minds need to know!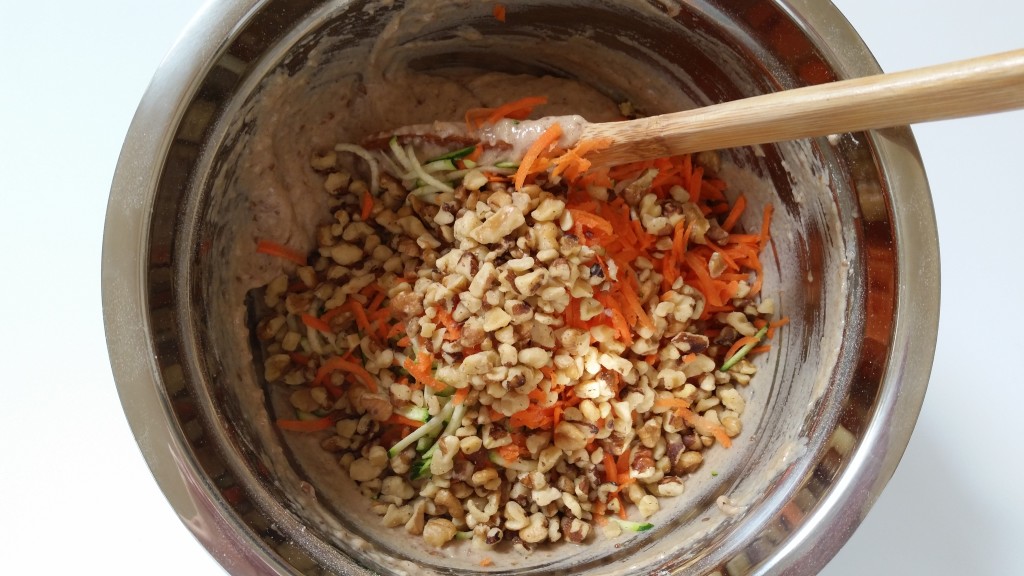 Those geniuses over at Food52 asked baker Zoe Nathan who declared more flour! the secret to the perfect muffin top.  It sounded like a solution I could get behind and I upped the flour by a 1/4 cup to 1 3/4 cups.  The result, perfectly domed muffin tops. Ok, they're itty bitty domes, but they're domes dammit.  Overall, these were pretty good for a whole wheat and almost fat free muffin but they were too spongy and didn't have any of that appealing crumbliness that makes a great muffin or quick bread.
Last and most revelatory batch, I swapped half the applesauce for coconut oil and shudder, used all white flour.  I know, I know, nobody uses all white flour anymore.  But whatever, the flax egg and added veggies in these little packages of yum add their fair share of fiber and healthy points.  Final verdict from the husband, "these are good, like really good.  I know you said they were the best yet, but…save this recipe." I'll take it.
These Coffeehouse Zucchini Carrot Spice Muffins have the perfect crumb, a spot on spicy sweet flavor (thank you, cloves!) and great flecks of color from the carrots and zucchini.  I might even try them as a cupcake with vegan cream cheese frosting.  And, to top things off, they come in right at 200 calories per muffin.  So you can have two, and even invite a lil' schmear of vegan butter to the party.  Oh happy muffin day!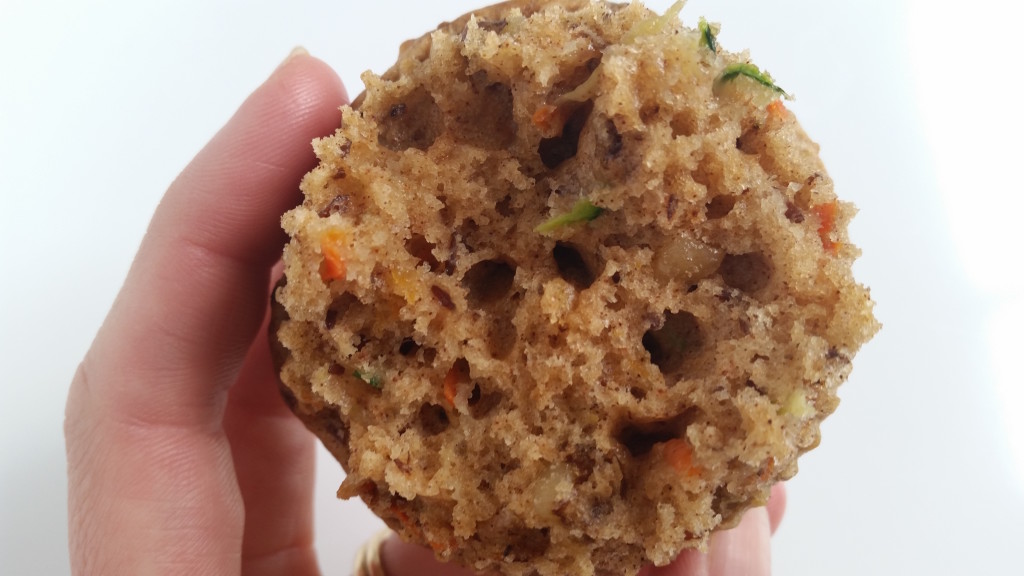 Coffeehouse Zucchini Carrot Spice Muffins
Makes 12 muffins
Ingredients
1¾ cups unbleached all-purpose flour
¾ cup organic sugar
½ cup unsweetened almond milk
½ cup shredded zucchini
½ cup shredded carrots
½ cup walnut pieces
2 tablespoons ground flaxseed
¼ cup unsweetened applesauce
¼ cup melted coconut oil
1 teaspoon apple cider vinegar
1 teaspoon baking powder
½ teaspoon baking soda
1 teaspoon vanilla extract
2 teaspoons cinnamon
¼ teaspoon nutmeg
¼ teaspoon ground cloves
½ teaspoon sea salt
Instructions
Combine flaxseed with 6 tablespoons water and set aside (this is your flax egg). Add 1 teaspoon apple cider vinegar to almond milk and set aside. Allow both to sit for at least 10 minutes to allow flax egg to thicken and almond milk to curdle.
Preheat oven to 350 F. Combine flour, baking powder, baking soda, cinnamon, nutmeg, cloves and sea salt in a bowl. Whisk until just incorporated. In a separate bowl combine sugar, flax egg, almond milk, applesauce, coconut oil and vanilla extract. Add wet mixture to dry ingredients and mix. Fold in walnuts, shredded carrot and zucchini.*
Scoop batter by quarter cupfuls into muffin tin.** Bake for 25 -28 minutes until a toothpick inserted in the center come out clean. (Mine clocked in at 26 minutes.) Remove from the oven and allow to cool completely before serving.***
Notes
*Roughly one carrot and zucchini shredded using a box grater or food processor
**I used muffin wrappers but you could go without, just be sure to spray the tin with vegetable oil before baking.
***These are great heated up in the microwave or toaster oven the next day, but I'd advise removing the muffin wrappers before reheating to avoid sticking.