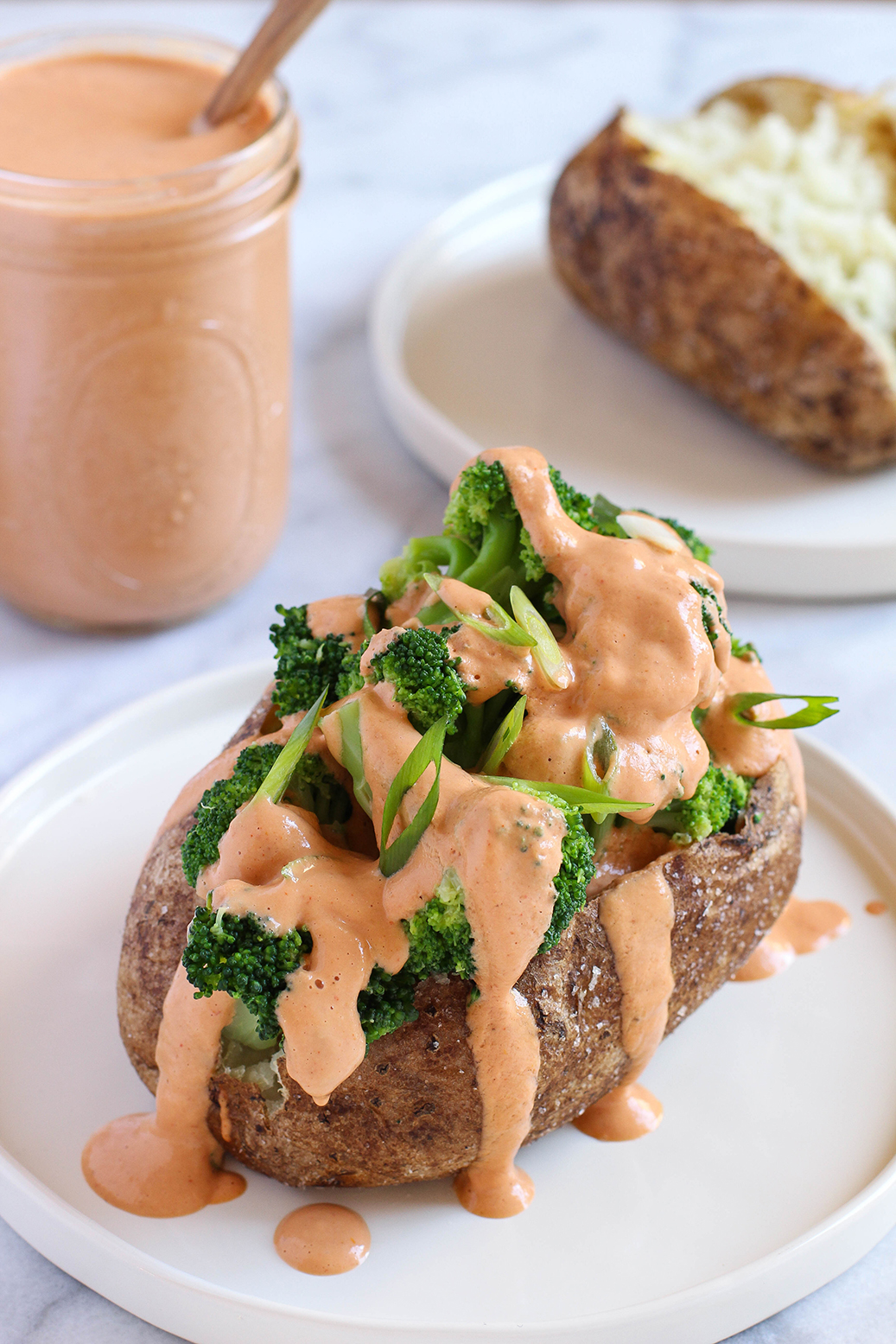 Oh, the humble spud.  It tends to get a bad rap from the carb fearing set, but I can barely go a week without making a meal out of a perfectly baked tater.  They're a staple in our house, and I've yet to get fat eating them, so haters just hush.  These Broccoli Cheese Baked Potatoes are our current favorite version for making the simple potato shine.  Adapted from my Loaded Vegan Baked Potatoes, the deliciousness starts with an expertly honed method for baking the potatoes.  It's very high tech.  I kid, it couldn't be more low tech.  The secret to a stellar spud?  A hot, hot oven – 425 degrees Fahreneheit – a potato thoroughly coated in olive oil and sea salt, and an hour long cook time.  That's it, there's no poking holes or wrapping in tinfoil allowed.  The result?  A crispy on the outside, lighty and fluffy on the inside, scarf worthy potato.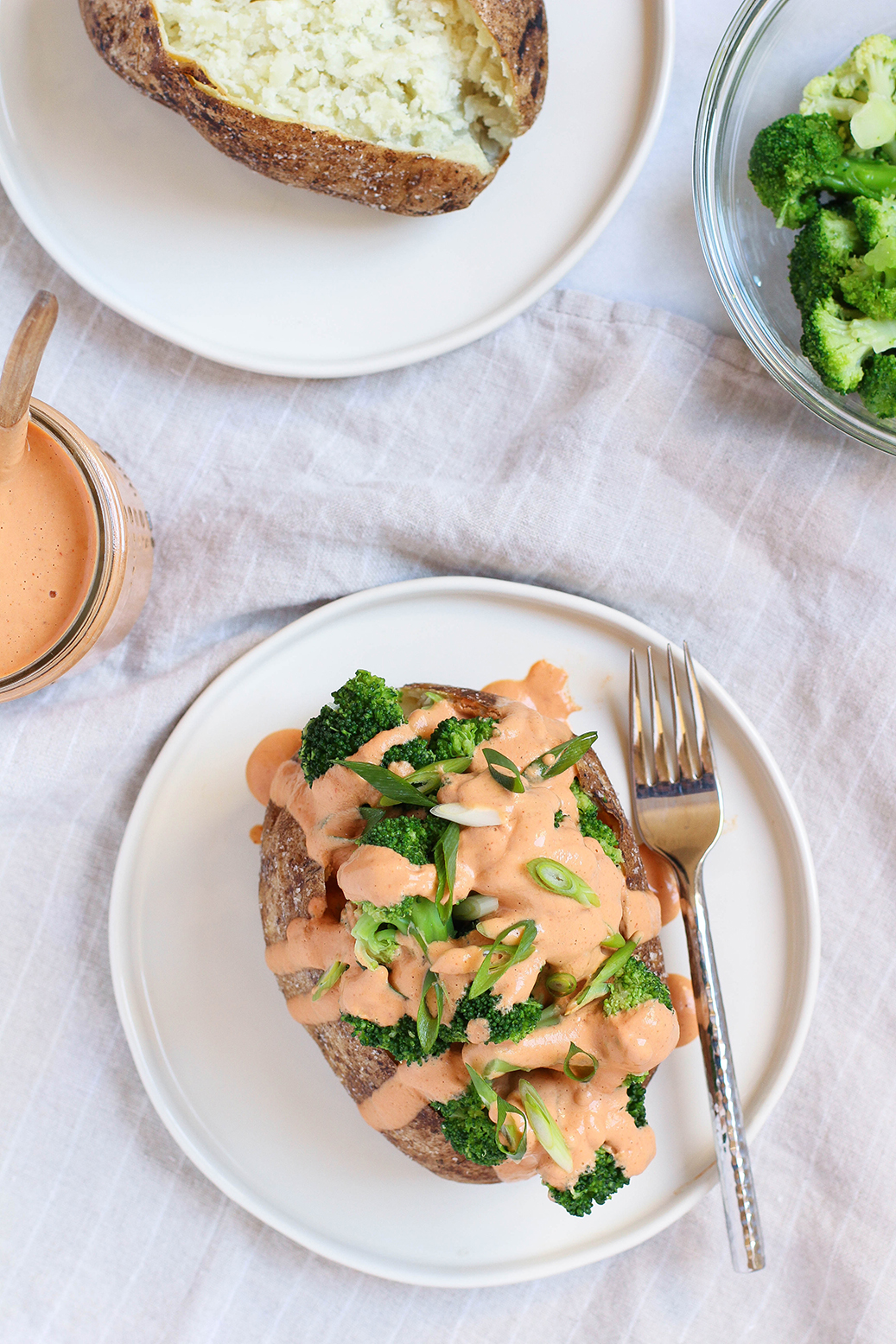 As for the toppings, broccoli and cheese.  Done and done.  It's a classic combo made in plant based food heaven.  I  tend to use frozen broccoli because "potato night" roughly translates into a "break from cooking night," so no hacking through an entire head of broccoli for me.  The broccoli is steamed in the microwave and then smothered with my Chipotle Cashew Queso, otherwise known as the best cheese sauce ever, vegan or otherwise.   It's killer on nachos and equally amazing all over broccoli.  It's also a cinch to make, just throw all of the ingredients in a blender and warm on the stovetop for a few minutes.  Because it's cashew based, it's packed with protein, so you're left feeling full and satisfied.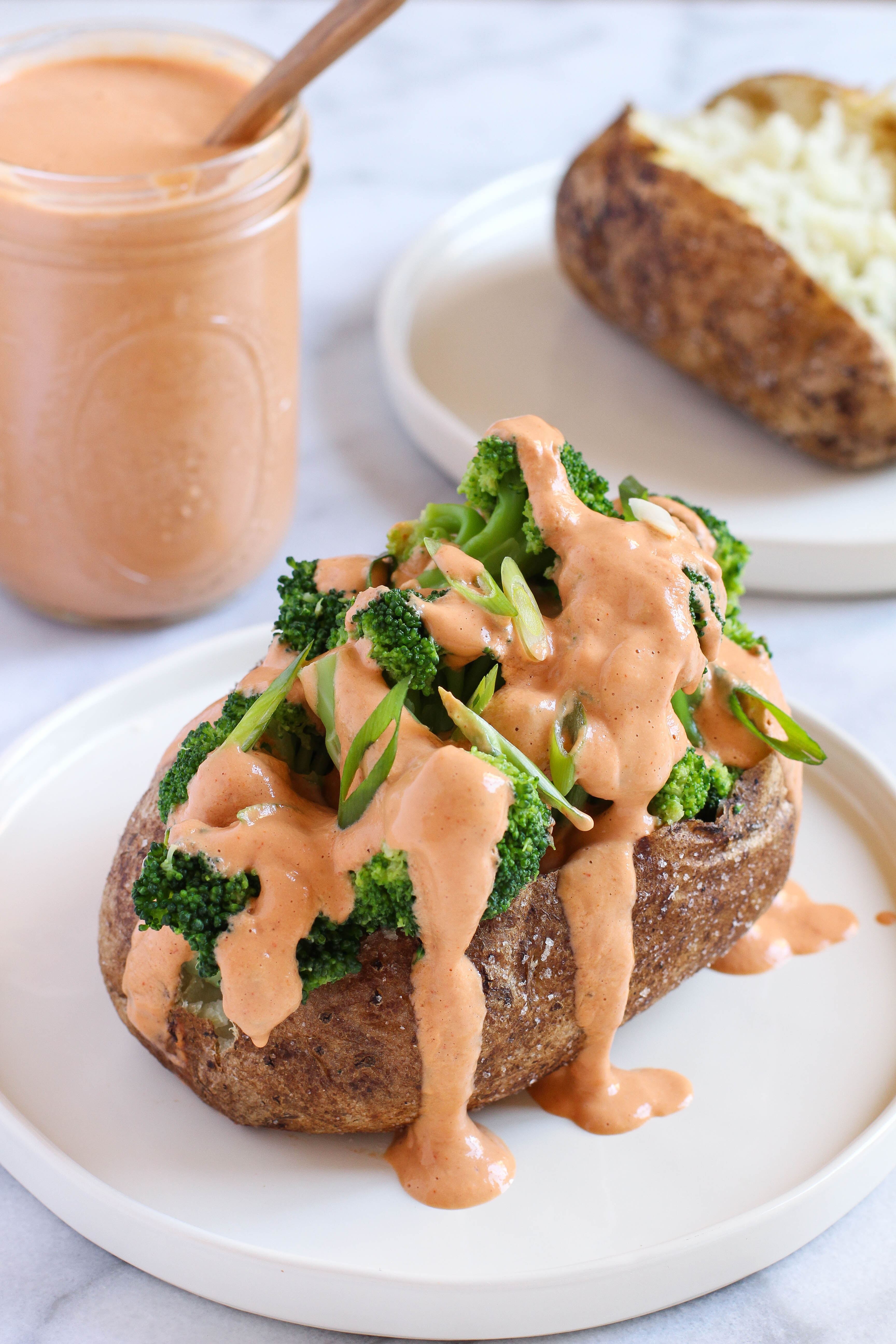 A sprinkling of green onions is the final flourish on these taters, but coconut bacon is also an awesome addition.  (I forgot to include it in the photos!)  Feel free to riff on the broccoli if you have other veggies crowding your crisper drawer.  Pretty much anything goes on a baked potato in my opinion – cauliflower, brussels sprouts, greens of any kind – and that cheese sauce, well, I could eat it all on its own.
One last thing! In case you didn't know, March is officially Nutrition Month, and I'm celebrating by sharing three new recipes over the course of the month at Project Juice's Ritual Wellness blog. First up, Spicy Shitake Savory Oats, a savory take on classic oatmeal, perfect for a veggie-full breakfast on the go. Find the recipe here, and if you make it, be sure to share your creation on Instagram. Tag your photo with #eatcleanwithprojectjuice and you'll automatically be entered to win a $50 gift card and Superfood Sampler Kit courtesy of Project Juice.
Broccoli Cheese Baked Potatoes
Serves 2.
Ingredients
1 recipe Chipotle Cashew Queso*
4 cups frozen (or fresh) broccoli florets
sea salt & black pepper
1 green onion, thinly sliced
coconut bacon for serving (not pictured, but a tasty add on)
Instructions
Prepare baked potatoes according to directions. While potatoes cook, prepare Chipotle Cashew Queso.
When potatoes have about 5 minutes left to cook, place broccoli in a microwave safe bowl and steam in the microwave for 2 minutes. Check to make sure broccoli is tender and warmed through, cook for an additional minute if necessary.
Pour cheese sauce into a small pot and heat on the stove over medium for about 5 minutes. The sauce should begin to bubble and thicken slightly. Stir regularly to keep from sticking to the sides of the pot.
Remove potatoes from oven, slice and fluff insides with a fork. Season with sea salt and black pepper. Top with broccoli and drizzle liberally with cheese sauce. Garnish with green onions and coconut bacon if desired.
Notes
* The recipe for the Chipotle Cashew Queso makes enough for three large potatoes. Allow leftover cheese sauce to cool and store in the refrigerator for up to 5 days.