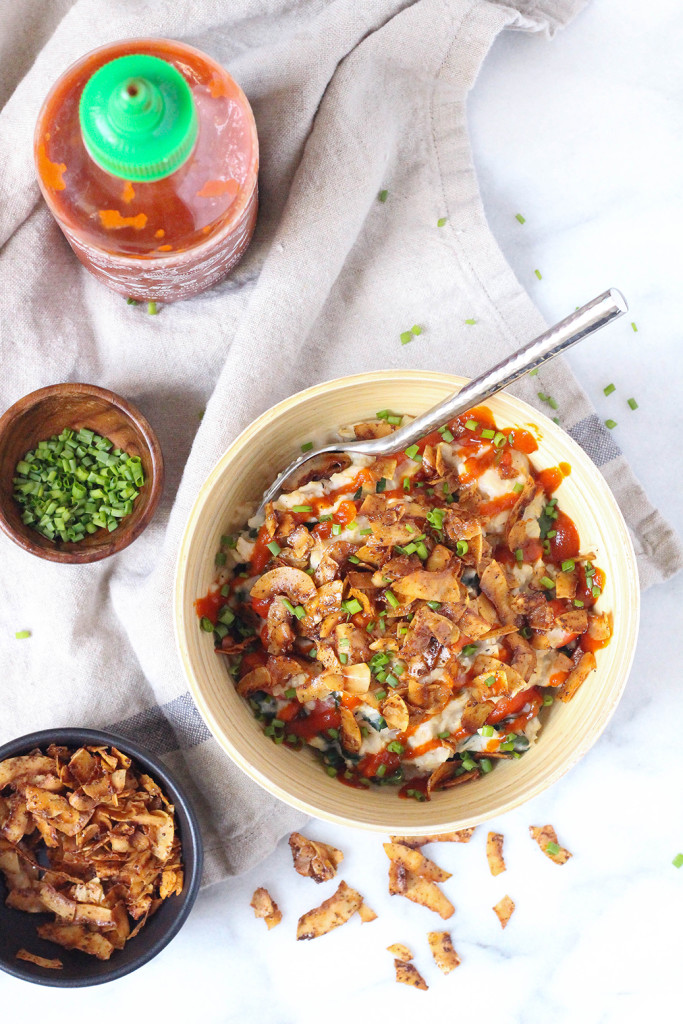 Did you know savory oatmeal was a thing? Well, it is, and apparently it's been a thing for a while. Just stick "savory oatmeal" into the 'ol Google box and you'll see what I mean. Oodles of recipes utilizing the homely oat as a vehicle for a hearty and satisfying meal – incorporating veggies, cheese, eggs, bacon, you name it – are available on the interwebs. I'm admittedly late to the game when it comes to experimenting with savory oat combinations, which is a bummer, because they're so good. And easy. And fast. You can literally throw together this BLT Savory Oatmeal meal in 10 minutes. That's a filling, healthy, flavor-packed, gluten free, cheap, and vegan meal in 10 minutes. Yes, please.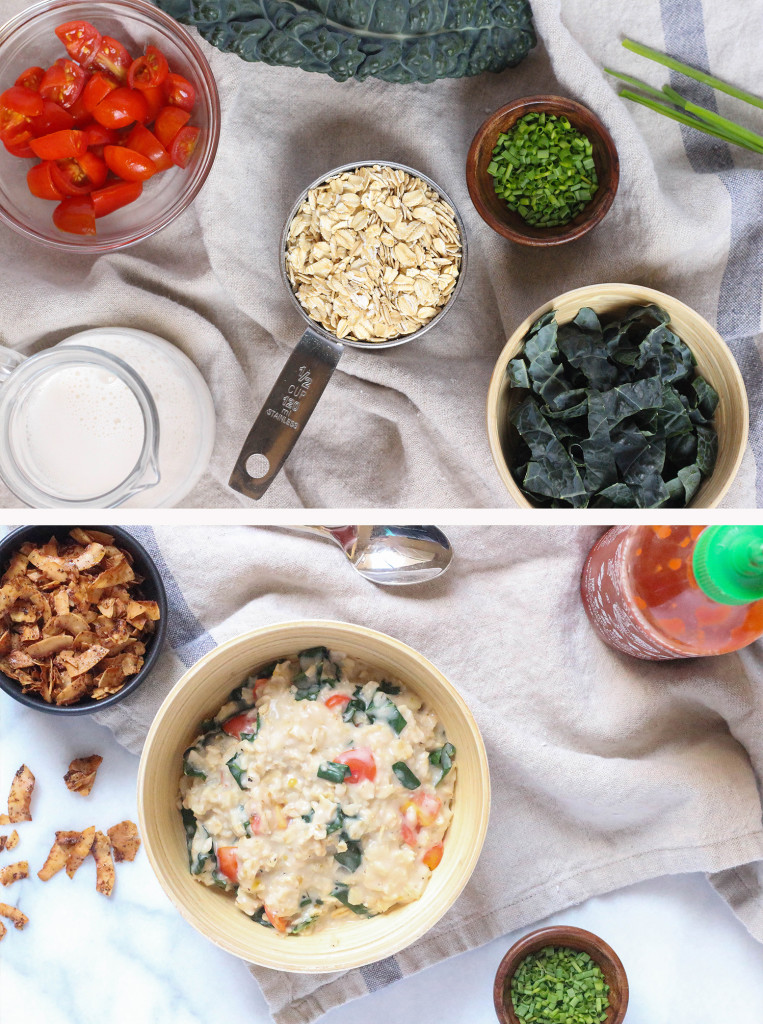 For this BLT Savory Oatmeal – ok, technically B (coconut bacon) L (lacinato kale) T (still, tomatoes) – we're using old fashioned oats (because 5 minute cook time!), a handful of kale, chopped cherry tomatoes, equal parts water and almond milk (or non-dairy milk of choice), and a generous pinch of sea salt and black pepper. Once the oats have soaked up most of the liquid, toss in the kale and tomatoes and turn off the stove. The residual heat from the oats wilts the veggies perfectly. Top everything with a generous drizzle of sriracha, or whatever hot sauce floats your boat, a heap of coconut bacon, and chopped chives or green onion for some freshness and a shot of color. That's it. This is basically cooking 101.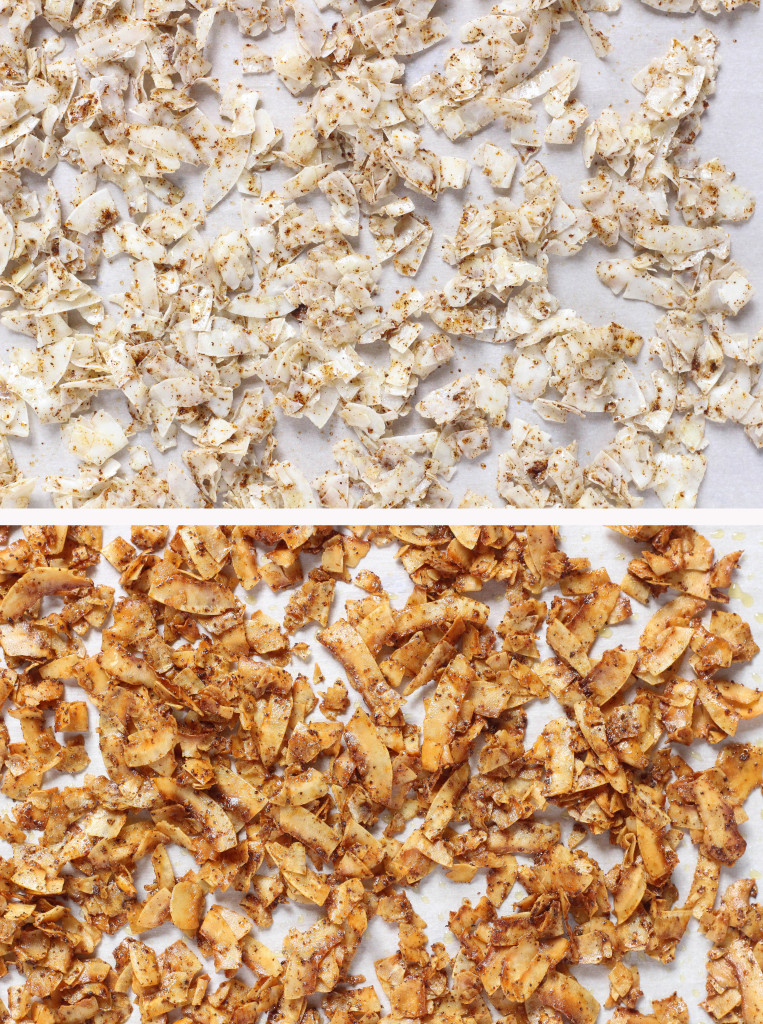 I've been whipping up these oats on repeat for quick lunches and even the occasional breakfast. The creaminess of the oats from the almond milk reminds me of a risotto and tastes way too decadent to be healthy. Feel free to experiment with other greens, but I like how lacinato kale retains some bite even when cooked and is mild enough to not overpower the dish. The tomatoes add a bit of acidity and the sriracha lends heat and just the right amount of sweetness. The coconut bacon – made by toasting raw coconut chips with olive oil, maple syrup, chipotle chili powder and sea salt – adds crunch and the perfect hit of smoky, salty savoriness.
A foolproof, veg-centric meal in no time at all? Oh, savory oats, you've got me hooked.
BLT Savory Oatmeal
2016-03-29 12:37:15
Serves 1.
Ingredients
1/2 cup old fashioned oats
1 leaf lacinato kale, rib removed and roughly chopped
1 handful cherry tomatoes, roughly chopped
1/2 cup unsweetened, plain almond milk
1/2 cup water
pinch sea salt and black pepper
handful coconut bacon (recipe follows)
chopped chives for garnish (optional)
Siracha or other hot sauce
Coconut Bacon
1 cup unsweetened coconut flakes
1 tablespoon maple syrup
2 teaspoons extra virgin olive oil
1 teaspoon chipotle chili powder
1/4 teaspoon sea salt
Instructions
Heat oats, almond milk, water, salt, and pepper in a small saucepan over medium-high heat. Bring to a boil and then lower to a simmer. Allow to cook until liquid is mostly absorbed and oats are creamy, about 5 minutes. Add kale and tomatoes to pan and turn off heat. Stir until kale is wilted.
Serve oats in a bowl and top with siracha, coconut bacon, and chives.
Coconut Bacon - Preheat oven to 350 F. Toss coconut with olive oil, maple syrup, chipotle chili powder, and sea salt. Spread onto a parchment lined cookie sheet. Bake for 10 - 15 minutes, stirring occasionally to prevent burning, until coconut is dark, golden brown.
Allow to cool completely on cookie sheet before storing in an airtight container or ziplock bag. Coconut bacon can be stored in the freezer for up to a month (no need to defrost before using), after that it will begin to lose its flavor.
The Mostly Vegan http://www.themostlyvegan.com/