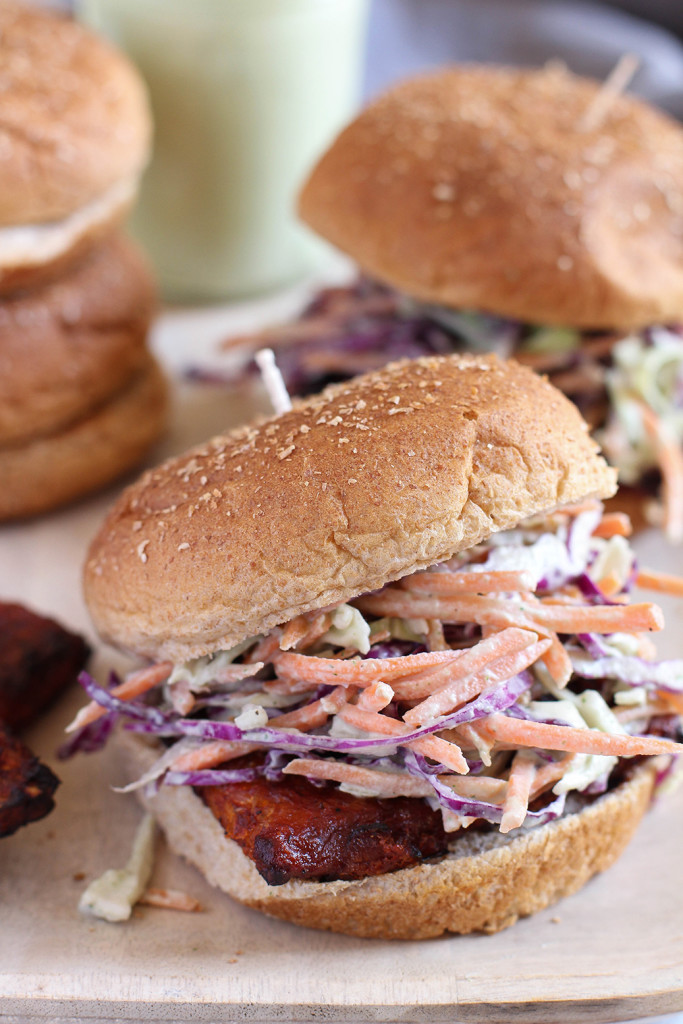 To say I'm obsessed with these Barbecue Ranch Tempeh Burgers at the moment might be a bit of an understatement. I've eaten them four times in the last seven days! That's not even for recipe testing purposes, because I nailed these babies on the first try. It's gotta be the classic combo of barbecue and ranch that keeps me coming back for more. The spicy, smokiness of the barbecue sauce against the uber creamy and refreshing ranch slaw is what vegan burger dreams are made of.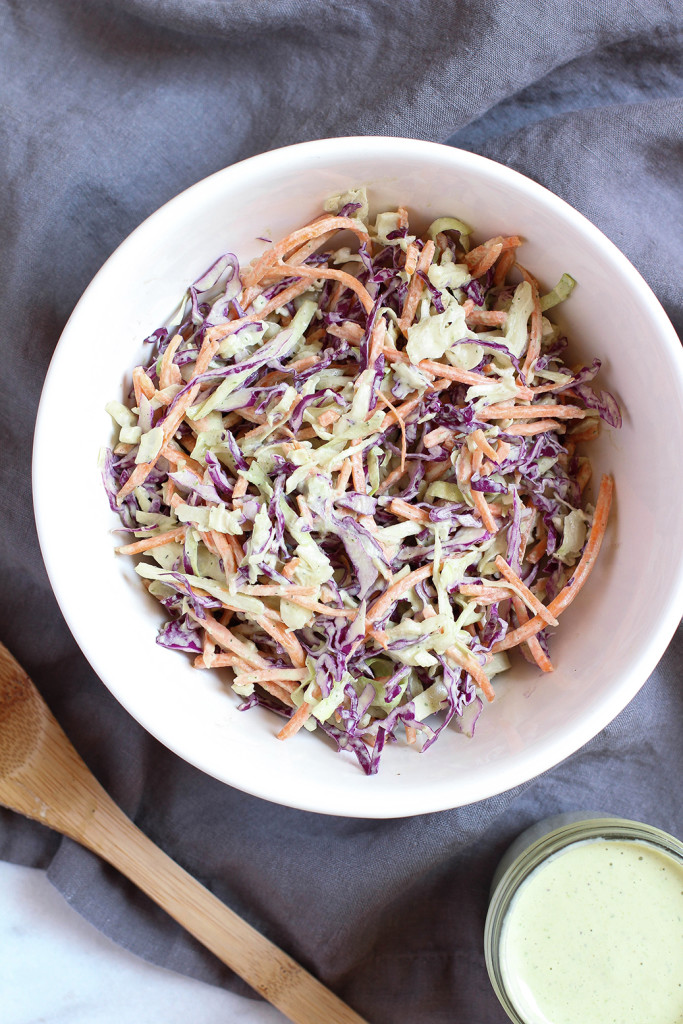 My favorite part of this recipe has got to be the quick, homemade barbecue sauce. It comes together in about 10 minutes and gives the tempeh great flavor and color, especially if you let it marinate for a full hour. Tempeh is awesome as a stand in for your traditional bean and grain based veggie burger because it's denser and holds up under the mound of slaw piled on top. It's also packed with protein so you're not left starving 30 minutes after chowing down.
I adapted my Dill Ranch Dressing from a previous potato and green bean salad post to be more of a true ranch (ok, I just lightened up on the dill). It's highly slurpable and it makes the perfect tangy accompaniment to the cabbage and carrot slaw. You could totally make the slaw itself as a side dish for your next backyard barbecue – it's a standout on it's own – but I love how it essentially turns these burgers into half salad. I'm all for sneaky veggie consumption.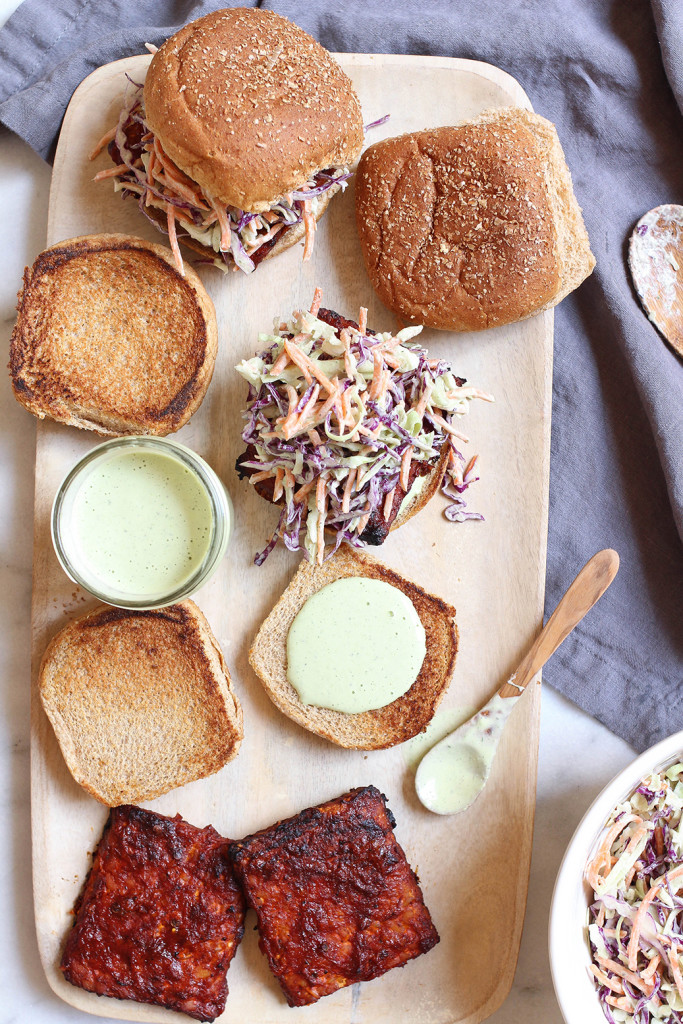 We've been enjoying these alongside my Mexican Street Corn for the summeriest of weeknight dinners. Or, you could whip up my aforementioned Potato and Green Bean Salad, because hello, double ranch! For a sweet finish, serve these Strawberry Shortcakes with Coconut Whipped Cream. Summer eats at their best.
I see you 4th of July weekend, and yes, I'm talking to you.

Barbecue Ranch Tempeh Burgers
Makes 4 burgers.
Ingredients
4 hamburger buns
8 ounces tempeh, sliced into four patties
barbecue sauce (recipe follows)
1 cup shredded cabbage
1 cup shredded purple cabbage
1 cup shredded carrots
½ cup ranch dressing (recipe follows)
Barbecue Sauce
¼ onion, diced
2 cloves garlic, minced
1, 8 ounce can tomato sauce
1 tablespoon extra virgin olive oil
1 tablespoon, plus 1 teaspoon brown sugar
1 chipotle pepper from a can of chipotles in adobo, plus 1 - 3 teaspoons chipotle sauce from can
1 tablespoon apple cider vinegar
¼ teaspoon chili powder
¼ teaspoon sea salt
¼ teaspoon black pepper
Ranch Dressing
½ cup raw unsalted cashews, soaked in water for 2 - 24 hours
½ cup, plus 2 tablespoons light coconut milk
2 tablespoons apple cider vinegar
1 tablespoon fresh dill, roughly chopped
1 tablespoon fresh chives, roughly chopped
1 tablespoon fresh flat leaf parsley, roughly chopped
1 clove garlic
¼ teaspoon black pepper
¼ teaspoon sea salt
Instructions
Pour half of barbecue sauce into a dish, large enough to hold the tempeh patties. Pour remaining sauce over patties and allow to marinate in the fridge for at least one hour.
Once patties have marinated, preheat oven to 425 F. Line a cookie sheet with parchment paper and spray with cooking oil. Place patties on sheet, reserving any additional barbecue sauce left in marinating dish. Bake for 20 minutes then remove from oven, flip patties over and brush with reserved barbecue sauce. Bake an additional 15 - 20 minutes, until patties are well browned on all edges.
While the patties bake, combine cabbage and carrots in a large bowl. Toss with ⅓ - ½ cup ranch dressing.
To assemble burgers, toast hamburger buns and add a spoonful of ranch dressing to one side of each bun. Place tempeh on dressing then pile slaw on top. Serve warm.
Barbecue Sauce
Heat olive oil in a saucepan over medium-high heat. Add onion and garlic and cook until onion begin to soften, about 2 minutes. Add brown sugar, chili powder, salt, and pepper to pan and cook an additional 2 minutes. Add tomato sauce, chipotle chili, and 1 - 3 teaspoons of chipotle sauce (depends on how spicy you want it) to the pan. Simmer for 5 minutes. Turn off heat and stir in apple cider vinegar.
Add sauce to a blender or food processor and blend until smooth. Barbecue sauce can be made a day in advance.
Ranch Dressing
Combine drained cashews, coconut milk, apple cider vinegar, garlic, and salt and pepper in a high speed blender. Mix until very smooth, 1 - 2 minutes. Add dill, chives and parsley. Blend until herbs are fully incorporated.
Leftover dressing can be stored in the refrigerator for up to a week. It will thicken up as it cools. Allow to come to room temperature before serving or nuke in the microwave for 10 seconds and stir to make pourable.