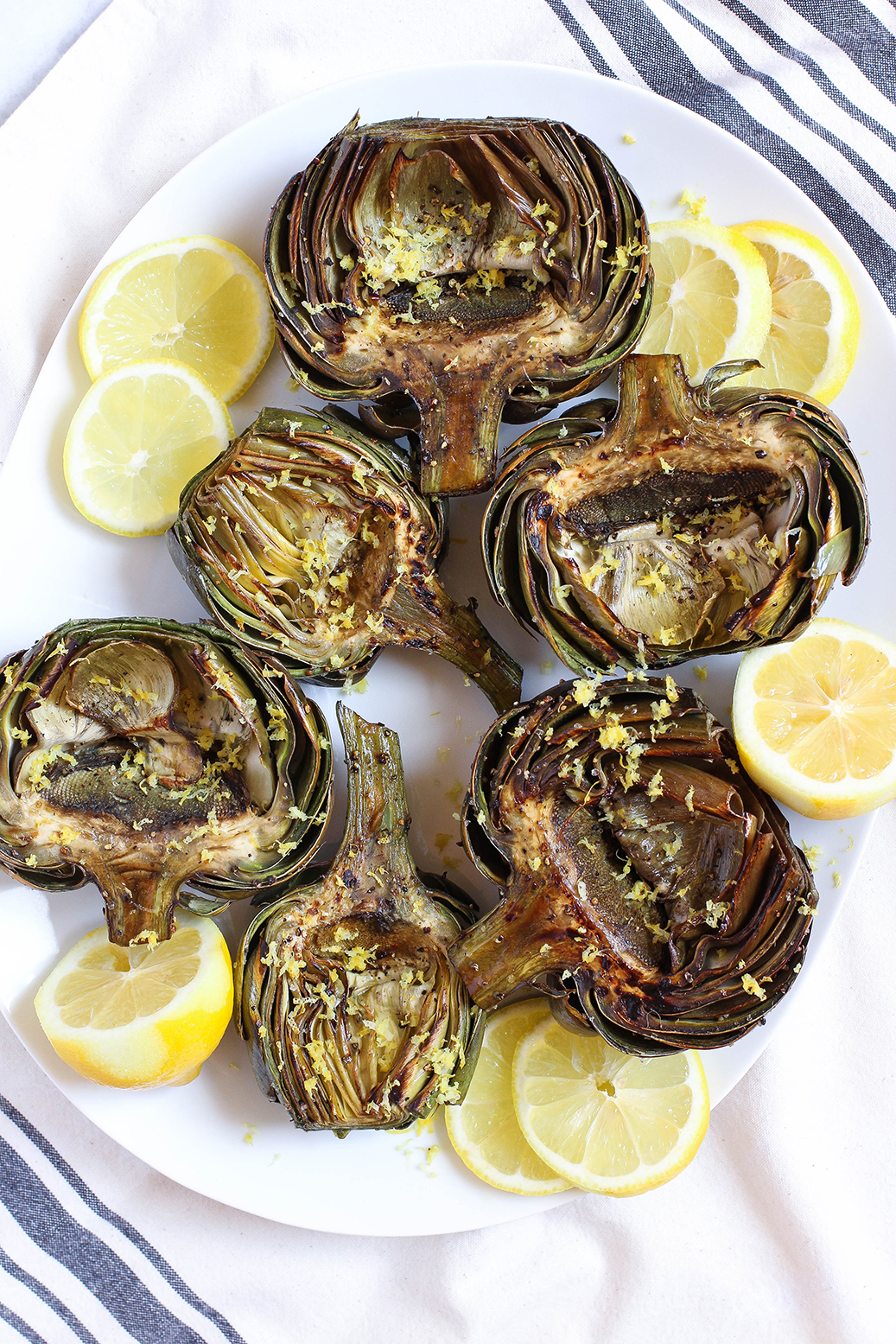 If you're looking for a fast and easy vegetable side dish that is sure to impress, look no further than these 15 Minute Lemony Grilled Artichokes. Like everyone ever (seriously, who doesn't love these edible thistles?!), I can't get enough of fresh artichokes. They're a guaranteed crowd pleaser when out to eat with a picky group, but they're also a cinch to make at home. A focus on quality ingredients – extra virgin olive oil, freshly cracked sea salt and black pepper, and lemon zest – also keep the homemade version from veering into calorie bomb territory. There's nothing sadder than fouling up a naturally antioxidant and fiber packed veggie with a mayo heavy, fat laden dip.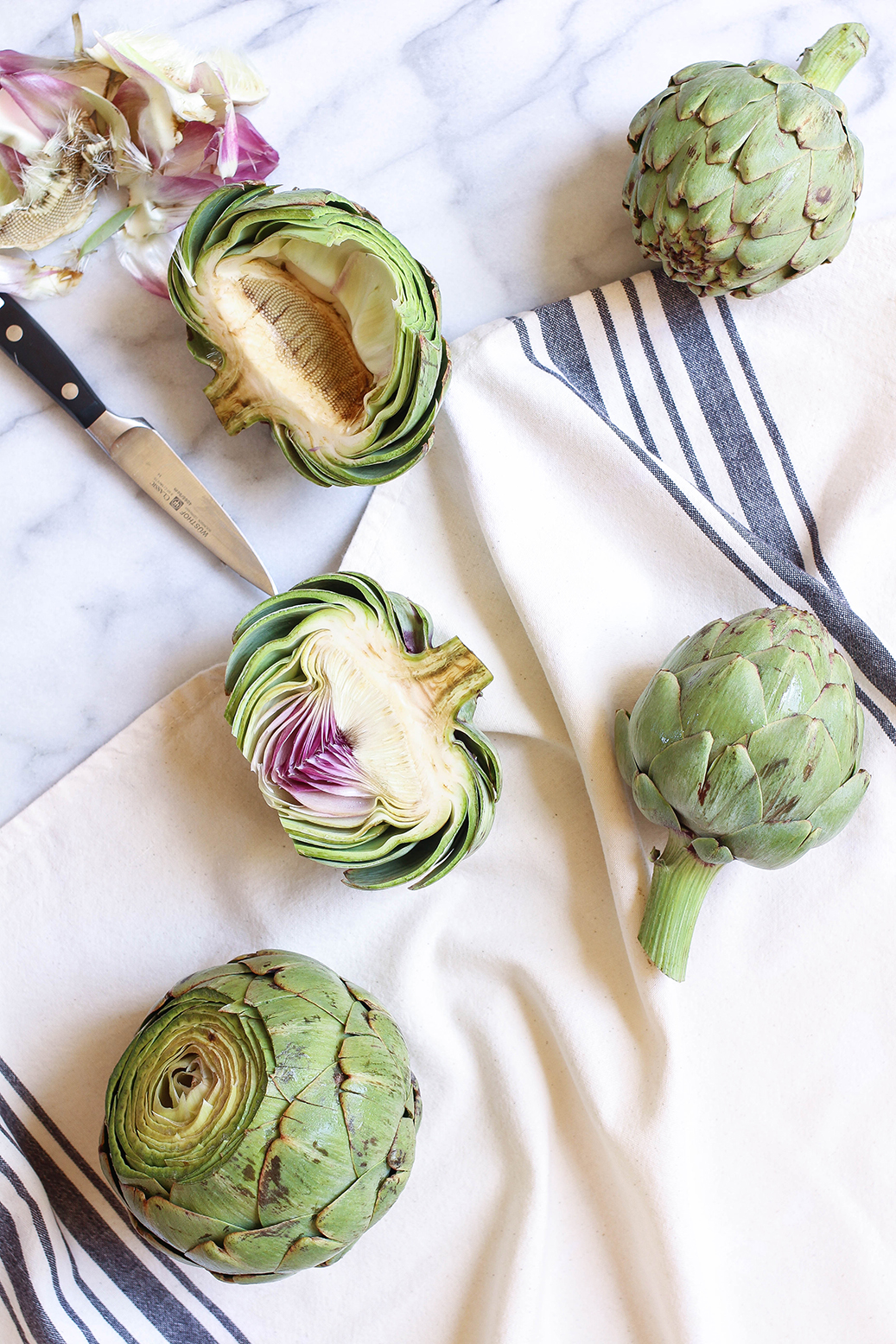 To get these delicious 'chokes on the table in 15 minutes, I first quick steam them in the microwave. Sure, it's not refined, but bringing a giant pot of water to a boil and then simmering for 30 minutes is not in my summer cooking game plan. After getting the artichokes nice and tender in the microwave, they're ready to be brushed with olive oil and then charred on the stovetop (although they'd be amazing on an outdoor grill too). A sprinkle of sea salt, black pepper, and freshly grated lemon zest are the only additional flavor enhancements needed. Served warm alongside a big salad and a hunk of crusty bread, and you've got my new favorite meal.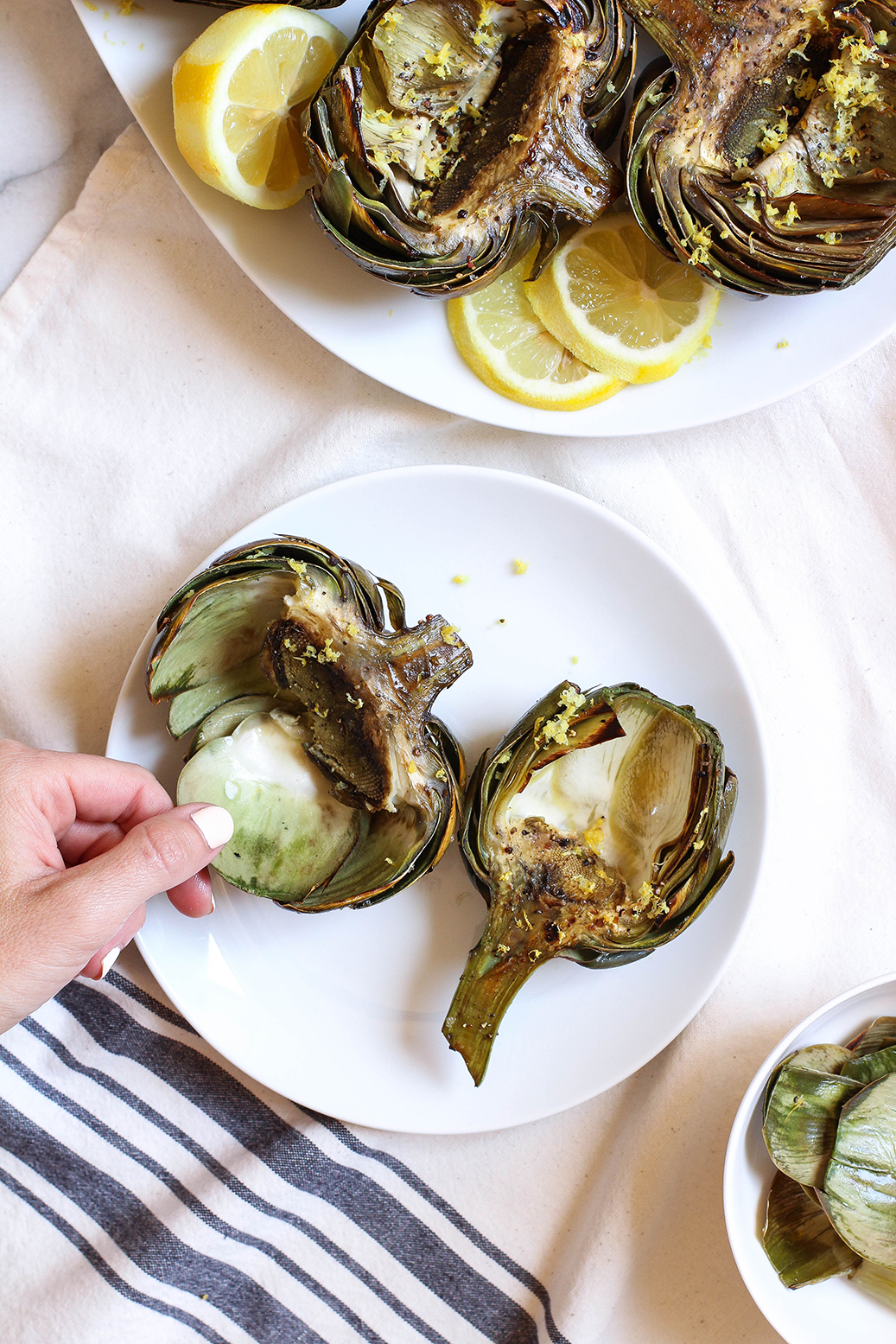 The charred flavor from grilling these artichokes is what truly sets them apart. It brings out their natural artichokiness (ya, it's a thing) and lends an undeniable summery vibe. Brushing the 'chokes with olive oil before browning adds just enough fat and savory goodness to keep these from tasting like a health food and helps the salt and lemon zest adhere to the leaves, making sure every leaf is coated in salty, acidic goodness. I've indicated the recipe serves 2 to 4 people – because I can easily take down an entire artichoke on my own – but a half of a large 'choke per person should be fine if you're setting out a big platter at your next barbecue. Best to make extras though, just to be sure. Did I mention leftovers are also yummy reheated the next day?
For more summer inspired recipes, check out my Strawberry Shortcakes with Coconut Whipped Cream and Lightened up Piña Coladas.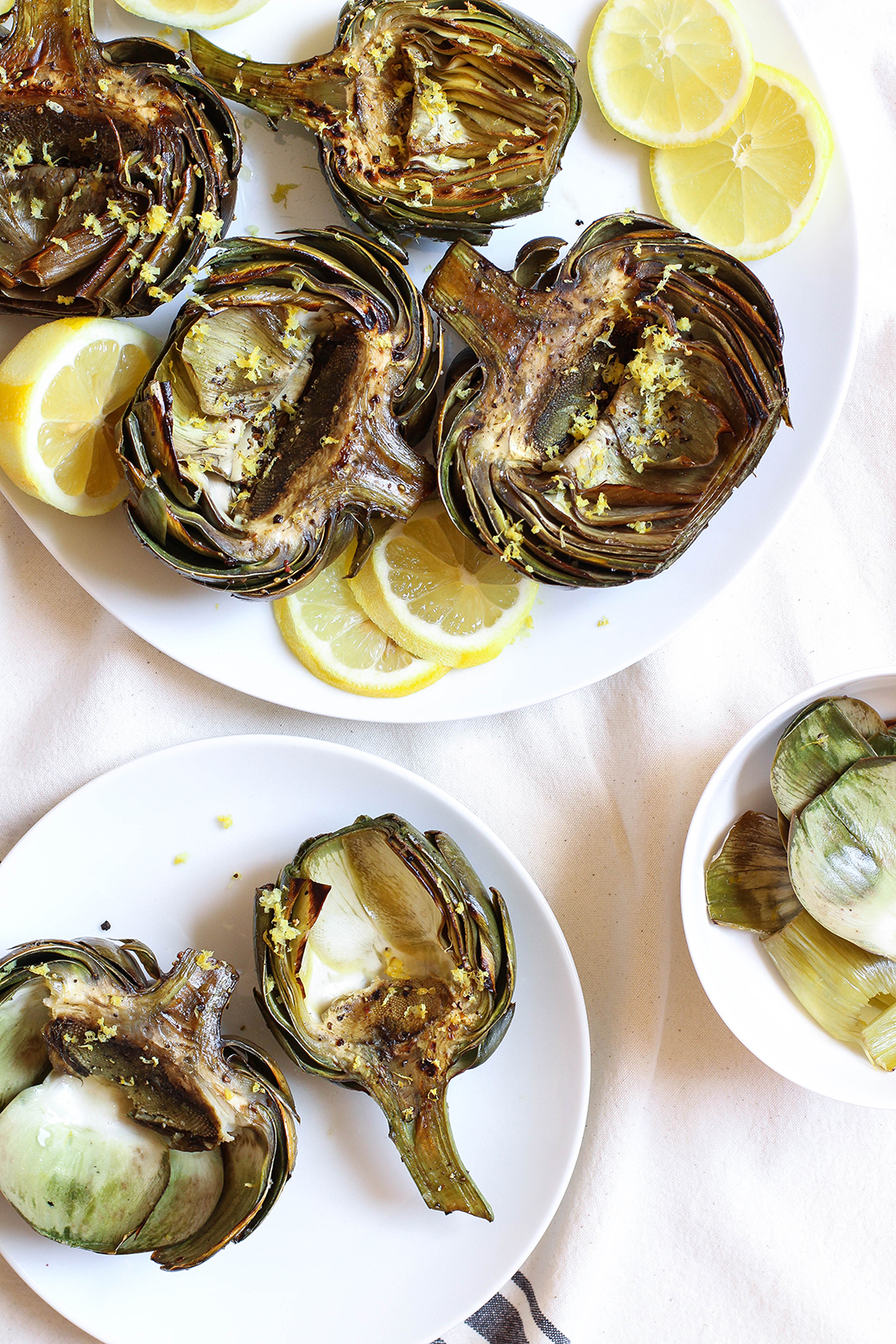 15 Minute Lemony Grilled Artichokes
Serves 2 - 4.
Ingredients
2 artichokes
1 - 2 tablespoons extra virgin olive oil
1 lemon
sea salt & black pepper
Instructions
Trim stems of artichokes and tops (approximately 1 inch). Cut artichokes in half and use a pairing knife to remove the fuzzy purple section at the heart of the artichokes.
Place artichoke halves in a microwave safe bowl and cover with a paper towel. Steam in the microwave for 3 - 6 minutes (this will depend on the size of your artichokes). Beginning checking for doneness after 3 minutes. The heart of the artichoke should be easily pierceable with a fork and the leaves should be pliable.
Heat a large skillet (or you can use an outdoor grill) over medium-high heat. Brush artichokes liberally on all sides with olive oil, being sure to work some of the oil between the leaves. Place artichokes cut side down in skillet and use a spatula to press down as much as possible.
Season with freshly cracked sea salt and black pepper and allow to cook until well browned and just beginning to char, about 3 minutes. Flip artichokes over and cook on back side for 3 more minutes. Season again with salt and pepper.
Remove artichokes from pan and plate. Zest lemon directly over artichokes. Serve warm.