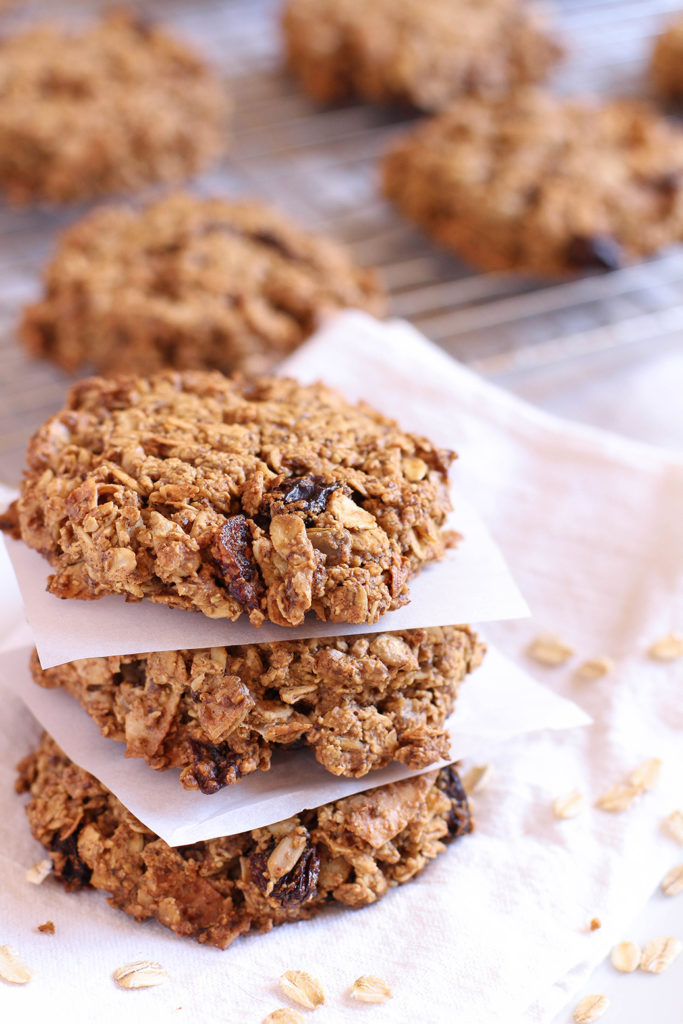 Ok, first things first. These Trail Mix Breakfast Cookies are delicious, loaded with nuts, seeds, and dried fruits, they're a heartier version of your favorite oatmeal raisin cookie, or a grab and go take on your favorite granola, or ahem, trail mix. Second thing, these cookies are ridiculously healthy. They're gluten free (if you use certified gluten free oats), oil free (thanks to almond butter), and refined sugar free (hey there, maple syrup).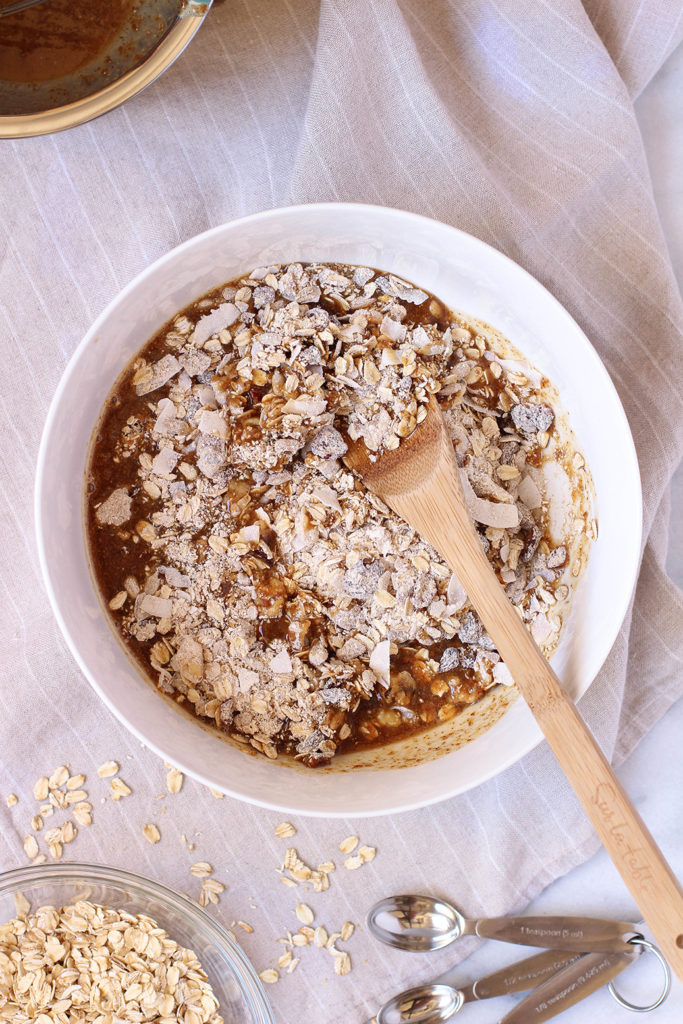 Not only are theses cookies great as a quick breakfast, they're also the perfect mid-morning, afternoon, after dinner, late night – you get the idea – snack. The recipe yields a dozen large cookies, each one packed full of goodness and hunger busting fiber and healthy fats. I've been baking up a batch on the reg to last throughout the work week. I've also brought a half dozen on long trips to ensure we always have a healthy and satisfying snack on hand. I don't know about you but I simply can't stomach paying close to five bucks for convenience store granola bars or so called "healthy" cookies that are usually anything but.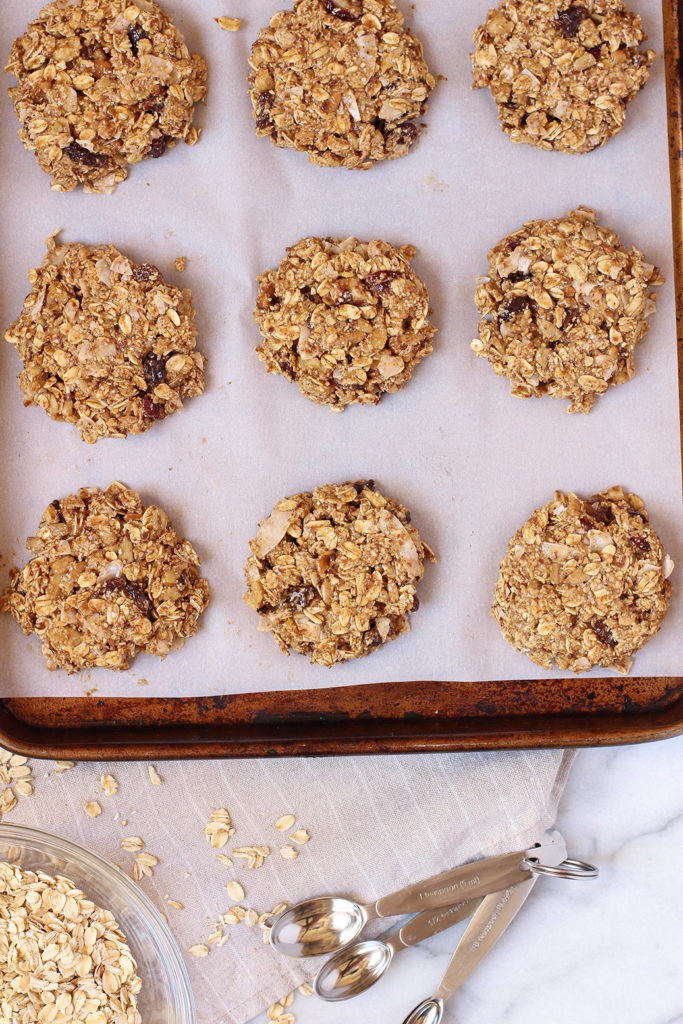 These cookies bake up soft and chewy, but I've included notes in the recipe for crisping them up, which is how I prefer any oatmeal type cookie. Chocolate chip, well that's another story. Feel free to play with the recipe however you like, switch out the raisins and cranberries for dates and cherries, add chopped pecans, or a handful of cacao nibs. My next experiment will be swapping the almond butter for peanut butter and maybe invoking my tropical vibed Coconut Oil Granola by mixing in dried pineapple and macadamia nuts. Ok, so I've got granola on the brain, but I'm sticking with the trail mix title, dammit! In fact, think of these as the cookies you make when you need a break from granola, which is right now. Happy baking!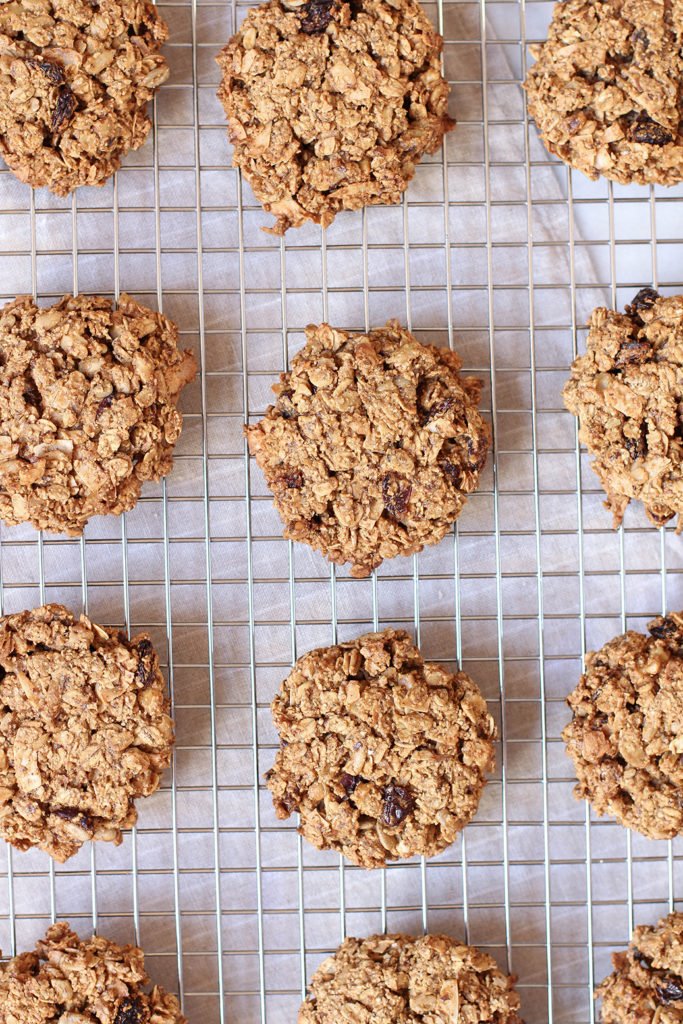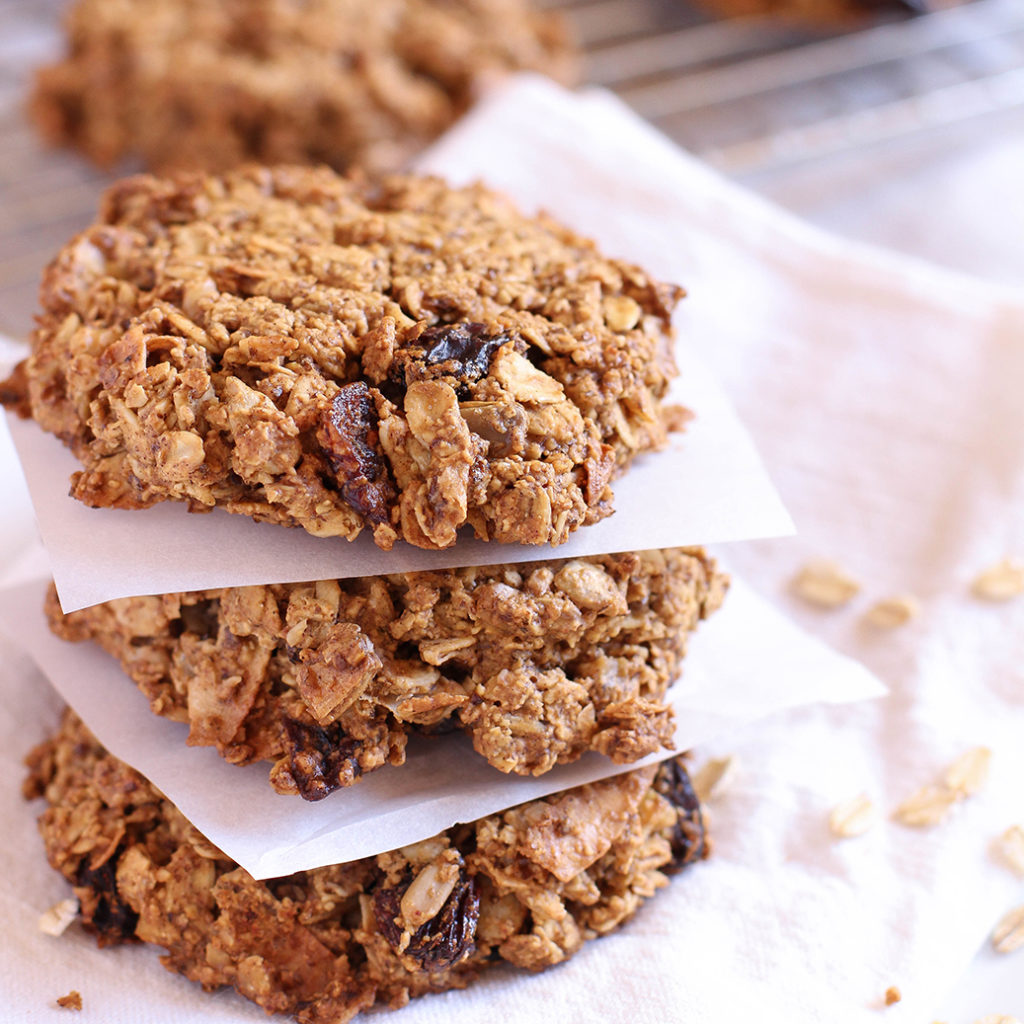 Trail Mix Breakfast Cookies
2016-07-22 14:03:43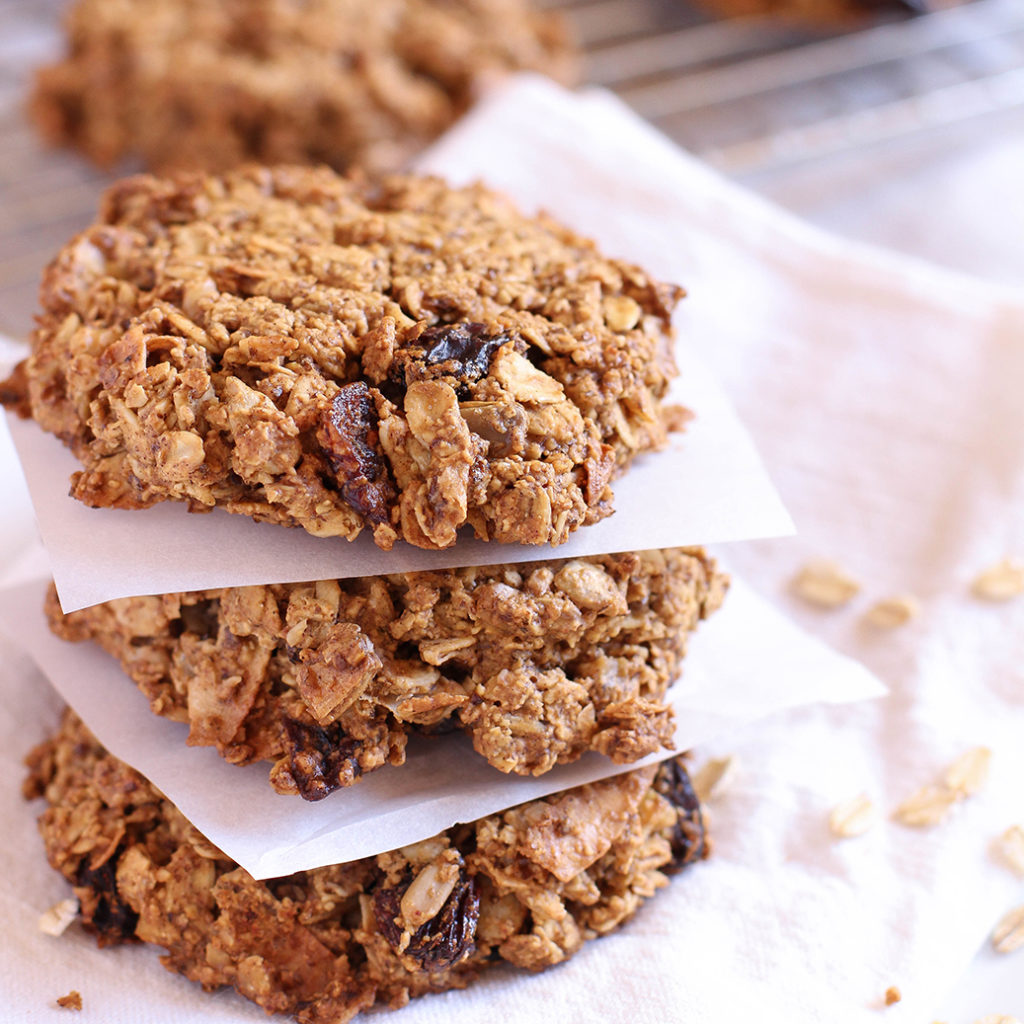 Makes 12 cookies.
Ingredients
2 1/2 cups rolled oats
3/4 cup walnuts, roughly chopped
1/2 cup unsweetened large flake coconut
1/4 cup sunflower seeds
1/4 cup dried cranberries
1/4 cup raisins
1 teaspoon baking powder
1/2 teaspoon baking soda
1 teaspoon cinnamon
1 teaspoon sea salt
1/2 cup maple syrup
1/4 almond butter
2 tablespoons ground flaxseed
1 teaspoon vanilla extract
melted coconut oil (optional)
Instructions
Combine flaxseed with 6 tablespoons water and allow to sit until thickened, about 15 minutes (this is your flax egg).
Preheat oven to 375 F. Add 1 1/2 cups of oats to a food processor and blend until oats resemble the texture of flour, about 1 minute. (Alternately, use 1 1/2 cups pre-ground oat flour). Combine oat flour, oats, nuts, seeds, dried fruit, baking powder, baking soda, sea salt and cinnamon in a large bowl. Stir to combine.
In a separate bowl, combine maple syrup, almond butter, flax egg, and vanilla extract. Whisk until well combined. Pour wet mixture over dry ingredients and stir.
Using a 1/4 measuring cup, pack cookie batter into measuring cup then flip over onto a parchment lined cookie sheet. Lightly shake or tap cup on the sheet to remove batter. (It will be very sticky) Once you've portioned out all 12 cookies, brush the bottom of the measuring cup with coconut oil to prevent sticking, and lightly press down on cookies to slightly flatten. *
Bake for 17 - 20 minutes. Remove from oven and allow to cool on the pan for 2 minutes before removing to a cooling rack. Allow to cool completely before storing in an airtight container.**
Notes
* Brushing the bottom of the measuring cup with oil is optional, but it helps to prevent the batter from sticking to the cup.
** For crispier cookies, turn off heat after initial baking time and allow the cookies to sit inside the oven for an additional 20 minutes.
For the crispiest cookies, turn oven temperature down to 250 F after initial baking time and bake for an additional 20 minutes then turn off the heat and allow cookies to sit in the oven for 20 minutes more. Remove from oven and allow to cool on the pan for 2 minutes before removing to a cooling rack.
The Mostly Vegan http://www.themostlyvegan.com/