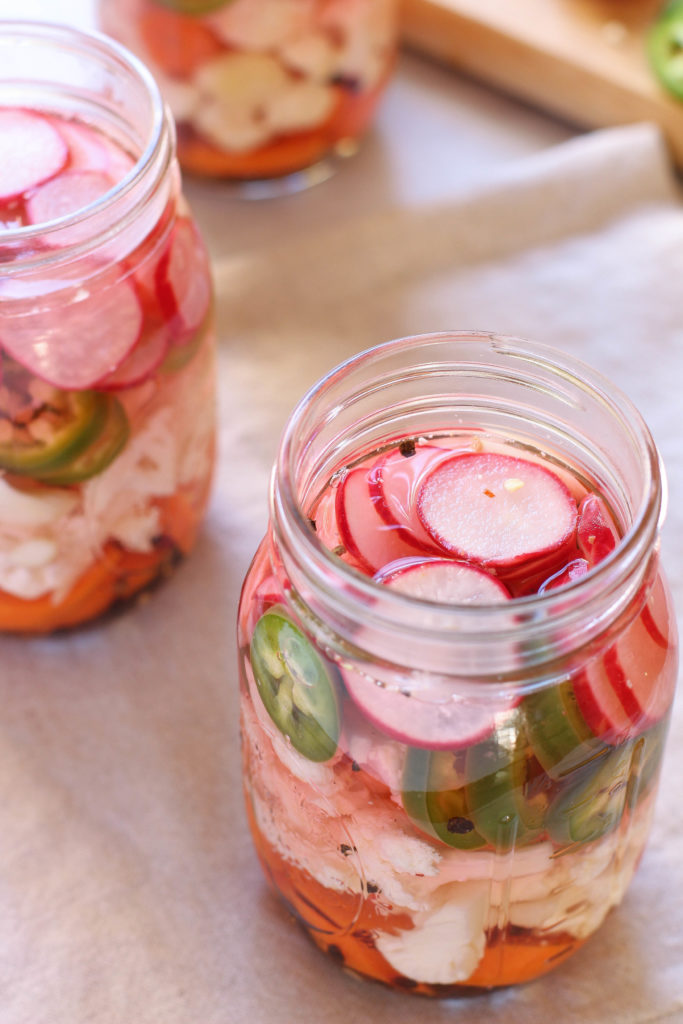 Have you ever had escabeche before? There's not much to it, usually carrots, cauliflower, jalapeños, and onions quick pickled and served at Mexican restaurants as a starter alongside chips and salsa. Crazy simple but also highly addictive. So addictive, I've been taking down a third of a jar on a daily basis since I perfected this recipe. You're probably wondering what could be so addictive about some veggies soaked in vinegar, welp, I just know what I like. And right now I reeeaallly like eating these tangy, uber crunchy veggies for a mid-morning (and mid-afternoon) snack on a daily basis. They just hit the spot.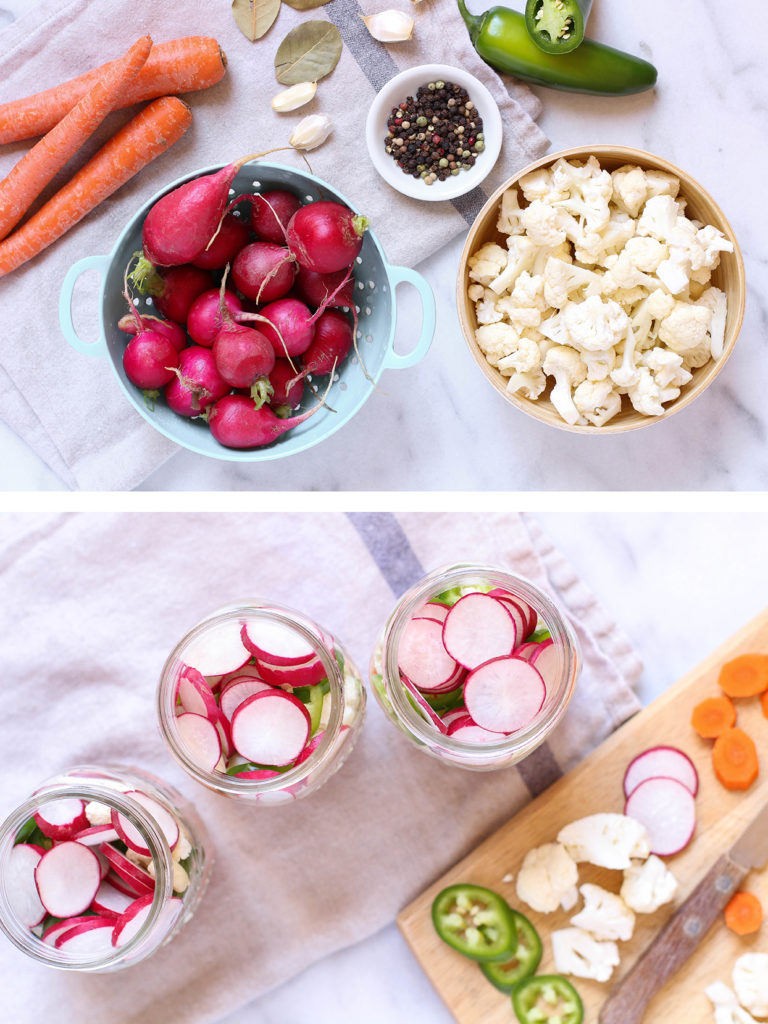 My theory is that it's the combo of veggies – carrots, cauliflower, jalapeños, and radishes – which shake up the traditional escabeche mix. I had to omit the onions guys, I just had to. My favorite part about escabeche is how crunchy the veggies stay, literally for weeks, but not onions. Nope, there's no helping those, so leave 'em out, I say! A lot of escabeche recipes also call for sauteing the veggies in a bit of oil before submerging them in the water and vinegar mixture. To this step, I also say, forget about it! It's not necessary and will only lead to soggy veg.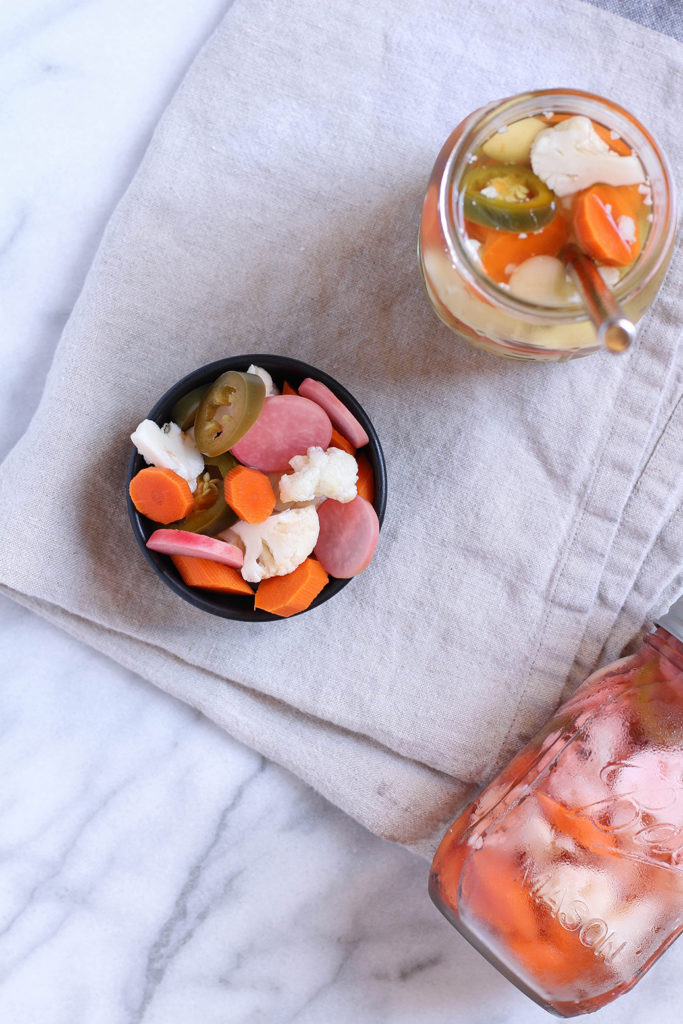 The pickling liquid itself is pretty basic – a few bay leaves, whole peppercorns, salt, sugar, garlic cloves – allowing the flavor of the veggies to shine through. I can't decide which veggie is my favorite, probably the carrots although cauliflower comes in a close second, mainly because I'm generally not a huge cauliflower fan but I could eat an entire head of the stuff in pickled form. The radishes are pretty awesome too. However, if you don't want your pickling liquid to eventually turn a pinkish hue (and the cauliflower along with it) then leave out the radishes. The jalapeños provide necessary spice (this is a Mexican dish, after all), but be sure to deseed them. I know what you're thinking, I can handle the heat! Trust me on this though, if you don't take out the seeds, in about a day you're going to end up with a jar full of jalapeño flavored carrots, cauliflower, and radishes.
Serve this escabeche on its own as a snack or alongside your favorite Mexican inspired dishes, like my Jackfruit Taquitos or Mexican Street Corn and be prepared to meet your daily veg quota in one sitting.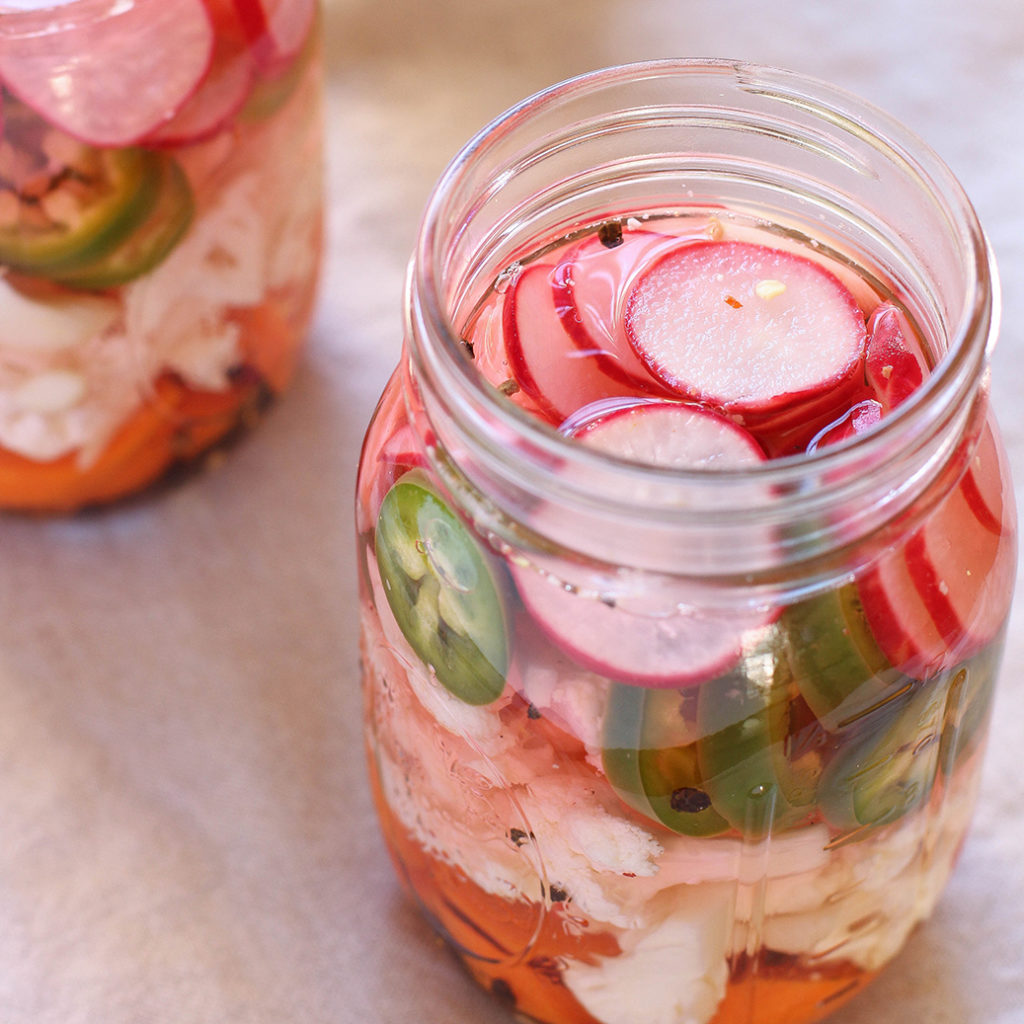 Classic Escabeche
2016-08-18 12:32:51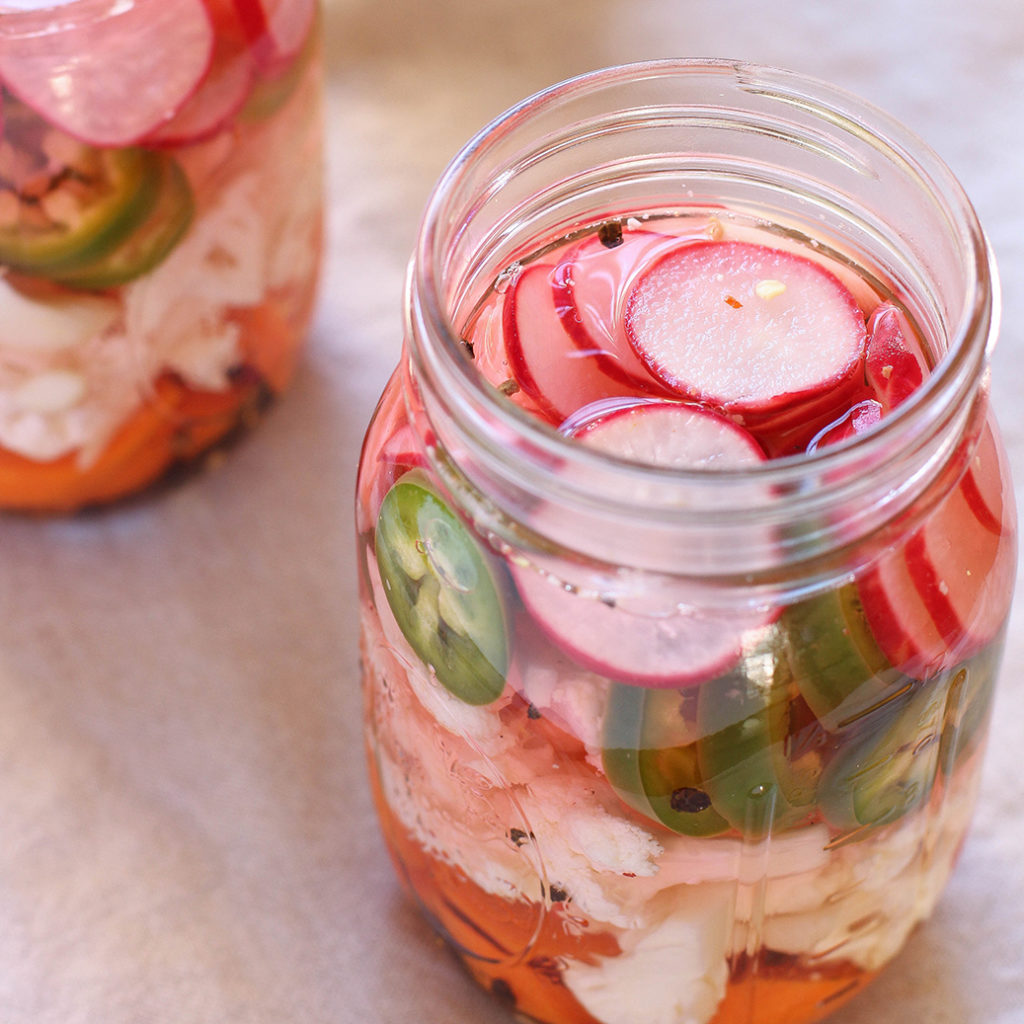 Makes about 6 cups.
Ingredients
3, 16 ounce Mason jars (or any sealable glass jar)
1 cup carrots, sliced
2 1/2 cups cauliflower florets
1 bunch radishes, sliced
2 jalapenos, sliced & seeds removed
6 garlic cloves
3 bay leaves
1 tablespoon organic sugar
1 1/4 teaspoons sea salt
1 teaspoon peppercorns
1 cup distilled vinegar
2 cups water
Instructions
Divide peppercorns and bay leaves between the three Mason jars. Peel garlic cloves but leave whole and divide between jars.* Layer carrots, cauliflower, radishes, and jalapenos in jars.
In a pot, combine vinegar, water, salt, and sugar. Bring to a boil on the stovetop then simmer until the sugar has dissolved, about 30 seconds. Pour vinegar mixture over vegetables and allow to cool for one hour before sealing and refrigerating.
Escabeche is ready to eat as soon as it's chilled but it's best to allow the flavors to develop for a full day.
Escabeche will keep in the refrigerator for up to 3 weeks.
Notes
* Sometimes the garlic cloves will turn blue in the vinegar solution. Not to worry, it's a completely normal enzymatic reaction and is not harmful.
The Mostly Vegan http://www.themostlyvegan.com/