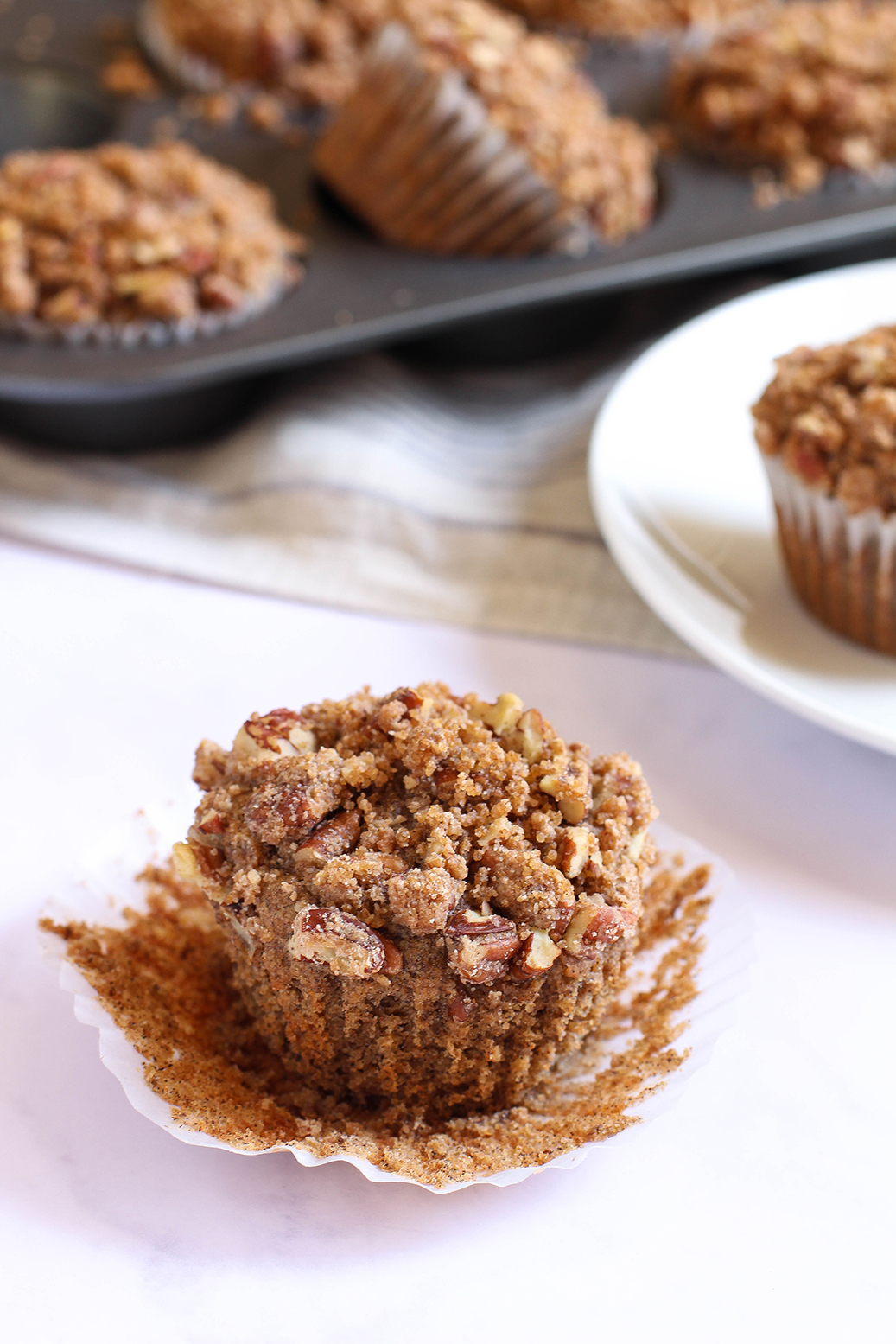 Finally, a new recipe post! I apologize for the delay but it's been a rough few (pregnant) weeks dealing with a cracked rib that made taking blog photos kind of impossible. These fall inspired muffins were worth the wait though, I promise. Packed with sweet pear chunks and cinnamon spice, they're made with a combo of spelt and buckwheat flours and piled high with a pecan streusel. I've also tested these with oat flour swapped out for the spelt flour – making them completely gluten free – and as a loaf cake. Instructions for all versions are below (I should mention that they're equally delicious with chopped apple folded into the batter instead of pear), and I honestly can't say which one is my favorite.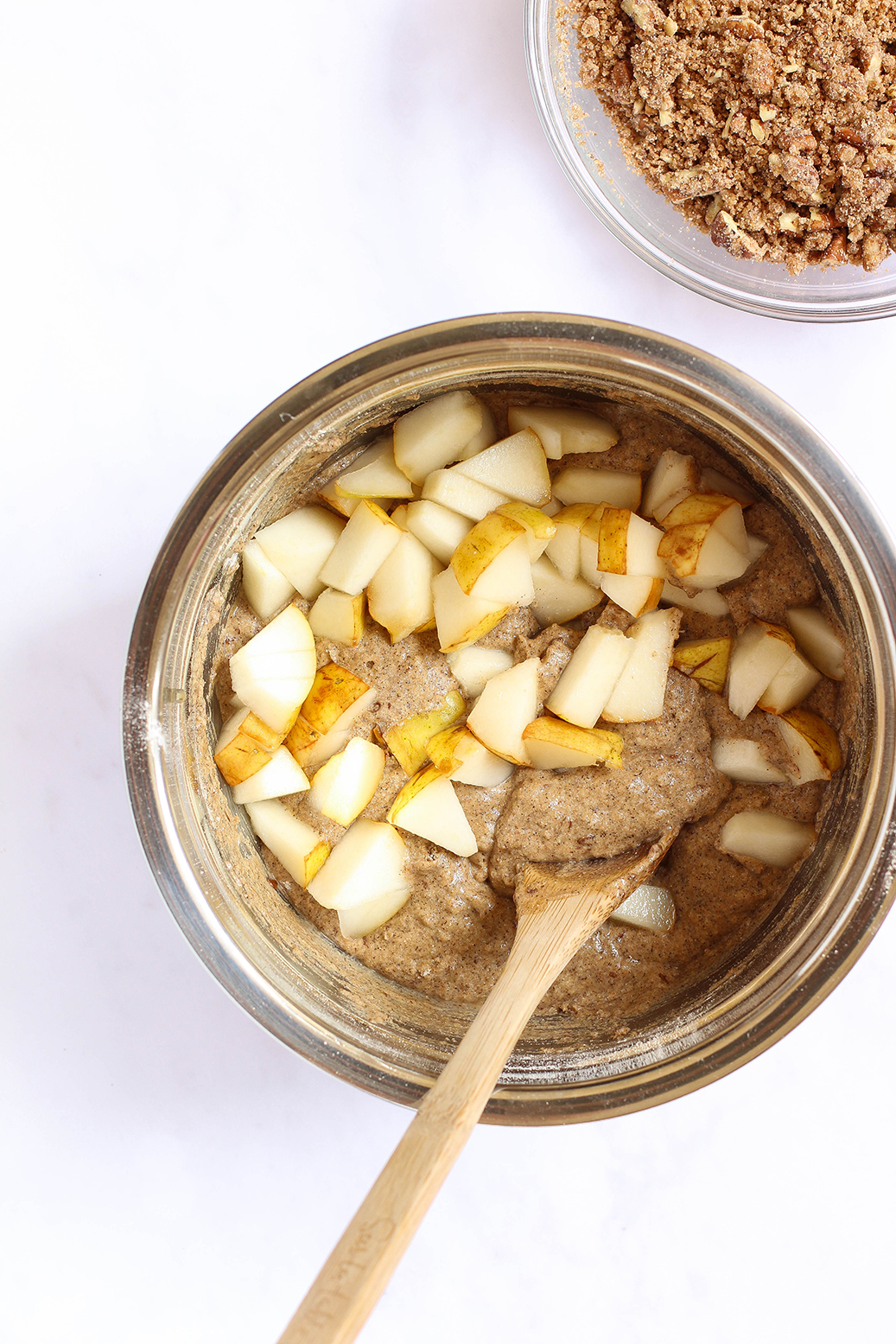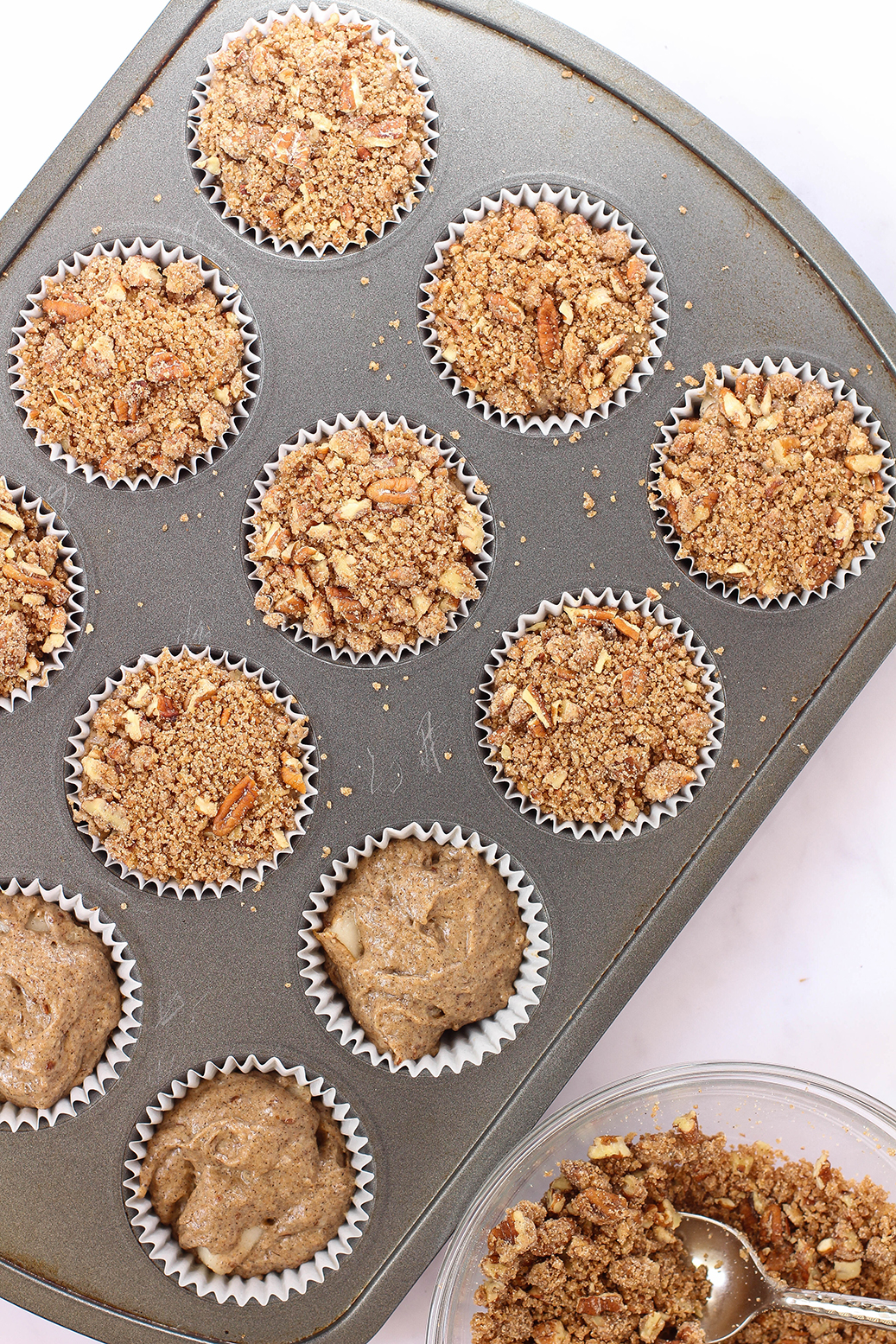 Whether you go with the original or gluten free option, both are incredibly moist and deliver the perfect muffin crumb. I give full credit to the buckwheat flour in both versions (also gluten free), which thanks to some amazing baking alchemy makes everything better, like my Gluten Free Buckwheat Pancakes. Add to that the combo of cinnamon and pear and you've got fall in a muffin wrapper. Oh, and let's not forget that delicious pecan studded streusel. Seriously, I will never make muffins sans streusel topping again. Baked up as a loaf cake, this makes the perfect baked good to bring along to a crisp October brunch or to savor alongside a piping hot mug of coffee on a cool November afternoon. (Am I painting an idyllic fall scene here, or what? Nevermind that it's still in the high 80's here in SoCal, a girl can daydream.)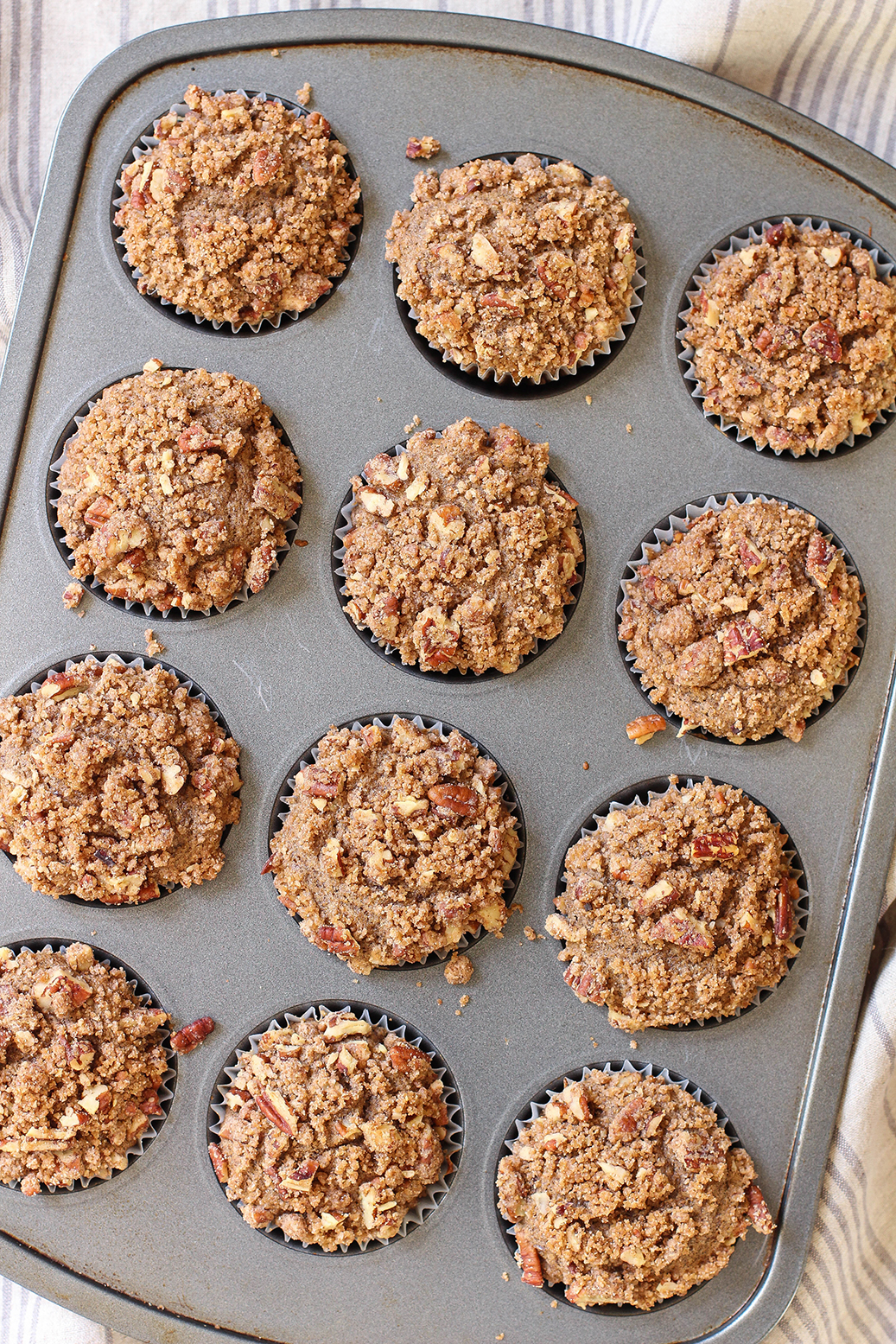 However you enjoy these muffins, you can feel good knowing that despite seeming uber indulgent (that streusel) these are actually pretty damn healthy. The spelt and buckwheat flours pack a real fiber punch and then you've got flax eggs, healthy fat from unrefined coconut oil and pecans, and natural sweetness from applesauce and pear. All very good things because I've been whipping up a batch of these muffins twice a week since mid-September and each and every delicious morsel has been consumed sans a single ounce of guilt.
Can't get enough muffins? Check out my Perfect Bran Muffins or the OG muffin recipe from the very beginnings of The Mostly Vegan, my Coffeehouse Zucchini Carrot Spice Muffins. Expecting this babe in one week you guys (eeps!) so, you know, think of me – elbow deep in spit up and diapers – while enjoying these muffins. I'll happily accept baked good deliveries if anyone is feeling extra generous.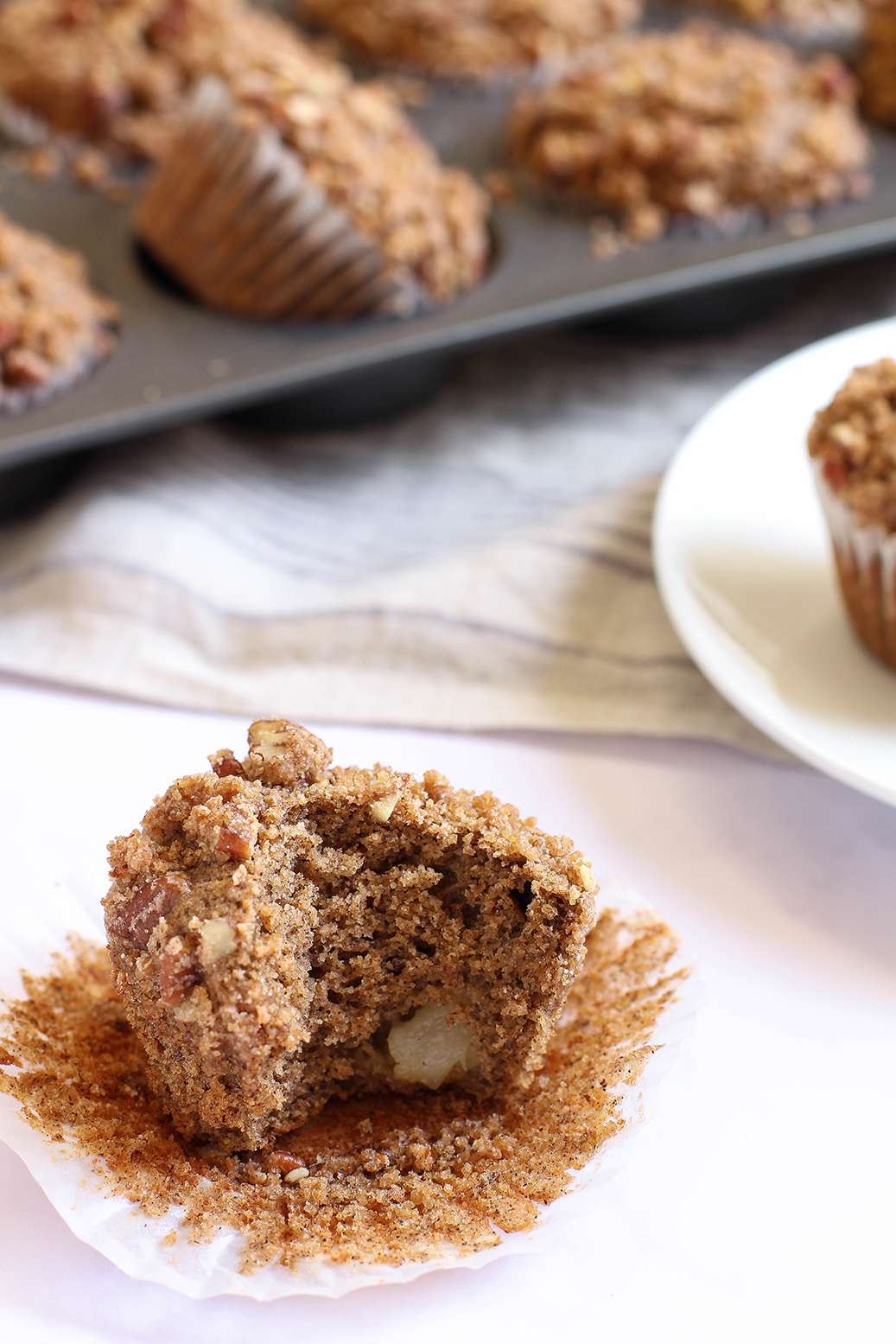 Cinnamon Pear Buckwheat Muffins with Pecan Streusel
Makes 12 standard sized muffins or 1, 9x5 inch loaf
Ingredients
Pecan Streusel
⅓ cup spelt flour (or sub with oat flour to make gluten free)
¼ cup packed organic brown sugar
½ cup raw pecans, roughly chopped
2 tablespoons unrefined coconut oil, melted
½ teaspoon cinnamon
pinch of sea salt
Muffins
1 medium sized pear (I used Bartlett), unpeeled & chopped (or sub with 1 apple, unpeeled & chopped)
1 cup spelt flour (or sub with 1 cup oat flour to make gluten free)
¾ cup buckwheat flour
½ cup plus 2 tablespoons organic brown sugar
½ cup unsweetened almond milk
2 tablespoons ground flaxseed
¼ cup unsweetened applesauce
¼ cup unrefined coconut oil, melted
1 teaspoon apple cider vinegar
1 teaspoon vanilla extract
2 teaspoons cinnamon
1 teaspoon baking powder
½ teaspoon baking soda
½ teaspoon sea salt
Instructions
Pecan Streusel
Mix together all dry ingredients then add coconut oil. Stir until coconut oil is well distributed and mixture is clumpy. Set aside.
Muffins
Preheat oven to 350 F. Combine flaxseed with 5 tablespoons water and set aside (this is your flax egg). Add 1 teaspoon apple cider vinegar to almond milk and set aside. (Make sure almond milk is at room temperature so it will not cause the coconut oil to harden when mixed.) Allow both to sit for at least 10 minutes to allow flax egg to thicken and almond milk to curdle.
Whisk together spelt and buckwheat flours, baking powder, baking soda, cinnamon and sea salt in a bowl. In a separate bowl whisk together brown sugar sugar, flax egg, almond milk, applesauce, coconut oil and vanilla extract. Add wet mixture to dry ingredients and mix. Fold in chopped pear.
Place paper cupcake liners in a standard muffin tin. Scoop batter by quarter cupfuls into muffin tin. Top each muffin with roughly 1 tablespoon streusel mixture. Lightly press streusel into batter. Bake for 25 minutes until a toothpick inserted in the center come out clean. Remove from the oven and allow to cool completely before serving.
Loaf Cake
To makes as a loaf cake, grease a 9x5 inch loaf pan with coconut oil. ( You can place a long strip of parchment paper overlapping two sides of the pan to help lift the loaf out once cooled.) Pour batter into pan then top with streusel, lightly pressing streusel into top of loaf.
Bake at 350 F for 50 minutes. Allow loaf to cool completely before removing from pan.